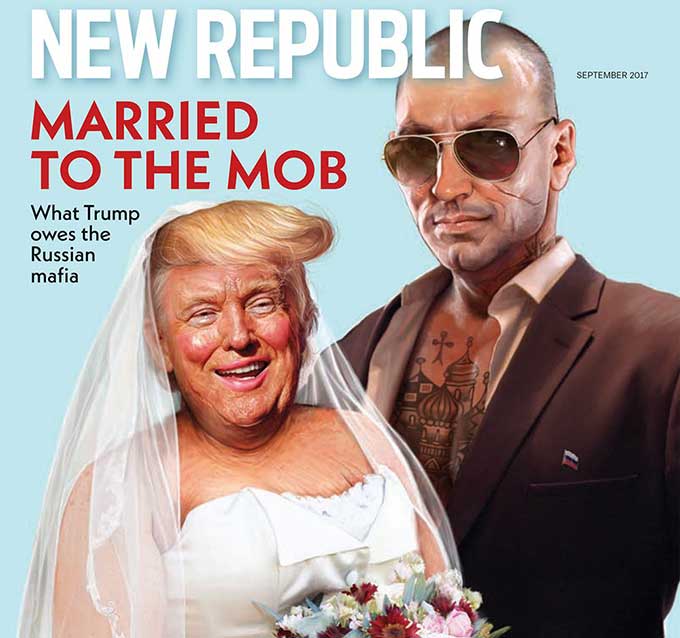 U.S. Special Counsel Robert Mueller has widened his investigation into possible collusion between Russia and Donald Trump's presidential campaign. Mueller is looking into Trump's financial dealings with with unsavory Russian businessman, including mobsters and corrupt Kremlin officials.
Mueller has his work cut out for him — the August/September issue of The New Republic has an in-depth article about Trump's "decades-long ties to Russian mafia." Only someone brainwashed by ideology could read this article and not think Trump has been up to no good for a very long time.
From The New Republic's press release:
In "Trump's Russian Laundromat," veteran journalist Craig Unger details how the Russian mafia has used the president's properties—including Trump Tower and the Trump Taj Majal—as a way to launder money and hide assets. "Whether Trump knew it or not," writes Unger, "Russian mobsters and corrupt oligarchs used his properties not only to launder vast sums of money from extortion, drugs, gambling, and racketeering, but even as a base of operations for their criminal activities. In the process, they propped up Trump's business and enabled him to reinvent his image. Without the Russian mafia, it is fair to say, Donald Trump would not be president of the United States."

Based entirely on the extensive public record, the piece offers the most comprehensive overview of the deep debt that the president owes the Russian mafia. "The extent of Trump's ties to the Russian mafia—and the degree to which he relied on them for his entire business model—is striking," says Eric Bates, editor of the New Republic. "After reading this story, it should come as no surprise to anyone that the president continues to exhibit a deep loyalty to the world of shady Russian operatives who have invested vast sums in his properties."
Trump's lawyer says the new direction Mueller is moving leads to a forbidden zone. From Bloomberg:
John Dowd, one of Trump's lawyers, said on Thursday that he was unaware of the inquiry into Trump's businesses by the two-months-old investigation and considered it beyond the scope of what Special Counsel Robert Mueller should be examining.

"Those transactions are in my view well beyond the mandate of the Special counsel; are unrelated to the election of 2016 or any alleged collusion between the Trump campaign and Russia and most importantly, are well beyond any Statute of Limitation imposed by the United States Code," he wrote in an email.
Read the whole story
· · ·
Democracy Now!
–
Jul 20, 2017
A new exposé and cover story in the September issue of the New Republic, titled "Married to the Mob: What Trump Owes the Russian Mafia," …
U.S. Special Counsel Robert Mueller has widened his investigation into possible collusion between Russia and Donald Trump's presidential …
New Republic
–
Jul 13, 2017
New York, NY (July 13, 2017) — As the full extent of Trump's relationship with Russia during the 2016 election emerges, the August/September …
Former Ukrainian President Viktor Yanukovych (left) and Dmitry Firtash (right)
As we noted earlier here and here, among the many dictators, despots, and shady foreigners who called Trump Tower home were members of the Russian Mafia with connections to Semion Mogilevich, said to be the most dangerous Mobster in the world.
Robert Mueller, the special counsel appointed to investigate Trump's links to Russia, may also be taking an interest in Trump's ties to Mogilevich, a man the FBI says is involved in weapons trafficking, contract murders, extortion, drug trafficking, and prostitution on an international scale.
As described in Wired, among the prosecutors and investigators hired by Mueller, is one Lisa Page:
Also, while the Special Counsel's office has yet to make any formal announcements about Mueller's team, it appears he has recruited an experienced Justice Department trial attorney, Lisa Page, a little-known figure outside the halls of Main Justice but one whose résumé boasts intriguing hints about where Mueller's Russia investigation might lead. Page has deep experience with money laundering and organized crime cases, including investigations where she's partnered with an FBI task force in Budapest, Hungary, that focuses on eastern European organized crime. That Budapest task force helped put together the still-unfolding money laundering case against Ukrainian oligarch Dmitry Firtash…
The hiring of Page, which was confirmed by a Mueller spokesman in The New York Times, gives the special counsel a team member with knowledge of not only Dmitry Firtash, but of the man who is believed to stand behind him: Semion Mogilevich.
Full disclosure: Firtash hired the Washington law firm Akin Gump to clear him of links to Mogilevich. I profiled Akin Gump partner Mark MacDougall in this 2008 piece.
Firtash, pictured above, made his fortune in the 2000s in the natural gas sector. In 2004, Firtash and a minority partner emerged with 50 percent ownership of a murky Swiss company called RosUkrEnergo (RUE). RUE extracts gas from Central Asia and acts an intermediary between Russia and Ukraine for the delivery of gas.  The other half of RUE is held by Gazprom, the gas giant controlled by the Russian government, which shows that Firtash has close ties with the Kremlin.
Billions of dollars flowed through RUE and some of that money was allegedly siphoned off by Semion Mogilevich, who U.S. government officials say (see here) is the man behind the curtain at the gas company. One of the few willing to say this publicly was Ukraine's former prime minister, Yulia Tymoshenko, a political enemy of Firtash, who got thrown in jail for her troubles. Notably, Firtash's stake in RUE remained a secret for two years.
Intelligence Online, a Paris-based news organization with deep sources in the spy world, published this handy chart of the Firtash/Mogilevich connections, under the headline "The Tip of the Mogilevich Iceberg:"
Firtash admitted to William Taylor, the US ambassador to the Ukraine, that he has had dealings with Mogilevich, according to a 2008 State Department cable leaked by Wikileaks:
(S) The Ambassador asked Firtash to address his alleged ties to Russian organized crime bosses like Semyon Mogilievich. Firtash answered that many Westerners do not understand what Ukraine was like after the break up of the Soviet Union, adding that when a government cannot rule effectively, the country is ruled by "the laws of the streets." He noted that it was impossible to approach a government official for any reason without also meeting with an organized crime member at the same time. Firtash acknowledged that he needed, and received, permission from Mogilievich when he established various businesses, but he denied any close relationship to him.
And in this October 2009 press release, the FBI took note of Mogilevich's control of natural gas supplies. "Through his extensive international criminal network, Mogilevich controls extensive natural gas pipelines in Eastern Europe," the bureau wrote in a veiled reference to RUE.
The question is what is the nature of the relationship between Firtash and Mogilevich. Is it a thing of the past, as Firtash insists? Or is Firtash a front man for Mogilevich?
Presumably, the FBI — and, by extension, Lisa Page — knows the answer. The bureau has been investigating Firtash since 2006, according to The New York Times. A year before that, the FBI passed their counterparts in the Austrian police a confidential report naming Firtash as a "senior member" of the Semion Mogilevich Organization, according to a  2008 report by Roman Kupchinsky, an analyst with Radio Free Europe.
Page's work in Budapest involved her deeply in the Firtash/Mogilevich world. The Wired article suggests she worked on the case that led to Firtash's arrest in Vienna in 2014. Firtash was indicted by a federal grand jury in Chicago on charges of plotting a bribery scheme to set up a $500 million titanium business in India. He remains free after a Russian billionaire friend posted bail of $174 million but cannot leave Austria.
And Budapest is also a home of sorts for Mogilevich. He resided in Budapest when he ran a pump-and-dump scheme through a publicly traded front company called YBM Magnex Inc. Mogilevich was indicted in 2003 on charges of fraud, racketeering and money laundering in YBM Magnex.
So, what does this have to do with President Trump?
Firtash was a business partner of Trump's former campaign manager, Paul Manafort, who was deeply involved in Ukrainian politics. Manafort advised Viktor Yanukovych on his successful 2010 campaign for the presidency of Ukraine. He resigned from the Trump campaign after The New York Times found a handwritten ledger showing that Yanukovych paid Manfort $12.7 million in cash.
While he was assisting Yanukovych, Manafort became business partners with Firtash. The two men explored developing a 65-floor tower on the site of the Drake Hotel in Midtown Manhattan.
A 2011 lawsuit filed in New York by Tymoshenko, the former Ukrainian prime minister, called this partnership between Firtash and Manafort a means of laundering the proceeds of gas deals between the Ukraine and Russia. Firtash says that the lawsuit was full of lies, but he confirmed to Bloomberg Businessweek that he did put $25 million in an escrow account for the developers of the Drake project that Manafort helped him set up. The deal collapsed and the tower was never built.
It's a good bet to say that we only know a little of this story, which is buried in the files of the FBI and the US intelligence community. But Trump Tower's role as a home away from home for Russian mobsters with Mogilevich and his unhinged, self-destructive reactions to anyone probing into Russia suggests that there is more, much more to come. Stay tuned.
Read the whole story
· · · · · · ·
Read the whole story
· · ·
Next Page of Stories
Loading…
Page 2