May 10, 2007 – The federal government brings criminal charges against Purdue Pharma for misleadingly advertising OxyContin as safer and less addictive than other opioids. The company and three executives are charged with "misleading and defrauding physicians and consumers." Purdue Pharma and the executives plead guilty, agreeing to pay a $634.5 million in criminal and civil fines. The three executives plead guilty on criminal misdemeanor charges and are later sentenced to probation.
2010 – FDA approves an "abuse-deterrant" formulation of OxyContin, to help curb abuse. However, people still find ways to abuse it.
May 20, 2015 – The DEA announces that it has arrested 280 people, including 22 doctors and pharmacists, after a 15-month sting operation centered on health care providers who dispense large amounts of opioids. The sting, dubbed Operation Pilluted, is the largest prescription drug bust in the history of the DEA.
March 18, 2016 – The CDC publishes guidelines for prescribing opioids for patients with chronic pain. Recommendations include prescribing over-the-counter pain relievers like acetaminophen and ibuprofen in lieu of opioids. Doctors are encouraged to promote exercise and behavioral treatments to help patients cope with pain.
March 29, 2017 – President Donald Trump signs an executive order calling for the establishment of the President's Commission on Combating Drug Addiction and the Opioid Crisis. New Jersey Governor Chris Christie is selected as the chairman of the group, with Trump's son-in-law, Jared Kushner, as an adviser.
July 31, 2017 – After a delay, the White House panel examining the nation's opioid epidemic releases its interim report, asking President Trump to declare a national public health emergency to combat the ongoing crisis.
August 8, 2017 – Trump holds a press briefing on opioids at his New Jersey golf club and says that a stronger law enforcement response is needed to combat the crisis. He stops short of declaring a national public health emergency.
August 10, 2017 – The White House issues a press release stating that Trump is directing his "administration to use all appropriate authority to respond to the opioid emergency." The administration does not, however, make a formal declaration of a national public health emergency, which would free up resources and funding to help opioid addicts and jumpstart prevention programs. As of September 14, 2017, the president still has not formally declared a national public health emergency, as recommended by his opioid commission. 
More than a month ago, Trump announced he was "drawing documents now" to tackle "a serious problem, the likes of which we have never had."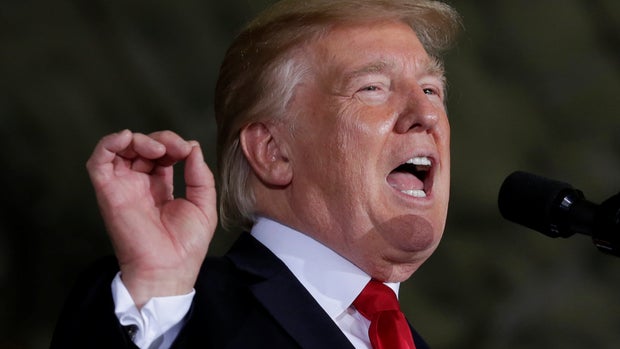 Other Stories
Donald Trump's lawyers overheard discussing Russia investigation in Washington steakhouse – Telegraph.co.uk
Hillary Clinton Says She's 'Optimistic About Our Country, But I Am Not Naive' – NPR
In Russia scandal, Trump's legal team isn't a fine-tuned machine – MSNBC
Bitcoin and Blockchain: A Russian Money Laundering Bonanza? – Newsweek
Michael Flynn Prepping for a $1 Million Legal Tab – Daily Beast
Trump extends a hand to the UN even as he urges reform
THERE IS SOMETHING ROTTEN IN THE STATE OF DENMARK – Bloomberg BNA
Senate Investigators to Interview Trump Attorney in Russia Probe – U.S. News & World Report
Americas inflation enigma continues to confound
Clinton won't rule out questioning legitimacy of election – The Hill
What Are Juggalos and Why Are They Marching Against the FBI?
Mnuchin and Pompeo should recuse themselves from the Russia investigation WP
On MSNBC Steven Harper Talks About the Moscow Tower Deal That 'Will Get Donald Elected' – BillMoyers.com
Felix Sater Is a Lean, Mean Trump-Russia Machine – Bloomberg
Now embroiled in Trump-Russia inquiry, Felix Sater once was an FBI informant – Los Angeles Times
Felix Sater, possible key to Trump-Russia probe, faces credibility questions – Washington Examiner
'Fecalboy.com' is just one of the nasty domain names Trump pal Felix Sater used to target a common foe – MarketWatch
Felix Sater: the enigmatic businessman at the heart of the Trump-Russia inquiry – The Guardian
The Trump-Russia probe contains explosive allegations and the President will struggle to conceal the secrets of his past – The Independent
Who Is Felix Sater? Trump's Associate Bragged His Russian Deal Could Get Our Boy Elected – Gears Of Biz
Top House Democrat: 'Past time' to subpoena Comey documents – Los Angeles Times
Editorial: Mueller finds alarming signs and sleazy people in collusion probe – STLtoday.com
'Business as usual and nothing more': Trump's longtime lawyer defends contacts with top Russian official – Business Insider
Russian émigré in Trump saga still surrounded by fellow financial fraudsters – Sacramento Bee