M.N.: The "Kremlin", whatever it is, pushes the Islamophobic propaganda abroad while professing "multiconfessional tolerance" at home. Out of practical necessity, one might add: about 50% of Russia's populace is or will be Muslim very soon. This duplicity is characteristic. Spreading the Islamophobia abroad helps the Kremlin, whatever it is, to control Islam at home. And they do see this task as their priority, after two disastrous wars in Chechnya and the continuing instability in other Moslem regions. 
Russia-linked groups attempted to organize over a dozen pro-Trump rallies around Florida during the 2016 elections
Source: Russian groups organized pro-Trump rallies on Facebook: report | TheHill 
___________________________
The Daily Beast has reported "that Russian operatives hiding behind false identities used Facebook's event-management tool to remotely organize and promote political protests in the U.S., including an August 2016 anti-immigrant, anti-Muslim rally in Idaho." A Facebook spokesperson confirmed to The Daily Beast recently that several events were shut down and had been promoted with paid ads.
The Daily Beast added that these "Facebook events—one of which echoed Islamophobic conspiracy theories pushed by pro-Trump media outlets—are
____________________________________
Featured Posts: 7:57 AM 9/20/2017 – Putin's Pro-Trump Operation May Have Been Far Bigger Than We Yet Know – Mother Jones | Anatomy of a Russian attack
"We don't know what these Facebook ads looked like, we don't know who they were targeting, and we don't know how many millions of Americans may have been exposed to them."
Putin's Pro-Trump Operation May Have Been Far Bigger Than We Yet Know
Did the Kremlin help make Trump the "first Facebook president"?
BILL BUZENBERGSEP. 20, 2017 6:00 AM
M.N.: And we have to know the answers to these and many other questions. 

_________________________________
Trump Investigations Report | Latest Posts

The World Web Times: News | Photos | Audio and Video | Politics | Trump | Security | Reviews | Analysis | Current Topics | Opinions | Links | Posts| Local | Guides | Classifieds | News reading lists, review of media reports, digests, reviews, summaries, editors selected important articles
Saved Stories – 1. Trump
Russian groups organized pro-Trump rallies on Facebook: report – The Hill
"Unprecedented" security challenges put resilience centre-stage for NATO – Thomson Reuters Foundation
Iran's president Rouhani trolled Trump with poetry – Quartz
Defend the Constitution Against Trump – U.S. News & World Report
Hillary Clinton Recalls Encounter With 'Manspreading' Vladimir Putin – RollingStone.com
Morgan Freeman ridiculed by Kremlin for accusing Russia of declaring 'war' on US – Telegraph.co.uk
Russia reportedly organized pro-Trump rallies on Facebook – The Verge
Trump Says He's Made a Decision on Iran Nuclear Deal – New York Times
White House Says Trump Didn't Apologize To Turkey's Erdogan For D.C. Clash With Protesters

WASHINGTON  The White House is rejecting Turkish President Recep Tayyip Erdogans claim that President Trump said he was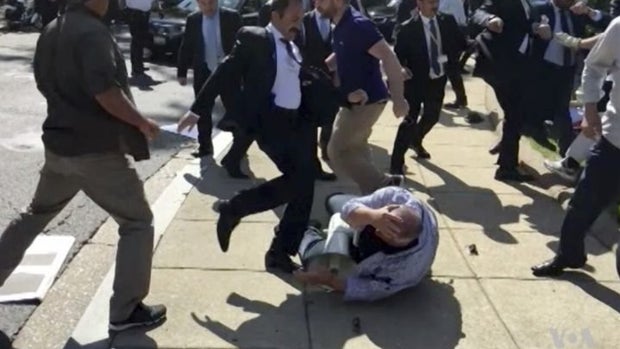 "Unprecedented" security challenges put resilience center-stage for NATO – Reuters
What Should Have Happened In Hillary Clinton's Useless Book – HuffPost
German officials see no sign of election hacking _ yet – News & Observer
Corey Lewandowski: If Paul Manafort, Roger Stone colluded to influence 2016 election, 'I hope they go to jail for … – Washington Examiner
New evidence that Donald Trump is flat broke

Earlier this month I wrote about how Special Counsel Robert Mueller isn't merely going to destroy Donald Trump, he's going to reveal his most humiliating secret: Trump is flat broke (link). I got some pushback on it, from people asking how someone with assets in the billions can be broke. The answer is simple: if your debts are larger than your assets, and servicing your debt has left you cash-poor, you're broke. Now there's even more anecdotal evidence of just how broke Trump is.This summer it was revealed that Donald Trump was using funds from his phony "2020 reelection campaign" to pay for his son Don's legal bills in the Trump-Russia scandal. This in and of itself could have been written off as Trump simply being his scamming self. He sees his campaign fundraising as being his own personal money, so of course he spent it on his own personal interests. He's also used his own charity as a personal piggy bank, while scamming money from his other son Eric's charity. This doesn't mean he's broke, just that he's a criminal scumbag. But now it turns out he's skimming money from a different, and more eye popping, source.Last night it was revealed that Trump has conned the Republican National Committee into paying his own legal bills (link). This is not easily pulled off. Trump has precious little influence remaining over the Republican Party. But he's so desperate for yet another minor cash infusion to pay his lawyers, he's using up that last bit of remaining goodwill with the RNC. As per usual, Trump is doing all of this for a relatively small amount of money. It's a mere $230,000 which for a billionaire should be not even be worth the trouble.What stands out here is the time and trouble which Donald Trump is willing to go to, just so he can pilfer small amounts of cash. He lugged himself to his own resorts every weekend just so he could steal money from the Secret Service to the tune of $60,000 in golf cart rentals and such. That's a ton of work for what should be the equivalent of a penny lying on the ground for a billionaire. That's because he's not a billionaire. His properties are over-mortgaged, he has hidden international debts, and a negative net worth. Donald Trump is flat broke. Eventually it'll surface that the $1 million he donated to hurricane relief wasn't actually his money either. He simply doesn't have that kind of cash available.

The post New evidence that Donald Trump is flat broke appeared first on Palmer Report.
roger stone – Google News: Corey Lewandowski: If Paul Manafort, Roger Stone colluded to influence 2016 election, 'I hope they go to jail for … – Washington Examiner
 roger stone – Google News
REPORT: Facebook Group With Alleged Russia Ties Pushed Pro-Trump Rallies – TPM