Next Page of Stories
Loading…
Page 2
Next Page of Stories
Loading…
Page 3
Special counsel Robert S. Mueller III is a mythic presence in Washington. He is everywhere and nowhere: As the world revolves around him, he continues to elude the press and the public. Even the location of his office remains unknown.
Compare this with the president, who cannot help but make himself the center of attention in any situation and who blurts out his every thought on Twitter. Mueller's investigation into Russian interference in the 2016 election is a black box. The Trump White House is the leakiest in memory. Where Trump is loud, Mueller is quiet. Where Trump is brash, Mueller is careful. Trump is the builder of the gilding-encrusted, marble-clad tower. The architecture with which Mueller is most identified is the drab, utilitarian J. Edgar Hoover Building.
In the American imagination, Mueller is more than Trump's adversary or the man who happens to be investigating him. He's the president's mythic opposite — the anti-Trump.
That opposition runs deeper than discordant personal styles. With his long government career, Mueller is the embodiment of the "deep state" derided by the president's defenders. But another way to describe the deep state is as a network of government institutions staffed by devoted public servants. Trump's presidency has distinguished itself by a marked lack of respect for those institutions, whether through neglect, derision or outright attempts at what former White House adviser Stephen K. Bannon termed "the deconstruction of the administrative state." More profoundly, Trump's disregard for the usual checks on executive power calls into question whether the president will leave his office and the government as a whole irretrievably broken.
Mueller, in contrast, stands for the strength of those institutions — not just because of his own public service but also because his investigation now concerns Trump's breach of institutional integrity in dismissing then-FBI Director James B. Comey. This is a major source of Mueller's appeal to Trump's critics. We don't just hope that Mueller's investigation will expose whatever wrongdoing took place. We want him to reestablish the order that has been lost. It's a demand for justice in the sense described by the philosopher Immanuel Kant: We punish a crime not only to assert that the act was wrong but also to reaffirm the existence of the moral system disregarded by the criminal.
Trump's disrespect for institutions is also a disrespect for the moral systems they represent. His repeated efforts to interfere with the independence of the Justice Department are a declaration that right and wrong, legal and illegal are whatever he says they are. This stance is an outgrowth of his flexible relationship with truth — his willingness to say anything and contradict himself moments later, with no expectation of consequence. Mueller is an avatar of our hope that justice and meaning will reassert themselves against Trumpian insincerity.
The trouble, of course, is that Mueller cannot and will not save us.
There's no way of knowing how long his investigation will take and what it will turn up. It could be years before the probe is completed. It could be that Mueller's team finds no evidence of criminal misconduct on the part of the president himself. And because the special counsel has no obligation to report his conclusions to the public — indeed, the special-counsel regulations do not give him the power to do so without the approval of Deputy Attorney General Rod J. Rosenstein — we may never know what he uncovers.
More profoundly, it is a mistake to conflate whatever legal wrongdoing the president and those around him may have engaged in with Trump's even more profound failures of morality and leadership. The horror of much of his behavior is that it may be well within the law and presidential authority — and yet entirely unacceptable. This is true both for his more egregious actions, such as his dismissal of Comey, and his less consequential but still discomfiting behavior, such as his inability to display the bare minimum of empathy for hurricane-devastated Puerto Rico. When viewed in the context of Trump's other actions, Comey's firing may raise the question of obstruction of justice. But on its own, it's no more illegal or unconstitutional for the president to fire the FBI director than it is for him to toss paper towels to hurricane victims.
It is comforting to reduce the mess of our politics to a clash between the opposing deities of Mueller and Trump. But doing so is also a way to avoid grappling with more difficult problems: What does it mean to have a president who behaves this way? What forces carried him into office, and how do we as a country address them? These are not questions that an official investigation can answer. Ultimately, we imagine Mueller as a white knight because it's easier than taking responsibility for confronting this presidency ourselves.
Read the whole story
· · · · · · · · · ·
The dossier assembled by former MI6 officer Christopher Steele outlined Russian financial and personal links to Trump's campaign and …
Before the start of business, Just Security provides a curated summary of up-to-the-minute developments at home and abroad. Here's today's news.
NORTH KOREA
Suspected North Korean hackers stole classified military documents when they broke into South Korea's defense data center in September 2016, a South Korean lawmaker Rhee Cheol-hee said in an interview published yesterday, the information included a U.S.-South Korea blueprint for a possible war with North Korea and details about a decapitation strike targeting leader Kim Jong-un and top Pyongyang officials. Kwanwoo Jun and Nancy A. Youssef report at the Wall Street Journal.
Rhee received information about the suspected hacking incident from defense ministry officials, South Korea's defense ministry has not responded to his comments and the Pentagon has similarly declined to comment on the specific reports. Zachary Cohen reports at CNN.
The U.S. and South Korea began joint military exercises over the Korean peninsula last night amid heightened tensions, the drills consisting of strategic bombers, fighter jets and an air-to-ground missile drill off South Korea's coast. The BBC reports.
The U.S. military conducted drills with Japanese fighter jets after the exercise with South Korea, the U.S. military said in a statement, marking the first time that the U.S. has conducted drills with both the Japanese and South Korean military at night. Christine Kim and Eric Beech report at Reuters.
Trump met with his top national security advisers yesterday to discuss "a range of options" to deal with the North Korea threat, the White House said in a statement, the president receiving briefings from Defense Secretary Jim Mattis and Chairman of the Joint Chiefs of Staff Gen. Joseph Dunford during the meeting. Jesse Byrnes reports at the Hill.
Trump may visit the demilitarized zone (D.M.Z.) between the two Koreas during a forthcoming trip to South Korea, South Korea's Yonhap news agency reported yesterday. Justin McCurry reports at the Guardian.
The Trump administration has made progress in its attempts to contain North Korea and, despite the president's bluster and the general pessimism about the administration's strategy, there are reasons to be "cautiously optimistic" about the U.S.'s efforts to economically and diplomatically isolate the regime. Adam Taylor provides an analysis of the administration's policies and the reaction of the international community to the U.S. pressure campaign at the Washington Post.
TURKEY
The U.S. ambassador to Turkey John R. Bass should have resigned or been recalled after making the unilateral decision to suspend visas for Turkish citizens, Turkish President Reçep Tayyip Erdoğan said yesterday. The State Department responded that the decision was cleared at the highest levels of the U.S. government and emphasized that Ambassador Bass has the full backing of the State Department and the White House. Carlotta Gall reports at the New York Times.
Turkey does not see Bass "as the representative of the United States in Turkey," Erdoğan added; the dispute about the suspension of visas following Turkey's arrest of an employee in the U.S. Consulate in Istanbul last week providing the latest incident in the deteriorating U.S.-Turkey relationship. The AFPreports.
Bass expressed hope that the dispute could be resolved quickly and noted that close security cooperation between the U.S. and Turkey has helped to reduce attacks by Islamic State militants in Turkey. The AP reports.
The U.S.-Turkey diplomatic dispute has not impacted military operations, Pentagon spokesperson Col. Robert Manning told reporters yesterday, stating that Turkey remains a close N.A.T.O. ally. Reutersreports.
A Wall Street Journal reporter was sentenced to prison in Turkey for engaging in terrorist propaganda in support of the Kurdistan Workers' Party (P.K.K.), demonstrating the Turkish government's aggressive policies to repress critical reporting under the state of emergency imposed since last year's failed coup against Erdoğan. Thomas Grove reports at the Wall Street Journal.
The conviction of the reporter confirms to the world that Erdoğan has turned Turkey into an "authoritarian state," the Wall Street Journal editorial board writes.
Erdoğan's tactic of arresting U.S. citizens is an attempt to bully America and the Trump administration must make it clear that Turkey cannot carry on its actions without "risking a rupture of relations." The Washington Post editorial board writes.
IRAN
The 2015 Iran nuclear deal is "vitally important for regional security," U.K. Prime Minister Theresa May said in a phone call to Trump yesterday, urging the president to recertify Iran's compliance with the agreement. The BBC reports.
Trump misleadingly blamed Sen. Bob Corker (R-Tenn.) for the Iran deal. Linda Qiu explains the passage of a bipartisan bill in the spring of 2015 to provide the appropriate context at the New York Times.
The future of the deal would be uncertain should Trump decertify Iran's compliance before the Oct. 15 deadline and put the issue of sanctions on Iran into Congress's hands – likely leading to a partisan battle and complicating the issue for the other countries party to the agreement. Julian Borger and Patrick Wintour explain at the Guardian.
The Trump administration, Congress and European allies could save the deal and address its shortcomings even if Trump decides to decertify Iran's compliance with the agreement by drawing on the relationship with international partners, using existing sanctions authorities and measures to counter Iran's actions in the region, developing a common strategy with European allies, and Congress using its powers to counter the "constant cycle of deal crisis." Ilana Goldenberg and Elizabeth Rosenberg write at Foreign Policy.
Iran's interest in the Middle East's affairs are not "malevolent," its actions ensure stability in the face of Western-backed Arab interference. Iran's Foreign Minister Javad Zarif writes at the Atlantic, also defending the nuclear deal.
TRUMP-RUSSIA
The House Intelligence Committee chairman Rep. Devin Nunes (R-Calif.) issued subpoenas on Oct.4 to employees at the Fusion GPS research firm, which worked with former British Intelligence officer Christopher Steele to compile a salacious dossier about the Trump campaign's alleged connections to Russia. Evan Perez, Manu Raju and Jeremy Herb report at CNN.
Nunes issued the subpoenas without consulting Democrats on the Committee, three sources told NBC News, according to the Committee's rules Nunes did not need approval from minority Democrats to sign-off on the subpoenas. Ken Dilanian and Alex Moe report at NBC News.
The Trump campaign's former foreign policy adviser Carter Page will not testify before the Senate Intelligence Committee about the investigation into Russian interference in the 2016 U.S. election, Page informed the committee yesterday, a source familiar with the matter stating that Page would rely on the Fifth Amendment. Ali Watkins reports at POLITICO.
The House Intelligence, Senate Intelligence and Senate Judiciary committees are competing in their efforts to pursue the allegations made in the Steele dossier, with the members of the congressional panels taking various positions on the dossier. Mark Hosenball and Jonathan Landay report at Reuters.
Special counsel Robert Mueller "cannot and will not save us," Mueller's elusive qualities stand in stark opposition to the president's bombastic style, but the reality is that his investigation may take years to complete, Trump's actions may not amount to legal wrongdoing and the questions about the president's moral authority would remain. Quinta Jurecic writes at the Washington Post.
CYBERSECURITY, PRIVACY AND TECHNOLOGY
The Israeli intelligence service hacked the Russia-based Kaspersky Lab cybersecurity firm and informed the U.S. about Russian intrusion through Kaspersky software, including classified documents that were stolen from a National Security Agency (N.S.A.) employee. Nicole Perlroth and Scott Shane reveal the Israeli operation at the New York Times.
The Kaspersky Lab "does not possess any knowledge" of Israel's hack, the firm said in a statement responding to the reports. Ellen Nakashima reports at the Washington Post.
SYRIA
The Syrian Army and Syrian Kurds are competing for control of oil-producing areas, Syria's Foreign Minister Walid al-Moualem said today, warning that Syria would "not allow its sovereignty to be violated under any conditions." Reuters reports.
Raqqa's Civil Council "is leading discussions to determine the best way to enable civilians trapped" by Islamic State militants to exit the Syrian city ahead of the impending defeat of the militants, U.S. Centcom have said in a statement.
An overview of the parties to the Syrian war and the various alliances is provided by Samer Abboud at Al Jazeera.
U.S.-led airstrikes continue. U.S. and coalition forces carried out four airstrikes against Islamic State targets in Syria on October 9. Separately, partner forces conducted seven strikes against targets in Iraq. [Central Command]
IRAQ
The Islamic State's fight to take over Iraqi territory has displaced 5.4 million civilians, the U.N. humanitarian coordinator for Iraq said yesterday, expressing deep concern for the civilians who have fled the fighting. The BBC reports.
Although the Islamic State group has lost significant territory in Iraq, it has not been fully defeated. John Beck explains where the militants still hold territory and influence at Al Jazeera.
ISRAEL-PALESTINE
Israeli Prime Minister Benjamin Netanyahu approved plans for 3,736 units in Jewish settlements in the occupied West Bank yesterday, with activists stating that the Israeli government has been spurred by the Trump administration's accommodating stance. Ruth Eglash and Loveday Morris report at the Washington Post.
The Egyptian military expanded the buffer zone along the Gaza Strip border, bulldozing at least 140 homes and more than 200 acres in an attempt to prevent Palestinian Hamas militants from using underground tunnels to evade Israel and Egypt's blockade of the Strip. Sam Madgy reports at the AP.
The Obama administration's policies pushed Israel and Arab nations closer together as they realized they shared similar concerns about Obama's approach to the Arab Spring uprising, the Iran nuclear deal and Iran's expansionism in the region. Haisam Hassanein and Wesam Hassanein write at the Wall Street Journal.
LEBANON
The Lebanese Shi'ite Hezbollah militant group aspire to attack the U.S. homeland, senior U.S. officials have said. Elise Labott and Laura Koran report at CNN.
The "Lebanese army has become an integral part of Hezbollah," Israel's defense minister Avigdor Lieberman said yesterday, claiming that the militant group controls the Lebanese army. The AP reports.
The SUPREME COURT
The Supreme Court dismissed a travel ban case from Maryland yesterday but took no action on a separate case from Hawaii that concerns the travel ban and the refugee ban, the AP reports.
The Supreme Court yesterday declined to review the conviction of a war criminal held in Guantánamo Bay and serving a life sentence. Carol Rosenberg reports at the Miami Herald.
TRUMP ADMINISTRATION FOREIGN POLICY
Trump does not plan to fill many positions across federal agencies because they are "totally unnecessary," the president told Forbes yesterday, suggesting that the many vacancies in the State Department, including ambassadorships, will remain unfilled. Olivia Beavers reports at the Hill.
The Trump administration's lack of clear foreign policy plans may be a bigger issue than the president's heightened rhetoric, David Ignatius writes at the Washington Post.
OTHER DEVELOPMENTS
Russia may order the U.S. to cut its diplomatic staff in Russia to 300 people or below, Russia's R.I.A. news agency quoted a Russia's foreign ministry official as saying today. Reuters reports.
A U.S. Navy guided-missile destroyer sailed near islands claimed by China in the South China Sea yesterday, with the Chinese defense ministry saying today that the U.S. maneuvering operation was a "provocation." Idrees Ali reports at Reuters.
The collision involving the U.S.S. John S. McCain and a civilian tanker on Aug. 21 was "preventable," the U.S. Navy said yesterday, adding that its investigation is still ongoing. Jake Maxwell Watts reports at the Wall Street Journal.
Yemen's warring leaders "are not interested in finding solutions, as they will lose their power and control in a settlement," the U.N. special envoy for Yemen Ismail Ould Cheikh Ahmed said yesterday, urging the Security Council to "use all of its political and economic power to exert pressure on all parties to commit to a pact of peace." Edith M. Lederer reports at the AP.
The Trump administration intends to relax domestic rules on U.S. military drone sales to allies as part of an overhaul of U.S. arms export protocols. Matt Spetalnick and Mike Stone report at Reuters.
Trump was joking when he challenged Secretary of State Rex Tillerson to an IQ test, White House press secretary Sarah Huckabee Sanders said yesterday, the president's latest comments having reinforced impressions that Trump and Tillerson have a tense relationship. Louis Nelson reports at POLITICO.
The allegations that Cuba used a "sonic weapon" to attack U.S. diplomats in Havana are not backed up by evidence and it is unfortunate that Trump has used the unspecified threat and amplified reports to undermine relations with Cuba. Lisa Diedrich and Benjamin Tausig write at the New York Times.
Read the whole story
· · · · · · · · · ·
There's no need to visit this particular "moon."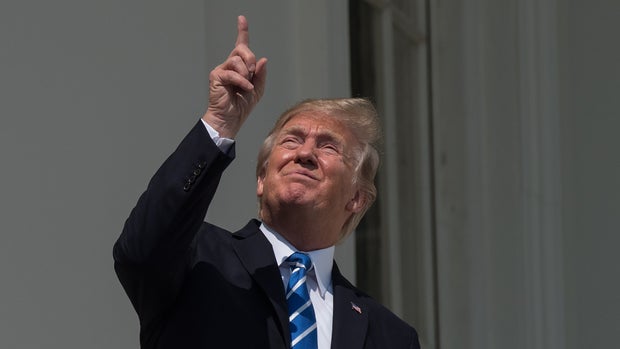 Next Page of Stories
Loading…
Page 4
Next Page of Stories
Loading…
Page 5
White House chief of staff John Kelly turned in his personal phone to tech support after complaining it wasn't working properly for months, …
The personal cell phone of the White House Chief of Staff John Kelly (photo) was compromised by persons unknown and may have been bugged for nearly a year, according to United States government officials. General Kelly retired from the US Marine Corps in 2016, after serving as chief of the US Pentagon's Southern Command, where he supervised American military operations in Latin America and the Caribbean. Soon afterwards, he was appointed by US President Donald Trump to lead the Department of Homeland Security, which he joined in January of 2017. Six months later, however, he replaced Reince Priebus, who resigned abruptly from the post of White House Chief of Staff, citing differences over management style with the Trump administration.
According to the online news outlet Politico, the breach of Kelly's personal phone was discovered last summer, after the retired general sought the advice of the White House's technical support staff. Kelly told the technical experts that his phone's operating system had been malfunctioning for several months and that software updates seemed to make the problem worse. Once the breach was discovered, White House staff summarized the findings of the probe into Kelly's phone in a one-page memorandum. Three people who read the document spoke anonymously to Politico. The news outlet said that, according to the White House memorandum, it is unclear how and when Kelly's phone was breached. There is also no information in the document about how much and what kind of information was compromised throughout the duration of the breach. Politico cited a White House spokesman who claimed that the chief of staff used his personal phone sparsely and never for government business.
However, depending on the level of the breach, hackers could have used the compromised phone to listen in to Kelly's private conversations —in and out of the White House— even when the phone was not in use but simply turned on. It follows that if the breach of Kelly's phone was orchestrated by a foreign government, the magnitude of the compromise may be substantial. Politico reports that digital forensics experts are now reviewing Kelly's travels in the past year, as part of a widening investigation into the breach. Meanwhile, the general has been issued a new phone for his personal use.
► Author: Joseph Fitsanakis | Date: 10 October 2017 | Permalink
Read the whole story
· · ·
The personal cell phone of the White House Chief of Staff John Kelly was compromised by persons unknown and may have been bugged for nearly a year, according to United States government officials. 
"This is cultural hacking," said Jonathan Albright, research director at Columbia University's Tow Center for Digital Journalism. "They are using systems that were already set up by these platforms to increase engagement. They're feeding outrage — and it's easy to do, because outrage and emotion is how people share."
All of the pages were shut down by Facebook in recent weeks, as the company conducts an internal review of Russian penetration of its social network. But content and engagement metrics for hundreds of posts were captured by CrowdTangle, a common social analytics tool, and gathered by Mr. Albright.
One Russian Facebook page, the United Muslims of America, frequently posted content highlighting discrimination against Muslims. In June 2016, it posted a video originally made by Waqas Shah, 23, an online video creator from Staten Island. In the video, Mr. Shah dressed in a thobe, a traditional ankle-length gown worn by Arab men, walked through New York's Union Square, where he is shoved and harassed by another actor pretending to be a bully to see how bystanders react.
The video ends with Mr. Shah pointing out New York's hypocrisy: The city claims to be a "melting pot," but no one intervened while he was getting harassed. Mr. Shah's original video, posted on YouTube in June 2016, was a viral hit that attracted more than three million views. A week after he posted it, United Muslims of America copied the video to its group page without the original YouTube link, a process known as ripping. There, Mr. Shah's video become the Russian page's most popular post, earning more than 150,000 interactions.
Mr. Shah said when he noticed the ripped video, he wrote to the administrator of the United Muslims account, asking them to add the link to his original YouTube video. His main concern, Mr. Shah said, was that the page was stealing his views. Told that his video had been used by Russian accounts to sow division in the United States, Mr. Shah said there wasn't anything he could do about it.
"There are always going to be people who manipulate things to their agenda," he said.
When Being Patriotic posted a brief message last year rallying Americans against proposals to expand refugee settlements in the United States, it was liked, shared or otherwise engaged with by more than 750,000 Facebook users. Eventually, it came across the feed of Len Swanson, 64, a Republican activist from Houston and an avid Trump supporter.
Mr. Swanson, who frequently posts long commentaries on LinkedIn and Facebook, then used the message and photo to open one of his own posts, attacking Hillary Clinton and the Democrats. The message Mr. Swanson borrowed also appears on a conservative meme website, with a photo that at least one newspaper has credited to the United States Navy.
"I usually publish an article several times a week, to keep driving the narrative," Mr. Swanson said in an interview. He was not bothered, he said, by becoming an unwitting cog in the Russian propaganda machine. "You know we do the same damn thing over there," Mr. Swanson said. "What do you think — we're saints?"
In early 2016, Being Patriotic copied and pasted a story from the conspiracy site InfoWars, saying that federal employees had taken "land from private property owners at pennies on the dollar." The Russian page added some original text: "The nation can't trust the federal government anymore. What a disgrace!"
This past March, another of the Russian pages, Secured Borders, reposted a video that it attributed to Conservative Tribune, part of the conservative and pro-Trump sites run by Patrick Brown. The video, which falsely claims that Michigan allows Muslim immigrants to collect welfare checks and other benefits for four wives, originated on a YouTube channel called <a href="http://CleanTV.com" rel="nofollow">CleanTV.com</a>. The Facebook post has been removed, but a version remains up on the meme site Me.Me.
Mr. Brown did not respond to an email seeking comment. But Gerald McGlothlin, the president of CleanTV — and a contributor to other sites run by Mr. Brown — confirmed in an email that his company had created the original YouTube video.
The Blacktivist Facebook page appears to have specialized in passionate denunciations of the criminal justice system and viral videos of police violence, many of them gathered from Facebook and YouTube. In May, Blacktivist also posted a message drawn from news stories about the death of Jayson Negron, a teenager in Bridgeport, Conn., during a confrontation with police. Such posts soon found an authentic audience: The Negron post was reposted by a verified Facebook account belonging to Black Lives Matter Chicago, according to a cached copy.
As lawmakers debate tighter regulation for companies like Facebook, the trail of Russian digital bread crumbs underscores how difficult it will be to purge social media networks of foreign influence, or even to hamper the covert propaganda campaigns carried out on social platforms by Russia, China and other countries.
Copying other people's content without proper attribution can be a violation of the social networks' rules. But the content itself — the videos, posts and Instagram memes borrowed and shared on the Russian pages — are not explicitly violent or discriminatory, so they do not violate the rules of those services. Instead, they are precisely the type of engaging content these platforms are hungry for.
The Russian campaign also appears to have been tailored to exploit the companies' own strategies for keeping users engaged. Facebook, for example, pushed people to interact more in Groups like the ones set up by the Russians, where users can "share their common interests and express their opinion" around a common cause. LinkedIn, the professional social network owned by Microsoft, is geared toward encouraging users like Mr. Swanson to create articles and other content.
"The strategies are no mystery," said Michael Strangelove, a lecturer on internet culture at the University of Ottawa. "Foreign powers are playing within the rules of the game that we wrote."
A spokesman for Facebook declined to comment. LinkedIn said Mr. Swanson's post did not violate the site's terms of service.
"The challenges posed by the dissemination of fake news and other harmful content through technology platforms are serious," said Nicole Leverich, a spokeswoman for LinkedIn. "We actively address suspected violations of LinkedIn's terms of service such as harassment, fake profiles, and misinformation on our platform."
The Russians appear to have insinuated themselves across American social media platforms and used the same promotional tools that people employ to share cat videos, airline complaints and personal rants. Many of the posts on Being Patriotic also match pre-made, shareable graphics on sites like <a href="http://ConservativeMemes.com" rel="nofollow">ConservativeMemes.com</a>, nestled alongside other conservative content made for sharing on social media.
Boosted by Russian accounts, the material was quickly picked up by other American users of Facebook, spreading the posts to an even bigger audience. The Russian presence appeared to be layered throughout different platforms: Some of the Facebook accounts, including Being Patriotic, had linked accounts on Instagram and Twitter, according to deleted content captured in Google's cache.
John W. Kelly, the founder of Graphika, a commercial analytics company in New York, said the Russians appeared to have a consistent strategy across different platforms. Graphika has tracked thousands of social media accounts whose content closely tracks Russian information operations, promoting articles and videos about WikiLeaks dumps of stolen emails and "false flag" conspiracies about Syrian chemical weapons.
The Russian accounts intermingle with real groups of Facebook or Twitter users — from white nationalists to Bernie Sanders supporters — and seek to manipulate and radicalize them, Mr. Kelly said.
The Russian-influenced networks frequently promote obscure conservative YouTube channels such as the Next News Network and the Trump Breaking News Network, driving up their views and advertising revenue. A video posted in February by a conservative internet radio host, who claimed that 30 politicians were about to be arrested in connection with the "Pizzagate" hoax, racked up more than 300,000 views on YouTube. Another YouTube video, claiming that Michelle Obama had 214 personal assistants and had purchased four yachts with taxpayer money, had close to a million views.
Rather than construct fake grass-roots support behind their ideas — the public relations strategy known as "Astroturfing" — the Russians sought to cultivate and influence real political movements, Mr. Kelly said.
"It isn't Astroturfing — they're throwing seeds and fertilizer onto social media," said Mr. Kelly. "You want to grow it, and infiltrate it so you can shape it a little bit."
Read the whole story
· · · · · ·
Next Page of Stories
Loading…
Page 6
Next Page of Stories
Loading…
Page 7
Next Page of Stories
Loading…
Page 8
Next Page of Stories
Loading…
Page 9