Saved Stories – Trump Investigations
Congressional investigators are homing in on the connections between the 2016 presidential election and social-media giants Facebook and Twitter , a nexus that put Brad Parscale in charge of millions.
Brad Parscale was the Trump campaign's digital director and his San Antonio company was its highest-paid vendor. Giles-Parscale drew nearly $88 million for about 18 months of work, according to Federal Election Commission disclosures, on top of an additional $4 million since Election Day, which included millions paid to Facebook and other social-media companies. As digital director, Mr. Parscale was responsible for creating and placing ads on social-media platforms such as Facebook, developing the campaign's website and driving online fundraising efforts.
In July, Mr. Parscale agreed to an interview with the House Intelligence Committee, but later that month the panel postponed it. The committee hasn't yet set a new date, and, according to a person familiar with the matter, Mr. Parscale hasn't been contacted by the Senate Intelligence Committee or special counsel Robert Mueller, who, in addition to the congressional panels, is conducting a criminal probe into whether the Trump campaign and its associates colluded with Moscow.
Mr. Trump has denied any collusion by him or any associates, and Russia has said it didn't meddle in the election.
Mr. Parscale denies any collusion with Moscow. "I am unaware of any Russian involvement in the digital and data operations of the 2016 Trump presidential campaign," he said in a July statement.
Mr. Parscale's work was prolific. The campaign tested 40,000 to 60,000 Facebook ads every day, according to a person familiar with the spending. A senior GOP campaign aide said the team would start each day with 70 ads in each target state, such as Florida, North Carolina, Pennsylvania, and buy new ads every five minutes, based on what was successful on a range of metrics. Peak days reached nearly 200,000 unique ad combinations, the person said.
The extent of the Trump digital operation's activity was largely unreported because there are no federal disclosure requirements for online ads. Unlike when they air television and radio ads, campaigns running online ads aren't required to disclose how much they paid for the ads, whom they paid and where the ads would run.
Now, lawmakers and Mr. Mueller want to know what role activity on Facebook and Twitter played in the election interference, and whether any Russian social-media activity was connected to the Trump campaign. Facebook has estimated that 10 million people saw ads on its website that were paid for by Russia. Mr. Mueller received copies of Russia-backed Facebook ads last month.
"This was a data crime that occurred, carried out at least by Russia, possibly with cooperation with Trump campaign officials, so any Trump campaign official that worked on data, I think, would be relevant to talk to," said Rep. Eric Swalwell (D., Calif.), a member of the House Intelligence Committee.
Spokesmen for Facebook and Twitter have said they are looking to bolster transparency and toughen safeguards against improper use of their platforms.
Facebook is set to participate in public hearings on Nov. 1 held by the House and Senate Intelligence committees. Twitter and Google will take part in the Senate hearing.
The House panel also has contacted Cambridge Analytica, a data analytics company paid $5 million by the Trump campaign last year that worked together with Mr. Parscale's firm, for information related to the Russia probe, a Cambridge Analytica spokesman said.
The House panel referred questions to the company, whose spokesman said it would fully cooperate with the probe but added that Cambridge Analytica itself isn't under investigation. "There is no suggestion of any wrongdoing by the company," he said.
The White House referred questions to Mr. Trump's re-election campaign, which declined to comment.
While broadcast stations are required to disclose to the Federal Communications Commission how much they earn from political campaigns and groups and where those dollars are directed, social-media companies don't have to disclose what share of their advertising revenue comes from political ads.
Facebook has turned over the Russia-backed ads to congressional investigators and the House Intelligence Committee has said it will make them public soon. Facebook said in a statement earlier this month that it is "building new tools" that would allow users to see ads run by a specific individual or group, even if those ads aren't targeted to that particular user.
Steven Passwaiter, vice president at Kantar Media/CMAG, which tracks political advertising, said his firm is planning to track digital ads for the first time this year, but won't be able to include ads on social-media platforms such as Facebook, the primary platform used by the Trump campaign.
"Facebook is a walled garden," said Mr. Passwaiter. "You really don't get the ability to look in."
Candidates have traditionally spent the bulk of their advertising money on television, which is considered more effective in reaching mass audiences. Through late October 2016, Democratic candidate Hillary Clinton spent about $140 million on TV ads to Mr. Trump's $60 million.
The Trump campaign devoted nearly half of its advertising spending to digital ads, according to the person familiar with the spending, much of it for Facebook ads, which helped the campaign and the Republican National Committee build a network of small donors that raised about $250 million in small-dollar donations.
By Election Day, the Trump campaign had spent about $70 million in advertising on Facebook, according to the person familiar with the spending.
"Facebook was the most significant way for the GOP to prospect to find donors," Mr. Parscale said in an interview with The Wall Street Journal this week. "It's a tool which allows you to find people who are supporters easier so you can get them into your campaign."
Overseeing his efforts was Jared Kushner, the president's son-in-law who now serves as a senior White House adviser. Mr. Kushner was interviewed by the Senate Intelligence Committee in July. Mr. Kushner has denied colluding with Russia.
A person familiar with the effort said Mr. Kushner wasn't involved in the day-to-day work of running digital advertising. Instead, Mr. Parscale would keep him apprised of the budget and of which voters the campaign was planning to target, the person said.
Much of the money paid to Mr. Parscale was dispersed to social-media platforms to pay for the advertising, as well as to at least one other vendor: Sprinklr, a social-media management service that allows companies to scale up their online presence.
Every vendor that worked with Mr. Parscale on the campaign signed a nondisclosure agreement, according to the person familiar with the spending, and didn't respond to requests for comment.
The Trump ads Mr. Parscale purchased on Facebook were largely focused on fundraising, showing users images of Mr. Trump or his family while asking them to donate, said the person. Images and videos of Mr. Trump's daughter, Ivanka Trump, were targeted to mothers. Some contained cartoons attacking Hillary Clinton as corrupt. The campaign also used Facebook to draw large crowds to Mr. Trump's campaign rallies, the person said.
Images and videos were tested in battleground locations, comparing results by gender and in rural areas and urban areas using a range of metrics. If small ad buys on certain targets performed well, the campaign purchased more, the person said.
The Facebook ads typically bring in fairly small donations and Mr. Parscale's low rate of financial return on them drew him criticism from both Democrats and Republicans, who questioned the effectiveness of his ads. In response, Mr. Parscale pointed to the high number of small-dollar donors the campaign was attracting.
"Fundraising small dollars literally followed two days ahead of poll data," Mr. Parscale said of donations raked in through Facebook ads, speaking at a panel hosted by Google in December. "People would vote with their wallets."
Mr. Trump's campaign ultimately drew about 65% of its funds from donations of $200 or less. Mrs. Clinton's share of small-dollar donations: 26%. Mr. Trump's fundraising was, however, far outpaced by Mrs. Clinton's. Over the course of the 2016 election cycle, Mr. Trump raised $350 million, to Mrs. Clinton's $585 million.
Appeared in the October 14, 2017, print edition as 'The Man on Trump's Digital Front.'
Read the whole story
· · · · · ·
Source: Trump Administration Accused of Aiding Iranian Militias in Syria
A series of blows is taking its toll.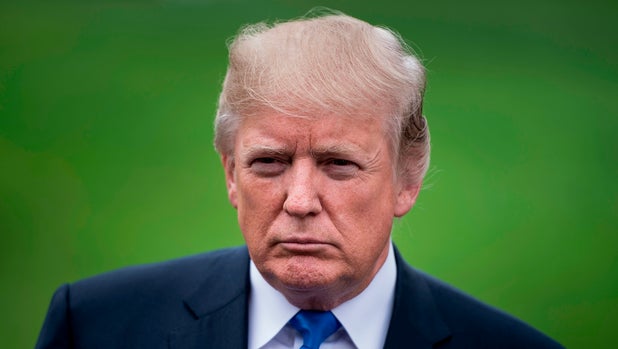 I DO NOT LIKE YOU, FACEBOOK!  You are cheap, pretentious, primitive, and mediocre, just like the majority of your customers. Like "faces", like "books", like "posts", like the uniform mentality of your everywhere-nowhere "friends". Somewhere between the kindergarten and the institution for the mentally challenged.  Not only its current CEO, but the Facebook itself is … 
Continue reading

 "I DON'T LIKE YOU, FACEBOOK! I DON'T LIKE YOU, FACEBOOK! I DON'T LIKE YOU, FACEBOOK!"
Next Page of Stories
Loading…
Page 2
Reince Priebus may have been spying on Donald Trump for Robert Mueller last week
Reince Priebus may have been spying on Donald Trump for Robert Mueller last week


Reince Priebus may have played Trump during meeting last week
From: News Duration: 01:05 After Sen. Bob Corker criticized President Donald Trump for his "castration" of Secretary of State Rex Tillerson, the secretary responded by saying he is "fully intact."  News's YouTube Videos
Of all the various players accused of wrongdoing in Donald Trump's Russia scandal, the gleefully defiant Roger Stone was the last one whom anyone expected to cave. So when he was faced with a deadline on Friday which would have resulted in subpoena action, most observers – including me – expected him to thumb his nose at it and milk the situation for attention. Instead, in what can only be described as a panic move, Stone has shockingly caved.
The House Intelligence Committee had demanded that Roger Stone turn over the name of his backchannel contact with WikiLeaks, the cyberterrorist group which is believed to have coordinated with Russian government hackers for Donald Trump's benefit during the election. Throughout the course of the Trump-Russia scandal, Stone had been trying his best to play the rebel. He's routinely cursed out and threatened the members of Congress investigating the scandal. But this time around, he opted to go ahead and turn over the name of his contact after all.
Stone's attorney is confirming that the name of the WikiLeaks contact has in fact been turned over to the House Intel Committee (link), while Stone isn't saying much of anything on Twitter. For all his bluster, for all his desire to gain attention and sell more of his deranged conspiracy books, Stone seems to have decided at the last minute that he doesn't want to get tossed in jail for contempt of Congress after all.
This is noteworthy because it suggests that Roger Stone, for all his bluster, is not willing to go down with the ship. What happens when Special Counsel Robert Mueller threatens to bring criminal conspiracy charges against him for his communications with Russian hackers during the election? Will Stone cut a deal? If he's caving on this aspect of the scandal in order to avoid potential arrest, perhaps he'll end up flipping altogether.
The post Roger Stone shockingly caves in Donald Trump's Russia scandal appeared first on Palmer Report.
 Palmer Report