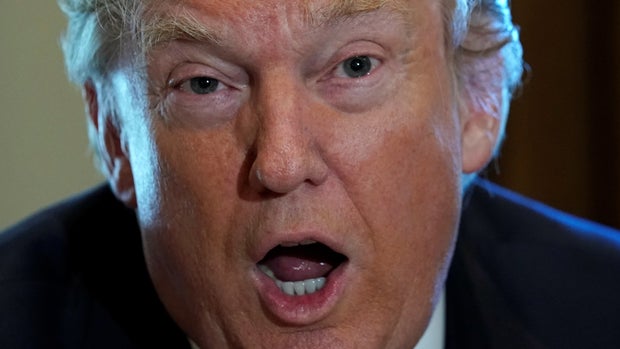 Selected and Saved News Stories – Trump 
Saved Stories – 1. Trump
Gold Star Dad Wants To Learn How To Use Twitter Just To Call Donald Trump A 'Damn Liar'
Another military family rebukes the president.
Senators Demand Online Ad Disclosures as Tech Lobby Mobilizes – New York Times
Senators Demand Online Ad Disclosures as Tech Lobby Mobilizes
New York Times
Citing United States intelligence findings that Russia was behind the hacking and dissemination of damaging emails from the Democratic National Committee in 2016, Mr. Elias said, The Russians were willing to break the law to help Donald Trump. I doubt …
Trump falls short on 'drain the swamp' promises – Politico

Politico
Trump falls short on 'drain the swamp' promises
Politico
Shortly before Election Day last year, Donald Trump rolled out a package of ethics reforms that he promised to implement as president, using for the first time a now-famous phrase: drain the swamp. A year later and nearly nine months into his …
'Wry Titters' in the Age of Trump – Politico

Politico
'Wry Titters' in the Age of Trump
Politico
In Trump's casewell, every photo of him is a good one, almost. Every angle, the back of his head, a full profile, gives me too much information, can occupy hours of amusement at the drafting table. For a while, it was the sweep of his hair, like …
Former French intelligence chief to testify at terror trial – Houston Chronicle
Former French intelligence chief to testify at terror trial
Houston Chronicle
Squarcini said at the time that Merah acted as a lone wolf, self-radicalized when in prison for petty crimes and wasn't affiliated with an extremist network. But Merah had been placed on the "fiche S" listing, a register of people suspected of being …
Tomi Lahren Says Trump Groping The Flag Is #RelationshipGoals. Twitter Disagrees.
"This is sarcasm right?"
Democracy Can Plant the Seeds of Its Own Destruction – New York Times

New York Times
Democracy Can Plant the Seeds of Its Own Destruction
New York Times
Trump is the most prominent of the right-wing populist politicians continuing to gain strength both here and in Europe (despite some electoral setbacks), but because the viewpoint he represents is now so widespread, he is in one sense personally …
Vladimir Putin is positioning himself as the puppetmaster of the Middle East – The Independent
Americans Are Gravely Mistaken About The 'Death Tax'
The estate tax only applies to the richest 0.02 percent of households.
The Note: Will Obama stay above the fray amid Trump's patriotism challenge? – ABC News
The 'Trump effect' is helping, not hurting, Gov. Hogan – Baltimore Sun
Homeland Security sees power grow under Trump – The Hill

The Hill
Homeland Security sees power grow under Trump
The Hill
The Department of Homeland Security (DHS) has seen its influence and power expand under President Trump, whose efforts to bolster border security and crack down on illegal immigration have run through the youngest federal department. Homeland Security …
Despite backlash over political ads, Facebook's role in elections will only grow – Los Angeles Times
Trump and Putin's Strong Connection: Lies – Mother Jones

Mother Jones
Trump and Putin's Strong Connection: Lies
Mother Jones
Also the author of a 2012 biography of Putin, The Man Without a Face, Gessen of late has been a frequent critic of the authoritarian tendencies of President Donald Trump. She spoke with Mother Jones about the similarities she sees betweenTrump and …
Its Time for Congress to Lead on Homeland Security
One of the most important post-9/11 reforms that has helped keep our nation safe from mass-casualty terrorist attacks was the creation of the Department of Homeland Security (DHS). This year, the Senate has an opportunity to help DHS better realize its mission by joining the House in reauthorizing the department for the first time since its creation in the aftermath of the Sept. 11 attacks.

The Homeland Security Act of 2002, which created DHS, brought together 22 previously separate agencies with 179,000 employees. DHS inherited customs and border security from the Justice and Treasury Departments, aviation security from the FAA, and maritime and port security from the Department of Transportation, as well as the Federal Emergency Management Agency. Those missions alone would be a challenge for any agencybut DHS is also responsible for government and private sector cybersecurity, and has important intelligence and counterterrorism duties as well. Knitting DHSs many disparate components together into a coherent agency with a shared culture and managing the now 240,000-person workforce (all while handling crises ranging from surges of unaccompanied minors at the border, to hurricanes, to terrorist plots against aviation, to regular cyberattacks) is a fearsome management challenge.

To execute its complex mission well, DHS needs clear, coherent guidance and strong oversight from Congress. Unfortunately, Congress did not pair its historic post-9/11 reforms in the executive branch with equally deep reforms to its committee structures in the House and Senate. In the 9/11 Commission Report, we recommended that Congress create a single, principal point of oversight and review for homeland security. Logically, that principal point should be the Homeland Security Committee in the House and the Homeland Security and Governmental Affairs Committee in the Senate. Unfortunately, those two committees continue to share jurisdiction over DHS with an astonishing 92 other other committees and subcommittees, because committees that oversaw the agencies folded into DHS were reluctant to give up their jurisdiction over those functions.

Fragmented congressional oversight presents  real costs for homeland security. The departments leaders need to create a strategic vision for managing the department as a whole/ The current oversight structure in Congress cannot provide guidance in that task, as committees that only oversee certain DHS components will naturally focus on their slice of the department. Reporting to a vast array of committees also places an extraordinary administrative burden on DHS where staff spend countless hours writing reams of testimony, preparing their principals to appear, and responding to questions for the record. Repetitive testimony distracts senior leaders and diverts resources away from the mission: protecting the homeland.

While Congress has fallen down on critically important reform of its committee jurisdiction, fortunately, there is some good news. In July, the House passed a comprehensive authorization bill for the department for the first time since 2002. Then-DHS Secretary John Kelly commended the legislation for providing much-needed updated authorities, updated support, and updated accountability for the world we live in today. If enacted into law, this means that DHS would finally receive clear legislative guidance across the entire spectrum of the departments missionjust as the Department of Defense receives each year in the National Defense Authorization Act. This is a major bipartisan accomplishment for House Homeland Security Chairman Michael McCaul (R-TX) and Ranking Member Bennie Thompson (D-MS) who have worked for years to bring this about. Because of the fragmented committee structure for homeland security, this legislation moved only with the cooperation of the chairs and ranking members of the other committees of the House with jurisdiction. They, as well as House leadership of both parties, deserve commendation.

It is now the Senates turn to act. The Homeland Security and Governmental Affairs Committee, led by Chairman Ron Johnson (R-WI) and Ranking Member Claire McCaskill (D-MO), should mark up their own DHS authorization bill and work with the other committees with jurisdiction over parts of DHS to ensure that referrals to those committees are expeditious. The 9/11 Commissions recommendation that both houses of Congress concentrate jurisdiction over DHS in one principal point of oversight remains the long-term goal. In the short term, the Senate can best support the department by moving an authorization bill through the current committee structure. If successful, this process can hopefully be repeated  in subsequent years, giving the department the ongoing guidance it needs and deserves.

Effective congressional oversight is especially important for homeland security because much of the departments national security mission takes place outside of public view. With limited scrutiny by the public and press, only Congress can ensure that the department is carrying out its mission effectively. Put simply: If Congress is not effectively overseeing these programs, no one is. Passing an authorization bill for DHS this year would help us stay ahead of ever-changing threats and be a historic step toward effective congressional oversightand thus toward a safer homeland
From Facebook to Pokémon Go: How Russia meddled in the 2016 election – The Daily Dot
9:47 PM 10/18/2017 Russian internet trolls sought to co-opt unwitting American activists ABC
» Russian Intelligence services – Google News: Russian Internet trolls sought to co-opt unwitting American activists – ABC News 18/10/17 17:01 from 1. Trump from mikenova (5 sites) CNN Russian Internet trolls sought to co-opt unwitting American activists ABC News From their desks in St. Petersburg, Russian Internet trolls at a company with ties to Russian President … Continue reading"9:47 PM 10/18/2017 – Russian internet trolls sought to co-opt unwitting American activists – ABC"
Third HPD Officer Arrested As Part Of Corruption Investigation – Honolulu Civil Beat
Why Europe's Greatest Risk for War Is in the Baltics – Scout
Putin's rage triggered by Obama's moves – Washington Times

Washington Times
Putin's rage triggered by Obama's moves
Washington Times
Putin's rage triggered by Obama's moves. Fearing meddling by U.S., Moscow … It was a provocative move at a sensitive moment when Vladimir Putin was already seething over perceived American backing of mass protests designed to smear him. The Russian …
Former CIA Director John Brennan says Russian hackers had American help in rigging the election
Russian government hackers and propagandists displayed a remarkable familiarity with the delicate intricacies of American politics and social issues during the course of the 2016 election particularly when it came to their successful efforts to rig the swing states of Wisconsin and Michigan in Donald Trump's favor. If you've come to believe the Russians couldn't have pulled it off without American help, it turns out you're in good company.

John Brennan, who was the Director of the CIA during the 2016 election, was interviewed by NBC News reporter Andrea Mitchell at a public function on Wednesday. Mitchell asked Brennan if he thought it was possible that Russia could have pulled off such a sophisticated and knowledgeable operation in these swing states. Brennan flatly stated "I find it implausible." He didn't specifically say it, but he didn't need to: the obvious implication is that the Donald Trump campaign helped Russia to hack the election.

Although Brennan is recently retired, he was running the CIA during the election – thus making him the first high ranking government official to outright assert that Americans were helping the Russians to influence the outcome of the election. Brennan didn't step down until January, meaning that he saw classified evidence on the way out the door that he still can't talk about. Someone in his position wouldn't be making these remarks at this time, unless he's seen the evidence confirming it, and he now believes that evidence will become public.

John Brennan has been much more cautious with his words in the past when it's come to discussing the topic of election collusion between the Donald Trump campaign and Russia. There's a reason why he's now making a much more damning assertion about it. Brennan now appears to believe that it'll all come out in the end one way or the other.

The post Former CIA Director John Brennan says Russian hackers had American help in rigging the election appeared first on Palmer Report.
10:37 PM 10/18/2017 Tennessee GOP account. But it wasnt real. It was Russian. Washington Post
Michael Flynn, Nicki Minaj shared content from this Tennessee GOP account. But it wasn't real. It was Russian. – Washington Post  Tennessee GOP account – Google Search Wednesday October 18th, 2017 at 10:40 PM Tennessee GOP Account – Google News 1 Share Russian Twitter account pretending to be Tennessee GOP fools … Chicago Tribune–2 hours ago Russian operatives used a fake … Continue reading"10:37 PM 10/18/2017 – …Tennessee GOP account. But it wasn't real. It was Russian. – Washington Post"
Fake Melania Trump? Some think Melania is being impersonated by a Secret Service agent who looks like her
On a day that was filled with various other kinds of Trump administration chaos, it was Melania Trump who found her way to the top of Twitter's trending topics list and for a surreal reason. Donald Trump made a public appearance with a woman who was supposed to be Melania but didn't quite look like her, and then he protested a little too much about it really being her. It set off a day's worth of conspiracy theories, including one involving a Secret Service agent.

Here's the photo that sparked a thousand questions about whether an imposter was pretending to be Melania Trump while standing next to Donald Trump:

On the one hand, upon close inspection, that does not look like Melania. The facial structure is off, the cheekbones are wrong, the hair appears to have been combed forward to obscure her facial features, and the absurdly oversized sunglasses are precisely what an imposter would wear. On the other hand, the most plausible explanation is that Melania was having a bad day and thus simply didn't look like herself. It happens to everyone on occasion. Then again, this is precisely the kind of cartoonish amateur hour stunt that Trump and his band of idiots would come up with. So what gives?

One popular theory is based around the fact that Melania Trump rather bizarrely has a Secret Service agent assigned to her detail who just happens to look very similar to her (link). Some have suggested that the Trump administration may have purposely had this agent assigned to Melania's detail so she could be used as an imposter whenever Melania didn't want to make a public appearance. It's phenomenally difficult to believe that a Secret Service agent would go along with this kind of scam. Of course this has led some to suggest that she may not even be a real agent, but rather an actress hired to pose as an agent so she'll have an excuse to be close by, whenever she's needed for imposter duty.

Of course these popular theories are all based on nothing more than one appearance in which Melania Trump didn't look like herself. The most likely explanation is that this really was Melania, but she wore so much makeup, it made her face appear to have a different shape. Considering that Donald Trump is a violent sociopath who regularly assaults women and he's spiraling out of control by the day, perhaps we should be worried about why Melania would try to hide her face with an unusual amount of makeup and oversized sunglasses.

The post Fake Melania Trump? Some think Melania is being impersonated by a Secret Service agent who looks like her appeared first on Palmer Report.
Jeff Sessions unwittingly gives away Donald Trumps pardon strategy
It's long been believed that when it comes down to it, Donald Trump will try to pardon everyone involved with his Russia scandal including his advisers, his family members, and even himself in a last ditch effort at surviving the scandal on his way out the door. We know this partly because Trump himself let leak that he's inquired about whether he has the power to pardon himself. But now his Attorney General Jeff Sessions may have given away a little too much of Trump's pardon strategy.

Jeff Sessions publicly testified before the Senate Judiciary Committee on Wednesday. He was grilled on a number of topics, including his increasingly suspicious role in Donald Trump's Russia scandal. He was also asked about Trump's decision to pardon former Sheriff Joe Arpaio. Many have come to suspect that Trump arbitrarily pardoned Arpaio in order to get his first pardon out of the way, so the public won't see it as quite so jarring when Trump begins pardoning his own Trump-Russia co-conspirators.

Sessions unwittingly gave away two things. First, he admitted that there was no real process at the Department of Justice when it came to the Arpaio pardon; instead Trump simply rammed it through without any legal input. This suggests that Trump really did issue the pardon for strategic reasons, rather than any desire to seek what he believed was legal justice for Arpaio. Second, Sessions refused to say whether he believed that it would be appropriate for Trump to preemptively pardon people. This is because he didn't want to bring immediate scrutiny to Trump's pardon strategy by saying "yes," and he didn't want to harm that strategy by saying "no."

So what have we learned? Donald Trump indeed plans to try to pardon everyone involved in his Russia scandal, including himself, and including Jeff Sessions. That last part was given away by Sessions' arrogant demeanor, which telegraphed that he thinks he's getting away with his election treason. Neither Trump nor Sessions appears to understand that the Supreme Court can strike down any attempted pardon that it considers to be unconstitutional. Numerous legal scholars have argued that Trump can't pardon his co-conspirartors or himself.

The post Jeff Sessions unwittingly gives away Donald Trump's pardon strategy appeared first on Palmer Report.
You Are Getting Sleepy How Trump's Hissing Hypnotism Worked – HuffPost