10.26.17

Trump – 10.25.17

Trump Investigations – 10.25.17

News Reviewed

Trump – Russia Investigations – 10.25 – 23.17

Russian Social Media – Facebook Ads – 10.25 – 23.17

Cambridge Analytica – 10.25 – 21.17

Russian "troll farms" – 10.25.17

FBI Statistics – 10.23.17

10.25.17

Russia News and News In Russian – Новости из России и Новости на Русском языке | The Brooklyn Bridge

Video News in Russian – 6:32 AM 10/25/2017

10.24.17

10.24.17 – Clearlake Oaks Shooting

10.23.17

News Reviews and Opinions: 8:24 AM 10/23/2017 Christopher Wray: New FBI Director Touts Importance of Partnerships With Local Police

10.22.17

10.21.17

News Topics – Reviewed on 10.20.17
Next Page of Stories
Loading…
Page 2
Next Page of Stories
Loading…
Page 3
Next Page of Stories
Loading…
Page 4
Next Page of Stories
Loading…
Page 5
Next Page of Stories
Loading…
Page 6
 Elections 2016 Investigation – Google News
The Russia – West E-Curtain – GS
The Russians want to build the new E-Curtain, prophylactically, to protect themselves from the evil Western influences. At least a part, if not all the Trump-Russia show-off operation might be an FSB counterintelligence endeavor, very aggressive, as is their tradition historically, and also outgrowing into the frank intelligence show-off "special operation". And all this to demonstrate the dangers of the single Internet and to divide it into two separate informational bastions: pro-Russian and the rest. Very isolationist, narrow-minded, and very Russian in its mentality. These are the goals and purposes Of this new E-Curtain, which is impossible to impose unilaterally but only by mutual consent. Will never happen. M.N. – 10.25.17
See also Mr. Hoffman on this subject: 

 Former CIA station chief warns of 'authoritarian internet'
A common link in
A sharp contrast to the opinion polls, pre-election, and pre-referendum.
Questions:
Did they target their "key (attuned, worked on) voters" in the key areas, according to the polls information? 
Did they manipulate the opinion polls or their samples? 
Was the interference in Brexit vote a dress rehearsal for Trump vote?  
M.N. – 10.25.17 
Links to Posts and Articles
Read the whole story
· · · · ·
The Russia – West E-Curtain – GS
The Russians want to build the new E-Curtain, prophylactically, to protect themselves from the evil Western influences. At least a part, if not all the Trump-Russia show-off operation might be an FSB counterintelligence endeavor, very aggressive, as is their tradition historically, and also outgrowing into the frank intelligence show-off "special operation". And all this to demonstrate the dangers of the single Internet and to divide it into two separate informational bastions: pro-Russian and the rest. Very isolationist, narrow-minded, and very Russian in its mentality. These are the goals and purposes Of this new E-Curtain, which is impossible to impose unilaterally but only by mutual consent. Will never happen. M.N. – 10.25.17
See also Mr. Hoffman on this subject: 

 Former CIA station chief warns of 'authoritarian internet'
Read the whole story
· · · ·
As the probe into Russia's influence in the 2016 presidential election continues, Special Counsel Robert Mueller's probe has expanded to …
As the probe into Russia's influence in the 2016 presidential election continues, Special Counsel Robert Mueller's probe has expanded to …
Next Page of Stories
Loading…
Page 7
… Trump's reported pledge of $430,000 to help White House and campaign staffers pay for legal costs associated with the Russia investigation …
The Independent
–
18 hours ago
… email probe as 'massive diversion' from Trump–Russia investigation … The FBI carried out an investigation into Ms Clinton's private use of an …
New York Times
–
6 hours ago
U.K. Lawmakers Ask Facebook About Russian Influence in Brexit Vote … Suspecting Russian Meddling in 'Brexit' Vote, Lawmaker Seeks …
Sputnik International
–
15 minutes ago
… has commented on the UK initiative to investigate Russia's alleged role in using social media to influence the Brexit vote in an interview with …
Britain asks Facebook for information about suspected Russian influence in Brexit … The Facebook logo is seen in front of a Russian flag in this photo … on Russian-linked ads used during the Brexit voteand June's general …
A common link in
A sharp contrast to the opinion polls, pre-election, and pre-referendum.
Questions:
Did they target their "key (attuned, worked on) voters" in the key areas, according to the polls information? 
Did they manipulate the opinion polls or their samples? 
Was the interference in Brexit vote a dress rehearsal for Trump vote?  
M.N. – 10.25.17 
Next Page of Stories
Loading…
Page 8
<a href="http://NYTimes.com" rel="nofollow">NYTimes.com</a> no longer supports Internet Explorer 9 or earlier. Please upgrade your browser. 
LEARN MORE »
campaign: anchoredAd_subs_store_relaunch0717, creative: AnchoredAd, source: optimizely
Signed in as mikenova
Share this story on NewsBlur
Shared stories are on their way…
House Intelligence Committee member Rep. Mike Conaway and ranking member Rep. Adam Schiff.
By Chip Somodevilla/Getty Images.
As the one-year anniversary of Donald Trump's victory fast approaches, any hope that the three congressional committees tasked with investigating Russian interference in the 2016 election will determine whether the Trump campaign colluded with the Kremlin—or will surface any substantive findings—has begun to dissipate amid staffing issues, partisan quibbles, and continued starts and stops. Even lawmakers have conceded that if any investigation will uncover a definitive conclusion, it will be Robert Mueller's deepening F.B.I. probe. "There's no proof yet that it's happened, and I think that proof will likely come with Mr. Mueller's investigation," Senator Dianne Feinstein, the ranking member of the Senate Judiciary Committee, said of the collusion question during a recent interview. "He's got the ability to use a grand jury. He's got the ability to use the power of subpoena without question. And he's got the ability to do a criminal investigation."
The morass has been most evident among the House Intelligence Committee, where the partisan divide is, arguably, the deepest. Earlier this year, tensions between the panel's chairman, Devin Nunes,and its ranking Democrat, Adam Schiff, spilled into the open when it was revealed that Nunes received classified information from the White House, which he subsequently showed to Trump—a move that forced him to abdicate his leadership position. But the intelligence committee has struggled to get back on track. The New York Times reports that Democrats are frustrated with Nunes's continued meddling in the probe. "Frankly, I have been doing everything I can to try to get us to do a credible investigation and to reach a common conclusion," Schiff, who himself has drawn criticism for his frequent media appearances, said. "I view these things as obstacles that are in the way to overcome, and I am doing my best to overcome them almost daily."
Nunes's successors haven't fared much better. Trey Gowdy, who along with K. Michael Conaway of Texas and Tom Rooney of Florida took control of the panel from Nunes, irked his Democratic counterparts when he said that Jared Kushner was in an "unwinnable" situation, suggesting he was being unfairly targeted. "Congressional investigations unfortunately are usually overtly political investigations, where it is to one side's advantage to drag things out," Gowdy, who rose to prominence during the Benghazi hearings, told the Times. "The notion that one side is playing the part of defense attorney and that the other side is just these white hat defenders of the truth is laughable."
The Senate Intelligence Committee has managed to maintain more amity between members. But while its chairman Richard Burr and ranking Democrat Mark Warner have projected a professionalism absent in the House, both lawmakers have expressed doubts that they will deliver a clear-cut conclusion. "At the end of the day, what we owe the American people is the truth," Warner said during an interview on Thursday, the Times reports. "And if there's something there, then they should know that. And if there's not something there, I'll be the first to acknowledge that." Burr told reporters that they "hit a wall" in its investigation into the infamous dossier compiled by former British spy Christopher Steele, and that any hope that the Senate investigation would surface criminal charges was misguided. "The special counsel is focused on criminal acts; we're not focused on criminal acts," he said. "If we find one, then they're the first phone call we make."
The third congressional committee investigating the Russian interference, the Judiciary Committee, has been similarly plagued by starts and stops in its probe. As the Times reports, its chairman Chuck Grassley agreed to dig into former F.B.I. Director James Comey's ouster, among other angles of the Russian interference, but since interviewing Donald Trump Jr., the committee's work has stalled. An earlier attempt by the panel to interview Trump's former campaign chairman Paul Manafort was derailed after Mueller's team reportedly informed the longtime political operative that he would face an indictment, leading to the postponement of his hearing. (Manafort has repeatedly denied any wrongdoing.)
That leaves the Justice Department to close the case, such as it is. Mueller's investigation has continued apace, with NBC News reporting Monday that Tony Podesta (brother of longtime Clinton aide John Podesta) and his lobbying firm, the Podesta Group, are the latest subjects of the F.B.I. investigation. The Podesta Group worked on a campaign for the European Centre for a Modern Ukraine (ECMU), a nonprofit tied to Manafort that sought to promote Ukrainian interests in the West. According to NBC News, the Podesta Group is under criminal investigation for potentially violating the Foreign Agents Registration Act, under which individuals lobbying on behalf of a foreign government or political party must disclose their work to the Justice Department. (In a statement, a spokesperson for the firm said it is "cooperating fully with the Special Counsel's office and has taken every possible step to provide documentation that confirms timely compliance. In all of our client engagements, the Podesta Group conducts due diligence and consults with appropriate legal experts to ensure compliance with disclosure regulations at all times—and we did so in this case.") Manafort has become a key figure in Mueller's investigation, indicating either that that special prosecutor sees him as a lynchpin in the case, or as the Trumpworld insider most likely to flip and become a cooperating witness.
Read the whole story
· · ·
As the probe into Russia's influence in the 2016 presidential election continues, Special Counsel Robert Mueller's probe has expanded to include a key Democratic lobbyist.
Tony Podesta, the brother of Hillary Clinton's campaign chairman, and his lobbying firm are now a subject in Mueller's investigations because of the Podesta Group's work on Paul Manafort's PR campaign for a Ukrainian group.
Manafort is President Donald Trump's former campaign manager who has found himself at the center of the investigation into possible Russian collusion in the 2016 presidential election because of his financial dealings and lobbying work with Ukrainian and pro-Russian officials.
Despite some opposition to Mueller's probe from Republicans, Trump apparently isn't "discussing" firing him, and House Speaker Paul Ryan said Mueller should be able to "do his job."
Mueller, 73, reportedly impaneled a grand jury earlier in August as part of his examination. Read on for a brief rundown on his investigation so far.
Appointment
The Department of Justice announced the appointment of Mueller to oversee the federal investigation into Russia's alleged meddling in the 2016 election on May 17.
Special Counsel Robert Mueller departs after a closed-door meeting with members of the Senate Judiciary Committee about Russian meddling in the election.  (AP Photo/J. Scott Applewhite)
The appointment came after a growing cry – mostly from Democrats – mounted for someone outside the Justice Department to handle the probe. Attorney Gen. Jeff Sessions had already recused himself from the investigation.
TRUMP AND THE RUSSIA INVESTIGATION: WHAT TO KNOW
Mueller led the FBI through the Sept. 11 terrorist attacks and served under presidential administrations of both parties.
He has the authority to prosecute any crimes uncovered during his investigation, and he was given wide authority to investigate whether Trump or his associates colluded with the Kremlin to win the White House.
Mueller allegedly expanded the probe to include investigating Trump for obstruction of justice because he fired FBI Director James Comey earlier in May.
Trump told Fox News the claims that he obstructed justice were "ridiculous" and said Mueller's friendship with Comey was "very bothersome."
Mueller has also reportedly taken over an ongoing investigation into Manafort's financial dealings in Ukraine. The FBI executed a search warrant in August at the Virginia home of Manafort, who – prior to joining Trump's campaign – worked with a Russia-backed Ukrainian president.
Staffing controversy
The Trump administration heavily criticized Mueller's investigation as several of his attorneys on staff donated to Democratic campaigns, including to Trump's 2016 rival, Hillary Clinton.
"They clearly wanted the other person to win. Now, whether that prejudices them in one way or another remains to be seen, but it is relevant information for people to have," White House counselor Kellyanne Conway told "Fox and Friends" in July.
Grand jury
Mueller kicked off August by reportedly impaneling a grand jury to investigate Russia's influence – an indication that the probe is entering a new phase.
A grand jury gives prosecutors the ability to subpoena documents and gather on-the-record witness testimonies. Indictments can also be sought.
SENATORS INTRODUCE BILL TO PROTECT MUELLER FROM FIRING
Grand juries are common vehicles to gather evidence, though they do not suggest any criminal charges are near or will necessarily be sought.
Trump's comments
Trump has dismissed the allegations of collusion with Russia as a "fake story that is demeaning to all of us and most of all demeaning to our country and demeaning to our Constitution."
"I just hope the final determination is a truly honest one…"

– President Donald Trump
"I just hope the final determination is a truly honest one, which is what the millions of people who gave us our big win in November deserve and what all Americans who want a better future want and deserve," Trump said at a rally in West Virginia earlier this year.
The president also warned Mueller to stay within certain boundaries as he investigates.
But Conway told Fox News that the Trump administration is not "discussing" firing Mueller and will cooperate with the investigation.
She contended that while the Russia probe is a "witch hunt" and "fake," Trump "has not even discussed" nor is "discussing" sacking Mueller.
Trump and Mueller have also sent messages "back and forth," according to Trump's outside counsel. A spokesman for Mueller told Fox News that the messages have been "very professional."
The Associated Press contributed to this report. 
Kaitlyn Schallhorn is a Reporter for Fox News. Follow her on Twitter @K_Schallhorn.
Read the whole story
· · · · ·
Next Page of Stories
Loading…
Page 9
Next Page of Stories
Loading…
Page 10
Saudi Arabia has been "not normal" for the past 30 years and will soon return to a "moderate Islam" according to recent comments from the kingdom's Crown Prince, who attributed the country's adherence to hardline Islam to fallout from the Iranian revolution.
"What happened in the last 30 years is not Saudi Arabia. What happened in the region in the last 30 years is not the Middle East," Mohammed bin Salman, the heir to the Saudi throne told the Guardian Tuesday.
"After the Iranian revolution in 1979, people wanted to copy this model in different countries, one of them is Saudi Arabia. We didn't know how to deal with it. And the problem spread all over the world. Now is the time to get rid of it," he continued.
Read more: What Saudi Women Need More Than a Driver's License
The crown prince's comments are the latest indication of a softening in the values of Saudi Arabia, which gloms to a fiercely puritanical strain of Sunni Islam. They also coincide with his attempts to consolidate his authority and break with hardline clerics that have long held sway over the House of Saud. Last month, the Kingdom lifted a ban on women driving cars, according to local media. Authorities have also loosened guardianship rules that restrict women's access to jobs, higher education and medical procedures
At an earlier investment summit in Riyadh, Salman remarked on the country's young population. "We won't waste 30 years of our life combating extremist thoughts, we will destroy them now and immediately," he said, according to the Guardian.
Read more: Rex Tillerson Seeks Help From Arab Nations in the U.S. Effort to Isolate Iran
At the summit, Saudi touted proposals for a $500bn independent economic zone, an ambitious attempt to diversify the kingdom's almost entirely oil dependent economy. The new economic zone will spill over Saudi's borders into neighboring Jordan and Egypt and, according to the Guardian, include a tourist hub in which men and women will be allowed to mingle freely.
Read the whole story
· · ·
10:07 AM 10/24/2017 – This is the attempt to control and manage the electoral system, not just to undermine trust in it. – M.N. – 10.24.17
Weeks after Hurricane Maria hit Puerto Rico, nearly 80 percent of the island remains without power.
Typically, power companies rely on "mutual aid" agreements with other utilities following natural disasters — both Texas and Florida recently activated those agreements to help residents get power back.
But the Puerto Rico Electric Power Authority, or PREPA, has opted out and hired a tiny contracting firm from Montana instead.
"PREPA couldn't afford it," says David Ferris, a reporter for the industry publication E&E News. The agency is $9 billion in debt, and mutual aid agreements are expensive to repay.
Whitefish Energy saw an opening and signed a $300 million contract with PREPA last week.
"There were other companies offering to do the work," says Ferris "but because of PREPA's perilous financial situation, those other parties wouldn't necessarily just jump in. But Whitefish was ready to."
Whitefish is responsible for rebuilding "a major spine of the transmission system that will connect the southern part of the island, where most of the power plants are, to the northern part of the island where the capital is and where most of the power users are," says Ferris.
PREPA's decision to hire Whitefish Energy is unusual, and drawing some scrutiny. The for-profit company had just two full-time employees when Hurricane Maria made landfall, and is based in US Interior Secretary Ryan Zinke's hometown in Montana.
"You have a small, untested power company going in to help a desperate, bankrupt utility," says Ferris. "We simply don't know what that's going to look like or how long it's going to take."
To hear more from David Ferris about Whitefish Energy listen above.
Download audio: https://www.podtrac.com/pts/redirect.mp3/cdn.pri.org/sites/default/files/segment-audio/10242017_01.mp3
Read the whole story
· · ·
A liberal activist infiltrated a press area outside a Senate GOP lunch.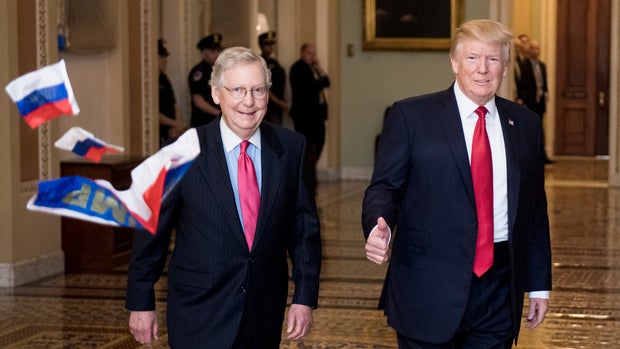 Next Page of Stories
Loading…
Page 11