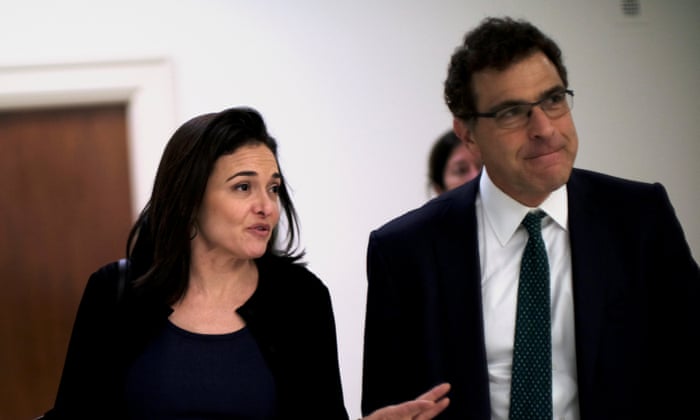 Facebook's chief operating officer, Sheryl Sandberg, and its vice-president of global communications and public policy, Elliot Schrage, on Capitol Hill. Photograph: James Lawler Duggan/Reuters – How Russia used social media to divide Americans – The Guardian 
"We as a campaign made the choice to rely on the voter data of the Republican National Committee to help elect President Donald J. Trump," Michael Glassner, executive director of Donald Trump for President, said. "Any claims that voter data from any other source played a key role in the victory are false."
But campaign filings show that the campaign paid Cambridge Analytica $5.9 million for data management services between 2015 and 2016.
A former GOP source said that Cambridge Analytica primarily fit into the digital operations of the campaign and used data produced by the RNC for marketing on social media and other platforms. 
"[The RNC] provided the data to Cambridge, and they used that for marketing," the source said, adding that the company had roughly 12 to 15 employees on the ground in San Antonio, where Trump digital director Brad Parscale's company is located. 
Parscale met with members of the House Intelligence Committee behind closed doors on Tuesday as part of its Russia probe. – Scrutiny mounts for Trump digital operation – The Hill
"The extent to which they were helping candidates online was a surprise to us," said co-author Daniel Kreiss, from UNC Chapel Hill. He called the assistance "a form of subsidy from technology firms to political candidates."
The study was published Thursday in the journal Political Communication.
Kreiss and the University of Utah's Shannon McGregor interviewed tech company liaisons to the Trump and Clinton operations as well as officials from a range of campaigns, including those of former Gov. Jeb Bush and Sens. Bernie Sanders, Ted Cruz and Marco Rubio.
The researchers' findings add to the many questions surrounding the part that the country's biggest tech companies played in the 2016 election. Facebook, Google and Twitter already face heavy criticism for allowing the spread of disinformation, "fake news" and divisive advertising during the campaign — much of which targeted Clinton. All three companies are set to testify at congressional hearings beginning next week on Russian use of their platforms to interfere with the election.
The idea that the tech companies were so deeply enmeshed in the efforts to elect Trump in particular could also complicate the companies' reputations as political actors. Facebook CEO Mark Zuckerberg is among those in liberal-leaning Silicon Valley who have roundly condemned Trump's actions as president on topics like LGBT issues and immigration.
As Trump emerged as the likely Republican nominee, staffers from each of the three companies set up shop in a strip-mall office rented by the Trump campaign in San Antonio, Texas, home to the campaign's lead digital strategist, Brad Parscale, the study reports. It attributes that information to Nu Wexler, a Twitter communications official at the time, who is explicit about the value of the arrangement for Trump.
"One, they found that they were getting solid advice, and two, it's cheaper. It's free labor," Wexler said in the study.
While the paper does not detail the specific tasks Facebook carried out for Trump, it describes the sort of work the company did generally for 2016 candidates, including coordinating so-called dark posts that would appear only to selected users and identifying the kinds of photos that perform best on Facebook-owned Instagram. Twitter, meanwhile, would help candidates analyze the performances of their tweet-based fundraising pushes to recommend what moves the campaigns should make next. Google kept tabs on candidates' travels to recommend geographically targeted advertisements.
Digital experts interviewed by the researchers concluded that the tech company employees, who would work in San Antonio for days at a time, helped Trump close his staffing gap with Clinton.
The White House referred questions to the Trump campaign, and Parscale did not respond to requests for comment. Parscale said in an Oct. 8 episode of "60 Minutes" that he actively solicited the companies' support, saying that he told them: "I wanna know everything you would tell Hillary's campaign plus some. And I want your people here to teach me how to use it."
A source close to the Clinton campaign rejected the notion that her team failed to take advantage of a valuable resource, arguing that her operation was in regular contact with the tech companies to tap their expertise. The source, who would only speak anonymously because of the sensitivity around attributing causes of Clinton's defeat, said there would have been no advantage to having tech company employees sitting at desks at Clinton's Brooklyn headquarters.
One unnamed tech company staffer is quoted in the study as saying, "Clinton viewed us as vendors rather than consultants."
Story Continued Below
Asked about the arrangement with Trump, the tech companies were quick to point out that they make their services available to all political players regardless of party.
"Facebook offers identical levels of support to candidates and campaigns across the political spectrum, whether by Facebook's politics and government or ad sales teams," a spokesperson for the social network said in a statement.
That sentiment was echoed by Twitter, which said it offered help to both the Clinton and Trump campaigns, and by Google, which stressed that it is up to each candidate to determine how extensively to work with the company. During the primary season, Google made available to each candidate an eight-hour session with the company's creative teams, but only Kentucky Republican Sen. Rand Paul's campaign took them up on it, according to the study.
But at least one tech veteran said he can see how it would raise alarms that the bulk of Silicon Valley's hands-on campaign support went to Trump rather than to Clinton.
"It can be confusing from the outside looking in when it appears one campaign or another is getting more support," Adam Sharp, a former Twitter executive who led the company's elections team from 2010 to 2016, said in an interview. But while the companies strive to be balanced, they cannot inform voters "when a candidate doesn't heed the help," he said.
An intimate relationship between tech companies and candidates has considerable upside for both. The campaign gets high-quality advice and advance notice on cutting-edge products. The company gets national exposure for its products and builds relationships with politicians who might be in a position to regulate it once they get to Washington.
Silicon Valley had additional considerations during the 2016 campaign. The big tech companies were eager to fight the perception they were unfair to conservatives — and few in the liberal-leaning industry expected Trump to win, with or without their assistance.
Kreiss and McGregor recount one interview in which a pair of Facebook reps struggled to come up with a shorthand way of describing the support they provide candidates. Katie Harbath, head of Facebook's elections team, suggested "customer service plus." Ali-Jae Henke, who as an account executive at Google worked with Republican campaigns, including Trump's, described the role as "serving in an advisory capacity."
The history of the tech companies' campaign outreach dates back to the 2008 presidential contest. That year, Randi Zuckerberg, sister of Facebook's CEO, traveled to both the Democratic and Republican conventions to pitch the political utility of the then-4-year-old social network. Around that same time, the company began offering congressional offices one-on-one guidance on how to use Facebook.
The outreach didn't always work at first. "I was, like, begging people to meet with us," Randi Zuckerberg said of the GOP's 2008 convention. But as political spending on Facebook's ad products and elected leaders' dependence on the platform skyrocketed over the years, so too did the company's close work with politicians.
One constant in the dynamic: The companies break down their political outreach teams along party lines. Facebook's point of contact to Clinton's 2016 White House run, Crystal Patterson, was a veteran of Democratic politics, and Henke — Google's liaison to the Trump operation and other 2016 Republican bids — was once the director of operations for the Western Republican Leadership Conference.
That partisan matching is needed, company representatives say, to allow all involved to speak freely when providing advice. Caroline McCain, social media manager for Rubio's White House bid, is quoted in the paper saying that when tech company staffers have a similar political background as the campaign they're assigned to, it raises the campaign's comfort level in working with them.
"When you realize, 'Oh yeah, the person I'm working with at Google, they actually worked on Romney back in 2012,' like, 'Oh, okay, they actually might have our best interest at heart,'" McCain said. After the campaign, McCain took a position at Facebook.
Kreiss, the paper's co-author, said the symbiotic relationship between Silicon Valley and political campaigns demands further examination.
"It raises the larger question of what should be the transparency around this, given that it's taking place in the context of a democratic election," he said.
Read the whole story
· · · · · · ·
Salt Lake Tribune
–
14 hours ago
Washington • Donald Trump's presidential campaign relied on more hands-on … While social mediaand other tech companies routinely work with large … "We show how representatives at these firms serve as quasi-digital …
Scrutiny on the digital side of President Trump's 2016 campaign is … and used data produced by the RNC for marketing on social media and other platforms. … Representatives from technology companies are slated to testify …
… spamming pro-Trump and anti-Clinton messages through US social media … We know that the Trump campaign employed several people, …
Read the whole story
· · · · ·
Scroll down for next story
x
Signed in as mikenova
Share this story on NewsBlur
Shared stories are on their way…
The head of Cambridge Analytica said he asked the WikiLeaks … wrote in an email last year that he reached out to WikiLeaks founder Julian …. The source added that this doesn't mean Nix didn't reach out to Assange.
Hillary Clinton and the Steele dossier, Cambridge Analytica, shady Russia …. CEO Alexander Nix reached out to WikiLeaks head Julian Assange to try … First, it suggests a willingness on the part of Trump allies to reach out to …
Read the whole story
· · · · ·
Next Page of Stories
Loading…
Page 2
Next Page of Stories
Loading…
Page 3
Next Page of Stories
Loading…
Page 4
This week Donald Trump and the Republican Party have gone into all out panic mode, inventing one absurd phony scandal about Hillary Clinton and President Obama after another, in an attempt to distract from what they seem to think is coming. Now one respected national security expert says that Special Counsel Robert Mueller is mere weeks away from dropping the hammer on Trump and his co-conspirators.
Juliette Kayyem is a national security expert who regularly appears on cable news. This time around she appeared on Boston public radio (link) to discuss the Trump Russia scandal. Here's what she had to say: "I think it is safe to say that before Thanksgiving … something's going to drop with Mueller. The pace is too much right now. Every 12 hours we're now dealing with a piece of this story at a pace we haven't seen."
Thanksgiving is just four weeks away from today, so she's talking about Mueller being weeks away from the kind of breakthrough that will turn the Trump Russia scandal on its head and shatter the Trump administration. Some have misinterpreted her words to mean that the Mueller investigation will be finished by Thanksgiving. But that's not remotely possible, because Mueller's plan is to bring indictments against nearly everyone involved in order to pressure them to flip on Trump.
So what we're talking about by Thanksgiving is the kind of indictment or indictments, or deals cut with Trump co-conspirators, that will bust the scandal open and leave Donald Trump in an impossible position. It's why Trump and the Republicans in Congress are suddenly scrambling in such buffoonish fashion to try to distract from what they know is coming. They know Trump will be taken down by this; they're just trying to prop him up long enough try to ram through some toxic legislation in the meantime.
Help fund Palmer Report:
Thanks for reading Palmer Report. Check out this great content:
Bill Palmer is the publisher of the political news outlet Palmer Report
<a href="http://NYTimes.com" rel="nofollow">NYTimes.com</a> no longer supports Internet Explorer 9 or earlier. Please upgrade your browser. 
LEARN MORE »
Signed in as mikenova
Share this story on NewsBlur
Shared stories are on their way…
New York Times
–
4 hours ago
The officials argued that a national emergency declaration was not necessary or helpful in the case of the opioid crisis, and that the powers …
The Kremlin knows a bargain when it sees it.
We are supposed to believe that it bought the American presidential election last year with $100,000 in Facebook ads and some other digital activity. Frankly, if American democracy can be purchased this cheap — a tiny fraction of the $7.2 million William Seward paid to buy Alaska from the Russians back in 1867 — it's probably not worth having.
Caption Settings Dialog
Beginning of dialog window. Escape will cancel and close the window.
The latest obsession in the Russian collusion story, the Kremlin's digital activity has generated headlines and put Facebook and all of Silicon Valley on the defensive, although this looks to be one of the most overhyped stories of the year.
The Russians, as far as we know, bought more than $100,000 in Facebook ads between June 2015 and May 2017. A little more than half was spent after last November, when, obviously, Donald Trump had already won.
The scale here is singularly unimpressive. A serious House campaign might spend $100,000 on digital. In a presidential campaign, the amount is a rounding error. The Trump campaign spent around $90 million on digital in 2016. Hillary Clinton employed a considerable digital staff, and announced she was spending $30 million on digital the last month of the campaign alone.
If tens of thousands of dollars was decisive amid this tsunami of tens of millions, the Russian trolls working somewhere in St. Petersburg should strike out on their own and start a political consultancy or an internet publishing company. They are geniuses.
It doesn't appear that much of the Russian material was explicitly advocating for Trump's election, and some of it wasn't even right-wing. One Russian Facebook page highlighted discrimination against Muslims. Another promoted anti-police videos for a Black Lives Matter audience. A pro-gay-rights page was called LGBT United.
Other pages were on the right and supportive of Trump. But much of the Russian Facebook activity was peddling online tripe indistinguishable from indigenous American online tripe — in fact, it was ripped off from content produced by Americans. If the Russians are going to decide our elections on social media, one assumes it will require at least a little originality.
One suspicion has been that the Trump campaign helped direct the Russian online effort. What we know about the Russian activity so far makes that doubtful. Why, if the Trump campaign was running its own digital campaign that was magnitudes larger, would it bother with a tiny Russian effort that wasn't always focused on Trump or his message?
The Daily Beast ran a story last week with the headline "Trump Campaign Staffers Pushed Russian Propaganda Days Before the Election." This referred to Kellyanne Conway and others associated with the Trump campaign retweeting posts from a Twitter account that masqueraded as a project of the Tennessee Republican Party, when it was really operated by Russian trolls. Conway tweeted a post from the account once, according to the story. And the report adduces no evidence that the Trump supporters knew the origin of the account.
It is outrageous that Russians meddled in our democracy at all, and if there are ways to lock them out of our social media going forward, we should do it. Let's not pretend, though, that the Russian online activity was the key to the election. This is classic conspiracy thinking — that some small secret cabal is responsible for a world-historical outcome that had much more obvious causes (Hillary Clinton's poor campaign, for one).
There may yet be truly damaging Russia revelations. Trump's campaign manager during a decisive phase of the primary campaign, Paul Manafort, worked with shady characters from that part of the world. The notorious Don Trump Jr. meeting with Russians promising oppo on Clinton spoke of a willingness to cooperate with anyone who might be useful. The Trump family's business dealings could always produce a nasty surprise.
But all the focus on Facebook serves, for now, as a substitute for a smoking gun in the absence of a real one.
Rich Lowry is editor of National Review. Twitter: @RichLowry.
(c) 2017, King Features Syndicate
Read the whole story
· · ·
 Putin and the Russian Mafia – Google News
More than 2 months after declaring an opioid crisis, Trump appears to have decided how to proceed Thursday October 26th, 2017 at 9:52 AM 1 Share Welcome to Mic's daily read on Donald Trump's America. Want to receive this as a daily email in your inbox? Subscribe here. Every day, we bring you a different dispatch on Trump's … Continue reading "9:49 AM 10/26/2017 – More than 2 months after declaring an opioid crisis, Trump appears to have decided how to proceed – Mic"
 Trump Investigations Report
Next Page of Stories
Loading…
Page 5
Next Page of Stories
Loading…
Page 6