"…Governments the world over, including various U.S. administrations, have often tried to meddle in others' internal affairs."
Next Page of Stories
Loading…
Page 2
Next Page of Stories
Loading…
Page 3
The Invisible Cyber Leash Of The Cambridge Analytica – News and Posts Review – 10.21 – 28.17
Share this article
The Invisible Cyber Leash Of The Cambridge Analytica – News and Posts Review – 10.21 – 28.17
Share this article
Next Page of Stories
Loading…
Page 4
"One way to think about Soviet efforts is to think of them as the activities of a giant political action committee," said Robert M. Gates, then deputy …
The Australian
–
Oct 9, 2017
Former US defence secretary Robert Gates says he sometimes wishes twitter was never invented when he reads comments posted by …
Nations waged campaigns of influence against each other for centuries before Russia's interference in the 2016 U.S. presidential election, and nothing is likely to stop them anytime soon.
Congress could mandate more "disclosure" for foreigners buying ads on U.S. social networks, but that wouldn't stop the ads from being sold, nor would it address the covert part of the Russians' playbook — the cyberattacks, snooping and dumping of embarrassing information.
The U.S. has already increased sanctions on Russia in retaliation for the election interference — with no effect so far on its ongoing campaign of active measures. Personal warnings by then-President Obama and then-CIA Director John Brennan to their Russian counterparts during the 2016 election cycle didn't move the needle either.
This is cold comfort for policymakers now, but they're only the latest group of leaders in Washington, D.C., to try to tackle this issue.
"Soviet intelligence officers have already started to collect information on the 1988 presidential candidates and their positions on various issues," the FBI warned in a 1987 report.
"It is possible that the Soviet Union will institute a new series of active measures operations designed to discredit those candidates who have platforms that are not acceptable to the Soviet government," the report also said.
The Bureau cited work it had already done in discrediting a forged Russian document from three years before.
"The forgery, dated 1947, purported that Ronald Reagan was working in collusion with the FBI and the House Committee on Un-American Activities concerning Communist infiltration into the Hollywood film world. This forgery was designed to discredit President Reagan by raising the issue of 'McCarthyism' during an election year,' " the report explained.
National security leaders and members of Congress in Washington have been hearing very similar mood music over the past year. Then-FBI Director James Comey is said to have grappled with a document that purportedly described then-Attorney General Loretta Lynch reassuring the presidential campaign of Hillary Clinton that Lynch would go easy on them over Clinton's emails and private server.
That document, which Comey and the FBI have declined to discuss, has been described as a U.S. intelligence intercept of Russian government message traffic. Comey knew it was fake, as The Washington Post reported, but it nonetheless muddied the waters he was trying to navigate and has since raised doubts about his decision.
For the authors of these active measures, that means a success — the way they always have.
"One way to think about Soviet efforts is to think of them as the activities of a giant political action committee," said Robert M. Gates, then deputy director of the CIA for Intelligence. He testified before the Senate Foreign Relations Committee about active measures on Sept. 12, 1985, in a closed session that has since been partially declassified.
"This Soviet political action committee has an impressive set of resources," Gates said. He continued: "A large budget; a cadre of experienced campaign strategists and activists; its own massive public relations organization; freedom from any constraints on disclosure of activities; willingness of those it opposes; and an ability to place covert agents within opposing organizations."
Gates and his colleagues likely had had an easier time of it in their day. There was no global Internet with billions of users, no cyber-weapons and no social networks. The opponent they faced was actively interested in exporting its own political dogma.
Now, technology gives influence-mongers in any nation many orders of magnitude more avenues by which to spread their messages. And in the case of Russia, it no longer wants to convert capitalists into fellow travelers in the cause of Communism.
Instead, it has the simpler and potentially more pernicious goal of simply taking the West down a peg, sowing chaos and corroding faith in democracy.
"In the wake of Russia's attack on the 2016 election, it is more important than ever to strengthen our defenses against foreign interference in our elections," Senate Armed Services Committee Chairman John McCain, R-Ariz., said in a statement earlier this month.
He and Sens. Amy Klobuchar, D-Minn., and Mark Warner, D-Va., are sponsoring a bill that they say would help defeat some active measures. It would require that ads sold to foreign buyers on big social networks — especially Facebook — disclose who'd paid for them and that the social networks would have to disclose to anyone the content of the ads.
"I have long fought to increase transparency and end the corrupting influence of special interests in political campaigns, and I am confident this legislation will modernize existing law to safeguard the integrity of our election system," McCain said as the introduced the bill.
But the bill wouldn't do anything about automated Twitter accounts amplifying controversy, or foreign agitators organizing rallies, or cyberattacks or any of the other weapons at the disposal of contemporary agents of influence. And a foreign government doesn't need to try to get inside the United States to raise doubts about events on the world scene.
Back in 1987, then-spymaster Gates told his Senate interlocutors about Moscow's plan to raise doubts about the incident in which a Soviet interceptor shot down a Korean civilian airliner that strayed into Russian airspace, killing 269 people. There was no question that the Soviets had destroyed the aircraft, but as Gates said, the U.S.S.R. needed there to be.
"In some cases, all the Soviets are interested in is raising doubt about an issue," he said, "the Soviets probably never realistically expected to reverse public opinion in their favor, but to create enough public doubt to make it responsible to voice the other side of the issue. And they did that."
Moscow returned to the same playbook when it circulated alternate explanations for the 2014 destruction of Malaysia Airlines Flight 17, which was destroyed by a Russian surface-to-air missile fired from pro-Russian territory in Ukraine.
Leaders in D.C. approaching the end of the Cold War debated how much to worry about active measures and what action to take in response. One strategy was to attempt to fight disinformation with more information in publicly calling out forgeries or other false stories.
Gates told senators that it was "often difficult to determine the precise effects" of Russian influence activities and that the work of Russia's intelligence and other agencies "do not guarantee success."
That's when Gates — who went on to become director of the CIA and secretary of defense — said something that resonates closely with life in Washington now: "In a close election or legislative battle, they can spell the difference."
Copyright 2017 NPR. To see more, visit <a href="http://www.npr.org/" rel="nofollow">http://www.npr.org/</a>.
Read the whole story
· · · · ·
This week, a new thread emerged: Multiple sources confirmed to CNN that the chief executive of Cambridge Analytica, Alexander Nix, contacted WikiLeaks founder Julian Assange in summer 2016 to ask for access to emails from Hillary Clinton's private server. Sources told CNN that he asked for the emails because he wanted to catalog them on a searchable database that would be made available to the Trump campaign or a pro-Trump PAC.
There is no evidence WikiLeaks ever hacked or possessed the emails sought by Nix. But the contact alone raises new questions about Cambridge Analytica's potential role in Russia's efforts to undermine Clinton's campaign.
It's a messy situation and, with so many unanswered questions, such as what Cambridge Analytica knew about Wikileaks' Russia connection when it sought Clinton's missing emails. Still, it's important to consider the broader context. The timeline below tracks how things unfolded, based on all we know.
June 16, 2015 — Trump launches presidential campaign
July 2015 — Russian hackers breach DNC systems
March 2016 — Another group of Russian hackers breach DNC systems
March 19, 2016 — Russian hackers gain access to Podesta's emails
May 3, 2016 — Trump becomes presumptive Republican nominee
June 2016 — Mercer family endorses Trump
The family financially backs Cambridge Analytica, which started working for Trump over the summer of 2016. Some members of Cambridge Analytica staff were incorporated in the Trump campaign's data operation team.
June 9, 2016 — Trump tweets about Clinton's deleted emails
This tweet came the same day that Donald Trump Jr., Trump campaign chairman Paul Manafort and Trump's son-in-law Jared Kushner met a group of Russians at Trump Tower. Trump Jr. was told before the meeting that one of the Russians would offer incriminating information about Clinton.
June 15, 2016 — DNC claims it was hacked by Russian intelligence
July 19-21, 2016 — Republican National Convention is held in Cleveland
Between July 21 and July 31, 2016 — Cambridge Analytica CEO emails WikiLeaks
The Wall Street Journal reported that the email was sent in late July 2016 at some point following the Republican National Convention. This was around the same time Cambridge Analytica started working for the Trump campaign as part of its three-pronged data operation based in San Antonio, Texas.
Right-wing firebrand Steve Bannon was a member of the Cambridge Analytica board when Nix sent the email, according to The New York Times. Bannon later became CEO of the Trump campaign and stepped down from the data analytics company. He took a top White House job in January but left over the summer.
July 22, 2016 — WikiLeaks releases about 20,000 hacked DNC emails
July 25-28, 2016 — Democratic National Convention is held in Philadelphia
July 25, 2016 — Trump says it's a "joke" that Russia hacked the DNC
July 26, 2016 — NYT reports that the US believes Russia hacked the DNC
July 27, 2016 — Trump publicly asks Russia to hack Clinton's deleted emails
"if it is Russia — which it's probably not, nobody knows who it is — but if it is Russia, it's really bad for a different reason, because it shows how little respect they have for our country, when they would hack into a major party and get everything," Trump said. "But it would be interesting to see — I will tell you this — Russia, if you're listening, I hope you're able to find the 30,000 emails that are missing. I think you will probably be rewarded mightily by our press. Let's see if that happens. That'll be next."
July 29, 2016 — Trump campaign pays $100,000 to Cambridge Analytica
The Trump campaign made its first of five payments to Cambridge Analytica, cutting a check for $100,000, according to records from the Federal Election Commission.
August 8, 2016 — Roger Stone says he was in touch with Assange
August 14-17, 2016 — Stone exchanges messages with Russian hackers
Months after these Twitter messages, the US intelligence community announced that Guccifer 2.0 was actually run by Russian intelligence operatives as part of the Kremlin's effort to meddle in the election.
August 18, 2016 — Trump campaign pays $250,000 to Cambridge Analytica
The Trump campaign made its second of five payments to Cambridge Analytica, cutting a check for $250,000, according to records from the Federal Election Commission.
August 21, 2016 — Stone predicts upcoming trouble for Podesta
September 1, 2016 — Trump campaign pays $5 million to Cambridge Analytica
September 8, 2016 — Trump questions US intelligence on Russian hacking
September 9, 2016 — Stone exchanges more messages with Russian hackers
September 16, 2016 — Stone predicts WikiLeaks will release Clinton emails
October 2, 2016 — Stone alludes to future WikiLeaks releases
October 3, 2016 — Stone again predicts upcoming WikiLeaks releases
October 5, 2016 — Stone says "payload coming" from WikiLeaks
October 7, 2016 — US formally blames Russia for DNC hacks
"The US Intelligence Community is confident that the Russian Government directed the recent compromises of e-mails from US persons and institutions, including from US political organizations," the statement said, adding that disclosures on WikiLeaks were consistent with Russian methods.
October 7, 2016 — WikiLeaks begins releasing Podesta emails
October 10, 2016 — Trump says "I love WikiLeaks"
At a rally in Pennsylvania, Trump expressed his admiration for the anti-secrecy website that was publishing dirt on his Democratic opponent, saying "This just came out. WikiLeaks! I love WikiLeaks."
October 12, 2016 — Stone says he has back-channel communications with Assange
Stone further elaborated on his relationship with Assange in an interview with a local CBS station in Miami. "I do have a back-channel communication with Assange, because we have a good mutual friend," Stone said. "That friend travels back and forth from the United States to London and we talk." Stone says he has never actually met with Assange or spoken with him directly.
October 19, 2016 — Trump campaign pays $250,000 to Cambridge Analytica
The Trump campaign made its fourth of five payments to Cambridge Analytica, cutting a check for $250,000, according to records from the Federal Election Commission.
November 8, 2016 — Trump wins US presidential election
To the surprise of most political analysts, Trump beats Clinton to win the US presidential election. His narrow victory in the Electoral College was buoyed by wins in Midwestern states that weren't expected to go his way.
December 12, 2016 — Trump campaign pays $312,500 to Cambridge Analytica
With the presidential transition underway, the Trump campaign made its final payment to Cambridge Analytica, cutting a check for $312,500, according to records from the Federal Election Commission. In all, the data firm collected more than $5.9 million from Trump's presidential campaign.
January 6, 2017 — US accuses Russia of meddling in the election
CNN's Gregory Krieg contributed to this report.
Read the whole story
· · · · · · · · · ·
---
Documents related to the assassination of President John F. Kennedy were released by the National Archives this week. Historians and researchers are still sifting through the thousands of files released to find new revelations. Author of "The Kennedy Half Century" and director of the Center for Politics at the University of Virginia Larry Sabato joined CBSN to discuss the new information.
Subscribe to the "CBSN" Channel HERE: http://bit.ly/1Re2MgS
Watch "CBSN" live HERE: http://cbsn.ws/1PlLpZ7
Follow "CBSN" on Instagram HERE: http://bit.ly/1PO0dkx
Like "CBSN" on Facebook HERE: http://on.fb.me/1o3Deb4
Follow "CBSN" on Twitter HERE: http://bit.ly/1V4qhIu
Get the latest news and best in original reporting from CBS News delivered to your inbox. Subscribe to newsletters HERE: http://cbsn.ws/1RqHw7T
Get your news on the go! Download CBS News mobile apps HERE: http://cbsn.ws/1Xb1WC8
Get new episodes of shows you love across devices the next day, stream local news live, and watch full seasons of CBS fan favorites anytime, anywhere with CBS All Access. Try it free! http://bit.ly/1OQA29B
—
CBSN is the first digital streaming news network that will allow Internet-connected consumers to watch live, anchored news coverage on their connected TV and other devices. At launch, the network is available 24/7 and makes all of the resources of CBS News available directly on digital platforms with live, anchored coverage 15 hours each weekday. CBSN. Always On.
---
Lawyers from Twitter, Facebook and Google will meet with congressional investigators to talk about the role they played in Russia's attempt to influence last year's election. Heather Timmons, White House correspondent for Quartz, talks about what we should expect in the Nov. 1 hearing.
Subscribe to the "CBSN" Channel HERE: http://bit.ly/1Re2MgS
Watch "CBSN" live HERE: http://cbsn.ws/1PlLpZ7
Follow "CBSN" on Instagram HERE: http://bit.ly/1PO0dkx
Like "CBSN" on Facebook HERE: http://on.fb.me/1o3Deb4
Follow "CBSN" on Twitter HERE: http://bit.ly/1V4qhIu
Get the latest news and best in original reporting from CBS News delivered to your inbox. Subscribe to newsletters HERE: http://cbsn.ws/1RqHw7T
Get your news on the go! Download CBS News mobile apps HERE: http://cbsn.ws/1Xb1WC8
Get new episodes of shows you love across devices the next day, stream local news live, and watch full seasons of CBS fan favorites anytime, anywhere with CBS All Access. Try it free! http://bit.ly/1OQA29B
—
CBSN is the first digital streaming news network that will allow Internet-connected consumers to watch live, anchored news coverage on their connected TV and other devices. At launch, the network is available 24/7 and makes all of the resources of CBS News available directly on digital platforms with live, anchored coverage 15 hours each weekday. CBSN. Always On.
Next Page of Stories
Loading…
Page 5
Mark Zuckerberg is trying hard to convince voters that Facebook had no nefarious role in this election. But according to President-elect Donald Trump's digital director Brad Parscale, the social media giant was massively influential—not because it was tipping the scales with fake news, but because it helped generate the bulk of the campaign's $250 million in online fundraising.
"Our biggest incubator that allowed us to generate that money was Facebook," says Parscale, who has been working for the campaign since before Trump officially announced his candidacy a year and a half ago. Over the course of the election cycle, Trump's campaign funneled $90 million to Parscale's San Antonio-based firm, most of which went toward digital advertising. And Parscale says more of that ad money went to Facebook than to any other platform.
'Facebook and Twitter were the reason we won this thing.'
Brad Parscale
"Facebook and Twitter were the reason we won this thing," he says. "Twitter for Mr. Trump. And Facebook for fundraising."
In the wake of Trump's stunning upset last week, media analysts have worked feverishly to figure out how social media may have altered the outcome of this election. They—and we—have pointed to online echo chambers and the proliferation of fake news as the building blocks of Trump's victory. But the answer may be much simpler. Of course Facebook was hugely influential in the presidential election, in large part because Trump's campaign embraced Facebook as a key advertising channel in a way that no presidential campaign has before—not even Clinton's.
"I think the Trump campaign did that extremely well," says Andrew Bleeker, president of Bully Pulpit Interactive, which helped lead Hillary Clinton's digital marketing efforts. "They spent a higher percentage of their spending on digital than we did."
Changing Minds Where It Mattered
Throughout the last year-and-a-half, stories about the imbalance between Clinton's ad spending compared to Trump's proliferated. They noted how Clinton spent more than $200 million on television ads in the final months of the election while Trump spent less than half that. Because Trump wasn't spending as much on television all along, it seemed like his team wasn't investing in changing anyone's minds. But they were: they were just doing it online.
"The big takeaway was using digital in a digital-first way," says Matt Lira, a Republican digital strategist and senior advisor to House Majority Leader Kevin McCarthy. "It was the main course. It wasn't leftovers."
Facebook proved to be a powerful way for Trump's team to hone the campaign's message with the kind of enormous sample sizes you can't get with traditional polling. "They have an advantage of a platform that has users that are conditioned to click and engage and give you feedback," says Gary Coby, director of advertising at the Republican National Committee, who worked on Trump's campaign. "Their platform's built to inform you about what people like and dislike."
Coby's team took full advantage of the ability to perform massive tests with its ads. On any given day, Coby says, the campaign was running 40,000 to 50,000 variants of its ads, testing how they performed in different formats, with subtitles and without, and static versus video, among other small differences. On the day of the third presidential debate in October, the team ran 175,000 variations. Coby calls this approach "A/B testing on steroids." The more variations the team was able to produce, Coby says, the higher the likelihood that its ads would actually be served to Facebook users.
"Every ad network and platform wants to serve the ad that's going to get the most engagement," Coby says. "The more you're testing, the more opportunity you have to find the best setup."
The Digital Bully Pulpit
Clinton also had a robust digital strategy, investing $30 million in digital ads in the homestretch. Her campaign produced thousands of rapid-response videos and set up a customer service team to help people with their voting questions. But, says Bleeker, "the Trump campaign took to an extreme what we were trying to do on the Hillary campaign."
The President-elect has shown he can turn a news cycle in 140 characters or less.
Social media was Trump's primary communication channel. It wasn't a platform for broadcasting pre-planned messages but for interacting with supporters and starting new conversations—however controversial those conversations often were. Bleeker says one of the biggest lessons he's learned from this election cycle is that social media is increasingly going to be part of any candidate's so-called "earned media strategy"—that is, the coverage a candidate gets for free in the press. The President-elect has shown he can turn a news cycle in 140 characters or less; in a recent 60 Minutes interview, he said he plans to continue using Twitter as president.
"He's going to tell his side of the story from the digital bully pulpit," Lira says.
Whether fake news did or didn't affect the election's outcome, Facebook as a platform did. The winning candidate was not just willing, but eager to break with traditional models of campaigning. His team invested in new ways of using the digital tools and platforms that have come to dominate the media landscape. Anyone who wants to defeat him in the future will have to do the same.
Read the whole story
· · · ·
Washington • Donald Trump's presidential campaign relied on more hands-on help from tech firms during the 2016 election than previously thought, using teams from Facebook, Twitter and others as almost entrenched political operatives, a new study by a University of Utah professor and a colleague found.
While social media and other tech companies routinely work with large advertisers, including political campaigns, the study shows that Trump's team looked at the Silicon Valley employees as almost its own in pushing its online strategy to woo voters. Hillary Clinton's campaign built its own digital effort and didn't rely on the tech companies help to the same degree.
"These firms had some of their staffers working inside the Trump campaign digital offices during the general election," said one of the study's authors, Shannon McGregor, an assistant professor at the U.'s Department of Communication. "This was something that was much more routine than we had known before. This was offered to all campaigns, but it was unequally taken up. The Trump campaign, relatively as compared to the Clinton campaign, was understaffed and made much greater use of these staffers than the folks on the Clinton campaign."
McGregor, who wrote the study with Daniel Kreiss, a professor at the University of North Carolina at Chapel Hill, says the findings have raised concerns about whether the help offered the campaigns could be construed as in-kind contributions from corporations and whether new laws are needed to make public such efforts.
The peer-reviewed study, published Thursday in the journal Political Communication, relied on interviews with the Silicon Valley liaisons to the Trump and Clinton campaigns as well as other would-be White House hopefuls.
"What we found in the course of these interviews is that these technology firms offer this digital subsidies, basically, to campaigns," McGregor said. "It goes beyond just trying to facilitate ad buys. [It includes] shaping the conversation through this sort of close collaboration."
That included helping to target voters and form campaign messaging.
"Facebook, Twitter and Google go beyond promoting their services and facilitating digital advertising buys, actively shaping campaign communication through their close collaboration with political staffers," the study reported. "We show how representatives at these firms serve as quasi-digital consultants to campaigns, shaping digital strategy, content and execution."
Trump's digital director, Brad Parscale, had hinted at such an effort during an interview with CBS' "60 Minutes" earlier this month, saying he had sought out the help from tech companies.
"I wanna know everything you would tell Hillary's campaign plus some," he told the news program. "And I want your people here to teach me how to use it."
Adam Sharp, Twitter's head of news, government and elections through the end of 2016, said that he believes Parscale's interpretation of how the help from tech companies worked is an "exaggeration."
"Ultimately, my understanding is that every company offered equivalent services to each campaign and the campaigns can choose how much or how little of that support they wish to utilize," Sharp said in an interview, noting that such services have been provided to presidential campaigns since many of the companies were founded.
He noted that because campaigns can choose how much help they get, it can create "optical challenges" but defended the outreach as a boon to candidates and their ability to communicate with potential voters.
"More broadly, I believe that anything that brings candidates and elected officials closer to their constituents, making them more available for direct interaction and direct questioning by the voters is a good thing," Sharp said. "And I think all the companies in creating these teams to reach out to candidates and bring them into the conversation, to bring them out of the comfort of the TV studios into a space where they can have this direct interaction with users is potentially a positive thing for the democratic process."
A Facebook spokesman said Thursday the company offers all candidates and interest groups "equal levels of support, no matter their political affiliation."
"It's up them to decide how much help they want," the representative said. "But this is key: The campaigns make their own strategic decisions about how to use Facebook's platform."
That extends to guidance on how to use the social media site, the representative noted, as well as addressing technical issues and advertising.
McGregor says the research into the tech companies' assistance with the campaigns shows the firms have built "basically a partisan structure," hiring former Republican and Democratic campaign aides to help boost relationships with current challengers in a way that goes far beyond a tech company soliciting ad buys.
She added the advent of social media and technology in political campaigns has opened a whole new field of political research that needs to be done to show the public just how modern efforts to sway voters are operating.
"One of the most important takeaways is that this is just the beginning," she said. "There needs to be more examination about this, given this is quite routine."
Read the whole story
· · · ·
President Donald Trump's White House and personal lawyers scrambled Saturday to learn where the knife might fall in the investigation by …
POLITICO Magazine
–
22 hours ago
During the week, when the news still appeared to be on Trump's side, … A new Trump strategem now surfacing holds that the investigations are …
Read the whole story
· · · · ·
Donald Trump's campaign blatantly downplayed the role data firm Cambridge Analytics played in helping the president win last year and even ignored the campaign's own boasts following the election after the firm was linked to a collusion effort with Russians.
Earlier this week, it was reported Cambridge Analytica's top executive Alexander Nix directly reached out to WikiLeaks founder Julian Assange in an effort to get Democrat Hillary Clinton's 33,000 missing emails, according to The Daily Beast.
WikiLeaks had been accused of receiving the damning Democratic National Committee emails from Russia, which posed another avenue for the president's critics to lambast him with accusations of collusion with the Russians to secure the Oval Office.
Keep up with this story and more by subscribing now
Assange later confirmed Nix's overture – made prior to Election Day last year – on Twitter but stated that WikiLeaks turned him down.
Michael Glassner, the executive director of Trump's campaign, issued a statement to CNN that declared the Republican National Committee was solely responsible for the campaign's analytics.
"Once President Trump secured the nomination in 2016, one of the most important decisions we made was to partner with the Republican National Committee on data analytics," he said. "Leading into the election, the R.N.C. had invested in the most sophisticated data-targeting program in modern American history, which helped secure our victory in the fall. We were proud to have worked with the R.N.C. and its data experts and relied on them as our main source for data analytics."
Glassner also flatly denied any other source played as crucial a role in data analysis when he added: "Any claims that voter data from any other source played a key role in the victory are false."
The money trail and Kushner's and Cambridge Analytics' statements explain otherwise.
CEO of Cambridge Analytica Alexander Nix speaks at the 2016 Concordia Summit – Day 1 at Grand Hyatt New York on September 19, 2016 in New York City. Getty Images/Bryan Bedder
Indeed, the Trump campaign paid the UK-based firm backed by billionaire and heavy political donor Robert Mercer millions during the home stretch of the 2016 run, and following Trump's victory current White House senior adviser and husband to Trump's eldest daughter Jared Kushner thoroughly explained the operation and how much the campaign relied on it.
Cambridge Analytica also chimed in with a glowing statement touting its efforts in the campaign.
Firstly, the campaign money trail clearly showed Cambridge Analytica received big bucks from Donald Trump for President, the campaign's main finance hub. Starting with an initial payment of $100,000 in July 2016, the firm took in more than $5.9 million in five payments total, including $5 million paid out in September 2016, according to FEC records.
The five expenditure descriptions from the Trump campaign's FEC filings list the payments made for data management or data management services.
Fourteen days after the election in November, Kushner then adorned the cover of Forbes magazine and expounded on the data analytics program he headed up. He specifically said the work was meant to "complement the RNC's data hub."
"After the primary, we started ramping up because we knew that doing a national campaign is different than doing a primary campaign," Kushner told Forbes. "That was when we formalized the system because we had to ramp up for digital fundraising. We brought in Cambridge Analytica. I called some of my friends from Silicon Valley who were some of the best digital marketers in the world. And I asked them how to scale this stuff. Doing it state by state is not that hard. But scaling is a very, very hard thing. They gave me a lot of their subcontractors and I built in Austin a data hub that would complement the RNC's data hub. "
Even before Kushner's comments, Cambridge Analytica's top executive, Alexander Nix, boasted of his firm's work for Trump. One day after Trump won.
"We are thrilled that our revolutionary approach to data-driven communications played such an integral part in President-election Donald Trump's extraordinary win," Nix said as part of a company statement.
Read the whole story
· · ·
Next Page of Stories
Loading…
Page 6
Next Page of Stories
Loading…
Page 7
Next Page of Stories
Loading…
Page 8
Next Page of Stories
Loading…
Page 9
President Donald Trump continues to treat his administration as an international diplomacy wrecking crew. His latest target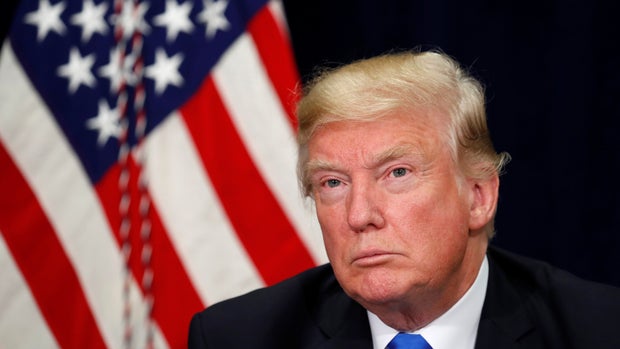 ---
U.S. Defense Secretary Jim Mattis said Saturday the threat of nuclear missile attack by North Korea is accelerating. Mattis accused the North of illegal and unnecessary missile and nuclear programs – and vowed to defeat any attack. (Oct. 28)
Subscribe for more Breaking News: http://smarturl.it/AssociatedPress
Get updates and more Breaking News here: http://smarturl.it/APBreakingNews
The Associated Press is the essential global news network, delivering fast, unbiased news from every corner of the world to all media platforms and formats.
AP's commitment to independent, comprehensive journalism has deep roots. Founded in 1846, AP has covered all the major news events of the past 165 years, providing high-quality, informed reporting of everything from wars and elections to championship games and royal weddings. AP is the largest and most trusted source of independent news and information.
Today, AP employs the latest technology to collect and distribute content – we have daily uploads covering the latest and breaking news in the world of politics, sport and entertainment. Join us in a conversation about world events, the newsgathering process or whatever aspect of the news universe you find interesting or important. Subscribe: http://smarturl.it/AssociatedPress
http://www.ap.org/
https://plus.google.com/+AP/
https://www.facebook.com/APNews
https://twitter.com/AP
---
Planet America's John Barron explains how Facebook and Twitter helped weaponize the Trump campaign.
From:
AFP
Duration:
 00:36
---
US Secretary of Defense Jim Mattis warns North Korea of a "massive military response" to any use of nuclear weapons as tensions remain sky-high ahead of Donald Trump's visit to South Korea.
---
Scott Rasmussen shares insight.
---
Military says incident is not from enemy conflict.
Next Page of Stories
Loading…
Page 10