Most of the Uzbek and Tajik Islamic State group recruits have been radicalized in Russia, demonstrating the power of the terrorist group's Russian-language propaganda, Amie Ferris-Rotma writes at Foreign Policy.
M.N.: What do you mean by "radicalized"? 
Were they recruited in Russia?
By whom? For what purposes? Who recruited them?
_______________________________
"I'm not under investigation as you know," Trump said yesterday in a phone call about the investigations between the Trump campaign and Russia, saying that he was not "angry at anybody" and that the indictment of his former campaign chairman Paul Manafort "has nothing to do with us." Maggie Haberman and Peter Baker report at the New York Times.
M.N.: The power of denial.
__________________________________________
Before the start of business, Just Security provides a curated summary of up-to-the-minute developments at home and abroad. Here's today's news.
NEW YORK TERROR ATTACK
Federal prosecutors have filed charges against 29-year-old Uzbek immigrant Sayfullo Saipov who is suspected of carrying out Tuesday's attack in New York. The charges accuse the driver, who killed eight people and injured 12, of aiding the Islamic State group and working with "others known and unknown." Melanie Grayce West, Zolan Kanno-Youngs and Rebecca Davis O'Brien report at the Wall Street Journal.
Trump used the terrorist attack to promote hardline policies, saying yesterday that he would take action to remove the "diversity lottery" program for foreigners seeking U.S. visas and step up "extreme vetting" of immigrants, also taking aim at Senate Minority Leader Charles E. Schumer (D-N.Y.) for helping to create the "lottery" program and stating that the U.S. needs a system of "punishment that's far quicker and far greater than the punishment these animals are getting right now." David Nakamura and Ed O'Keefe report at the Washington Post.
The New York attack has shone the spotlight on Uzbekistan and Central Asia's problems with terrorism, the region consists of five predominantly Muslim Soviet republics that have struggled with poverty and have served as recruitment ground for the Islamic State group. Sajjan Gohel explains at CNN.
TRUMP-RUSSIA
Here's my THREAD from Sunday eve of #IndictmentDay explaining why indicting Russians would be a game changer 👇https://t.co/5nOjC3ssGl
— Ryan Goodman (@rgoodlaw) November 2, 2017
https://platform.twitter.com/widgets.js
"No I don't believe he does," the White House press secretary Sarah Huckabee Sanders responded yesterday when asked whether the president recalled the suggestion by his former campaign adviser George Papadopoulos in March 2016 that he arrange a meeting with Russian President Vladimir Putin. Reuters reporting.
Manafort and former Trump campaign adviser Rick Gates pose a significant flight risk according to federal prosecutors, due to their "substantial ties abroad" and Manafort currently holds three U.S. passports. The two men were charged earlier this week as part of special counsel Robert Mueller's investigation into Russian interference in the 2016 U.S. election. Reuters reports.
NORTH KOREA
"Armed conflict must be avoided under any circumstance," the South Korean President Moon Jae-in said in a speech yesterday ahead of Trump's 12-day visit to Asia, vowing to maintain South Korea's "overwhelming military superiority" but emphasizing that military action on the Peninsula could not be taken without "prior consent" of Seoul. Jonathan Cheng reports at the Wall Street Journal.
The Japanese Prime Minister Shinzo Abe yesterday called for more pressure to be exerted on North Korea to bring about negotiations, Abe also reiterating his support for Trump's policy that all options are on the table to deal with the nuclear threat. Mari Yamaguchi reports at the AP.
North Korea is developing an advanced intercontinental ballistic missile (I.C.B.M.), according to an anonymous U.S. official, and the missile could potentially strike the U.S. mainland. Barbara Starr reports at CNN.
A bipartisan bill providing for sanctions on North Korea was agreed yesterday and the Senate Banking Committee would act on the bill next week, Patricia Zengerle reports at Reuters.
Sen. Tammy Duckworth (D-Ill.) yesterday called on Trump to release an assessment of the potential casualties and costs that would come as a consequence of a war with North Korea. Rebecca Kheel reports at the Hill.
Trump will seek to convince Chinese President Xi Jinping to do more to rein in North Korea when Trump visits Beijing next week, according to senior administration officials. Steve Holland and John Walcott report at Reuters.
China hopes to work with North Korea "to make a positive contribution to … defending regional peace and stability," Chinese President Xi Jinping said in a message replying to North Korea's congratulatory message on China's Communist Party Congress. Soyoung Kim and Ken Blanchard report at Reuters.
The recent normalization of relations between China and South Korea could change the dynamics of Trump's Asia trip and how his administration intends to deal with North Korea and its allies in the region. Jane Perlez, Mark Landler and Choe Sang-Hun explain at the New York Times.
"We can educated [the] North Korean population to stand up by disseminating outside information," a high-ranking official who defected from North Korea told U.S. lawmakers yesterday, also urging officials to meet with North Korean leader Kim Jong-un to convince him to abandon his nuclear program. The BBC reports.
A U.N. resolution drafted by the European Union and Japan would condemn the "gross violations of human rights" in North Korea, the U.N. General Assembly's human rights committee is expected to vote on the draft this month. Edith M. Lederer reports at the AP.
IRAN
Russia opposes "any unilateral change" to the 2015 Iran nuclear deal, the Russian President Vladimir Putin said yesterday during a meeting with Iran's Supreme Leader Ayatollah Ali Khamenei, making the comments following Trump's decision in October to de- certify Iran's compliance with the nuclear agreement and adding that Russia opposes "linking Iran's nuclear program with other issues including defensive issues." Nasser Karimi reports at the AP.
The U.K. Foreign Secretary Boris Johnson will travel to Washington next week to convince senators not to abandon the nuclear deal or impose sanctions against Iran, saying that the 80 million Iranians "deserve and need to feel the benefits of both the deal and engagement," but adding that the world should not be "blind" to the "disruptive behavior of Iran." Patrick Wintour reports at the Guardian.
SYRIA
"We count on the cooperation of Iran and other partners" to end the war in Syria, the Russian President Vladimir Putin said yesterday following discussions with Iranian leaders, saying that the latest round of Syria talks currently being held in Kazakhstan's capital of Astana were "advancing well." Aresu Eqbali and Asa Fitch report at the Wall Street Journal.
The official Syrian opposition said that it would not attend Russia-brokered Syrian peace talks planned for this month, Turkey has also expressed opposition to an invitation extended to the Syrian Kurds and rejected negotiations with Syrian President Bashar al-Assad's regime outside the U.N.'s Geneva process or without U.N. sponsorship. Patrick Wintour reports at the Guardian.
Russia's veto of the investigation into the use of chemical weapons in Syria shows a "callous disregard for the suffering and loss of life," the White House said in a statement yesterday, referring to Russia's vote eight days ago at the U.N. Security Council which prevented the renewal of the Joint Investigative Mechanism's (J.I.M.) mandate. Brendan O'Brien reports at Reuters.
A suspected Israeli airstrike hit a target in Syria's Homs province yesterday, and the Syrian army responded by firing surface-to-air missile at the aircraft. Israel has declined to comment on the reports, but the Intelligence Minister reiterated that "smuggling arms to Hezbollah is a red line in our eyes." Ori Lewis reports at Reuters.
U.S.-led airstrikes continue. U.S. and coalition forces carried out eight airstrikes against Islamic State targets in Syria on October 31. Separately, partner forces conducted five strikes against targets in Iraq. [Central Command]
IRAQ
Negotiations between Iraq's central government and the semiautonomous Kurdistan region over border controls have failed, according to Iraqi officials. Tensions between Baghdad and Iraq Kurdistan have been high since September's controversial independence referendum. The AP reports.
Iraqi federal forces threatened yesterday to resume military operations against Kurdish-held territory following the dispute over border controls, Reuters reporting.
NIGER
Niger would be open to allowing U.S. for investigation, reconnaissance and combat, Niger's Prime Minister Brigi Rafini said yesterday, adding that there would be an inquest into the ambush of U.S. and Nigerian forces on Oct. 4. Vipal Monga and Joe Parkinson report at the Wall Street Journal.
Niger asked the U.S. "some weeks ago" to arm drones and "use them as needed," Niger's Defense Minister Kalla Mountari said yesterday. Tim Cocks and Absoulave Massalatchi reporting at Reuters.
BIN LADEN RAID DOCUMENTS
A series of documents collected from the raid of Osama Bin Laden's Pakistani hideout were released by the C.I.A. yesterday, the documents revealing that Bin Laden was involved in al-Qaeda operations while in hiding. Nancy A. Youssef reports at the Wall Street Journal.
The documents reveal information about Bin Laden's son, Hamza, and according to analysts from the Foundation for Defense of Democracies (F.D.D.) reveal a relationship between al-Qaeda and Iran. The BBC reports.
GUANTÁNAMO BAY
The head of the war court defense team Marine Brig. Gen. John Baker was yesterday sentenced to 21 days confinement by the military judge presiding over the trial of the suspected U.S.S. Cole bombing at Guantánamo Bay, due to Baker's refusal to follow his orders. Ellen Mitchell reports at the Hill.
The judge also declared Baker's decision to release three civilian lawyers from the defense team "null and void," Carol Rosenberg reports at the Miami Herald.
The context behind Baker's confinement is provided by Spencer Ackerman at The Daily Beast.
TRUMP ADMINISTRATION FOREIGN POLICY
Asian nations are bracing themselves for Trump's visit to Asia which begins later this week, Foster Klug describes the mood at the AP.
An associate of Vice President Mike Pence has been nominated to be director general of the foreign service, causing concern that diplomacy would be further politicized by the Trump administration. Robbie Gramer explains at Foreign Policy.
OTHER DEVELOPMENTS
The U.S. yesterday defended its decision to vote against the U.N. resolution calling for a repeal of the embargo imposed on Cuba, Rick Gladstone reports at the New York Times.
The House passed legislation allowing the State Department to revoke the passports of individuals suspected to be foreign terrorists, Cristina Marcos reports at the Hill.
The two fatal U.S. Navy collisions during the summer were "avoidable," according to a report released by the U.S. Navy. Barbara Starr, Jamie Crawford and Brad Lendon report at the CNN.
An airstrike in Yemen killed at least 25 civilians and wounded at least nine, according to health officials, a statement carried by Saudi Arabia's officials news agency said that the Arab coalition would investigate the attack. Shuaib Almosawa and Nour Youssef report at the New York Times.
Read the whole story
· · · · · · · · · · ·
The key question as representatives from Facebook, Twitter and Google testify Tuesday and Wednesday before Congress is not how Russia used social media to interfere in last year's presidential election, but rather what role U.S. voters, the federal government and social media companies should play in building resiliency against such disinformation campaigns in the future. However, in the short-term, collaboration between the government and private industry to institute transparency of ads may minimize the impact of nefarious foreign actors.
While lawmakers are likely to criticize the social media executives for the exploitation of their platforms this week, the companies will likely respond that no private company should, in a free society, determine what is true and what is not. Social media, hailed as a powerful communication tool and a great equalizer by internet idealists, has also been clearly demonstrated as a critical element in amplifying deceptive narratives to susceptible audiences.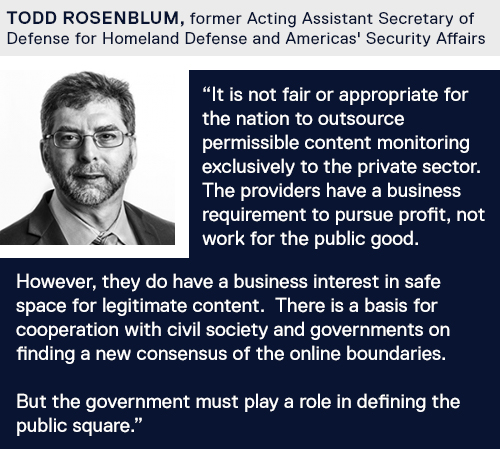 However, Russian use of these prominent internet platforms was merely one aspect of what was a much larger and more coordinated Russian effort to undermine faith in Western democratic institutions. Solving the social media problem will not solve the Russia problem, but experts agree that, given the continuing success of Russia's interference in U.S. politics, both the Kremlin and other nefarious actors will execute similar information operations against vulnerable open societies in the coming years.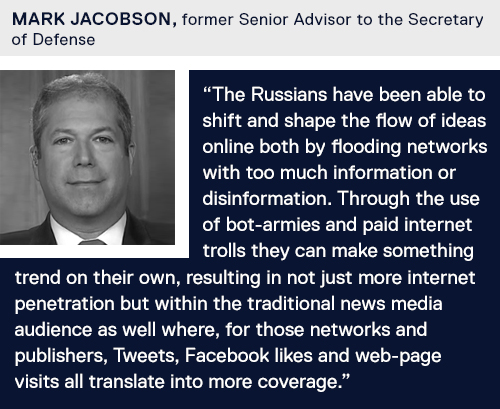 In the short-term, increased transparency of the sources and funding of ads on social media will minimize the risk of manipulation. Social Media companies have begun to implement this transparency, but online ads are often automated, making vetting and policing difficult.
Ultimately, informing users of potential disinformation may be the primary way to navigate the complex and easily-manipulated digital information landscape of the future. How consumers of news on social media can effectively distinguish fact from fiction will be the real bulwark against Russian disinformation, not the policing of content from privately owned platforms.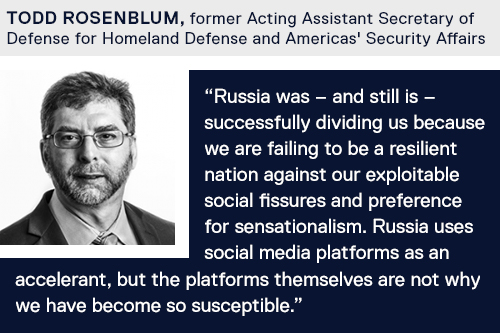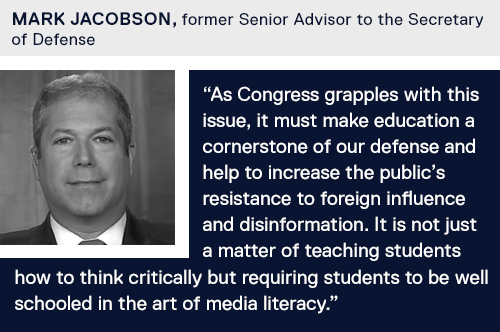 Twitter, Facebook, and Google did not respond to requests for comment.
Levi Maxey is a cyber and technology analyst at The Cipher Brief. Follow him on Twitter @lemax13.
Read the whole story
· · · · · · · · · ·
Capitalizing on spying tools believed to have been developed by the U.S. National Security Agency, hackers staged a cyber assault with a self-spreading malware that has infected tens of thousands of computers in nearly 100 countries.  (Reuters)
The Russian hackers who targeted Hillary Clinton's 2016 presidential campaign also attempted to breach several thousand email inboxes, including those of U.S. defense contractors, a papal representative, and a member of the punk band Pussy Riot.
That's according to a digital hit list obtained by the Associated Press.
The comprehensive list highlights not only the close relationship between the hacking group Fancy Bear and the Russian government, but also the wide variety of their targets — including both Republicans and Democrats — going back several years.
The lengthy catalogue, which includes approximately 4,700 Gmail users worldwide, is "a master list of individuals whom Russia would like to spy on, embarrass, discredit or silence," Keir Giles, director of the Conflict Studies Research Center, told the AP.
Hackers acquired "a master list of individuals whom Russia would like to spy on, embarrass, discredit or silence."

– Keir Giles, director of the Conflict Studies Research Center
In the U.S., the hackers tried to access at least 570 inboxes, according to the AP. Workers for Boeing, Raytheon, and Lockheed Martin were among the most targeted, as well as top U.S. officials, including former Secretary of State John Kerry and U.S. Army Gen. Wesley Clark. Additionally, more than 130 political party workers' inboxes were targeted, including several Democrats and some Republicans.
Also accessed: The private correspondence of U.S. Air Force Gen. Philip Breedlove, former Secretary of State Colin Powell, and former Clinton campaign chair John Podesta, in cyberattacks tied to Russian hackers.
In Ukraine, the AP's analysis showed that Fancy Bear tried to access at least 545 email accounts, including one belonging to President Petro Poroshenko. And the hackers actively sought to breach numerous accounts of domestic Russian dissidents, musicians and journalists.
Targets there included the Vatican's representative in Kiev and feminist Pussy Riot member Maria Alekhina, who was detained in August for rallying for the release of a Ukrainian filmmaker outside his Siberian prison.
The hit list was divined using data assembled by Secureworks, a cybersecurity firm. Secureworks obtained thousands of malicious links and emails after Fancy Bear accidentally revealed secretive information about its phishing operation.
Fancy Bear is believed to be closely associated with the Russia's military intelligence agency, the GRU. The AP's findings provide further evidence of Fancy Bear's collaboration with the Russian government.
Fancy Bear's work is not confined to hacking emails. In 2014, experts believe Fancy Bear created a malicious version of a mobile app and posted it to a Ukrainian military forum. The compromised app likely allowed the Russian military to view the locations of Ukrainian soldiers on the battlefield, officials said.
Security researchers believe Fancy Bear is using a sophisticated leaked National Security Agency hacking tool known as EternalBlue, the Hill reported.
The Associated Press contributed to this report.
Read the whole story
· · ·
The Trump administration is moving to require the passports of registered child sex offenders to identify them as such
More than 200 congressional Democrats joined an amici curiae brief Wednesday in support of the same-sex couple who sued a Colorado-based baker after he refused to bake a cake for their wedding.
Led by Sen. Tammy Baldwin (Wisc.) and Rep. Sean Patrick Maloney, the first openly gay New Yorker elected to Congress, the brief was joined by 36 Senators and 175 members of the House of Representatives. Among the notable signatories are Senate Minority Leader Chuck Schumer (N.Y.) and House Minority Leader Nancy Pelosi (Calif.).
"I support religious freedom and the freedom of full equality for every American. Our religious beliefs don't entitle any of us to discriminate against others and I don't believe that any American should face discrimination based on race, gender, or sexual orientation—whether it's at a bakery, a hotel, or a doctor's office," said Baldwin. "It is simply wrong to discriminate against any American based on who they are or who they love. If an individual has the ability to pay for a service and is not in violation of the law, they should not be turned away."
The case, Masterpiece Cakeshop, Ltd. v. Colorado Civil Rights Commission, concerns cakeshop owner Jack Phillips, who refused to sell a cake to Charlie Craig and David Mullins for the two men's wedding. In response, Craig and Mullins filed charges in front of the Colorado Civil Rights Commission, contending that their civil rights had been denied.
The case centers around Phillips's First Amendment rights to both freedom of worship and to freedom of expression: Phillips sees his work as art, and thinks that the obligation to make cakes independent of their use contravenes his expression rights. Craig and Mullins, meanwhile, contend that Phillips's denial of service to them violates their civil rights to not be turned away in public simply because of their sexual orientation.
The case has drawn attention as the latest to deal with rights for gay Americans—following 2012's United States v. Windsor and 2015's Obergefell v. Hodges—and for Americans who oppose same-sex marriage for religious or moral reasons.
Ruling in favor of Phillips would be contrary to the history of antidiscrimination legislation, and would permit unchecked discrimination while blocking legislators from intervening, the Democrats said.
"To allow the exemptions sought by Petitioners would effectively create a constitutional rule condoning broad-based discriminatory conduct while hamstringing Congress from enacting comprehensive nondiscrimination legislation in the future," they write.
Rather, they contend, the religious concerns of Phillips and others are overruled by a need to practice equal treatment, the "cost" of doing business in an equal society. The exemption that Phillips seeks is incompatible with existing non-discrimination law, regardless of how much he engages in "expressive" conduct.
"At a minimum, the obligation to recognize basic civil rights and practice equal treatment is at least the 'cost' of doing business. Put simply, doing business in a society of equals necessitates equal treatments," they write.
The Democrats also claim that Masterpiece's argument is reminiscent of those made against passage of title II of the Civil Rights Act of 1964, which banned discrimination against African Americans in restaurants, shops, and other "places of public accommodation."
"The very reasons once cited for the pervasive exclusion of African Americans from places of public accommodation … could be cited in support of conduct invoking this exemption," they write.
Eleven Senate Democrats, as well as Democrat-aligned independent Sen. Angus King (Maine), did not join the brief. Sen. Bernie Sanders (I., Vt.) did sign on. Among those who did not join the brief are several Senators who face tough reelection battles in 2018: Sens. Joe Donnelly (Ind.), Claire McCaskill (Mo.), Jon Tester (Mont.), Heidi Heitkamp (N.D.), and Joe Manchin (W.Va.).
An amici brief from congressional Republicans, led by Sen. Ted Cruz (Texas) and Reps. Vicky Hartzler (Miss.) and Mike Johnson (La.), was filed in September in support of Phillips and Masterpiece.
The post Congressional Dems File Brief Opposing Bakers in Gay Wedding Cake Case appeared first on Washington Free Beacon.
Read the whole story
· · ·
Next Page of Stories
Loading…
Page 2
Next Page of Stories
Loading…
Page 3
Next Page of Stories
Loading…
Page 4
Next Page of Stories
Loading…
Page 5
Next Page of Stories
Loading…
Page 6
Next Page of Stories
Loading…
Page 7
Next Page of Stories
Loading…
Page 8
Next Page of Stories
Loading…
Page 9
Next Page of Stories
Loading…
Page 10