All this Kafkaesque – Bulgakovian "The Dance of the Kapitalist Demons" acquires the contours more of the Grand Leftist Plot rather than the Rightist one, implied in its Putinistic origins – By Michael Novakhov
The coming Great World Revolution of 2018 ("1917 + 100" version): The Ruling Kapitalists: Trump, Merkel, Putin – caput! China smiles, and the European left too. Putin wears the mask of the Byzantine saint but looks more and more like the Tatar, of the questionable Ryazan origins. Trump tries hard to be a good boy and to act "Presidential", whatever it is: maybe they will allow him some chocolate in prison as a reward for the good behavior. Merkel, more mysterious than ever, looks like she wants to scratch her long-suffering Germanic ass, but cannot do this because it would be non-World-Chancellarian. 
All this Kafkaesque – Bulgakovian phantasmagoric "The Dance of the Kapitalist Demons" acquires the contours more of the Grand Leftist Plot rather than, or "masquerading" as the Rightist one, which is implied in its Putinistic origins theory. Some would also call it "Trump – The Obama Operation, Part 2". 
But it is always hard to know, and the affair might be mixed too, in accordance with our decadent promiscuous mores and the rotten age. You have to blame something. Or someone, at least. Then everything becomes so cogent, logical, and clear, and easy to understand, publish, print, distribute, produce, and most importantly, to sell. Then it "re-a-h-l-ly" starts making some rotten sense. Just like in our collective psycho-sexual desires, taboos, complexes, and the televised obsessions. 
Michael Novakhov 
10:44 AM 11/21/2017 
Mike Nova's Shared NewsLinks
merkel trump europe putin – Google Search
---
In Crisis, Angela Merkel Prefers Elections to Minority Rule
---
The collapse of talks reflected the deep reluctance of Ms. Merkel's conservative bloc and prospective coalition partners — the ecologist-minded Greens and pro-business Free Democrats — to compromise over key positions. The Free Democrats quit the talks late Sunday, citing what they called an atmosphere of insincerity and mistrust.
"There is no coalition of the willing to form a government," said Thomas Kleine-Brockhoff, director of the Berlin office of the German Marshall Fund. "This is uncharted territory since 1949. We're facing a protracted period of political immobility. Not only is this not going to go away soon, there is no clear path out."
Calling new elections is not a straightforward procedure in Germany. Written with the unstable governments of the 1920s and 1930s and collapse of the Weimar Republic in mind, the German Constitution includes several procedural hurdles that would ensure a prolonged and difficult process.
Some were quick to link Germany's disorder to a broader crisis of democracy in the West. "The unthinkable has happened," said Christiane Hoffmann, deputy head of the Berlin bureau of Der Spiegel, a German magazine. In that sense, she said, "This is Germany's Brexit moment, its Trump moment."
Others said Germany's troubles were in many ways just a sign that the country was becoming more normal, not less. Having had only four chancellors since 1982, the country has known only a string of centrist governments that governed by consensus.
The crisis erupted seven weeks after the last election, which brought the right-wing Alternative for Germany, or AfD, into Parliament, and in some ways represented the return of politics to a country long deprived of debate and policy disagreements.
"It's just another step in the long learning of democracy of Germany since World War II, going from a very stable proportional system to something more messy," said Henrik Enderlein, dean of the Hertie School of Governance in Berlin.
The bigger question, he said, was whether Ms. Merkel's pragmatic governing style had reached its limit in an era where people crave the clash of a wider spectrum of policies. "Her über-pragmatism is reaching its end," he said. "It's hard to see a scenario where she returns to her previous position of power."
Ms. Merkel met in private on Monday with President Frank-Walter Steinmeier, who as head of state is charged with trying to break the deadlock in coalition talks. He could appoint a chancellor to lead a minority government or, failing that, set in motion the process for new elections.
The potential for instability in Germany would be a major blow to the European Union. Ms. Merkel has been the region's dominant political figure of the past decade, credited with guiding the bloc through the aftermath of the 2008 financial crisis and, more recently, providing a powerful counterpoint to populists across the Continent and beyond.
Financial markets reacted calmly to the turmoil in Berlin, calculating that the German economy could power through the uncertainty. After opening lower, the DAX index of major stocks closed the day higher. The euro fell slightly.
But some economists warned that the longer-term effects could be more severe. A weak government might be unable to agree on needed improvements to infrastructure and the education system, for example.
"The economic situation is very good," Christoph M. Schmidt, chairman of the German Council of Economic Experts, said in a statement. "But over the mid and long term there are big challenges, especially the demographic shift, digitalization, sensible development of the European Union, and climate change."
The political instability stems from the elections in Germany on Sept. 24, when Ms. Merkel's Christian Democrats finished first. But their share of the overall vote dropped significantly, while the far-rightAlternative for Germany scored a record vote, entering Parliament for the first time as the third-biggest grouping.
Even so, political analysts had expected Ms. Merkel to form a new coalition government that would have allowed her to remain as chancellor. That may still happen, but it will be harder now, and it is unlikely to happen soon, experts say.
Elsewhere in Europe, the possibility of a weakened Ms. Merkel and of an inward-looking Germany alarmed some leaders. The chancellor canceled a meeting in Berlin with Prime Minister Mark Rutte of the Netherlands. In Paris, President Emmanuel Macron of France said that Ms. Merkel's difficulties were a serious hurdle to the partnership between their two countries.
France has "no interest in a worsening of the situation" in Germany, Mr. Macron said in a statement on Monday. "Our wish is that our main partner, for the sake of Germany and Europe, remains strong and stable, so that we can move forward together," he added.
Even if Ms. Merkel's problems leave Mr. Macron as Europe's de facto strongest leader — with weak domestic opposition in France, a strengthening economy, and a good record so far on driving through economic overhauls — the French president had been counting on Ms. Merkel as an ally in his push to make changes to the European Union.
Mr. Macron will be aware that his agenda for the bloc, which includes a common defense force, a strengthened euro, and a joint finance minister, stands no chance without German backing.
Ms. Merkel had originally set Friday as the deadline for reaching an agreement with the Free Democrats, the Greens, and the Christian Social Union, which forms a conservative bloc with the chancellor's Christian Democrats. From the outset, all of those parties had differed markedly on key issues, notably migration and climate policies, resulting in strained talks that led to open sniping.
After they agreed to take talks into overtime, negotiators and party leaders failed to produce any breakthroughs over the weekend, and the Free Democrats quit the talks.
Ms. Merkel could try to approach the Social Democrats about forming another grand coalition. But the center-left party has served as the junior coalition partner to the Christian Democrats since 2013 and on Monday, the party's leader, Martin Schulz, said his group had no interest in another round.
As for new elections, the president can set the process in motion by proposing Ms. Merkel as chancellor, which would be put to a vote in Parliament.
If Ms. Merkel were to win a majority in the first round of voting, the president could then name her as chancellor. If not, lawmakers would vote again, within 14 days.
If Ms. Merkel failed to win a majority in a second vote, then lawmakers would vote a third time and the candidate with the most votes would win. At that point, the president could name that person chancellor or simply dissolve the Parliament and order new elections, which would take place within 60 days.
But there is no guarantee that elections would improve the situation: Recent opinion polls predict that a new vote would bring little change, compared to the result in September. A Forsa poll released last week showed Ms. Merkel's conservatives at 32 percent, the Social Democrats on 20 percent, the Free Democrats at 12 percent, the Greens 10 percent and the AfD 12 percent.
Some worry that the AfD could benefit from the current chaos and increase its share of the vote. But even if it did, that share remains far below that of populist movements in other countries.
"Germany is not leaving the E.U. and it did not elect Donald Trump," said Mr. Kleine-Brockhoff. "It was unable to form a government on its first attempt. That's bad. It causes instability. But it's not the end of the world."
Correction: November 20, 2017An earlier version of this article misstated the name of the right-wing party that won seats in the September parliamentary elections. It is Alternative for Germany, not Alliance for Democracy.
merkel trump europe – Google Search
---
The collective sigh of relief across Europe after the conclusions of the … With the election of Donald Trump, the joke has been that Merkel, not …
Washington Examiner
–
Nov 19, 2017
President Trump's approval ratings, often mocked by Democrats and the media, top those of Europe'sbiggest three leaders, German …
20 Families Got Jobs in Trump Administration
---
Most people have heard of Ivanka and Jared, but the first family is far from the only group of relatives staffing the Trump administration.
A Daily Beast examination of public records reveals that there are at least 20 families, joined by either blood or marriage, in which multiple members hold some federal post or appointment. They include the families of some of Trump's most prominent campaign supporters and agency officials, including one cabinet officer. The posts range from senior White House staff to more ceremonial and advisory positions.
A few of the most prominent cases came to the fore in recent weeks with the hiring of Eric Trump's brother-in-law to be chief of staff at the Department of Energy and the nomination of Brett Talley to a federal judgeship in Alabama. In paperwork filed with the Senate Judiciary Committee, Talley failed to disclose that his wife is the chief of staff to the White House senior counsel Don McGahn—presenting a potential conflict of interest if the administration ever argues a case in Talley's court.
But McGahn too has a direct relation in the administration. His wife, Shannon McGahn, was hired in May as a policy adviser to Treasury Secretary Steven Mnuchin. In March, Trump tapped former Ford Motor Company lawyer Jim Carroll to join McGahn's team. Carroll has since moved over to the Office of Management and Budget, where he serves as general counsel. But before he did, the White House hired his son, James Carroll III—whose previous professional experience consisted of a stint as the sports editor of his college newspaper—as a staff assistant.
Such staffing choices aren't necessarily novel for this administration. From John Adams to John Kennedy, U.S. presidents and their teams have drawn on families for high-level staffing. A lack of comprehensive records for previous administrations makes it difficult to gauge whether the Trump administration is staffed by more families than his predecessors'.
But Trump's administration is, more than any since perhaps Kennedy's, defined by blood relations, with daughter Ivanka Trump and son-in-law Jared Kushner occupying senior posts and other members of the family, including sons Don Jr. and Eric and daughter-in-law Lara Trump, serving as prominent public faces of the president's political and business arms. And the degree to which other families supply the administration with top talent only further illustrates the insularity of the current group controlling the levers of power in Washington, D.C.
Though not technically a federal employee, former New York City Mayor Rudy Giuliani serves as an informal adviser to the president. In March, his son Andrew joined the White House Office of Public Liaison as associate director after his professional golfing career petered out. The younger Giuliani's LinkedIn page listed him as a former sales intern at investment firm CapRok.
As secretary of Education, Betsy DeVos is one of the administration's most senior officials. But her family has also provided tremendous financial support for the president and the Republican Party, shelling out more than $200 million in Republican campaign contributions. Donors are frequently rewarded with administration posts and the DeVos' were no different. In September, Dick Devos Jr., Betsy's husband, was appointed to the Federal Aviation Administration's Management Advisory Council. The next month, Pamella DeVos, Betsy's sister-in-law, landed a spot on the advisory board for the John F. Kennedy Center for the Performing Arts. DeVos' brother, Erik Prince, the founder of notorious military contractor Blackwater, was also said to be informally advising Trump's incoming administration after last year's election.
Other intra-family administration posts have been more prominent and filled more direct policy-making roles. Often, these appointments have illustrated another ongoing trend in the Trump administration: the tasking of high-level officials to regulate or oversee industries in which they formerly worked.
Former House Financial Services Committee Oversight Counsel, Uttah Dhillon, was appointed as a senior assistant to the president in January. In June, his wife Janet Dhillon was tapped to be an Equal Employment Opportunity commissioner, which puts her on a body that previously took enforcement actions against at least two of her former employers, United Airlines (PDF) and JCPenny, for allegedly discriminatory action that took place while she served in legal roles for the companies.
Pamela Patenaude, Trump's deputy secretary of Housing and Urban Development, didn't work in industry. But she led the J. Ronald Terwilliger Foundation, which promotes U.S. housing policy reforms. When she was nominated in April, her daughter Meghan was already a deputy assistant for scheduling to Vice President Mike Pence. By the time she was confirmed to the HUD post in September, another of her daughters, Caitlin Patenaude, had been hired as a policy adviser at the Department of Health and Human Services.
Other Trump administration families appear to have followed their principals into the federal government. Sisters Millan and Sydney Hupp both worked on Environmental Protection Agency chief Scott Pruitt's campaign for Oklahoma attorney general. Sydney Hupp is now Pruitt's executive scheduler, and her sister is EPA's director of scheduling and advance.
Thank You!
You are now subscribed to the Daily Digest and Cheat Sheet. We will not share your email with anyone for any reason.
Jennifer Pavlik likewise followed her former boss into the administration. She was Pence's chief of staff in the Indiana governor's mansion, and now serves as the vice president's deputy chief of staff. She joined the administration in January, and a few months later her husband followed. Brian Pavlik, a former concessions program manager for the Indiana State Parks system, was hired as a special assistant to the National Parks Service.
At least one familial Trump official is no longer in the job. A few months after former White House adviser Sebastian Gorka joined the administration, his wife, Katharine Gorka, landed a job at the Department of Homeland Security. She remains in that post, but her husband was unceremoniously ousted in August.
As she continues advising high-level government officials, Sebastian Gorka has been relegated to an advisory position at a group run by "Pizzagate" conspiracy theorists. He was recently pictured parking his car on a sidewalk in Virginia.
trump nepotism – Google Search
---
giuliani son trump – Google Search
---
giuliani ukraine – Google Search
---
giuliani – Google Search
---
Here's An Exclusive Look At 'The President Show' Christmas Special
---
It's the most wonderful, tremendous, luxurious time of the year.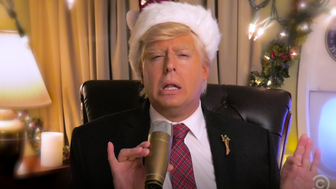 Trump campaign adviser Carter Page held high-level meetings with Hungarian officials in Budapest – ABC News
---
There is something truly historic about Trump – Washington Post
---
Mueller counterintelligence investigation – Google Search
| | |
| --- | --- |
| | mikenova shared this story from Mueller counterintelligence investigation – Google News. |
---
Trump Russia as counterintelligence investigation – Google Search
| | |
| --- | --- |
| | mikenova shared this story from Trump Russia as counterintelligence investigation – Google News. |
---
Washington Examiner
–
Nov 12, 2017
The FBI opened a counterintelligence investigation into the Trump–Russia affair shortly after receiving the first installment of an anti-Trump …
Chicago Tribune
–
Nov 14, 2017
Donald Trump Jr. is shown arriving at Trump Tower for meetings with … a counterintelligence investigationinto whether Russian operatives had …
"The FBI, as part of our counterintelligence mission, is investigating the Russian government's efforts to interfere in the 2016 presidential …
A 'Sea Of Black Masks': Prosecutors Open Felony Trial Of Inauguration Protesters
---
The U.S. government plans to seek felony convictions for nearly 200 inauguration protesters. The first trial is now underway.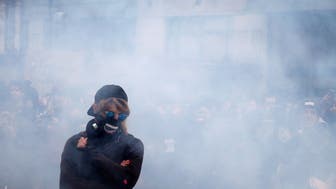 Mike Flynn – Google News: How Much Did Trump Know?: Why Mike Flynn Could Be the Key to … – Vanity Fair
| | |
| --- | --- |
| | mikenova shared this story from 1. Trump Investigation – Mike Flynn from mikenova (9 sites). |
---
 Mike Flynn – Google News
Trump Administration To End Immigration Protections For Haitians
---
The U.S. will end the special status in July 2019.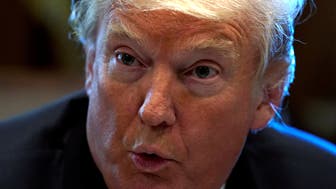 Sorry, Trumpers, Your President Is Definitely Under Investigation By The Special Counsel – The Daily Banter
---
Donald Trump Is Shutting Down His Charitable Foundation
---
Trump had been accused of using it as a political slush fund.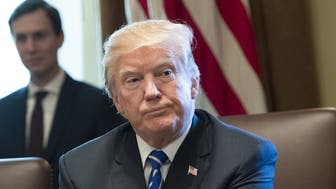 Trump Russia scandal – Google Search
---
Seth Meyers: 'Wanna-Be Dictator' Trump Gets Into The Feud We've Been Waiting For
---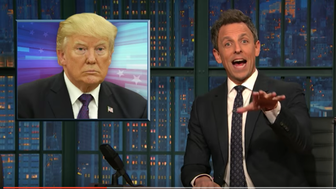 The Early Edition: November 21, 2017