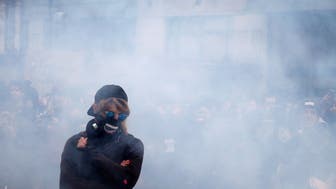 Saved Stories – None
A 'Sea Of Black Masks': Prosecutors Open Felony Trial Of Inauguration Protesters

The U.S. government plans to seek felony convictions for nearly 200 inauguration protesters. The first trial is now underway.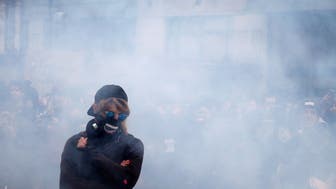 Trump Campaign to Stop Paying Donald Jr.'s Legal Bills – Bloomberg
"How Much Did Trump Know?: Why Mike Flynn Could Be the Key to the Obstruction Case – Vanity Fair
President Trump's charitable foundation is being shut down – ABC News
Trump Administration To End Immigration Protections For Haitians

The U.S. will end the special status in July 2019.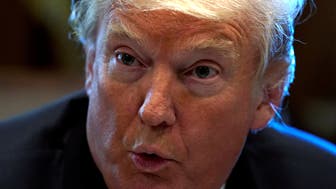 Sorry, Trumpers, Your President Is Definitely Under Investigation By The Special Counsel – The Daily Banter
Donald Trump Is Shutting Down His Charitable Foundation

Trump had been accused of using it as a political slush fund.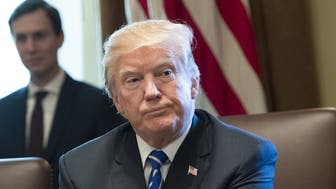 Justice Department Sues To Block AT&T's Merger With Time Warner

Their union would create one of the largest media monopolies in U.S. history.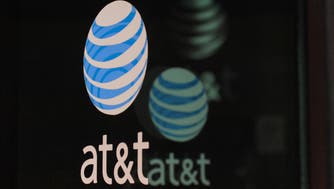 Trump Administration Ends Temporary Protection for Haitians – New York Times
White House: Trump didn't mean what he said about leaving UCLA players in Chinese jail – Washington Post
The Nationalist's Delusion – The Atlantic
The Nationalist's Delusion

The Atlantic

They accused Obama of genuflecting before Russian President Vladimir 

Putin

; 

Trump

 has refused to even criticize 

Putin

publicly. They attacked Obama for his ties to Tony Rezko, the crooked realtor; 

Trump's

 ties to 

organized crime

 are too numerous to name.
Donald Trump Is Shutting Down His Charitable Foundation – HuffPost
Google To Downgrade News From Russian-Owned Outlets, Says Parent Company CEO – The Daily Caller
Congress Should Impose A Moratorium On Judicial Appointments Until The Special Counsels Investigation Is Completed

Political parties seem to care less about civility, shared values and placing country above party.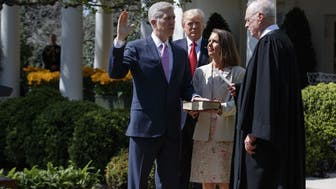 Judge: Trump voter fraud commission on ice till next year – Politico

Politico

Judge: Trump voter fraud commission on ice till next year

Politico

A commission that President Donald 

Trump

 tasked with investigating his own unsubstantiated claims of voter fraud won't meet again this year, according to court records, fueling more questions about the panel's future and its viability. In an order 

…
Pitts: The diversionary tactics of a child president – Peoria Journal Star
Pitts: The diversionary tactics of a child president

Peoria Journal Star

It is a form of reasoning that could not be more puerile, infantile, juvenile. So it very much appeals to Donald 

Trump

. You got an example in last year's final presidential debate, when Hillary Clinton called him a 

puppet

 of Russian president 

…
Robert Mueller shows just how hardcore he is

Special Counsel Robert Mueller has said nothing during his investigation into Donald Trump's Russia scandal, and he's even tried to keep his actions out of the public eye as much as possible. However, from time to time, Mueller's actions necessarily end up playing out in public. In those instances, he's consistently demonstrated just how aggressively he's conducting himself. Now we're seeing yet another reminder of that.

Three weeks ago, Robert Mueller arrested Donald Trump's campaign chairman Paul Manafort and another Trump campaign adviser Rick Gates. Now Mueller is essentially trying to get Gates' attorney fired, as he's making the legal argument that the attorney in question has a conflict of interest, according to a new Bloomberg report (link). The attorney represents both Gates and a business partner of Gates who is separately accused of financial crimes.

This serves as a reminder that Mueller is exploiting every possible legal avenue for pursuing his prosecution as aggressively as he can. This matters greatly because it means that if Mueller is taking this aggressive of an approach toward a relative small fish like Gates, it means he's taking the same approach toward Donald Trump behind the scenes.

We've also seen Robert Mueller arrest Trump adviser George Papadopoulos for lying to the FBI. This strongly suggests that Mueller will also prosecute the likes of Jeff Sessions for lying under oath to the Senate, and Jared Kushner for lying on his White House security clearance forms. Meanwhile, Mueller's most potent weapon may be that he's been able to keep so much of his work under the radar, leaving Donald Trump and his team guessing and keeping them off guard as he plows forward.

The post Robert Mueller shows just how hardcore he is appeared first on Palmer Report.
The Real Winner in America's Russia Crisis Is China – The National Interest Online
Palmer Report fully vindicated for its earlier reporting on Hungarys role in the Trump-Russia scandal

Seven months ago, Hungarian political dissident Dr. András Göllner laid out a sweeping evidence-based argument that the epicenter of the Trump-Russia scandal was in Budapest, Hungary. Palmer Report sought to bring immediate attention to Dr. Göllner's premise, but most of the mainstream media completely ignored him, and a few within the mainstream media seized the opportunity to falsely accuse Palmer Report of being "fake news" for even touching the Hungary storyline. Now the Hungary connections are being fully vindicated by the mainstream media itself.

ABC News is reporting that Donald Trump campaign adviser Carter Page held "high-level foreign policy meetings with Hungarian officials before the 2016 presidential election" and presented himself as representing the Trump campaign during these meetings (link). Further, ABC News says that Congress is investigating these meetings between Page and Hungarian officials. These meetings took place in Budapest. In other words, András Göllner was correct back in April, and Palmer Report was fully justified in trying to bring attention to it. More importantly, let's take a look at what Göllner's research can tell us about what else the Budapest connection means for the Trump-Russia scandal.

Göllner pointed to the six trips which Donald Trump campaign adviser J.D. Gordon took to Budapest (source, additional source), where he publicly took positions on Ukraine that were in line with the Kremlin. Gordon has already publicly admitted that he was part of the Trump campaign team who met with Russian Ambassador Sergey Kislyak at the Republican National Convention (source), which resulted in the Republican Party platform being changed to reflect the Kremlins position on Ukraine.

Göllner also pointed to current Donald Trump White House adviser Sebastian Gorka, who had documented close ties to far-right extremist groups when he lived in Hungary. But the core of his premise is that the Trump-Russia collusion all had Arthur Finkelstein as the centerpiece, with Finkelsteins client Orbán having given free reign to Putin to use Budapest as a de facto headquarters for his collusion with the Trump Campaign. Although it's received little U.S. media attention, the government of Hungary has become essentially an arm of the Kremlin. You can read Dr. Göllener's research here. No word on when the mainstream media will catch up with the rest of the Budapest connection.

The post Palmer Report fully vindicated for its earlier reporting on Hungary's role in the Trump-Russia scandal appeared first on Palmer Report.
Mueller to interview top-level White House officials as part of Russia probe – CBS News
Donald Trump Jr suddenly has a huge Russian mafia problem

Last week it was revealed that an alleged Russian mobster reached out to the Donald Trump campaign in the hope of setting up a meeting, and that while Jared Kushner turned down that offer, he tried to cover up the entire thing by omitting the interaction from his White House security clearance forms. As big of a legal problem as that may end up being for Kushner, it turns out his brother in law Donald Trump Jr didn't even have the sense to avoid that same alleged mobster.

Donald Trump Jr met with alleged Russian mafia figure Alexander Torshin during the 2016 election while they were both at an NRA event, according to a new CBS News report (link). The story for now is that the meeting only lasted "two or three minutes" and that the only thing they discussed was gun rights. The trouble here for Junior is that he has a terrible track record of getting caught having met with Russians, and then initially lying about the reason, before then being caught in that lie.

For instance, after the media revealed that Donald Trump Jr met with a Russian government lawyer at Trump Tower during the election, he initially claimed that the meeting was focused on "adoption." The media then subsequently revealed that Junior took the meeting because the Kremlin had promised him dirt on Hillary Clinton if she attended. Then, as time went on, it turned out far more Russians attended the meeting than had been claimed, including a Russian money laundering figure.

So now that we know Donald Trump Jr met with an alleged Russian mobster during the election, we have every reason to be skeptical of the claim that the meeting was brief and only involved gun rights. That would be as preposterous as believing that Junior's meeting with a Kremlin lawyer was merely about adoption.

The post Donald Trump Jr suddenly has a huge Russian mafia problem appeared first on Palmer Report.
Donald Trump shuts down his fake charity as investigators close in

During the 2016 election, Donald Trump's charitable "Donald J. Trump Foundation" was gradually exposed by the media as having been a fake charity that hasn't been functional since around 2009, and had dissolved into little more than an illegal personal piggybank for Trump to pilfer from. The Attorney General of New York launched a far reaching investigation into the fake charity. That story disappeared from the headlines, but the investigation has continued and now Trump is getting nervous.

The Donald J. Trump Foundation has announced that it's shutting down entirely, according to an ABC News report (link). As a practical matter, this doesn't change much. The foundation already barely existed, and the New York AG had ordered it to freeze all operations last year. But the timing of this move, which is essentially a formality, seems to suggest that Trump believes the State of New York is about to get to the bottom of his years-long charity scam.

There is only one reason for Donald Trump to suddenly want to officially shut down a fake charity that had already been unofficially shut down a long time ago: he wants to be able to say that the "Donald J. Trump Foundation" doesn't even exist when investigators announce they're moving forward with legal action against him over the foundation.

In other words, keep an eye on this storyline. Now that it's being officially shut down, the mainstream media will pay no further attention to the Donald Trump Foundation until the day investigators drop the hammer. The timing suggests that the day in question is coming fairly soon.

The post Donald Trump shuts down his fake charity as investigators close in appeared first on Palmer Report.
Donald Trump Shuts Down His Million-Dollar Charitable Foundation That He Never Gave Money To – Newsweek
National Security Adviser H.R. McMaster caught calling Donald Trump an idiot

 Donald Trump seems to be in denial about just how little mainstream Americans think of him, even as polls reveal that hes the most unpopular first-year U.S. President in the history of polling. It turns out Trump also has a popularity and respect problem much closer to home. Earlier this year it was revealed that Trumps handpicked Secretary of State Rex Tillerson had called him a fing moron behind his back. Now it turns out another cabinet-level adviser shares a similar opinion of Trump.

National Security Adviser H.R. McMaster called Donald Trump an idiot and a dope and a kindergartner during a private dinner, according to a Vanity Fair report (link). As a general rule, if one of your own top underlings is running around calling you these kinds of names behind your back, it means you have a rogue employee but if multiple top underlings are saying the same kinds of things about you, it means youre the problem. So now what?

Trump never did fire Rex Tillerson for Moron-gate, though that may have had something to do with Tillersons status as a close friend and associate of Russian President Vladimir Putin, who has consistently called the shots in the Trump administration. McMaster may be a different matter. Earlier scattered reports suggested that Trump found McMaster annoying, and that he was only reluctant to get rid of him due to the previous difficulty in trying to keep the National Security Adviser position staffed.

So even as Donald Trump now tries to decide whether or not to fire H.R. McMaster for idiot-gate, its worth keeping in mind that Trump had to fire McMasters predecessor Michael Flynn for his numerous secret and illicit connections to foreign governments. Its also worth watching how many more of Trumps senior-most advisers end up getting caught insulting his intelligence. At this point its clear theyre all thinking the same thing about it.

The post National Security Adviser H.R. McMaster caught calling Donald Trump an idiot appeared first on Palmer Report.
#RichPeopleNeedTaxCuts: The Republican Tax Plan

Its hard to see the rationale for the Republican tax cut plan.