Mike Nova's Shared NewsLinks
Turkish-Iranian Gold Trader Testifies at US Trial | Business News
---
In this courtroom sketch, Assistant U.S. Attorney David Denton points at defendant Mehmet Hakan Atilla, right, during opening arguments of a trial, Tuesday, Nov. 28, 2017, in New York federal court. Denton said Atilla, deputy CEO of Halkbank, was the architect of a "massively successful" scheme to dupe U.S. banks into letting Iran move money around the world. Judge Richard Berman is seated at the bench, background left. (Elizabeth Williams via AP) The Associated Press
By TOM HAYS and LARRY NEUMEISTER, Associated Press
NEW YORK (AP) — A Turkish-Iranian gold trader testified at a New York trial Wednesday that he paid over $50 million in bribes to Turkey's finance minister in 2012 to overcome a banker's fears he was too popular in Turkey to launder Iranian money and evade U.S. sanctions.
Reza Zarrab, 34, calmly described his 2012 encounters with one of Turkey's most important public officials as he began what will be several days on the witness stand at the trial of Turkish banker Mehmet Hakan Atilla, who is charged in a conspiracy that involved bribes and kickbacks to high-level officials.
Zarrab's decision to cooperate with U.S. investigators — revealed Tuesday — was a surprise twist in a prosecution that seemed in jeopardy just months earlier after Zarrab tried to free himself by hiring prominent and politically connected American attorneys to try to arrange a prisoner transfer between Turkey and the United States.
Zarrab said he began cooperating after efforts by former New York Mayor Rudy Giuliani and former U.S. Attorney General Michael Mukasey failed. In the spring, prosecutors seemed alarmed after learning that Giuliani and Mukasey would meet with Turkey President Recep Tayyip Erdogan and top U.S. officials to try to broker a deal.
With Zarrab as a powerful addition to their arsenal of evidence, prosecutors wasted no time in getting him to name names and muddy reputations in the banking industry and in government.
Testifying with an American flag behind him, Zarrab answered questions from Assistant U.S. Attorney Sidhardha Kamaraju as the prosecutor elicited details of what the United States has said was a well-orchestrated conspiracy to evade U.S. sanctions against Iran and enable $1 billion in Iranian oil proceeds to move through international banking markets.
Zarrab said he ran into resistance from a Halkbank executive when he approached the Turkey government-owned bank in late 2011 or early 2012 to try to gain access to Iranian money through trades in gold.
The executive, he said, feared that Zarrab's marriage to Turkish pop star and TV personality Ebru Gundes made him too popular and transparent to make gold trades.
Feeling unjustly rejected, he said he met with Zafer Caglayan, Turkey's finance minister. He said Caglayan told him he would broker gold trades in return for half the profits.
Zarrab said he paid Caglayan over $50 million to broker the trades and that Caglayan's involvement overcame the bank's resistance.
Caglayan is indicted in the case. The indictment describes his alleged role in the gold-transfer scheme and in another scheme in which he and other Turkish government officials supposedly approved of and directed the movement of Iranian oil proceeds by claiming they were in connection with the sale of food and medicine to Iran from Dubai.
Erdogan has called on American authorities to "review" the decision to indict Caglayan, saying the former minister had not engaged in any wrongdoing because Turkey had not imposed sanctions on Iran, an important trade partner.
Zarrab took the stand wearing tan scrubs a month after pleading guilty to seven crimes, including conspiracy, violating U.S. sanctions, bank fraud, money laundering and paying a bribe to a prison guard to get alcohol and the use of a cellphone.
Atilla, a 47-year-old former deputy CEO of Halkbank, has pleaded not guilty. A lawyer for Atilla attacked Zarrab's credibility Tuesday during opening statements, saying the trial is about Zarrab's crimes.
As he testified, Zarrab described his 2016 arrest as he arrived in the U.S. for a trip to Disney World with his wife and daughter.
He said he initially lied to U.S. authorities when he was confronted with crimes.
"I did not know what I was facing and after a long trip I was shocked and I couldn't give the right answers," Zarrab said. "I was afraid."
The prosecution in Manhattan has been major news in Turkey, where Erdogan has repeatedly asked the U.S. to release Zarrab.
Turkey's deputy prime minister recently said Zarrab was a "hostage" being forced to testify against Turkey's government.
Copyright 2017 The Associated Press. All rights reserved. This material may not be published, broadcast, rewritten or redistributed.
Feinstein asks for Russia records from Trump campaign aides – The Hill
---
Rudy Giuliani – Google News: Turkish-Iranian Gold Trader Testifies at US Trial – U.S. News & World Report
| | |
| --- | --- |
| | mikenova shared this story from 1. Trump Circles: Elections from mikenova (16 sites). |
---
 Rudy Giuliani – Google News
Turkish-Iranian Gold Trader Testifies at US Trial – U.S. News & World Report
---
Lawsuit seeks details of Trump administration's policies on surveilling journalists – Washington Post
---
Special counsel delays grand jury testimony amid signs of Flynn deal talks
---
Additional witnesses were expected to be questioned soon including a public relations consultant hired by Flynn's lobbying firm who was given an early December date deadline to appear before the grand jury, according to a person at the company.
Ahead of the delay, the impression was that the testimony needed to happen soon, the source said.
"Time seems to be of the essence," said the source at Sphere Consulting, the PR firm where the consultant worked.
The grand jury testimony was postponed, the person said, with no reason given. There could be many reasons for a delay, including scheduling issues.
The consultant's expected testimony comes as the investigation into Trump's former national security adviser's business dealings has taken a new turn.
Flynn's attorney told Trump's legal team last week that he would no longer share information about the investigation, a move that signals Flynn is beginning conversations with the government that could involve a plea deal or a cooperation agreement.
 that Flynn's attorney met with special counsel's attorneys on Monday.
Sphere's government relations arm, SGR LLC Government Relations and Lobbying, is one of several companies Flynn Intel Group hired to work for Inovo BV, a Netherlands-based company owned by Turkish businessman Ekim Alptekin, according to filing made by Flynn Intel Group under the Foreign Agents Registration Act (FARA). Inovo hired Flynn to research Fethullah Gulen, an exiled Turkish cleric who Turkish President Recep Tayyip Erdogan has accused of being behind the 2016 attempted military coup to overthrow him, the filing said.
Inovo paid Flynn's group $530,000 for the research, which was supposed result in a video documentary but it was never finished. Sphere's SGR was paid $40,000.
Sphere has been cooperating for months with the investigation. The inquiry was originally opened before the appointment of the special counsel, according to the source. Sphere, which was subpoenaed around June, was described as "a cooperating witness at best." Sphere has not been accused of any wrongdoing.
Interviews conducted by special counsel investigators have included questions about the
business dealings of Flynn and his son
 such as their firm's reporting of income from work overseas, two witnesses interviewed by the team told CNN. The Foreign Agents Registration Act requires people acting as agents of foreign entities to publicly disclose their relationship with foreign countries or businesses and financial compensation for such work.
Another area of interest to Mueller's team is Flynn's alleged participation in discussions about the idea of removing Gulen, who has been living in exile in Pennsylvania, sources said. In the past, a spokesman for Flynn has denied that such discussions occurred. Flynn's attorney, Robert Kelner, has called reports of an alleged kidnapping scheme "outrageous" and "false." Kelner could not be reached for comment.
Peter Carr, a spokesman for the special counsel, declined to comment.
Flynn disclosed its work for Inovo in a lobbying disclosure form in September 2016. Months later, in March 2017, it filed a FARA disclosure form stating "because of the subject matter of the engagement, Flynn Intel Group's work for Inovo could be construed to have principally benefitted from the Republic of Turkey."
Sphere entered the assignment in August 2016 when it was approached by Bijan Kian, Flynn's business partner, to publicize the proposed documentary to promote investing in Turkey, according to the Sphere source. At Flynn's direction Sphere created a Gulen-themed Monopoly graphic, according to Flynn's FARA disclosure. A lawyer for Kian declined to comment. No explanation was given for why the graphic was created.
Two other consultants hired by Flynn, journalists David Enders and Rudi Bakhtiar, a former CNN anchor, were brought in to work on the documentary, according to the FARA form. The Wall Street Journal, citing people familiar with the investigation, reported the Federal Bureau of Investigation has contacted Enders and Bakhtair to set up interviews. Enders and Bakhtiar have not responded to CNN's requests for comment.
The documentary was never completed. But Sphere did place Flynn's election day op-ed on Gulen in The Hill newspaper, according to the source at the company and the FARA filing. Flynn's FARA filing distances that op-ed from the work he did for Inovo acknowledging it was shared with Inovo but: "To the best of our knowledge, Inovo did not communicate with the Republic of Turkey regarding the op-ed or provide the draft op-ed to the government."
Through Flynn and Kian, Sphere met Alptekin, the Turkish businessman, who wanted Sphere to do PR work to get Gulen extradited, according to the source at Sphere.
According to a memo sent to Flynn's firm, Sphere told Alptekin in November, when the firm first met with him, that none of this should be done through a publicity campaign, but rather should pursued through lawsuits.
Today's Headlines and Commentary
---
North Korea fired an intercontinental ballistic missile in a test that demonstrated the Kim regimes longest potential range capability yet. The Hwasong-15 missile could reach all of the continental United States, the New York Times reported. The missiles 53-minute flight took the projectile 2,800 miles into space before landing in the Sea of Japan 600 miles east of its launch site. Experts said the test flight showed a potential range of 8,000 miles. President Donald Trump, the leaders of Japan and South Korea, and the U.N. secretary-general condemned the launch, the Washington Post reported. The United Nations Security Council will meet on Wednesday to discuss Pyongyangs latest provocation.
The Syrian government agreed to a Russian plan for a ceasefire in a rebel-held region near Damascus,the BBC reported. Syrian forces had besieged rebels in the Eastern Ghouta area, and in recent weeks Russian airstrikes and Syrian artillery fire have killed dozens of civilians. The ceasefire came as Syrian government and opposition negotiators met for U.N.-led peace talks in Geneva.
The FBI is investigating the murders of a Syrian-American journalist and her mother in Turkey, ABC News reported. Halla Barakat and her mother Orouba both reported on abuses by the Syrian regime. Their killer strangled and stabbed them to death in their apartment in Istanbul in September. Turkish prosecutors have arrested a man who says he killed them because of a dispute about money, but the prosecutors suspect the man acted on orders from the Assad regime to assassinate the women.
Michael Flynn, the former national security adviser, promoted a private scheme to build nuclear reactors across the Middle East while he was in office, the Wall Street Journal reported. Flynn consulted for the companies proposing the plan during the presidential transition. After coming into office, he directed a National Security Council staffer to prepare a memo about the plan for Trump to approve. The staffer continued to promote the plan after Flynn resigned in February until his own ouster in July.
Special Counsel Robert Muellers investigation of Michael Flynn may now cover Flynns tenure as director of the Defense Intelligence Agency (DIA), BuzzFeed News reported. The DIA cited ongoing law enforcement investigative activities to justify refusing a reporters three-year old request for information about Flynns two-year tenure as director from 2012 to 2014. The Obama administration forced Flynn to retire early.
A jury in Washington, D.C. convicted Ahmed Abu Khatallah, the alleged mastermind of the 2012 attack on the U.S. diplomatic compound in Benghazi, on terrorism charges, the Post reported. The jury in federal district court acquitted Khatallah on murder charges for the deaths of four U.S. diplomats at Benghazi. U.S. commandos captured Khatallah in 2014 in Libya and brought him to the U.S. to face criminal prosecution. He faces a sentence of up to life in prison.
Shooting broke out in Sanaa, Yemens capital, between rival factions of the Houthi movement, Reuters reported. Forces loyal to Yemens former president Ali Abdullah Saleh fought allies of another key Houthi leader, threatening to fracture the Houthi rebel movement. A Saudi-led coalition backing Yemens internationally-recognized government is fighting the Houthis for control of the country.
Secretary of State Rex Tillerson defended his redesign of the State Department, the Post reported. There is not hollowing out, Tillerson said in remarks at the Wilson Center, a Washington think tank. Dozens of senior diplomats have resigned or been fired since the beginning of the administration. Tillersons redesign plan has sparked widespread opposition in the department. Tillerson said reports of a depleted department are not accurate and that his redesign would improve the working environment for the nations diplomatic corps. The official overseeing the redesign quit on Tuesday after three months on the job, Bloomberg reported.
A Belgian court blocked the deportation of an imam at the countrys largest mosque, according to the Post. Belgian immigration and asylum officials said Abdelhadi Sewif threatened national security. The court found that officials had provided no evidence that Sewif posed a specific security risk. Belgiums investigation into the 2016 terror attacks on the Brussels airport has put pressure on Sewifs mosque for its connections to foreign backers.
A Bosnian-Croat military commander died after taking poison at the U.N. war crimes tribunal for the former Yugoslavia, Reuters reported. Slobodan Praljak drank from a glass that he said contained poison as a U.N. judge upholding his 20-year prison sentence for war crimes related to plan to carry out ethnic cleansing of Muslims in Bosnia.
ICYMI: Yesterday on Lawfare
Clare Duncan detailed Yemens recent history in a primer on its civil war.
Nicholas Weaver emphasized the seriousness of the danger from autonomous weapons systems such as slaughterbots.
J. Dana Stuster updated the Middle East Ticker, covering the Sinai attack, U.S.-Turkey tensions and the fallout from the Saudi power play.
Yishai Schwartz summarized the Nov. 13 military commission hearing in U.S. v. al-Nashiri.
Robert Chesney and Steve Vladeck shared the National Security Law Podcast, featuring discussion of Carpenter v. U.S. and the hearing in ACLU v. Mattis.
Email the Roundup Team noteworthy law and security-related articles to include, and follow us on Twitter and Facebook for additional commentary on these issues. Sign up to receive Lawfare in your inbox. Visit our Events Calendar to learn about upcoming national security events, and check out relevant job openings on our Job Board.
How Vladimir Putin sees the world
---
Luke Harding, journalist and author of "Collusion: Secret Meetings, Dirty Money, and How Russia Helped Donald Trump Win," explains how Vladimir Putin's background as a KGB agent has influenced his worldview and allowed him to manipulate Donald Trump. Following is a transcript of the video.
Luke Harding: My name is Luke Harding. I'm a journalist and a writer, and my new book is called "Collusion," and it's about Donald Trump and Russia.
Putin saying that the collapse of the Soviet Union is the world's greatest geopolitical catastrophe, it's a famous quote and essentially I think it's important because Putin is a KGB guy deep down. He sees the world in conspiratorial terms.
There's a phrase for it that they teach you at KGB spy school which is "glavny protivnik," "the main adversary," and the main adversary is America, both in the '60s, '70s, and '80s, and also now in Putin's head that he sees international politics and diplomacy as a zero sum game in which what's bad for America is good for Russia.
And actually he's had a pretty good run recently. He invaded Ukraine, he has staged military intervention in Syria, and obviously he hacked the US election to help Donald Trump, who I think to Putin's surprise became president.
For Putin, lying is something he does all the time and there's nothing shameful about it. He views lying as a kind of operational tactic, and again it's something he learned about at spy school. You lie for strategic reasons.
But what's astonishing is that Donald Trump seemingly believes Vladimir Putin, the KGB officer, over all 13 US intelligence agencies who unanimously say that Russia hacked the election.
Now, I'm not a psychologist, I can't explain what's going on in Donald Trump's head, but clearly Putin is lying and for Trump to believe him or at least to say he believes him is an astonishing sign of where we now are.
I think he intends to carry on forever. There's a Russian election next year in 2018, but it's like an "election," it's not an election. It's essentially decorative. I think we all know who's going to win it, which means that he'll have another six year term taking him until 2024.
And the logic of this kind of corrupt system in Russia means that he has to carry on forever. And so I can see Putin outlasting Trump, and I think he is going to be a kind of formidable challenge for politicians, not just now but also in the future.
How Putin's KGB background has helped him manipulate Trump according to an investigative reporter – Business Insider
---
Crook Claims Rudy Giuliani and Michael Mukasey Tried to Broker US-Turkey Prisoner Swap – Daily Beast
---
A top senator just introduced a slew of new names into the Senate's Russia probe – Business Insider
---
Senate Russia investigation: Dianne Feinstein requests new documents
---
President Donald Trump pauses while speaking to the media before speaking with members of the armed forces via video conference at his private club, Mar-a-Lago, on Thanksgiving, Thursday, Nov. 23, 2017, in Palm Beach, Fla. Associated Press/Alex Brandon
The Senate Judiciary Committee's top Democrat sent letters to several members of President Donald Trump's campaign team on Wednesday.
The letter contained new names that may be of interest to investigators probing Russia's election interference. 
Those entities had not previously been known to be of interest to the Judiciary Committee, which is also investigating whether the Trump campaign colluded with Russia to undermine Hillary Clinton's candidacy. 
---
Sen. Dianne Feinstein, the top Democrat on the Senate Judiciary Committee, requested new documents on Tuesday related to Russia's election interference from several of the Trump campaign's foreign policy advisers.
She asked them in separate letters for documentation of any contact they had with Russia-linked entities during the 2016 election, several of whom had not previously been known to be of interest to the committee.
One of them is Paul Erickson, a longtime Republican activist who told associates that he was an adviser to Trump's transition team. He reportedly started a business — a limited liability company called Bridges, LLC — with Russian gun-rights champion Maria Butina. Erickson traveled to Moscow in August 2014 to meet with Butina's gun-rights organization.
Butina and her associate Aleksander Torshin, a Russian politician and banker close to Russian President Vladimir Putin, are also of interest to the committee. Torshin asked the campaign through an intermediary whether Trump would meet with him on the sidelines of the NRA convention last summer, according to emails forwarded to Trump's son-in-law and top adviser Jared Kushner.
Feinstein, whose committee is investigating whether any Trump associates colluded with Russia to undermine Hillary Clinton, asked both campaign national co-chair Sam Clovis and campaign national security adviser JD Gordon for their communications with or concerning "the NRA, Paul Erickson, Alexander Torshin, Maria Butina," and others associated with Torshin's outreach.
"I'm always glad to clear up popular misconceptions, myths and blatant falsehoods surrounding all things Trump-Russia, like I've already done with other Congressional committees," Gordon told Business Insider. "I look forward to a valuable exchange of information with the Senate Judiciary Committee as well."
A new request to Carter Page
Carter Page. AP
In her letter to Trump campaign foreign policy adviser Carter Page, Feinstein asked for "all communications to, from, or copied to you with or concerning" Russian political scientist and Putin foreign policy adviser Sergey Karaganov; Randi Levinas, the executive vice president and chief operating officer of the US-Russia Business Council; and Bernie Sucher, a former managing director and head of global markets for Russia at the wealth management firm Merril Lynch.
Page's trip to Moscow last July just before the Republican National Convention has come under heightened scrutiny amid revelations that he met with a top Russian government official and at least one employee of Russia's state-owned oil company, Rosneft.
Levinas told Business Insider on Wednesday that the US-Russia business council reached out to both campaigns during the election to figure out who was the "Russia person" on both sides "dealing with economic and business issues."
"Page's name had been mentioned in the press," Levinas said. "So I reached out to Bernie Sucher to try to get in touch with him."
Sucher and Page evidently overlapped at Merril Lynch, where Page worked between 2000 and 2008. Before joining Merrill Lynch, Sucher was the chairman of Alfa Capital — a limited liability company that is a member of Alfa Banking Group.
Feinstein also asked Page for his communications with or concerning Alfa Group, which reportedly came under scrutiny by both federal and congressional investigators after a computer server for the Russia-based Alfa Bank "repeatedly looked up the contact information for a computer server being used by the Trump Organization — far more than other companies did, representing 80% of all look-ups on the Trump server," according to CNN.
The US-Russia business council, for its part, "wanted to have a discussion about business with respect to Russia," Levinas said. "So I tried to set up a meeting with Page, and got a small dinner together that didn't materialize until later."
Levinas said she did not attend that dinner and did not know what was discussed.
'Happy to help'
Page told Business Insider that he would be "happy to help" the committee with its "latest tranche of irrelevant Witch Hunt information." He said he was not in touch with Karaganov, the former Putin adviser, during the campaign, adding that he hadn't spoken to him in "about 10 years or so."
"I'm pretty sure that was the last time we talked," Page said on Wednesday.
Karaganov, who now serves as the dean of the Faculty of World Economy and International Affairs at Moscow's Higher School of Economics, supported Russia's incursion into Ukraine and has advocated for Moscow to present itself as a moral defender of ethnic Russians in order to gain political influence in the regions they inhabit.
"We want the status of being a great power," Karaganov told Germany's Der Spiegel last year.
"We unfortunately cannot relinquish that," he said. "In the last 300 years, this status has become a part of our genetic makeup. … We believe that Russia is morally in the right. There won't be any fundamental concessions coming from our side."
Historian Of Stalin's Crimes, On Trial On Child Pornography Charges, Seeks Release To House Arrest
---
A lawyer for a Russian historian who is being tried on child pornography charges his supporters say are politically motivated has asked a court to move his client from jail to house arrest.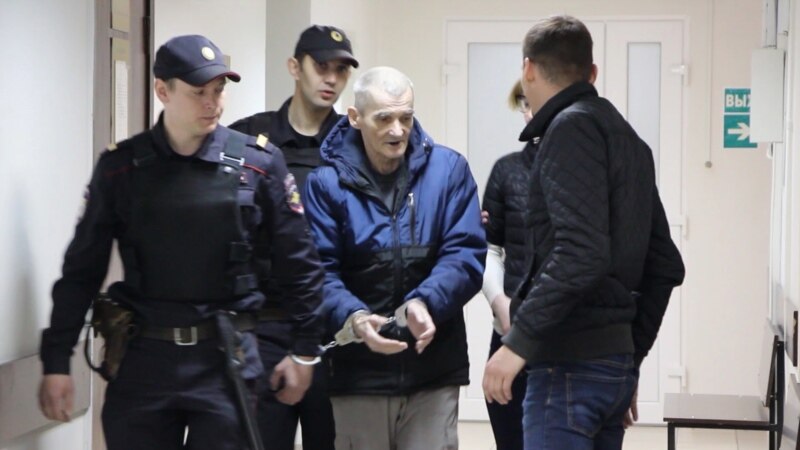 Trump's 'Art of the Deal' Ghostwriter Tony Schwartz Says 'Putin Owns Trump' – Newsweek
---
Trump and the Russian Beauty Queen
---
PART I: THE PRINCESS IN THE GILDED CAGE
Oxana Fedorova was a tall, raven-haired beauty from Pskov, a old Russian city near Estonia.  She was studying to be a police officer in St. Petersburg, Russia when she decided to try her luck in a local modeling contest. Fedorova entered the 1999 Miss St. Petersburg pageant and won. Two years later, the 23-year-old police lieutenant became Miss Russia, which awarded her a new Mercedes and a Cartier watch.
Vladimir Putin, newly installed as Russia's president, was said to be a keen admirer of the reigning Miss Russia, a karate black belt and an excellent shot. A photo of Fedorova was on display near his office in the Kremlin. The Telegraph of London reported that the organizers of the Miss Russia pageant had crowned Fedorova "in a feudal display of loyalty to the head of state." She was even rumored to be Putin's secret lover. Not true, Fedorova said. "It's just a coincidence that we are both from St. Petersburg, the work of fate. There are no links with the president."
Vladimir Golubev
Fedorova's real boyfriend wasn't the president. He was a Russian mobster from St. Petersburg.
Vladimir Semenovich Golubev, aka "Barmeley," got out of  in prison and became a gangster in St. Petersburg in the 1990s. Golubev was a silent partner in Adamant Holding, a real estate company founded in 1992 that today controls 29 shopping malls in St. Petersburg.  (See Russian Forbes.)
The Russian press reported that Golubev had links to the Tambov gang, a criminal syndicate that dominated St. Petersburg in the 1990s. Back then, the deputy mayor of St. Petersburg, a man named Vladimir Putin, was collaborating with the Tambov gang to launder money and gain control of the gambling business. (See Karen Dawisha's excellent book Putin's Kleptocracy.)
According to Russian press reports, Golubev had supported Fedorova since she she had won Miss St. Petersburg as a teenager. Fedorova reportedly traveled either in his company or with guards he sent to accompany her. Officials with Miss Universe noted that money never seemed to be a problem for the beauty queen.  She was like a beautiful bird living in Golubev's gilded cage.
PART II: MISS UNIVERSE
In 2002, Oxana Fedorova entered Miss Universe, the international beauty pageant then owned by Donald Trump.
The pageant was held in San Juan, Puerto Rico. Fedorova and other beauties from around the world competed for prizes that included a year's salary and an apartment in one of Trump's Manhattan buildings. (The apartment was more like a dormitory for Miss Universe shared it with Miss USA and Miss Teen USA.)
At the Coliseo Roberto Clemente in San Juan, Fedorova dominated the swimsuit competition and was crowned with the diamond-studded tiara.
Trump, who was in the audience watching, allegedly rigged the contest for Fedorova, according to Seth Abramson, an author and attorney. Abramson said he spoke to a source present that night in Puerto Rico who claimed that Trump told the celebrity judges — actors, fashion designers, and NFL star Marshall Faulk —  whom to choose as winner.
Four months after she was crowned Miss Universe, Fedorova was fired. Federova had failed to show at numerous photo shoots and other high-profile functions, including a commitment to help crown Miss Teen USA. It was the first time that a winner had been forced to surrender her title.
Trump said the president of the Miss Universe organization, Paula Shugart, had asked Fedorova to resign. "When Oxana didn't resign, Paula had no choice but to terminate her," he said. Anonymous "insider" sources quoted by the New York Post went for Fedorova's jugular. "An unbelievably spoiled bitch," one called her. Another said she was overweight and pregnant, which Fedorova denied.
Over the years, Fedorova has given several reasons for her decision to give up the title of Miss Universe. She had to care for an ailing relative.  She did not want to give up her studies. (She now holds a doctoral degree.) She was upset no one had warned her before her lewd interview with radio host Howard Stern.
Asked by Russian reporters whether pressure from her gangster boyfriend Golubev led her to abandon the Miss Universe crown, Fedorova replied, "This is my personal life, and I do not want to talk about it."
The view from Russia was that Trump had been paid off to crown Fedorova. Nikolay Kostin, the organizer of the Miss Russia contest, suggested to a reporter for the respected Russian daily Kommersantthat Trump had been bribed to hand the crown to Fedorova.
"Nikolay Kostin in response to such accusations only smiles and asks who then dared to offer a bribe to the owner of the Miss Universe contest Donald Trump, who presented the crown to Oxana Fedorova, and how much he was given.
Vitali Leiba, president of the model agency Red Stars, told the newspaper, "It is very difficult to determine the addressee of a possible bribe. We can say that Trump was given a bribe, or it is possible that the U.S., in the person of Trump, offered a bribe to Russia, encouraging her representative at the contest."
Update: An astute reader points out that Vitali Leiba was a founding shareholder of Arigon Company Ltd., a Channel Islands company established in 1990 by the Brainy Don, Semion Mogilevich whose name keeps turning up in the Trump-Russia affair. An 1996 FBI report called Arigon "the center of the Mogilevich Organization's financial operations."
PART III: THE UGLINESS IN TRUMP'S BEAUTY CONTESTS
There is no proof that Trump was bribed or that he tipped the scale for Oxana Fedorova, but there were multiple claims that the pageants were rigged.
Michael Schwandt, a choreographer who worked on Miss Universe and Miss USA, told Guanabee.comthat Trump would have all the contestants line up and he would walk past like a commander reviewing his troops with an assistant taking notes. "It's just kind of common knowledge that he picks six of the top 15 single-handedly," Schwandt said.
The choreographer said Trump told him he exercised the "Trump rule" so because some of the most beautiful women were not chosen as finalists in the past "and he was kind of upset by that." Schwandt disavowed his comments but here is audio  of Trump explaining the "Trump Rule" to Miss USA contestants.
Audio PlayerA contestant in 2012 Miss USA told a judge that her contest had been rigged. Sheena Monnin wrote on her Facebook page that a fellow contestant had seen a sheet of paper listing the five finalists before the contest. (She reaffirmed the claim in her delcaration.)
…. I witnessed another contestant who said she saw the Top 5 BEFORE THE SHOW EVER STARTED proceed to call out in order who the Top 5 were before they were announced on stage. Apparently the morning on June 3rd she saw a folder lying open to a page that said 'FINAL SHOW telecast, June 3, 2012'. After the Top 16 were called and we were standing backstage she hesitantly said to me and another contestant that she knew who the Top 5 were. I said 'who do you think they will be? She said that she didn't 'think' she 'knew' because she saw the list that morning. She relayed whose names were on the list. Then we agreed to wait and see if that was indeed the Top 5 called that night. ….
Trump was furious. He said Monnin had "loser's remorse," and said that if you "looked at her and compared her to the other people who were in the top 15, you would understand why she was not in the top 15." His  consigliere Michael Cohen called into TMZ Live and said that Monnin had 24 hours to retract her statement or that she could "bet [her] a** that [Miss Universe] will sue . . . seeking massive damages." Consigliere Cohen was good to his word. Trump obtained a $5 million defamation award against Monnin in an uncontested arbitration proceeding, which was upheld by a federal judge.
A 2013 investigation by Jezebel found that a pageant recruiter in Trump's Miss USA franchise allegedly demanded a blow job in exchange for magazine work that would allow a contestant to pay the $895 contest entrance fee.
Trump had acquired the Miss Universe franchise in 1996. He reportedly paid tens of millions of dollars (the exact figure was not disclosed) to buy it from ITT Corp., beating out beat two television networks and several South American media moguls. (The deal also included Miss USA and Miss Teen USA.)  Trump ran Miss Universe as a 50-50 partnership with TV networks, first with CBS, and, after 2002, with NBC.
On the surface, it looked like a good business. It cost $20 million to bring the 2013 Miss Universe pageant to Moscow. Emin Agalarov whose family owns the arena that hosted the pageant broke down the costs for Russian Forbes. A third of that $20 million went to secure rights. Another third: organizational costs. And the final third goes to the production and broadcast costs.  (Another report said overseas rights to Miss Universe were selling for $6 million in 2003.)
Very little of that money, however, was distributed to the general partners of Miss Universe. We know this because Trump had assigned his half of his interest in Miss Universe (25 percent of the company) to his publicly-traded corporation, Trump Entertainment Resorts, Inc.  In 2002, the year Fedorova won in Puerto Rico, Trump Entertainment collected a mere $700,000 for it quarter share of the pageant. In 2003 and 2004, Trump Entertainment earned nothing from Miss Universe.
Where was all the money going?
Even if the business was a stinker, there was one attraction for Trump. It allowed him to indulge his Porky's-style adolescent fantasy of seeing beautiful women naked when they were in no position to refuse.
"I'll go backstage and everyone's getting dressed, and everything else, and you know, no men are anywhere, and I'm allowed to go in because I'm the owner of the pageant and therefore I'm inspecting it," Trump told Howard Stern in 2005.
Listen for yourself:
Audio PlayerAsked whether he had ever slept with a contestant, Trump declined to say. "It could be a conflict of interest. … But, you know, it's the kind of thing you worry about later, you tend to think about the conflict a little bit later on."
Trump sold Miss Universe in 2015 to the talent agency WME | IMG for $28 million. The value of the franchise had been damaged by Trump's description of Mexican immigrants as criminals and rapists, which led NBC and Univision to drop coverage of Miss USA.
Will the House Intelligence Committee Get the Truth From Erik Prince? Mother Jones
---
Susan Walsh/AP
When Erik Prince, the founder of the notorious Blackwater security firm, heads into a private meeting with staffers and members of the House intelligence committee on Thursday, the number-one topic will be a secret trip he made in January to the Seychelles islands to huddle with a Russian close to Vladimir Putin. According to the Washington Post, the rendezvous was arranged by the United Arab Emirates, where Prince moved in 2010 and formed a mercenary army for the regime, and this get-together was part of an attempt to set up a back-channel communication between Putin and Donald Trump, then the president-elect. The visit has drawn the attention of the FBI, which has been investigating contacts between Trump associates and Russia, but a Prince spokesman last April claimed the "the meeting had nothing to do with President Trump."
There is much congressional investigators can ask Prince about. He has had a long, controversial career buckraking in the dark corners of the national security world. The brother of Betsy DeVos, Trump's education secretary, Prince has been an avid cheerleader for Trump (donating $250,000 to help elect him), an informal post-election adviser for Trump, and a pal of Stephen Bannon. Jared Kushner, Trump's son-in-law, and Bannon recruited Prince earlier this year to draft a plan that would replace US troops in Afghanistan with for-profit mercenaries—supplied, of course, by a military contractor like Prince. (The Pentagon said no thank you.) But perhaps the most important thing for intelligence committee members and staffers to keep in mind, as they try to pry information from Prince, is this: Prince is a fabricator.
During the election, the usually media-averse ex-Navy SEAL was a regular contributor to Breitbart News, the Bannon-backed far-right outlet, defending Trump and promoting conspiratorial swill.
On October 7, 2016, WikiLeaks began posting emails stolen from John Podesta, the Clinton campaign's chairman. Earlier that day, the US intelligence community issued a statement declaring the Russian government was behind the hack-and-dumps targeting Democrats during the election. It noted that the posting of the stolen emails by WikiLeaks and Guccifer 2.0 [an online persona named after a real-life Romanian hacker who went by the name of Guccifer] was "consistent with the methods and motivations of Russian-directed efforts." The statement also pointed a finger at Putin, asserting "only Russia's senior-most officials could have authorized these activities." Yet Prince joined Trump and his crew in denying there was any Russian connection to the hacking aimed at Democrats.
On the Breitbart radio show, he insisted the Podesta caper had nothing to do with Russian intelligence. He added, "The fact is, a Romanian hacker, Guccifer, is the guy who hacked the Clinton Foundation a few years ago. That guy is in prison. Before he went to prison, all of Sidney Blumenthal—Hillary's adviser on Libya—all his emails were removed from Guccifer's server, and those too have been leaking out. John Podesta's emails, I can assure you, did not come from the Russians." Prince was conflating a 2013 hack against a Clinton friend (Blumenthal) with the 2016 cyberattack on Podesta. Subsequent cyber-sleuthing has confirmed that Podesta was targeted and successfully spear-phished as part of a massive assault mounted by Russian military intelligence. Yet in the heat of the presidential campaign, Prince was pushing pro-Trump (and Putin-helping) disinformation.
In the same interview, Prince hyped one of the right-wing's favorite anti-Clinton conspiracy theories. He claimed that Hillary Clinton had been complicit in "selling 20 percent of the United States' uranium supply to a Russian state company." And he went on: "I think the Clinton Foundation got a very nice spiff off of that, of $25 or $50 million," meaning a pay-to-play payment. Prince was referring to what has now become the Uranium One scandal, which is not really a scandal. The transaction he referenced involved the acquisition of 20 percent of production capability, not the full supply, and there is no evidence that Clinton had any role in the US government approval process for this deal.
On an earlier Breitbart broadcast, Prince claimed that "due to a significant donation into the Clinton Foundation, the State Department ended up approving the sale of a company that owns 20 percent of the uranium in the United States, certainly a strategic fuel stock for us here, for nuclear energy production, and of course for nuclear weapons, if necessary. It's now in the hands of a Russian state enterprise." He was wrong here, too. The deal was approved not by the State Department, but by representatives of nine different federal agencies who sat on an interagency review board; there was no proven connection between a Clinton Foundation donation and the decision, and the uranium in question was not suitable for nuclear weapons.
During the campaign, the Clinton-gave-uranium-to-the-Russians-for-a-foundation-payoff tale was being enthusiastically peddled by Trump (who still has not let go of this faux scandal)—even though this accusation was fully debunked. And since the election, Republicans and conservatives have tried to use the Uranium One deal to deflect attention from the Trump-Russia scandal. Prince has been a loyal foot-soldier in this reality-bending, anti-Clinton propaganda effort.
Prince has gone even further in fueling the anti-Clinton fevers on the right. During a Breitbart radio appearance four days before the election, Prince, citing a "well-placed source" in the New York Police Department, said that emails discovered on the laptop of Anthony Weiner, the disgraced former congressman then separated from Huma Abedon, a top Clinton aide, included evidence of Clinton perversion and criminality: "They found State Department emails. They found a lot of other really damning criminal information, including money laundering, including the fact that Hillary went to this sex island with convicted pedophile Jeffrey Epstein. Bill Clinton went there more than 20 times. Hillary Clinton went there at least six times." He maintained these emails held proof of "of criminal activity by Hillary, by her immediate circle, and even by other Democratic members of Congress." He claimed that Abedin had "flipped." If Clinton were to be elected, Prince warned, there would be a "constitutional crisis."
Prince's unsubstantiated comments were quickly embraced by far-right extremists pushing the particularly crazy Pizzagate conspiracy theory that claimed Clinton and Podesta were part of a covert pedophilia ring operating out of the basement of a Washington pizzeria. That day, conspiracy con-man Alex Jones, citing Prince's interview, exclaimed, "When I think about all the children Hillary Clinton has personally murdered and chopped up and raped . . . yeah, you heard me right. Hillary Clinton has personally murdered children." And WikiLeaks tweeted, "Astounding claims from Erik Prince, founder of Blackwater on Clinton & NYPD." (A month later, a man armed with guns entered the pizzeria to investigate Pizzagate and fired several shots, harming no one, before he was arrested.)
Prince, once mostly known for owning a company that employed private military contractors who committed a 2007 massacre in downtown Baghdad, has become a fabulist who has used his national security credentials to dress up and legitimize the most outlandish and paranoid fantasies of the far right. (He also has recently considered challenging Republican Sen. John Barrasso of Wyoming as part of Bannon's war on so-called establishment Republicans.) No matter what Prince says when he's sitting before the interrogators of the House intelligence committee, they ought to remember this valuable guideline: consider the source.
Will the House Intelligence Committee Get the Truth From Erik Prince? – Mother Jones
---
Russian ads placed in Maryland might have been precursor to broader campaign
---
The simple advertisement betrayed little about its intent or origin. It pictured Freddie Gray and two other African Americans who died in encounters with police alongside the words "never forget."
Analysts say the ad — and hundreds more aimed by Russia at Facebook users in Maryland following the Baltimore riots of 2015 — might have been a dry run for the broader, national social media campaign that followed in the 2016 presidential election campaign.
Of the 3,000 Russian-linked ads Facebook turned over to Congress this fall, more than 250 were targeted at Maryland — a blue state with little sway in the national election that nevertheless remained in the spotlight because of the unrest.
The debate over police interactions with African Americans in Baltimore, Ferguson, Mo., and elsewhere offered an easy issue for Russians to exploit, analysts say, long before Donald Trump emerged as a serious presidential candidate.
"Russians needed practice," said James Andrew Lewis, a senior vice president at the Center for Strategic and International Studies in Washington. "They had done this a lot for domestic audiences, and they had to learn how to pull the levers of an American audience.
"This was an initial attempt."
Facebook has said accounts associated with the Internet Research Agency, a Russian troll farm, spent more than $100,000 on ads from 2015 to 2017, and that about 126 million people might have been served content from pages associated with the group. U.S. intelligence agencies said in January that the likely financier of the group is an ally of Russian President Vladimir Putin.
Putin has denied meddling in the U.S. election.
Much of the discussion surrounding the Russian social media campaign in the United States has focused on its impact on the election. Congress and the Federal Election Commission are both considering new regulations that would require more transparency in online political ads.
Less attention has been given to ads placed in 2015 in states that were not battlegrounds in 2016. Facebook has said about 25 percent of the ads the company identified as being linked to Russia were aimed at specific cities and states. More of those targeted ads ran in 2015 than last year.
The Gray ad released this month by the House Permanent Select Committee on Intelligence included a photo of the 25-year-old Baltimore man who died in April 2015 after suffering an injury in police custody. Also pictured: Michael Brown, the 18-year-old shot and killed by police in Ferguson, Mo., in 2014 and Tamir Rice, the 12-year-old killed by police in Cleveland in 2014.
"Join us because we care," the ad read. "Black Matters!"
Data released by the committee indicate that the advertisement — purchased with rubles — was initially placed in Maryland, Missouri, Virginia and Georgia beginning in mid-2015. It popped up on computer screens more than 200,000 times and attracted 12,127 clicks.
The ad was placed nationally months later and again in 2016. It received 55,761 clicks, in all.
While there is broad consensus that one of the goals of the Russian effort was to undermine confidence in American institutions — including law enforcement — there is less agreement about why so many ads were aimed at Maryland.
Russia has a long history of using "active measures" to exploit divisions, including attempts to exacerbate racial tensions. In the 1960s, the KGB authorized a plan to discredit the Rev. Martin Luther King Jr., by attempting to plant that suggested he was working for the U.S. government.
More recently, the Internet Research Agency and other Russian troll farms have targeted Georgia, Estonia and Ukraine with disinformation campaigns.
The "Black Matters" ad appears to be an early attempt at using social media in the United States. Of the small sample of ads released by the House Intelligence Committee, it was the earliest to appear.
Mark R. Jacobson is a former special assistant to Navy Secretary Ray Mabus.
"While the social media vectors are new, the operation to influence and persuade in support of broader political activities was refined during all these previous operations," said Jacobson, now an associate professor at the Walsh School of Foreign Service at Georgetown.
"So in that sense I think the 2015 stuff could have very well been an intermediate step between the long history of political warfare and what we saw in 2016."
The Gray ad clicked through to a Facebook page called "Black Matters US." That page has been removed, but an apparently related website, <a href="http://blackmattersus.com" rel="nofollow">blackmattersus.com</a>, remains online.
The website, registered anonymously in late 2015, describes itself as a "nonprofit news outlet." It features commentary about the African-American community. Items about Baltimore and Gray begin by quoting or paraphrasing coverage in The Baltimore Sun before launching into opinion.
When Baltimore prosecutors dropped criminal charges last year against officers involved in Gray's arrest and death, the website posted an article that cited coverage in The Sun, including a quote from State's Attorney Marilyn Mosby, and then opined that the decision "doesn't come as a surprise."
"The American criminal justice system has always been reluctant to prosecute officers, making up special circumstances surrounding the cases, in which these officers were involved," an author identified as William Sanders wrote. "People are tired of such pretense and police being above the laws they impose on others."
The website was also frequently and overtly critical of Democratic nominee Hillary Clinton. An item posted in October 2016, the month before the election, asserted that "Hillary's deceptive plots to win the love of Black people in America just to gain power are gradually being brought to light." Another piece was headlined "Hillary Clinton: A Candidate For the Corporate Elite."
The most recent item posted to the site is from September. A request for information by The Sun submitted through the site's "contact" form drew no response. An email address associated with the page did not work. Most of the social media accounts connected to the site have been taken down.
Just how much Maryland and the other states confronting racial tension were targeted by the ad campaign is unclear. Sen. Richard Burr, the chairman of the Senate Intelligence Committee, said this month that Maryland received a notable share, particularly given that the presidential vote in the state wasn't close.
"The three most heavily targeted states in America — Maryland, Missouri and New York — were all determined by at least 18-point margin," the North Carolina Republican said during a committee hearing.
But in a brief interview later, Burr appeared to walk back that assertion.
"I didn't say that they were the most targeted," Burr said. "I used those as examples of how they were targeted at a higher level than [the battleground states] Michigan and Wisconsin."
Burr has long contended the ads were more about dividing Americans than they were about presidential politics.
"From the standpoint of what we've seen in the ads and how they were designed and run, it was to create societal chaos," Burr said. "That's it."
Asked about their impact, Burr pointed out that two Russian Facebook pages managed to organize dueling rallies outside a Houston mosque last year.
"When you see a picture of a rally with both sides in Texas, yeah, they were successful."
Maryland Sen. Ben Cardin, the top Democrat on the Senate Foreign Relations Committee, agreed that the ad placed in Maryland probably had more to do with highlighting racial tension than helping to elect Trump. Trump entered the Republican primary in June of 2015, about a month before the ad began showing up in feeds.
Many of the national ads released by the House and Senate intelligence committees from 2016 focused on the election. One touted Trump rallies in Florida. Another depicted Jesus and Satan arm wrestling and suggested Satan was on Clinton's side.
"Press 'like' to help Jesus win!" the ad read.
"In 2015 they were doing their own fishing expedition, trying to see what would stick," Cardin said. "So they came into Maryland and they tried a tactic. It wasn't terribly effective.
"I think they may very well have gone on to a different tactic."
That's the conclusion of several analysts.
Clint Watts, a former FBI agent who has studied the Russian campaigns, told lawmakers in testimony this year that Russian online activities "shifted aggressively" toward the United States in late 2014 and throughout 2015. By the end of 2015, the effort "began pushing themes and messages seeking to influence the outcome" of the election.
Watts did not respond to several requests for comment.
Facebook has repeatedly declined requests from The Baltimore Sun for information about the ads placed in Maryland. The Gray ad released by the House Intelligence Committee is the only Russian ad aimed at Marylanders to have been shown to the public.
Without seeing more content, several analysts said, it's difficult to pin down the motivations. The House Intelligence Committee has promised to make more ads public, but has not said when that will happen.
Thomas Rid is professor of strategic studies at the School of Advanced International Studies at Johns Hopkins.
"The 2015 targeting could have been a trial run, but we don't know," he said. "Soviet active measures started exploiting racial and ethnic tensions in the mid-1950s, and ripping open racial divisions has been a standard M.O. ever since."
Unusual social media activity in Baltimore in 2015 caught the attention of a local cybersecurity firm. Days after the 2015 riots, the Federal Hill-based firm ZeroFox documented a flurry of accounts by users posing as Baltimoreans that had in fact been created in Russia, China and India.
Postings from those accounts appeared designed to deepen the divides exposed during the riots.
"I just killed a pig," one Twitter user wrote alongside a photograph of a bloodied police officer. (It turned out the officer was from South America, not Baltimore.)
Another tweet, from an account impersonating the Baltimore Police Department, used a racial slur.
ZeroFox identified nearly 100 accounts impersonating police and city and state officials.The firm has not responded to requests for comment.
Another Facebook account known as Blacktivist promoted a rally in Baltimore last year to mark the one-year anniversary of Gray's death. A Twitter account associated with the page reached out to journalists at The Sun and other outlets and sent a press release to reporters promoting the event.
Todd M. Rosenblum, a former principal deputy assistant secretary of defense, is a nonresident senior fellow in the Brent Scowcroft Center on International Security at the Atlantic Council.
The Russian effort "was sophisticated to the point that they identified the standing social cleavages that existed in the nation," he said.
"They were able to accurately assess what's dividing Americans and what messages were going to cause an emotional reaction. There were a lot of pretty sophisticated creations."
Russian ads placed in Maryland might have been precursor to broader campaign – Baltimore Sun
---
Wednesday's Morning Email: Latest Missile Launch From North Korea Appears To Put Entire Continental U.S. In Range