M.N.: Ban the "Cambridge Analytica" worldwide: it is the direct and imminent danger to the democracy and the free elections systems, especially in the developing countries. Explore their connections with Russia!
Cambridge Analytica's chief executive officer Alexander Nix. (PATRICIA DE MELO MOREIRA/AFP/Getty Images)
As investigators continue to probe the 2016 presidential election, one of Donald Trump's primary partners—data company Cambridge Analytica—says it has shifted its focus away from U.S. politics. The company, which entered the U.S. political market in 2014, mining and analyzing data to target voters, says it is expanding its work in international elections, while boosting its business with American corporations.
"The company will grow significantly this year, even in the absence of chasing any U.S. political business," says CEO Alexander Nix, who claims it always planned to move away from U.S. politics. As for the current questions surrounding the 2016 election, he has this to say: "There is an investigation into Russian interference in the election. That's not to imply that Cambridge Analytica is under investigation. We will help with all of these investigations as much as we can. We have no involvement with Russians. We don't have any Russian clients. I don't think we have any Russian employees. We certainly haven't spoken or engaged with any Russians in terms of U.S. political elections, and nor would we."
Cambridge Analytica was hired by the Trump's campaign digital director Brad Parscale in June 2016, after an initial suggestion by Jared Kushner. The company helped the campaign collect data, target voters, and mostly place ads, according to a Trump campaign official. Cambridge got paid $5.9 million in 2016 by the Trump campaign, according to public filings. It got about another $1.8 million from a different campaign vendor. An offshoot of the British data company SCL Group, Cambridge began working in U.S. politics in 2014 and was funded by Republican mega donors Robert Mercer and his daughter Rebekah. A company spokesman declines to comment on whether Cambridge's involvement in U.S. politics was ever encouraged by the Mercer family.
For his part, Nix says the decision to pull back from U.S. politics was in anticipation of the lull in activity in the field in an off-election year. "There's going to be literally dozens and dozens of political firms [in the 2018 midterm elections], and we thought, that's a lot of mouths to feed and very little food on the table," says Nix. In 2017, there have been no filings on the Federal Election Commission's website that showed Cambridge Analytica working as a vendor. Forbes reached out to 16 campaigns and super PACs that have worked with the data company since 2014 or received donations from the Mercer family in 2017. None said they are currently working with Cambridge.
But there are new opportunities overseas. Nix says the company has worked on four political campaigns in Europe and one in South America in 2017. He also says it is currently working on an election in the Middle East after having wrapped up the Kenyan general election in August. "We've also supported a general election campaign for [a centrist party] with branding, marketing, and communications," says a spokesperson for the company, declining to name the client. "And we've been doing some research on parties and branding ahead of some important elections next year."
There may also be additional opportunities with U.S. companies, which Cambridge began targeting in the summer of 2016, while it was still working on the Trump campaign. Most of its political staff has left since the election, but Nix claims Cambridge has since increased its headcount by 60 people to 107 full-time employees globally, a quarter of which are now solely working in its commercial division. A company spokesman declines to name clients but says the firm has a diversified list, including a womenswear brand carried by major retailers like Nordstrom, Neiman Marcus, and Saks Fifth Avenue, and a retail bank. It also did work in the past for the Financial Times.
Nix says that company revenues are up 50% this year, but he declines to provide any additional financial information or documents to verify his figures. "We still think that the political division will only contribute maybe 25% to revenue for the group, with another 25% coming from the government and defense sector, and the bulk of 50% or so coming from the brand and commercial sector," Nix tells Forbes.
"We're not a political agency, we've never been a political agency. We're a tech company, and we want our technologies to help companies to grow and develop," the CEO says less than 14 months after working on a winning presidential campaign in the U.S.. "We're absolutely convinced that the truth will set us free, and that in due course, everyone will realize that we've really done nothing except support a candidate who for some is quite polarizing."
_______________________________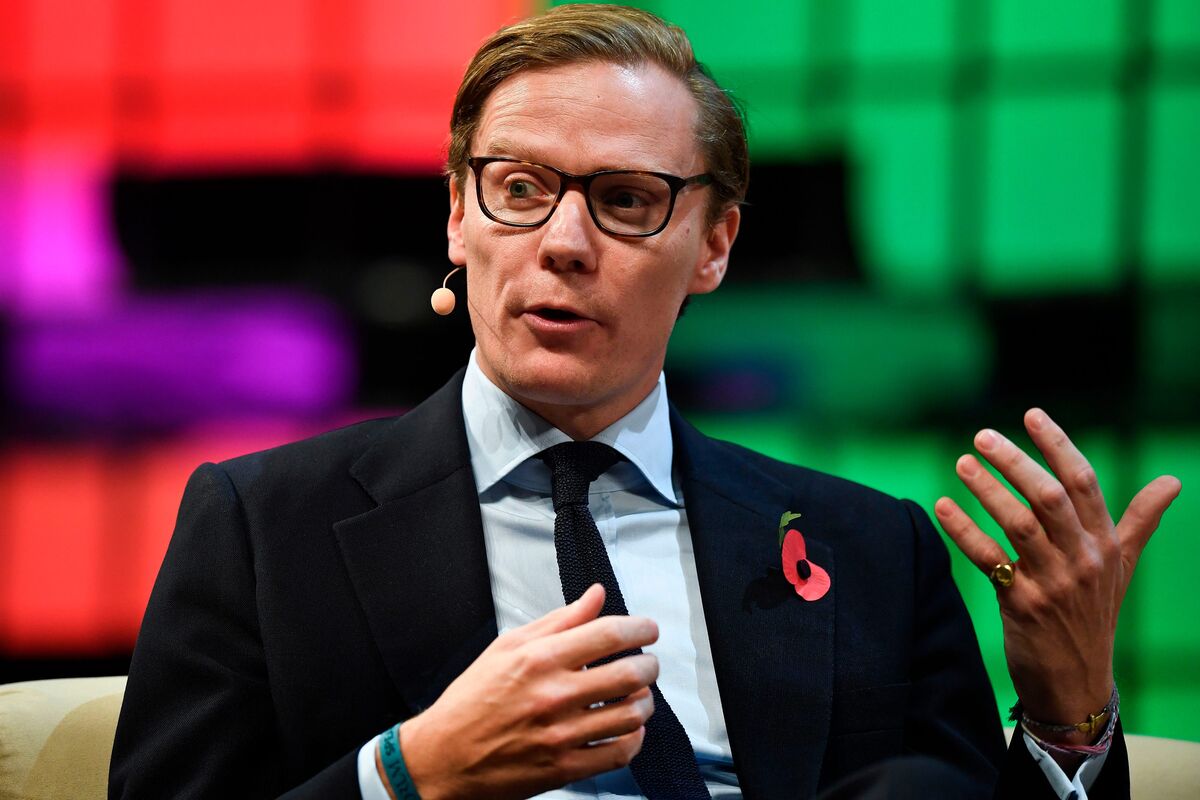 Cambridge Analytica's CEO Alexander Nix. Photographer: PATRICIA DE MELO MOREIRA/AFP
The chief executive officer of a data firm that worked for President Donald Trump's campaign is set to testify in private before the House Intelligence Committee as part of its probe into Russian election interference on Dec. 14, according to a person familiar with the panel's schedule.
Lawmakers likely will ask Alexander Nix, CEO of the data and analysis firm Cambridge Analytica, whether he sought material from WikiLeaks publisher Julian Assange that was stolen from computers of the Democratic National Committee and John Podesta, who managed Democrat Hillary Clinton's presidential campaign.
Nix said at a November technology conference in Lisbon that in "early June 2016," he contacted WikiLeaks after Assange publicly claimed he had Clinton emails and planned to publish them. Assange previously told the Associated Press that WikiLeaks had rejected a "request for information" from Cambridge Analytica.
The House Intelligence panel didn't say what it plans to ask Nix. But an October letter to his company from Senator Dianne Feinstein of California, the top Democrat on the Senate Judiciary Committee, provides a possible road map. She asked for a description of any communication with Russian government officials, or their representatives, to identify potential voters for "targeted advertising, marketing or social media contact" in support of the Trump campaign.
Saved Stories – Trump Investigations
Saved Stories – Trump Investigations
Rep. Jim Jordan Asks FBI Director: Did Peter Strzok Use the Dossier … – Breitbart News
The Justice Department-Trump dossier connection – Fox News

Fox News

The Justice Department-Trump dossier connection

Fox News

WALLACE: I want to go back to the other point, though, because a lot of the focus today was on this FBI agent 

Peter Strzok

who was 

removed

 from the campaign in July after Robert Mueller, 

removed

 from the investigation in July after Robert Mueller found 

…and more »
Steve Bannon officially discloses source of $2 million in personal debt – Center for Public Integrity
---
Michael Flynns Shady Past at DIA and Before Reveals He Was a Fraud
---
Michael Flynn, former national security advisor to President Donald Trump, leaves following his plea hearing at the Prettyman Federal Courthouse December 1, 2017 in Washington, D.C. Chip Somodevilla/Getty Images
The fall from grace of retired Lieutenant General Mike Flynn is one of the strangest sagas in the annals of America's military and intelligence services. Just one year ago, his star could hardly have been more ascendant, named as the National Security Advisor to newly-elected President Donald Trump. However, he flamed out of that job in just 24 days, a record. Then, last week, he pleaded guilty to lying to the FBI about discussions with top Russians, leaving his reputation is in tatters.
How all this happened will be debated for years as the full saga of the Trump White House's secret ties to Moscow unfolds and Special Counsel Robert Mueller's investigation moves forward like a steamroller, slowly crushing all in its wake. Flynn, the military intelligence professional turned felon, will feature prominently in that sordid story. Now that he's cooperating with Mueller against President Trump, copping per his plea deal to a relatively minor charge that he may serve no jail time for, Flynn's role has changed, but it's no less important.
Just how deeply enmeshed Flynn was with the Russians is now coming into focus. Public embarrassments like appearing at the 10th anniversary gala for RT, Moscow's propaganda network—including sitting at the head table with Vladimir Putin, Russia's president—were just the tip of the iceberg. That Flynn took Kremlin money for that controversial appearance should have hinted at worse misdeeds.
For instance, Flynn was lobbying for Russian interests, including lucrative nuclear power deals around the world. This is hardly a normal retirement job for pensioned U.S. Army generals. It now appears Flynn was involved with this while serving as Trump's national security consigliere. He's reported to have texted a business colleague that a big nuclear deal was "good to go," meaning Flynn could now get sanctions lifted off Russia, in the middle of Trump's inaugural address last January.
What makes Flynn's implosion especially shocking is this represents his second major career blow-up in five years. His initial fall from grace came in August 2014, when President Barack Obama cashiered him as the head of the Defense Intelligence Agency after two difficult years in that job. Although Flynn, in his usual dissimulating fashion, portrayed his firing as a political act—weak President Obama, unserious about the jihadist threat, was threatened by Flynn's straight talk about terrorism, the story went—the truth is Flynn was dumped from DIA for incompetence. That seldom happens in Washington, and it is nearly unheard-of at top levels of our Intelligence Community.
His tenure there was a disaster, marred by arrogance, cluelessness, and gross mismanagement. As I've previously reported:
DIA has always been an also-ran in our Intelligence Community—a dumping ground where military careers go to die more often than prosper—but Flynn believed he could be the boss who turned DIA around to match CIA and NSA in the Washington spy game. Alas, he was wrong.
The civilian workforce at DIA is uninspired even by Beltway standards, and they objected when Flynn repeatedly threatened them with firing if they didn't submit to his radical plans for the agency. It turned out Flynn was better at thinking about Big Ideas than actually implementing them, and his reform plans for DIA went essentially nowhere.
After two years under Flynn, DIA employees had enough and were in more-or-less open revolt. The final straw came with a bizarre presentation to the workforce by a staffer which encouraged women to not be "Plain Jane" and wear makeup at work: "No flats…Paint your nails…Brunettes have more leeway with vibrant colors than blondes or redheads."
Although Flynn apologized to his agency, the damage was done. The White House had no choice but to move him out, along with his deputy—a rare move in the Department of Defense to cashier a whole leadership team.
In the aftermath of Flynn's epic flameout at DIA, it merits asking why he was ever considered for that job at all. There's an interesting backstory here that requires a bit of unpacking yet reveals the essential fraudulence of the entire Flynn enterprise.
Commissioned in the Army in 1981, for most of his career Flynn was never a major player in the Army or the IC. He was a tactical intelligence guy, and he fatefully lashed himself to Stanley McChrystal, one of the fastest-rising generals in the Army after 9/11. Flynn's career rose between 2004 and 2007, when he served as the intelligence boss for the Pentagon's Joint Special Operations Command, the spooky snake-eaters who at the time were killing terrorists all over Iraq and Afghanistan. In the mid-aughts, under General McChrystal, JSOC was transformed into a highly lethal secret outfit, and Flynn played a major role there.
Specifically, Flynn oversaw the development of timely, multi-source tactical intelligence that aided JSOC in killing terrorists at an unprecedented rate. Intelligence-driven targeting of bad guys was a big hit with the brass inside the Beltway, and Flynn's name began to get noticed beyond JSOC. There were always whispers, however, that Flynn was claiming credit for important work done by his underlings, which wouldn't be unusual in our military.
Flynn was still a relative unknown in spy circles, but that changed at the beginning of 2010, when a sensational study appeared that lambasted American intelligence performance in Afghanistan. Titled Fixing Intel, this was a wonky jeremiad that pulled no punches, using words like "marginally relevant," "ignorant," "hazy," and "incurious" to describe U.S. intelligence work in Afghanistan in a scathing fashion.
What made this particularly odd was the study's author was the intelligence boss of U.S. and NATO forces in Afghanistan at the time: Mike Flynn. He listed himself as the lead author, alongside two junior analysts. It's not every day that the boss publicly attacks his own organization, recommending its complete overhaul on grounds that it has utterly failed.
Even more noteworthy was that the study was published by a Washington think-tank, the Center for New American Security. Flynn had jumped outside the Pentagon to attack his own organization, something that troubled some policymakers in the nation's capital. However, as a means of getting publicity, this was a brilliant ploy, and Flynn immediately became the talk of egghead cocktail parties in Washington.
Fixing Intel was released by CNAS with fanfare, including a key plug by Tom Ricks, a CNAS official who had long been the doyen of military reporting inside the Beltway. With Ricks' endorsement, Flynn was now officially a man with Big Ideas, and his star rose quickly inside the secret bureaucracy. Before long, he was plucked from Afghanistan to take a plum senior IC staff job in Washington, which introduced him to the right people. Only a few months later, in April 2012, Mike Flynn was nominated by the White House to take over DIA. The rest of the story, we know.
Except there was a key piece missing until just a few days ago. Tom Ricks played a pivotal role in Flynn's rapid rise in Washington. However, he now wonders if he "helped create a monster," to use Ricks' own words. In a shocking column he published last week, Ricks admitted he got CNAS to run Flynn's study in January 2010. Flynn's harsh critique was important and needed an airing, Ricks explained: "He seemed to be a breath of fresh air, exactly what the military establishment needed." However, there's a big problem with that narrative, as Ricks now concedes:
I have reason to suspect Flynn may have had little role in actually writing the paper. On the other hand, he read it, saw that it was good, and agreed to lend his name—and rank—to it. His endorsement gave the paper a major boost. Otherwise it likely would have gone nowhere, and Flynn might now be a name unknown.
It's not unusual for a top official to lend his name to a wonky study that otherwise might not get read by anyone. However, Flynn listed himself as the study's lead author—which he was not. This was strongly suspected at the time in intelligence circles, something that Ricks seems to have missed—with fateful consequences.
Mike Flynn was never the savvy intelligence intellectual he pretended to be, which explains why his directorship at DIA was such a disaster. While a competent tactical intelligence guy, Flynn had no idea how the big game was played inside the Beltway, so he dropped the ball when he was let on the field. This also explains how Flynn seemed to have no idea that his calls to the Russian embassy might be intercepted by the FBI, an astonishing ignorance for a career intelligence officer. Then again, there's a lot that Mike Flynn ought to have known but somehow didn't.
John Schindler is a security expert and former National Security Agency analyst and counterintelligence officer. A specialist in espionage and terrorism, he's also been a Navy officer and a War College professor. He's published four books and is on Twitter at @20committee. 
CEO of Trump Campaign Data Firm Will Testify to House Panel in Russia Probe – Bloomberg
After FBI agent removed from Mueller's team, FBI utility man steps in – ABC News
The Next Step in the Radical Trump-GOP Agenda: Gut the Welfare State – The New Yorker
Dina Powell, deputy national security adviser, to depart Trump White House – Washington Post
Former Trump adviser interviewed in Congress in Russia probe – Reuters
Former Trump adviser interviewed in Congress in Russia probe

Reuters

WASHINGTON (Reuters) – Walid Phares, a former campaign adviser to President Donald Trump, testified to the U.S. House of Representatives Intelligence Committee on Friday in its 

investigation

 of possible Russian efforts to influence the 

2016

 U.S 

…
Trump Is a No-Show in the Fight Against Opioids – Bloomberg

Bloomberg

Trump Is a No-Show in the Fight Against Opioids

Bloomberg

To the contrary, 

Trump

 has been receptive to proposals by congressional Republicans to slice spending on Medicare and Medicaid, two of the biggest programs for addiction treatment. 

Trump

 tapped Pennsylvania Representative Tom Marino to head the Office 

…and more »
Hemingway: Was Russia Collusion Investigation Compromised By Steele Dossier? – The Federalist
Despite Trump's 'Witch Hunt' Claims, Russia Probe Won't End if Mueller is Fired – Newsweek
Donald Trump's Approval Rating Just Hit A New Low – TIME
Fiancée of Trump campaign official who lied to FBI says he was 'constantly in touch' with top Trump officials – Business Insider
Trump's unpopularity is amazing, given the strength of the economy – Washington Post
DOJ to hand over official's anti-Trump texts, amid contempt threat – Fox News
Russia inquiry prosecutor Robert Mueller faces claims of Trump bias – The Times
Obama's Legacy of Bureaucratic Rot: Peter Strzok – American Spectator

American Spectator

Obama's Legacy of Bureaucratic Rot: Peter Strzok

American Spectator

When the IRS, EPA, and various other agencies targeted a Houston Tea Party activist, it was pretty clear that the Obama administration had unleashed their many hounds to intimidate and harass political enemies. She and her husband were visited at their 

…
Jim Jordan pushes FBI on ties between Peter Strzok, Trump surveillance – Washington Examiner
PICTURE EXCLUSIVE: Married FBI lawyer who exchanged 10000 texts with her anti-Trump agent lover who was a key … – Daily Mail
Report: DOJ Reviewing More Than 10000 Text Messages Between Anti-Trump Mueller Investigators – The Daily Caller
Rep. Gowdy: Why Was Anti-Trump FBI Agent Interviewing Hillary? [VIDEO] – The Daily Caller
Ron Johnson demands FBI turn over anti-Trump messages Peter Strzok sent FBI lawyer – Washington Examiner
Report: DOJ Officials Pouring over More than 10000 Strzok Texts After Discovering Anti-Trump Messages – Breitbart News
Trump and the Russia investigation: What to know

Questions about Russia's involvement in the U.S. election have plagued the Trump administration.