Saved Stories – None
Trump's Conspicuous Silence Leaves a Struggle Against Russia Without a Leader – New York Times
Russia interference should be countered with 'the truth' and not 'more propaganda,' NATO chief says – CNBC
Tensions Between Russia And West Simmer In Munich – RadioFreeEurope/RadioLiberty
'Huge escalation risk' between US, Turkey, Russia in Syria: MSC chairman – Rudaw
US Man Pleads Guilty in Fraud Case Connected to Russia Election Probe
Trumps National Security Chief Calls Russian Interference Incontrovertible
Главнокомандующий ВМФ, командующие флотами приняли участие в военно-исторической конференции «60-лет Атомному подводному флоту России», которая состоялась в Санкт-Петербурге
"Thank You, Putin, For Everything: Russian Children Plump For Their President
Russians Charged With Interfering in U.S. Election
Kremlin Caterer Accused in U.S. Election Meddling Has History of Dishing Dark Arts
Germany's Coffers Are Overflowing, But No One Is Talking About Tax Cuts
How the Dumbest Man on the Internet aided the Russian election plot
FL AG Pam Bondi: I Think FBI Director Christopher Wray Has a Lot of Explaining to Do – Breitbart News
'People are angry': Pain turns political in Parkland after school shootings – Washington Post
Russian Alleged Election Interference Not Working: McMaster – U.S. News & World Report
13 Russians Indicted as Mueller Reveals Effort to Aid Trump Campaign
9:15 AM 2/17/2018 – Stop Letting the Russians Get Away With It, Mr. Trump – NYT Editorial trumpinvestigations.org/blog/2018/02/1
9:15 AM 2/17/2018 – Stop Letting the Russians Get Away With It, Mr. Trump – NYT Editorial
9:15 AM 2/17/2018 – Stop Letting the Russians Get Away With It, Mr. Trump – NYT Editorial
9:15 AM 2/17/2018 – Stop Letting the Russians Get Away With It, Mr. Trump – NYT Editorial
Sweden grants citizenship to scientist sentenced to death in Iran
Diplomatic tensions at day two of Munich Security Conference
Deputy Attorney General Rosenstein: "The indictment charges 13 Russian nationals…" (C-SPAN)
0, Is Black Panther co-opting African struggles against oppression?
Saved Stories – None
Trump's claims of Russian meddling as a 'hoax' hit choppy waters with FBI indictments – USA TODAY
Trump's Conspicuous Silence Leaves a Struggle Against Russia Without a Leader – New York Times
Russia interference should be countered with 'the truth' and not 'more propaganda,' NATO chief says – CNBC
Tensions Between Russia And West Simmer In Munich – RadioFreeEurope/RadioLiberty
'Huge escalation risk' between US, Turkey, Russia in Syria: MSC chairman – Rudaw
US Man Pleads Guilty in Fraud Case Connected to Russia Election Probe

A California man has pleaded guilty to inadvertently selling bank accounts to Russians who were indicted Friday by a federal grand jury for interfering in the 2016 U.S. presidential election. Richard Pinedo pleaded guilty to using stolen identities to set up bank accounts that were then used by the Russians, according to a February 12 court filing.   The special counsel investigating Russian meddling on Friday announced charges against 13 Russian citizens and three Russian entities for interfering in the election.   The indictment alleges that the Internet Research Agency, a St. Petersburg-based social media company with Kremlin ties, 12 of its employees, and its financial backer orchestrated an effort to influence the 2016 election campaign in favor of President Donald Trump.    Prosecutors charged Yevgeniy Prigozhin, a businessman with close ties to Russian President Vladimir Putin, with funding the operation through companies he controls, Concord Management and Consulting LLC, Concord Catering and a number of subsidiaries.     Prigozhin and his businesses allegedly provided "significant funds" for the Internet Research Agency's operations to disrupt the U.S. election, according to the indictment.    Deputy Attorney General Rod Rosenstein said that the Russian conspirators sought to promote social discord in the United State and undermine public confidence in democracy.   "We must not allow them to succeed, Rosenstein said at a news conference in Washington.    The conspiracy was part of a larger operation code-named Project Lakhta, Rosenstein said.    "Project Lakhta included multiple components some involving domestic audiences within the Russian Federation and others targeting foreign audiences in multiple countries," Rosenstein said.    Mueller, who has made no public statements about the Russia investigation since his appointment last May, did not speak at the news conference.    Charges against Russian nationals   The indictment charges all the defendants with conspiracy to defraud the United States. Three defendants are charged with conspiracy to commit wire and bank fraud, and five individuals with aggravated identity theft.   None of the defendants charged in the indictment are in custody, according to a spokesman for the Special Counsels office.    The U.S. and Russia dont have an extradition treaty and it's unlikely that any of the defendants will stand trial in the U.S.   The 37-page charging document alleges that the Russian conspirators sought to coordinate their effort with Trump campaign associates, but it does not accuse anyone on the Trump campaign of colluding with the Russians.   Trump took to Twitter after the indictment was announced to again deny his campaign worked with the Russians.   "Russia started their anti-U.S. campaign in 2014, long before I announced that I would run for president, Trump tweeted. The results of the election were not impacted. The Trump campaign did nothing wrong – no collusion!"   The indictment marks the first time Muellers office has brought charges against Russians and Russian entities for meddling in the 2016 election.     Muellers sprawling investigation has led to the indictments of former Trump campaign chairman Paul Manafort and associate Rick Gates.Former Trump National Security Advisor Michael Flynn and former campaign foreign policy adviser George Papadopoulos have pleaded guilty to lying to the FBI about their contacts with Russian officials.   Details of indictment   The indictment says the Russian campaign to interfere in the U.S. political system started as early as 2014 and accelerated as the 2016 election campaign got underway.    During the 2016 campaign, the Russian operatives posted "derogatory information" about a number of presidential candidates.  But by early to mid-2016, the operation included "supporting" Trump's presidential campaign and "disparaging" Democratic candidate Hillary Clinton.                            Taking on fake American identities, the Russian operatives communicated with "unwitting" Trump campaign associates and with other political activists to seek to coordinate political activities," the indictment says.   The indictment describes how Russian operatives used subterfuge, stolen identities and other methods to stage political rallies, buy ads on social media platforms, and pay gullible Americans to promote or disparage candidates.   To avoid detection by U.S. law enforcement agencies, the Russian operatives used computer networks based in the United States, according to the indictment. "These groups and pages, which addressed the divisive U.S. political and social issues, falsely claimed to be controlled by U.S. activists when, in fact, they were controlled by defendants," the indictment reads.   A number of the operatives are alleged to have traveled to the United States under false pretenses to collect intelligence to inform the influence operations.
Trumps National Security Chief Calls Russian Interference Incontrovertible

Lt. General H.R. McMaster accused Moscow of engaging in disinformation, subversion and espionage. The comments highlighted a sharp division in the White House on how to talk about Russias actions.
Главнокомандующий ВМФ, командующие флотами приняли участие в военно-исторической конференции «60-лет Атомному подводному флоту России», которая состоялась в Санкт-Петербурге

В конференции, которая стала частью сбора руководящего состава Военно-Морского Флота, приняли участие Главнокомандующий ВМФ России Адмирал Владимир Королёв
"Thank You, Putin, For Everything: Russian Children Plump For Their President

Russian laws ban using minors in election campaigns, but that hasnt stopped a school in Daghestan from posting photos of children holding pro-Putin posters.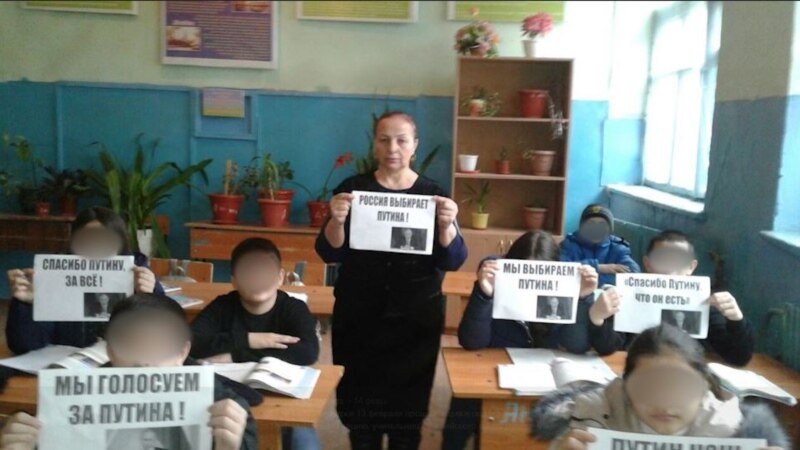 Russians Charged With Interfering in U.S. Election

Three Russian companies and 13 Russian nationals were indicted on charges of engaging in a widespread effort to interfere in the 2016 presidential election, providing the most comprehensive official account to date of an effort by Moscow to upend U.S. politics and set Americans against each other.
Kremlin Caterer Accused in U.S. Election Meddling Has History of Dishing Dark Arts

An online army accused of sowing discord among American voters during the 2016 election emerged from a tiny corner of the Russian business empire built by Yevgeny Prigozhin, the Kremlins favorite restaurateur.
Germany's Coffers Are Overflowing, But No One Is Talking About Tax Cuts

The German government never had so much money or so many ideas about how to spend it. The one thing that isnt being discussed is giving it back to taxpayers.
How the Dumbest Man on the Internet aided the Russian election plot
Gateway Pundit's gay owner is best known for his wild conspiracy theories. Does this explain why the White House gave his site press credentials?
FL AG Pam Bondi: I Think FBI Director Christopher Wray Has a Lot of Explaining to Do – Breitbart News
'People are angry': Pain turns political in Parkland after school shootings – Washington Post
Russian Alleged Election Interference Not Working: McMaster – U.S. News & World Report
13 Russians Indicted as Mueller Reveals Effort to Aid Trump Campaign
---
The Justice Department said Mr. Mueller's work was not complete. The indictment does not address the hacking of Democratic email systems or whether Mr. Trump tried to obstruct the F.B.I. investigation into Russian interference. Mr. Mueller is negotiating with the president's lawyers over the terms of a possible interview.
The Russian operation began four years ago, well before Mr. Trump entered the presidential race, a fact that he quickly seized on in his defense. "Russia started their anti-US campaign in 2014, long before I announced that I would run for President," he wrote on Twitter. "The results of the election were not impacted. The Trump campaign did nothing wrong – no collusion!"
Thirteen Russian nationals have been charged with illegally trying to disrupt the American political process through inflammatory social media posts and organized political rallies.
OPEN Graphic
But Mr. Trump's statement ignored the government's conclusion that, by 2016, the Russians were "supporting the presidential campaign of then-candidate Donald J. Trump" and disparaging Hillary Clinton, his opponent. Working out of the office in St. Petersburg, the Russians described waging "information warfare against the United States of America," according to court documents.
Mr. Mueller has gathered extensive evidence of contacts between Russia and the Trump campaign: Mr. Trump's eldest son met with a Russian lawyer in hopes of receiving political dirt on Mrs. Clinton; one adviser has admitted being tipped off in advance to Russian hacking of Democratic emails; another was in contact with a Twitter account used by Russian hackers; a federal judge found probable cause that a third adviser was an unlawful Russian agent. And the Trump campaign repeatedly and falsely denied any contacts with Russia.
Whether any of that violated federal law is the weightiest question facing Mr. Mueller, and Friday's indictment did not answer it. But it painted a picture of a Russian operation that was multipronged, well financed and relentless.
Russian operatives traveled across the United States to gather intelligence and foment political discord. They worked with an unidentified American who advised them to focus their efforts on what they viewed as "purple" election battleground states, including Colorado, Virginia and Florida, the indictment said.
In August 2016, prosecutors said, Russians posed as Americans and coordinated with Trump campaign staff to organize rallies in Florida.
Such anecdotes are rare examples of how intelligence agencies work covertly to influence political outcomes abroad. The C.I.A. has conducted such operations for decades, but both Mr. Mueller's indictment and an intelligence assessment last year present a startling example — unprecedented in its scope and audacity — of a foreign government working to help elect an American president.
The indictment does not explicitly say the Russian government sponsored the effort, but American intelligence officials have publicly said that President Vladimir V. Putin of Russia directed and oversaw it. The indictment notes that two of the Russian firms involved hold Russian government contracts.
"This is clearly a message document," Robert S. Litt, the former general counsel to the director of national intelligence, said of the indictment. "Mueller wants to end the debate over whether there was Russian interference in the election."
The Russian nationals were accused of working with the Internet Research Agency, which had a budget of millions of dollars and was designed to reach millions of Americans. The defendants were charged with carrying out a massive fraud against the American government and conspiring to obstruct enforcement of federal laws.
None of the defendants were arrested — Russia does not generally extradite its citizens to the United States. But prosecutors use such indictments to name and shame operatives, making it harder for them to work undetected in the future. If they travel abroad, they risk capture and extradition.
Russian computer specialists, divided into day teams and night teams, created hundreds of social media accounts that eventually attracted hundreds of thousands of online followers. They posed as Christian activists, anti-immigration groups and supporters of the Black Lives Matter movement. One account posed as the Tennessee Republican Party and generated hundreds of thousands of followers, prosecutors said.
Separate divisions of the Internet Research Agency were in charge of graphics, data analysis and information technology, according to the indictment.
"I created all these pictures and posts, and the Americans believed that it was written by their people," one of the Russians, Irina Viktorovna Kaverzina, wrote as the operation was being unmasked.
Their tasks included undermining Mrs. Clinton by supporting her Democratic primary campaign rival, Bernie Sanders, prosecutors said. Those instructions were detailed in internal documents: "Use any opportunity to criticize Hillary and the rest (except Sanders and Trump — we support them)." Mr. Mueller identified 13 digital advertisements paid for by the Russian operation. All of them attacked Mrs. Clinton or promoted Mr. Trump.
"Hillary is a Satan, and her crimes and lies had proved just how evil she is," one advertisement stated.
In summer 2016, as Mrs. Clinton appeared headed for a decisive general election victory, Russian operatives promoted allegations of Democratic voter fraud. That echoed Mr. Trump's own message that he was the victim of a rigged political system.
After the election, the Russians kept up their efforts to foment dissent. In November, they staged two rallies in New York on the same day. One had the theme, "Show your support for President-Elect Trump." The other was called, "Trump is NOT my President."
The indictment does not say that Russia changed the outcome of the election, a fact that Mr. Rosenstein noted repeatedly. American intelligence officials have said they have no way of calculating the effect of the Russian influence.
The Federal Election Commission started its own inquiry into the Internet Research Agency last year, according to documents obtained by The New York Times, after Facebook revealed that the firm had paid more than $100,000 for politically themed ads, including ones promoting "Down With Hillary" rallies.
The commission's inquiry was prompted by a complaint filed by the government watchdog group Common Cause that claimed that the Facebook ads violated the prohibition on foreign spending, as well as requirements mandating the disclosure of campaign spending.
The Kremlin's spokesman, Dmitri S. Peskov, told the RBC news website that Russian officials have not familiarized themselves with the document yet.
Mr. Mueller also revealed Friday that Richard Pinedo, of Santa Paula, Calif., had pleaded guilty to identity fraud in a case involving the sale of bank accounts over the internet. According to court papers, some of Mr. Pinedo's customers are foreigners who are targets of Mr. Mueller's inquiry. Mr. Pinedo has pleaded guilty and is cooperating with Mr. Mueller, court documents show.
9:15 AM 2/17/2018 – Stop Letting the Russians Get Away With It, Mr. Trump – NYT Editorial trumpinvestigations.org/blog/2018/02/1
9:15 AM 2/17/2018 – Stop Letting the Russians Get Away With It, Mr. Trump – NYT Editorial
9:15 AM 2/17/2018 – Stop Letting the Russians Get Away With It, Mr. Trump – NYT Editorial
9:15 AM 2/17/2018 – Stop Letting the Russians Get Away With It, Mr. Trump – NYT Editorial
9:15 AM 2/17/2018 – Stop Letting the Russians Get Away With It, Mr. Trump – NYT Editorial
9:15 AM 2/17/2018 – Stop Letting the Russians Get Away With It, Mr. Trump – NYT Editorial
9:15 AM 2/17/2018 – Stop Letting the Russians Get Away With It, Mr. Trump – NYT Editorial
Sweden grants citizenship to scientist sentenced to death in Iran

STOCKHOLM (Reuters) – Sweden has granted citizenship to a Stockholm-based scientist being held in Iran under sentence of death, the Swedish foreign ministry confirmed on Saturday.
Diplomatic tensions at day two of Munich Security Conference
---
Deputy Attorney General Rosenstein: "The indictment charges 13 Russian nationals…" (C-SPAN)
From:
CSPAN
Duration:
 06:46
---
Deputy Attorney General Rod Rosenstein: "The indictment charges 13 Russian nationals and 3 Russian companies for committing federal crimes while seeking to interfere in the United States political system, including the 2016 presidential election." http://cs.pn/2EJlVbc
0, Is Black Panther co-opting African struggles against oppression?
---
It's not often that film critics heap praise on a superhero movie for its perceived cultural significance.
But Black Panther is different. It's just been released, and initial box office takings suggest it will be a huge international hit.
Earlier superhero films have featured a black lead character, but none has received such lavish production and marketing.
But it does raise questions for and about its intended audiences.
Al Jazeera's Shihab Rattansi reports.
– Subscribe to our channel: http://aje.io/AJSubscribe
– Follow us on Twitter: https://twitter.com/AJEnglish
– Find us on Facebook: https://www.facebook.com/aljazeera
– Check our website: http://www.aljazeera.com/
–