---
How alleged sex trafficker Jeffrey Epstein got rich is still a mystery.
But perhaps the oddest claim about the source of his fortune, which prosecutors pegged north of $500 million during bail proceedings Monday, may have originated with Epstein himself. Friends say he bragged to them in the 1980s that he was a global bounty hunter for unspecified governments.
Investigators revealed the raid of the accused child sex trafficker's palatial New York City residence uncovered a now-expired passport issued in the 1980s by a foreign country, with Epstein's picture but with a different name and a residence listed in Saudi Arabia. Prosecutors said during Epstein's hearing that the passport was in a locked safe that was also filled with "piles of cash" and "dozens of diamonds."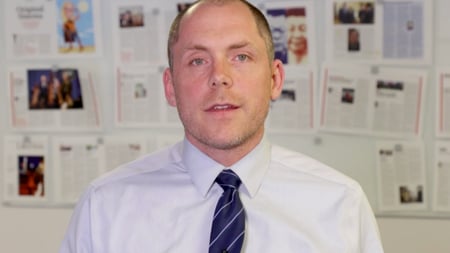 Watch Full Screen to Skip Ads
Prosecutors last week said they examined bank records that suggest Epstein earns at least $10 million per year. And they suggested that Epstein's source of wealth remains a mystery to them.
A number of Epstein's friends from the early 1980s recalled that Epstein used to claim that he was a bounty hunter who sought to retrieve "lost or stolen money" on behalf of clients who included "the government" or "very rich people," according to a 2003 Vanity Fair article by Vicky Ward. A former senior White House official recounted that outgoing Labor Secretary Alex Acosta said during interviews for the administration position that he had been told during the 2008 case against Epstein that Epstein "belonged to intelligence," according a July article by Ward for the Daily Beast.
Acosta largely dodged a question about this at his press conference last week but accused journalists of going down "rabbit holes."
By most accounts, Epstein's career began with a brief stint as a teacher at the elite New York City prep school the Dalton School in the 1970s, which reportedly ended with his dismissal. But while at Dalton, he made connections that landed him a job at Bear Stearns, where he worked for a number of years before setting out on his own. In 1981, he founded International Assets Group Inc., an advisory firm that he ran out of his apartment. That was followed by the founding of J. Epstein & Co., a money management firm, in the mid-1980s. Epstein claimed in 2003 that he was almost absurdly selective with his clientele, limiting investors to those with $1 billion or more.
Epstein owns a $77 million Manhattan mansion, a massive Palm Beach, Florida, estate, a sprawling ranch and castle-like abode in New Mexico, an expensive apartment in Paris, and a private island in the Caribbean, often dubbed the "Island of Sin" or "Pedophile Island."
Jesse Kornbluth, an author and former friend of Epstein's, shed light on Epstein's 1980s boasts. When contacted by the Washington Examiner, Kornbluth referred to a piece he wrote for Salon where he recalls meeting Epstein in 1986 and says that Epstein presented himself as having a a "double identity" as not just a money manager for rich clients but also as a "high-level bounty hunter."
"Sometimes, he told me, he worked for governments to recover money looted by African dictators," Kornbluth wrote. "Other times those dictators hired him to help them hide their stolen money."
Kornbluth said in the piece he was intrigued by Epstein's story and that Epstein "was pleased that I was interested in writing about him" and that the prospect of an entire book about Epstein's exploits "convinced him that I should see a sample of his craft."
He met Epstein in the lobby of a Park Avenue South office building where Epstein intended on serving a subpoena to a law firm, but that Epstein "didn't get past the receptionist."
"I thought this episode… odd. A major financial figure trying to serve a subpoena? Don't you hire someone to do that? My interest lapsed," Kornbluth wrote
Epstein's dramatic claims about recovering loot from foreign dictators and about helping foreign dictators hide loot of their own has never been substantiated.
"I believe that every word that Jeffrey Epstein told me was unverifiable, and fantasy," Kornbluth told the Washington Examiner.
Their friendship ultimately ended, Kornbluth wrote, in June 1987.
"The night before our marriage, Epstein called. 'It's your last free night,' he told my wife-to-be. 'Why don't you come over and fuck me?'" Kornbluth wrote.
Epstein described himself as someone who specialized "in finding missing money" when pitching people on his financial expertise in the 1980s, according to the Wall Street Journal.
Epstein faces charges that he "sexually exploited and abused dozens of minor girls at his homes in Manhattan, New York, and Palm Beach, Florida, among other locations" between 2002 and 2005, according to a 14-page federal indictment. Epstein pleaded not guilty in federal court last Monday.
Acosta, the former U.S. attorney for Southern Florida who reached a controversial nonprosecution agreement with Epstein's attorneys in 2008, resigned as Labor Department secretary last week. Epstein's sweetheart deal let him plead guilty to two state-level prostitution solicitation charges related to a 17-year-old girl. Epstein served just 13 months in a Palm Beach County jail with work release, paid restitution to certain victims, and was required to register as a sex offender. The agreement was reportedly struck before investigators had finished interviewing all the alleged victims and was kept secret from some of the victims too.
The only known figure whose money was managed by Epstein is billionaire retailer Les Wexner, the founder and CEO of L Brands, which included Victoria's Secret and Abercrombie & Fitch, among others. The two men forged a close financial relationship starting in the 1980s, but had a falling out after the allegations about Epstein and underage girls first emerged.
Michael Novakhov – SharedNewsLinks℠