---
Michael Novakhov: Investigate this criminal band of hooligans that calls itself 
The Federation of Teachers of Puerto Rico! Put them in prison! This is the Leftist Mafia which is behind every shitty event in Puerto Rico. A bunch of animalistic nincompoops! 
No town or city on the mainland America would tolerate this lynching mob which declared their sentence before the trial. They are behind the manufactured charges and arrest of Julia Keleher. 
INVESTIGATE THEM!!!
Investigate the criminal 
Leftist Political Mafia in Puerto Rico.
They have and operate their own private intelligence and special operations forces, the cyber forces among them. 
They are dangerous and they are the threat to the State and Law, which this Coup D'Etat proves so dramatically. 
This is the example of the Leftist Fascism in Puerto Rico, which shows its most disgusting, ugly face. 
Eradicate the Leftist Fascism in Puerto Rico! 
And the whole irony of this situation is that Puerto Rican Left is easily and cunningly used and exploited by the Trumpian Right which uses them as their "cat paws". 
The FBI's willingness to go along with these games is quite puzzling, to say the least.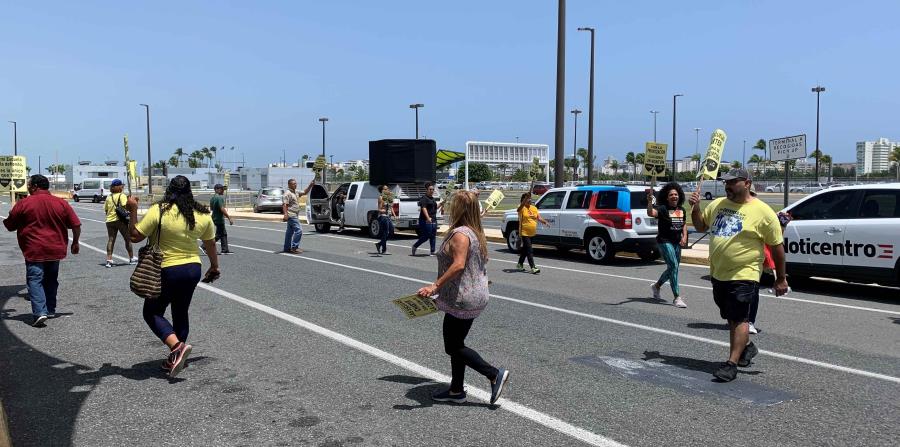 A demonstration against former education secretary Julia Keleher at the Jet Blue exit at Luis Muñoz Marín airport. (Ramón "Tonito" Zayas) 


La exsecretaria de Educación Julia 
Keleher
 se declaró no culpable en los siete cargos criminales en su contra tras llegar esta mañana hasta el …
__________________________________________________
LOCAL
Julia Keleher pleads not guilty to federal charges against her
An avalanche of protesters was launched against the former secretary of Education upon arrival at the court
Tuesday, July 16, 2019 – 11:43 AM
Updated on: Tuesday, July 16, 2019 – 5:18 PM
Former Secretary of Education 
Julia Keleher
  pleaded not guilty in the seven criminal charges against her after arriving this morning at the federal court in Hato Rey, after she was charged by a federal grand jury.