Mike Nova's Shared NewsLinks
Who is Tevfik Arif? Part I
 M.N.:
---
Tefvik Arif was the chairman of Bayrock Group, the murky company that partnered with Donald Trump to build Trump SoHo in lower Manhattan.
Figuring out who he is was not an easy task.
Tevfik Arif (Тевфик Ариф) was born Toifik Arifov (Тофик Арифов) on May 15, 1953 in the Soviet Socialist Republic of Kazakhstan. He was one of four brothers born to a Turkish family in the Jambyl Region in northern Kazakhstan.
That's about the only thing we know about his early life with any certainty.
What he did for the next 38 years is unclear. The oft-repeated facts of his background come from a short profile on Arif published in Real Estate Weekly in 2007, just as Trump was preparing to kick off sales of Trump SoHo.
Real Estate Weekly reported that Arif had received a degree from Moscow Institute of Trade and Economics and then worked in the Soviet Ministry of Commerce and Trade in the former Soviet Union for 17 years, where he served as the chief economist and deputy director of the Ministry's Department of Hotel Management.
Many journalists have repeated this story. It may be true, but no one seems to have bothered to check.  It's worth noting that this is the only reference to a Soviet Ministry of Commerce and Trade that I found on the Internet. There is a Russian ministry that has this name, but I could find nothing from the Soviet era.
There was, however, something called the USSR Chamber of Commerce and Industry, which was run by the KGB and spied on the West. A third of the chamber's staff were KGB, according to a US State Department report that cited CIA information. And the USS Chamber of Commerce and Industry did have a hotel division, V/0 Sovintsentr, which ran a trade center and various Moscow hotels.
Trans World Group
After the collapse of the Soviet Union in 1991, Arif left the government and made a career leap. A huge leap.
In a court proceeding in Turkey, the former Soviet hotel bureaucrat testified that he worked in energy sector, chemical sector and metallurgy sector. I was producing coal in Russia and copper in Kazakhstan. Due to lack of coal, it was not possible to make production. I started to organize them." He started a private company called the Speciality Chemicals Trading Co., trading in chrome, rare metals and raw materials.
And then he went to work for Trans World Group. TWG was a British company headed by two brothers, David and Simon Reuben. After the Soviet Union collapsed, the Reubens moved aggressively into metals production, buying up smelters and refineries.
As foreigners, however, the Reubens needed locals to build their business. Enter Arif. He became an "agent on the ground" — a fixer, in other words — for TWG in Kazakhstan, according to internal company documents reviewed by theblacksea.eu, an online investigative Website.
Arif apparently did his job well. Very well. In a few years, TWG's holdings of steel, iron, chrome and alumina refineries in Kazakhstan generated one fifth of the entire country's gross revenues.
Maybe Arif was just a Soviet hotel bureaucrat who seized a once-in-a-lifetime opportunity to get into the post-Soviet metals sector. But his hotel background would have been of little use to TWG. What TWG needed was someone with deep connections in the country's political and business circles. The kind of people who had those connections in the Russia of the 1990s were either ex-KGB, or mobsters.
Consider another pair of fixers the Reubens brought into TWG in 1992. They were the Cherney brothers, Lev and Michael, and they formed a 50-50 partnership with TWG. It was a successful partnership. With the Cherneys help, TWG grew by leaps and bounds. The problem for the Reubens was that Michael Cherney's name soon became publicly linked to Russian organized crime groups. The Reubens quickly bought out Cherney's share of TWG for $410 million.
Swiss authorities in 1996 accused Michael Cherney of "drug trafficking, money laundering, fraud and sponsoring murder" on behalf of  a Russian organized crime group run by "V Ivankov." This was the infamous Russian mob boss nicknamed "Yaponchik" who had settled in New York, where the FBI found him hiding out in Trump Tower and Trump's New Jersey casino.
Michael Cherney has repeatedly denied these allegations, which he blames on his archenemy and former partner Oleg Deripaska, one of the wealthiest men in Russia. In 2008, the federal Swiss court exonerated him of the charges, but two years later, Spain issued an international arrest warrant for Michael Cherney's arrest on money laundering charges.
Did Arif have links to the Russian Mafia? Felix Sater, who worked under Arif at Bayrock, seems to think so.
The Wall Street Journal reported that Sater and his attorney threatened to expose Arif's past unless he paid Sater's attorney fees. Sater warned of a possible lawsuit that would include details of Arif's wrongdoing "in the post-Soviet metals business in Kazakhstan."
In a personal memo, Sater was even more blunt: "The headlines will be, The Kazakh Gangster and President Trump.'"
A High-Net Worth Individual
"The head of the family is my uncle Roustam Arif [sic], Tevfik's son Arif writes in 2013 in correspondence obtained by theblacksea.eu. In our culture, the patriarch is usually the oldest member of the family. Roustam is my fathers oldest brother. Even though my father is a successful entrepreneur in his own right (hotels, construction and real estate), his younger brother Refik Arif is the principal figure in the main family business (commodities)."
In the mid-90s, Refik reportedly acquired control of the Aktyubinsk Chromium Chemicals Plant (ACCP) in Aktobe, in north-western Kazakhstan, near the border with Russia.  How he managed this is unclear. He also established a highly profitable chemicals trading business.  And this is an important piece of the story, because the money for Bayrock, at least part of it, came through Kazakhstan.
Around 1999, Refik Arif's chemical trading business was generating so much cash that the family retained Hamels, a UK tax consultancy, to help structure their investments. On its website, Hamels describes its typical clients as "high net worth individuals seeking to minimize their respective tax burdens on current income or investment streams…"
In a 2011 memo, Hamels partner Zig Williamowski wrote, "Mr. Refik Arif is one of four brothers who have over many years built up a substantial and profitable international business from the sale of chrome-based chemicals." Williamowski said he was in a position to verify the "good origin" of the Arif family's wealth.
With the help of Hamels, the Arifs set up a network of shell companies, many of which were established in the Caribbean tax haven of the British Virgin Islands. These companies included Bennington Trade Assets Ltd., which owns property in the center of London and Merlin Trading Assets Ltd., which owns an executive jet. There are too many companies to name them all. Many are found in the Panama Papers leak of offshore companies founded by the Panamanian law firm Mossack Fonseca.
The real moneymaker for the family was Castello Global Ltd., which handled the profits from the chrome trading business. Here is a breakdown of Castello Global's profits:
So much money was pouring out of Kazakhstan that Tevfik Arif decided it was time to try something big. Really big.
He moved to New York and set out to do a real estate deal with the biggest and the best. So he set up offices of his new company Bayrock Group in Trump Tower, one floor below Trump's own offices.
To be continued…
Filed under: Donald Trump, Russia, Russian mafia, Spooks Tagged: Bayrock Group, Tevfik Arif
The Strange Impotence of the Republican Party – New York Times
---
Google Prepares to Brief Congress on Its Role in Election – New York Times
---
New Report Sheds Light On Why Mueller Is Investigating Michael Flynn – The Daily Caller
---
Trump cabinet member Elaine Chao, wife of Mitch McConnell, busted for financial corruption scandal
---
Donald Trump's cabinet is fully awash in scandal this weekend, with HHS Secretary Tom Price having already resigned due to inappropriately taxpayer-funded private charter flights, and four other cabinet members caught up in similar scandals which may cost them their jobs. Now another member of Trump's cabinet has been busted for financial corruption: Elaine Chao, who just happens to be married to Senate Majority Leader Mitch McConnell.
Chao already had a history of scandal before Donald Trump picked her to be his Secretary of Transportation, a move which many have derided as an attempt on Trump's part at ensuring McConnell's loyalty. Now it turns out Chao is once again embroiled in scandal. When she took the cabinet position, she decided to hang onto six figures worth of stock in a company called Vulcan Materials (link). She resigned from the company's board, but that was a meaningless gesture, because she kept her hand in the till. Why does this matter?
As the Secretary of Transportation, part of Elaine Chao's job is to decide where U.S. taxpayer dollars go for infrastructure projects. She can steer taxpayer money right into the hands of Vulcan Materials, which in turn would serve to further enrich Chao herself. Her refusal to part ways with the stock, and to recuse herself from any decisions that might involve steering government business to the company, suggest corrupt intentions on her part. The bad news for Chao is that this financial corruption scandal is coming even as her fellow cabinet member just resigned in a financial corruption scandal.
It also serves to further underline just how corrupt of a decision Donald Trump made when he appointed Elaine Chao to his cabinet. He's since inappropriately asked Mitch McConnell to sabotage the investigation into his Russia scandal. It's clear in hindsight that he hired Chao to try to gain leverage over McConnell.
The post Trump cabinet member Elaine Chao, wife of Mitch McConnell, busted for financial corruption scandal appeared first on Palmer Report.
Bill Maher's Russia Yarn: 'Real Time' Host Plays Poirot To Reveal Whodunit – Deadline
---
AP sources: Note in church shooting refers to Roof shooting
---
WASHINGTON (AP) — A note found in the car of a man charged with spraying deadly gunfire at a Tennessee church made reference to revenge for a white supremacist's massacre at a black church in Charleston, South Carolina, two years earlier, law enforcement officials told The Associated Press.
The note could offer a glimpse into Emanuel Kidega Samson's mindset at the time of Sunday's shooting and a possible motive for the rampage, which left a woman dead and six other people wounded. The Associated Press has not viewed the note, but it was summarized in an investigative report circulating among law enforcement. Two officials read parts of the note to the AP.
The report said that "in sum and in no way verbatim," the note referenced revenge or retaliation for Dylann Roof, the white supremacist who killed nine black worshippers at the South Carolina church in 2015 and has since been sentenced to death. It wasn't clear what precisely Samson is alleged to have written about the Roof shooting, or whether his note contained other important details that might also speak to a motivation or state of mind.
The law enforcement officials spoke on condition of anonymity because they were not allowed to publicly discuss an ongoing investigation. Metro Nashville Police declined to comment, saying it had not released the information.
Samson has been charged with murder, and the FBI and U.S. attorney's office in Nashville quickly opened a civil rights investigation into the shooting. His public defender did not immediately return calls for comment. And spokespeople for the FBI, the U.S. attorney's office and District Attorney General Glenn Funk declined to comment on the ongoing investigation.
Police have said Samson, masked and wearing a tactical vest, fatally shot a woman who was walking to her vehicle and then entered the rear of Burnette Chapel Church of Christ and shot six other people, walking silently down the aisles with a .40-caliber handgun. The case immediately called to mind the killings at Emanuel AME Church, in Charleston, South Carolina. But unlike that church, which is mostly black, Burnette Chapel in the Nashville neighborhood of Antioch has a diverse congregation with people of various ethnicities, a detail noted in the report. And church members told investigators that Samson had attended services a year or two ago.
All of the victims in Nashville were white, but it is not clear whether Samson specifically targeted them based on their race.
Samson, who is black, came to the United States from Sudan as a child in 1996 and is a U.S. citizen. His past was recently troubled.
Police records say he had expressed suicidal thoughts in June, struggled to hold a job and had a volatile relationship with a woman that twice involved police this year. Officers in Murfreesboro, about 20 miles (32 kilometers) southeast of the church, responded to a call from Samson's father, who had reported that his son had texted him June 27 to say: "Your phone is off, I have a gun to my head, have a nice f—— life."
Hours before the shooting, he made bizarre Facebook posts, including one that read: "Everything you've ever doubted or made to be believe as false, is real. & vice versa, B."
Metro Nashville Police say investigators recovered four guns after the shooting that were bought legally from in-state retailers: the 40-caliber handgun allegedly used in the shooting; a military-style AR-15 rifle found in a case in Samson's vehicle; and a 9 mm handgun recovered from the church. Police say a relative gave the guns to Samson for safe keeping.
Police say Samson bought a .22-caliber pistol found in his SUV.
AP sources: Note in church shooting refers to Roof shooting – Economic Times
---
Bill Maher Goes Full 'CSI' To Connect The Dots Between Donald Trump And Russia
---
The "Real Time" host broke it down, using a bulletin board and lots of yarn.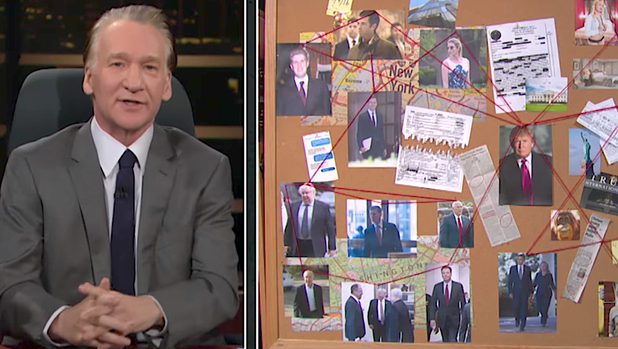 The Benghazi Attack Is Finally Being Properly Prosecuted
---
On the night of June 15, 2014, eight Americans—six Delta Force operators, an F.B.I. agent, and an Arabic translator—travelled in rubber boats across the Mediterranean and arrived on a beach in Benghazi, Libya. They hustled across the sand and snuck into a nearby safe house. Their plan was to lure and capture Ahmed Abu Khatallah, the alleged ringleader of the most politicized terrorist attack since 9/11.
Twenty-one months earlier, on September 11, 2012, Khatallah had, according to federal prosecutors, coördinated the assault on the American Consulate in Benghazi. Two State Department officials, including the U.S. Ambassador, Christopher Stevens, died in that attack, and two C.I.A. contractors were killed in a subsequent firefight at a nearby C.I.A. facility.
A day after the eight-man team beached on the coast, one of Khatallah's associates unwittingly led Khatallah to the safe house. As soon as Khatallah stepped into the dark villa, several soldiers pounced on him. He tried to kick, punch, and bite his way free, without success. The F.B.I. agent present—who has been identified in court by only a surname, "Johnson"—brought Khatallah into a bathroom, where he covered the suspect's eyes, plugged his ears, and stuffed a bit into his mouth. The team then hustled Khatallah across the beach, boarded its boats, and raced toward the U.S.S. New York, a twenty-five-ton amphibious ship made, in part, with steel recovered from the World Trade Center towers, and waiting offshore.
The Benghazi attack has been thoroughly scrutinized. The Republican-led House of Representatives spent millions of dollars and held hearing after hearing on the matter during President Barack Obama's second term. But the lawmakers leading the hearings seemed more focussed on Hillary Clinton and her colleagues—trying to find any missteps they made before, during, or after the attack that could be used for political purposes—than on the alleged perpetrators of the violence itself.
Meanwhile, the hunt for Khatallah was being pursued by operators and analysts from the C.I.A., Joint Special Operations Command, and the F.B.I. One of the biggest questions for them was what to do with Khatallah once they found him. Counterterrorism officials considered a drone strike or a lethal raid, a former military official told me, but President Obama and the Justice Department wanted to capture him alive and bring him to the United States to stand trial.
This was not a straightforward task. American officials did not have sufficient confidence in the Libyan police to coördinate with them for Khatallah's arrest. And the F.B.I. wasn't in a position to pursue Khatallah on its own. Moreover, the intelligence on Khatallah suggested that he could prove difficult to capture—he supposedly carried around a grenade like an explosive cyanide pill.
Officials hatched a hybrid plan: F.B.I. agents would accompany one of the military's élite manhunting units on the mission for Khatallah. The agents would be present throughout the operation to preserve evidence, so that they, as law-enforcement officials, could later testify in civilian court.
This was a fairly radical concept. Plenty of terrorists had been indicted and tried in American civilian courts, but Khatallah would be the first known case of someone captured through a military mission, Mirandized by law-enforcement officials, and then tried in open court, before a jury. John Walker Lindh, the so-called American Taliban, was captured by military and intelligence officers in Afghanistan and charged in civilian court, but he pleaded guilty before going to trial. More typically, terrorists targeted during military raids have been either killed; detained in U.S.-run military prisons, such as Abu Ghraib; handed over, in the case of Iraq or Afghanistan, to local police or intelligence agencies; or, in the years immediately after 9/11, sent to Guantánamo Bay. Osama bin Laden was indicted by a federal court in 1998, three years before the September 11th attacks. But when American Navy SEALs finally confronted him in Pakistan, in 2011, they shot and killed him.
Donald Trump and Attorney General Jeff Sessions have been vocal critics of trying terrorists in civilian courtrooms. Trump described Obama's stated desire to close Guantánamo as a "terrible decision," and Sessions has called the military tribunals at Guantánamo the "perfect place" for terrorism trials.
After his capture, Khatallah was interrogated first by military and intelligence officials. Then, after five days, a "clean team" of law-enforcement officials took over. Michael Clarke, an F.B.I. agent, read Khatallah his Miranda rights and told him that he was entitled to an attorney. Khatallah asked if there was a lawyer on board. There was not.
Speaking through a translator, Khatallah gave Clarke a lengthy statement over the course of the thirteen-day trip across the Atlantic Ocean. In D.C. district court, Khatallah's current attorney, Eric L. Lewis, has argued that his client's "slow boat" extradition was unnecessarily drawn out. "The capture of Mr. Abu Khatallah was a spectacular logistical operation . . . [but] a legal failure," Lewis said at a June hearing. He wanted Khatallah's statement thrown out. The judge, Christopher Cooper, ruled against him.
Yet Cooper has set some limits to the proceedings. In the run-up to Khatallah's trial, which is scheduled to begin on Monday, the judge decided that prosecutors would be unable to admit evidence purporting that Khatallah once told an associate that he was intending to kill Stevens's replacement, too. Allowing such evidence, Cooper said, would heighten "prejudicial risk" and "do little to illuminate the formation and contours" of the actual 2012 attack. It seems, at long last, that someone is intent on paying attention to what actually occurred in Benghazi.
Senate Intelligence Committee to provide Russia investigation update
---
Capitol Hill's leading investigation into Russian election meddling in the 2016 election will gather next week to provide a public update on their inquiry, in addition to issuing a warning that foreign entities continue to pose a major threat to America's political system.
On Wednesday, Oct. 4, the Senate Intelligence Committee will hold a press conference featuring committee chairman Sen. Richard Burr, a North Carolina Republican, and vice chairman, Sen. Mark Warner, a Virginia Democrat, according to a statement by the committee.
While the probe has held multiple impromptu media availabilities after congressional hearings, next week's update will be only its second official press conference, according to the committee.
The probe has thus far conducted more than 100 interviews spanning the Russia election meddling spectrum — from grilling fired FBI Director James Comey over his handling of the investigation into Hillary Clinton's emails to possible collusion between the Trump campaign and Kremlin to the Department of Homeland Security's inability to reveal which states Russian hackers targeted during the 2016 polls.
Recent weeks have seen its members increase their scrutiny of social media companies Facebook and Twitter, as evidence continues to surface that Russian operatives appeared to manipulate the digital platforms to spread propaganda during the campaign. Earlier this month Facebook disclosed that roughly 3,000 ads were purchased by entities with apparent connections to the Kremlin.
After a closed-door hearing on Thursday with Twitter executives, Mr. Warner lashed out the firm for failing to properly explain how its 140-character platform had been prey to a massive disinformation campaign. The company's presentation, he said, "showed an enormous lack of understanding from the Twitter team of how serious this issue is, the threat it poses to democratic institutions and again begs many more questions than they offered."
Kazakh clan had deep ties to Trump orbit
---
A powerful Kazakh family and a developer linked to Donald Trump enlisted the law firm of a high-profile Trump confidante to create a web of offshore companies designed to minimize taxes.
The firm: Bracewell & Giuliani, which carried the name of former New York City Mayor Rudolph Giuliani. Giuliani was a frequent surrogate for Trump during the 2016 campaign and was considered for a position in his Cabinet.
Bracewell & Giuliani had an office in Kazakhstan, and Giuliani even raised funds from expatriates there for his failed 2008 presidential bid.
An ongoing investigation by McClatchy and its reporting partners has shown that the developer, Bayrock Group, which partnered with the Trump Organization on at least three projects in the mid-2000s, was in business with the Khrapunov family.
Bayrock is believed to be under the microscope of Justice Department and congressional investigators looking at Russian meddling in the 2016 election, in part because of its foreign investors and buyers and in part because Bayrock's Russian-born then-managing director Felix Sater, who served time in prison in the U.S. in the mid-1990s, became an adviser to Trump's company.
Sater and Trump Organization lawyer Michael Cohen were seeking a hotel deal in Moscow even during the election, according to emails that recently surfaced and are now in the hands of investigators. The emails undercut Trump's post-election claim that he had no business in Russia, showing he was actively trying to develop a luxury tower.
Kazakh connections
Documents obtained by McClatchy, Dutch broadcaster Zembla and the Organized Crime and Corruption Reporting Project show that the Khrapunovs — former Kazakh politician Viktor, his anchorwoman wife Leila and Geneva-based son Ilyas — joined forces with Bayrock and Sater during a period that Bayrock was developing the famed Trump Soho project in Manhattan, which Trump touted often on NBC's hit show The Apprentice.
Together, the Khrapunovs and Bayrock Group created KazBay B.V. in the Netherlands in 2007, with the legal advice of Bracewell & Giuliani.
The Khrapunovs, with the help of a partner of Sater's, later purchased and quickly flipped three condos in the Trump Soho hotel and condo complex. They are accused in Kazakhstan of embezzlement and money laundering. The Khrapunovs face civil lawsuits in New York and Los Angeles that seek to claw back what the Kazakh government says is stolen money. Some of the cash allegedly washed through U.S. real estate, including the Trump properties.
When Zembla readied to air a documentary this week (Sept. 27) about the relationship between the Khrapunovs and Sater, the Khrapunovs sued in the Netherlands to block it, accusing the Kazakh government of defamation.
Dutch courts rejected the argument and the program, which featured prior reporting by McClatchy, aired as scheduled. An English language version was shared widely on the Internet.
Internal records show KazBay B.V. was 50 percent owned by Bayrock B.V. and its owner Tevfik Arif, and 50 percent owned by Helvetic Capital S.A., a Swiss company whose true owner, according to the documents, was Leila Khrapunova. She's the former TV anchor and back in 2007 was the wife of Viktor Khrapunov, the former mayor of Kazakhstan's largest city, Almaty, and an ex-energy minister.
This snippet of a document from September 2007 obtained by McClatchy and reporting partners shows the ownership structure of the joint venture KazBay B.V. between a now-fugitive Kazakh family and Trump-linked developer Bayrock Group.
Wieder, Ben
People familiar with KazBay describe the joint venture as a company operating on multiple tracks. Some documents show the ventures oil-drilling business, but it also planned open-mouth coal mining, where extracted coal would go to a nearby power plant.
How long the venture lasted and why it ended are unclear.
KazBay wasn't the only project involving the Khrapunovs and Bayrock. They partnered on a luxury condominium project overlooking Lake Geneva, and established a Swiss corporation in early 2008 called Swiss Capital IB SA that listed two addresses on its website: Bayrock's New York offices in Trump Tower, two floors down from Trump, and a Switzerland address used by Helvetic Capital.
A series of investigative reports by McClatchy earlier this year showed how Sater maintained a business relationship with Khrapunovs, including investing together in a shopping mall debt deal in Ohio that ended in litigation and a sealed settlement. They also worked together in Syracuse, N.Y, to purchase a former state institution, another deal mired in lawsuits.
Multiple people with knowledge of the KazBay deal describe Bracewell & Giuliani's work as limited to creating a tax structure that worked to reduce tax exposure and benefit investors in Switzerland, the United States and Kazakhstan. It's why Holland was chosen as the home base, on paper, for KazBay.
Houston-based Bracewell & Giuliani was one of the few prominent U.S. firms in 2007 with an office in Kazakhstan, at once both a land of promise because of its rich natural resources and a "kleptocracy" run by President Nursultan Nazerbayev since 1989.
Giuliani joined the law firm as a partner in 2005, staying until 2016. It's unclear how involved he was in Kazakhstan, but the head of the law firm's Kazakh office at the time, Gregory Vojack, raised money there for Giuliani's failed presidential bid in 2008.
Federal records show that Vojack and his wife donated about $4,400 in early 2007 to the campaign. Months later, a Wall Street Journal story spotlighted attempts to raise campaign money from Americans working there.
That was not illegal but raised eyebrows. Giuliani greeted the guests via video conference at a fundraiser held at Vojack's home in Almaty.
Reached in China, Vojack declined comment, saying that although he no longer works for Bracewell (which last year parted ways with Giuliani), he is bound by rules that prevent him from discussing work for private clients.
Vojack's bio shows he has worked in Kazakhstan since 1994, shortly after the collapse of the Soviet Union. In early 2007, Bracewell & Giuliani issued a news release, in which Vojack touted the law firm's role as international counsel for the offering of $1 billion in corporate debt for Bank TuranAlem, or BTA.
"We are in the best position now that we've ever been," he said at the time. "This is an exciting time for Kazakhstan, and we are thrilled to be a part of its expansion and wealth consolidation."
But soon afterwards, the Nazerbayev government sought to claw back ownership of the fast-growing bank. BTA Chairman Mukhtar Ablyazov refused, and a power struggle came to a head early in 2009 when Ablyazov fled to London and Kazakhstan seized the bank, alleging widespread embezzlement.
Bracewell & Giuliani was not accused of impropriety. However, the BTA debt issuance intersects with the KazBay venture in a curious way.
Numerous people familiar with the KazBay deal describe it as driven by Sater and Ilyas Khrapunov, who is married to Ablyazov's daughter Madina.
The Kazakh government has accused Ablyazov of hiding massive theft through a complex web of offshore shell companies. U.S. lawyers representing the city of Almaty in civil lawsuits in Los Angeles and New York against the Khrapunovs allege that they comingled funds stolen by Mukhtar Ablyazov.
Attorneys for the Khrapunovs and Ablyazov have repeatedly countered that they are the targets of political persecution. President Nazerbayev and members of his extended family have also been accused of hiding fortunes in offshore havens.
This portion of a document from September 2007 obtained by McClatchy and reporting partners shows the true owners of Dutch companies created as a joint venture between a now-fugitive Kazakh family and Trump-linked developer Bayrock Group.
Wieder, Ben
Reasons for KazBay's collapse vary based on who tells the story. Some blame a New York Times story in late 2007 that revealed the Russian-born Sater had a criminal past, forcing him to step down from his public role at Bayrock, later becoming a senior advisor to the Trump Organization. Others involved in KazBay assert the Khrapunovs were to blame.
None of the actors involved have publicly commented since initial reports earlier this year.
Numerous former Bayrock employees, now spread across the globe, declined to comment on the record for the story, wanting nothing to do with a company under scrutiny by investigators probing Trump's businesses.
Bayrock spokeswoman Angela Pruitt declined to comment Thursday, providing a statement given earlier this month to partner Zembla.
"Bayrock B.V. and KazBay B.V. were entities formed with the advice of outside legal counsel as part of the structuring of an investment by Bayrock," it read. "The investment was not successful, and the structure subsequently was abandoned."
There's no evidence that Trump or Giuliani participated in KazBay, or even knew of it.
Yet because the Khrapunovs worked with Sater over the course of a decade, were buyers in Trump Soho in 2013 and are involved in numerous legal disputes playing out in U.S. courts, investigators probing Russia's 2016 election meddling may well consider the Khrapunovs and Sater as persons of interest.
This story involved collaboration between McClatchy , Dutch public broadcaster Zembla and the Organized Crime and Corruption Reporting Project, a global journalism network that investigates transnational corruption
SANDER RIETVELD OF ZEMBLA CONTRIBUTED TO THIS ARTICLE, AS DID OCCRP'S AUBREY BELFORD, CHRIS BENEVENTO, LEJLA SARCEVIC AND BERMET TALANT.
PALUCH IS A SPECIAL CORRESPONDENT
Feds Demand Facebook Share Information on Anti-Trump Protesters – NBCNews.com
---
Some in the NFL are eager to move on, but politics and football will not so easily be separated now – Washington Post
---
8:39 AM 9/29/2017 Twitters briefing to congressional investigators yesterday
---
TRUMP-RUSSIA Twitters briefing to congressional investigators yesterday about Russian use of its platform invited plenty of criticism from lawmakers, its limited disclosure failing to reveal the extent of the platforms use by accounts seeking to spread misinformation. Georgia Wells, Byron Tau and Robert McMillan report at the Wall Street Journal. Twitter has shut down 201 accounts tied … Continue reading"8:39 AM 9/29/2017 – Twitters briefing to congressional investigators yesterday"
Blue State Blues: Anthony Weiner's Fate Is Nothing to Celebrate – Breitbart News
---
8:47 AM 9/29/2017 Mike Novas Shared NewsLinks: Robert Muellers Russia investigation team loses 2nd FBI veteran, Lisa Page, after losing Peter Strzok earlier | Justice Department, FBI resist lawmaker demands for Trump dossier files: officials Reuters
---
Mike Nova's Shared NewsLinks Trumps Deadly Narcissism – The New York Times Trump's Deadly Narcissism – New York Times Robert Muellers Russia investigation team loses 2nd FBI veteran, Lisa Page, after losing Peter Strzok earlier Justice Department, FBI resist lawmaker demands for 'Trump dossier' files: officials – Reuters The Republican Casualties of Trumpism – The New Yorker … Continue reading"8:47 AM 9/29/2017 – Mike Nova's Shared NewsLinks: Robert Muellers Russia investigation team loses 2nd FBI veteran, Lisa Page, after losing Peter Strzok earlier | Justice Department, FBI resist lawmaker demands for 'Trump dossier' files: officials – Reuters"
Trump Could Go to War With North Korea So Everyone Forgets About Russia Probe, Report Says – Newsweek
---
What Russian Meddling In Elections Might Have Looked Like – Forbes
---

Forbes

What Russian Meddling In Elections Might Have Looked Like

Forbes

The Department of Homeland Security and the National Security Agency both say the 

Russian

 government hacked into 

U.S. election

 officials computers. Mark Zuckerberg turns over to congressional investigators some 3,000 advertising accounts linked to …
8:58 AM 9/29/2017
---
» mikenov on Twitter: 8:47 AM 9/29/2017 – Mike Nova's Shared NewsLinks: Robert Muellers Russia investigation team loses… – Reuters trumpinvestigations.org/blog/2017/09/2 29/09/17 08:49 from 1. My News Blogs from mikenova (2 sites) 8:47 AM 9/29/2017 – Mike Nova's Shared NewsLinks: Robert Muellers Russia investigation team loses… – Reuters trumpinvestigations.org/blog/2017/09/2 Posted by mikenov on Friday, September 29th, 2017 12:49pm mikenov on Twitter … Continue reading"8:58 AM 9/29/2017"
Trump is dangerous, mental health experts claim in a new book. Are they right? – STAT
---
Fugitive Kazakh clan has deep ties to Trump associates – McClatchy Washington Bureau
---
felix sater – Google News: Fugitive Kazakh clan has deep ties to Trump associates – Miami Herald
| | |
| --- | --- |
| | mikenova shared this story from 1. Trump Circles: Elections from mikenova (16 sites). |
---
Fugitive Kazakh clan has deep ties to Trump associates

Miami Herald

… of Justice Department and congressional investigators looking at Russian meddling in the 2016 election, in part because of its foreign investors and buyers and in part because Bayrock's Russian-born then-managing director 

Felix Sater

, who served

…and more »
 felix sater – Google News
Divisions Within the Global Jihad: A Primer
---
Every unhappy terrorist movement is unhappy in its own way, and the global jihadist movement is no exception. Disagreements over targeting, tactics, organization and the fundamental question of what it means to be a good Muslim have plagued the movement since its inception and remain a source of weakness.
As the Islamic State declines, these differences become even more important. The Islamic State has lost the bulk of its territory in Iraq and Syria, but it is likely to endure there as some form of insurgency and, beyond that, as a terrorist movement. Still, playing the leadership role the movement claimed when it declared the Caliphate in 2014 will be harder. Al-Qaeda, for its part, has tried to play a longer game, but it too remains weak and may not be able to reclaim the leadership standard. Yet even as there is no clear leader, the broader movement remains robust. Jihadist groups, some of which have ties to al-Qaeda and the Islamic State, are active in Yemen, the Maghreb, India, the Philippines and of course Syria, among many other locations. In Europe, the jihadist movement enjoys support from too many Muslims, enabling it to attract fighters and inspire terrorist attacks.
This broad movement, however, is divided over several key questions. A very basic one concerns who is a true Muslim. Every religion, even the most accepting, has a line that separates believers from non-believers. Islam is no exception: It would be hard to claim to be a Muslim if one did not believe in God and did not consider Mohammad his prophet. Jihadists are often much stricter. Although jihad is generally justified as defending Muslims or reclaiming Muslim land from unbelievers, in practice many jihadists condemn whole groups of nominally fellow Muslims to the status of unbeliever (kafir). This goes against the approach most Muslim scholars have historically taken with this issue, as theyve heeded the Prophet Mohammads warning that being quick to accuse others of unbelief can lead to debilitating divisions among the faithful. Some jihadists contend that only observant Muslims truly are Muslims and that all others are apostates. Many would also say that only Sunni Muslims count: Shiite Muslims are the majority in Iraq, Bahrain and Iran, but under jihadists strict interpretation of monotheism, Shiites are not true Muslims because their veneration of Ali, the fourth caliph and the prophets cousin and son-in-law, gives him semi-divine status. Alawites, who control the Syrian government; Houthis, Yemenis who follow a different form of Shiism; and other religious minorities such as the Ahmadis, Druze and Yazidis are also beyond the pale. Others would go further and draw the line between Salafisa puritanical form of Sunnism that rejects traditional politics, man-made laws and anything that smacks of human innovationand all others, rejecting non-Salafi Islamist groups such as the Muslim Brotherhood as insufficiently pure. Still, others would draw the line between those Salafis who embrace jihad and those who dontyoure either with us or against us.
Having drawn the line between true believers and others, the next question is what to do about those who fall short. The Islamic State and, before that, al-Qaeda in Iraq made their names targeting Shiites and Sunni Muslims who cooperated with enemy governments, arguing that both deserved death for their impious allegiances. In Algeria in the 1990s, some jihadist groups went so far as to slaughter ordinary Muslims who tried to stay out of the fray, arguing that their non-cooperation was tantamount to rejecting the faith. Al-Qaeda, by contrast, has usually called on its followers to ignore these groups and, ideally, proselytize to put them on the true path.
The movement is also divided over who is a legitimate target. More broadly, there are divisions over the concept of tatarrus, or the killing of innocents as part of military operations (what the Pentagon would call collateral damage). Muslim scholars, like their Christian counterparts, have wrestled with how to balance the reality of war and its needs with their faiths call to protect the innocent. Many jihadist groups have lost popular support when they killed innocents, especially innocent Muslims, in their operations. Two al-Qaeda attacks against residential compounds in Riyadh in 2003 killed almost 20 Saudisfar more than the number of Americansand drew widespread condemnation among ordinary Saudis.The May 2003 bombings killed nearly as many Muslims as infidel Westerners; the attack that followed in Novemberduring the holy month of Ramadan, as it happenedkilled and injured almost exclusively Muslims. Some 36 children were wounded. Ordinary Saudis turned sharply against al-Qaeda. Al-Qaeda in Iraqs decision to target hotels frequented by Westerners in Jordan, one of which was hosting a local couples wedding, had a similar effect there. Al-Qaeda has tried to learn its lesson from this. Especially with regard to Muslims, the group is far more discriminating in its targeting than it was 15 years ago. When the Islamic State captured and murdered Western aid workers in Syria, for example, al-Qaedas Jabhat al-Nusra decried this as wrong under Islamic law and counter-productive. Abu Omar Aqidi, a senior Nusra militant, even tweeted to publicly call on ISIS to release Peter Kassig, an American aid worker (and convert to Islam) who had performed a successful [medical] operation under bombardment by the regime on Aqidi himself and treated other jihadists. After the infamous immolation of a Jordanian (Muslim) fighter pilot, al-Qaeda in the Arabian Peninsula denounced the video as conclusive proof of ISIS deviance.
These differences are obscure to many, but the movement also has a basic question regarding organization: Should it be strictly hierarchical or far more decentralized? Al-Qaeda in the 1990s and later the Islamic State along with its predecessor organizations usually pushed hierarchy: They have a top leader, senior lieutenants, committees to handle key issues such as security and media, and so on. The Islamic State also tried to replicate this at a local level to ensure order and control. The relentless counterterrorism campaigns of the United States and its allies, however, made hierarchies dangerous. The killing or capturing of key leaders could bring a group to a temporary halt or at least severely limit operations. In addition, the constant communication needed to run a large insurgency or global terrorist movement risked revealing the whereabouts of key figures. The Islamic State still favors some degree of hierarchy, but other groups have called for far more decentralized operations. These are harder to disrupt, but they run the risk of fragmentation. Even if the organization does set out clear instructions regarding tatarrus and other targeting concerns, it is hard to enforce order, running the risk that unauthorized actions of a local cell or foreign affiliate could discredit the broader group.
The jihadist movement is also profoundly divided on the question of the caliphate. The Islamic State has made its reputation in part on declaring its return. Al-Qaeda, however, has waffled in many public statements because of the concepts popularity and the groups long-term goal of establishing an Islamic state of its own. In private, though, it has often been scathing, arguing that the jihadist movement as a whole does not enjoy the popular support necessary for a caliphate to survive and that establishing state structures in a given area simply tells the United States and its allies where to bomb.
Even below the level of the caliphate, the groups disagree on whether to impose Islamic law in areas they control. The Islamic State contends that it is its religious duty to do so, and of course, a caliphate would not be a true caliphate if it did not govern according to Islamic law. In areas where al-Qaeda-linked groups have controlled territory, however, they have vacillated between strictly imposing Islamic law and taking a more lenient approach of educating the locals or even leaving it to local leaders to settle disputes and otherwise rule.
In general, al-Qaeda and associated groups favor a more hearts and minds approach of providing services, working with local leaders and partnering with other rebel groups. The Islamic State, however, wants to crush necks and spines, displacing local leaders, and ensuring its own power. It often puts foreigners in control of areas it conquers, while al-Qaeda groups prefer local leaders. In Syria and other places with many jihadist groups, the Islamic State demands their loyalty while al-Qaeda has called for partnering with, and often taking a back seat to, other Syrian rebel groups.
The movement also differs as to how much to focus locally and regionally vs. those who want to focus on the United States or other Western countries. Most groups try a mix of both: Al-Qaeda at the time of 9/11, for example, spent the bulk of its money and forces helping the Taliban and used its camps in Afghanistan to train fighters focused on fomenting insurgencies in the Muslim world; at the same time, it engineered a massive terrorist attack on the United States. Similarly, the Islamic State mostly pursued the consolidation and expansion of its caliphate, but it has also tried to encourage attacks on the West and used operatives to carry out bloody strikes such as the 2015 Paris attacks. Having it both ways, however, makes it harder for the groups to concentrate their resources and risks attracting new enemies, which more local rebel groups understandably hate. Al-Qaedas Syrian affiliate, for example, has declared that it will not attack the West and ostensibly separated from the al-Qaeda mothership to demonstrate to local allies that it would not stand in the way of their receiving military aid from the United States and its partners.
An important question is whether these are differences in objectives or simply differences in priorities. If jihadists disagree on fundamental outcomes, then any unity of purpose or organization will be much harder to achieve. If the question is simply one of priorities, then changes in circumstances can bring different factions together in the name of expediency.
Questions of tatarrus or the precise line where apostasy begins and ends mean little to most foot soldiers. Data from captured Islamic State records showed that 70 percent of recruits claimed they had only a basic knowledge of Islam. But some of these questions have a tremendous impact on the appeal of different groups. The revival of the caliphate, for example, proved compelling to many recruits and, regardless of its perceived legitimacy among purists, the temptation to play this popular card will be there in the future.
Its always tempting to urge the United States to try to play up these divisions, and Ive done so myself at times. The U.S. track record of influencing the jihadist dialogue, however, ranges from poor to nonexistent, and deliberately trying to generate ever more extreme factions isnt wise. But these internal fissures do hamper U.S. enemies and do some of the work for us. At the very least, they expend precious time and energy trying to one-up rival groups in their propaganda. At most, the differences lead to actual shots fired or recruits and donors being turned off by infighting.
Tinkering with Twitter feeds the agnostic view of its offering
---
Critics probably have the best insight into the changes the platform needs to make
–