Make Nepotism Great Again: 20 Families Got Jobs in Trump Administration https://t.co/se0tr1WEGZ via @thedailybeast

— Mike Nova (@mikenov) November 21, 2017
Mike Nova's Shared NewsLinks
20 Families Got Jobs in Trump Administration
---
Most people have heard of Ivanka and Jared, but the first family is far from the only group of relatives staffing the Trump administration.
A Daily Beast examination of public records reveals that there are at least 20 families, joined by either blood or marriage, in which multiple members hold some federal post or appointment. They include the families of some of Trump's most prominent campaign supporters and agency officials, including one cabinet officer. The posts range from senior White House staff to more ceremonial and advisory positions.
A few of the most prominent cases came to the fore in recent weeks with the hiring of Eric Trump's brother-in-law to be chief of staff at the Department of Energy and the nomination of Brett Talley to a federal judgeship in Alabama. In paperwork filed with the Senate Judiciary Committee, Talley failed to disclose that his wife is the chief of staff to the White House senior counsel Don McGahn—presenting a potential conflict of interest if the administration ever argues a case in Talley's court.
But McGahn too has a direct relation in the administration. His wife, Shannon McGahn, was hired in May as a policy adviser to Treasury Secretary Steven Mnuchin. In March, Trump tapped former Ford Motor Company lawyer Jim Carroll to join McGahn's team. Carroll has since moved over to the Office of Management and Budget, where he serves as general counsel. But before he did, the White House hired his son, James Carroll III—whose previous professional experience consisted of a stint as the sports editor of his college newspaper—as a staff assistant.
Such staffing choices aren't necessarily novel for this administration. From John Adams to John Kennedy, U.S. presidents and their teams have drawn on families for high-level staffing. A lack of comprehensive records for previous administrations makes it difficult to gauge whether the Trump administration is staffed by more families than his predecessors'.
But Trump's administration is, more than any since perhaps Kennedy's, defined by blood relations, with daughter Ivanka Trump and son-in-law Jared Kushner occupying senior posts and other members of the family, including sons Don Jr. and Eric and daughter-in-law Lara Trump, serving as prominent public faces of the president's political and business arms. And the degree to which other families supply the administration with top talent only further illustrates the insularity of the current group controlling the levers of power in Washington, D.C.
Though not technically a federal employee, former New York City Mayor Rudy Giuliani serves as an informal adviser to the president. In March, his son Andrew joined the White House Office of Public Liaison as associate director after his professional golfing career petered out. The younger Giuliani's LinkedIn page listed him as a former sales intern at investment firm CapRok.
As secretary of Education, Betsy DeVos is one of the administration's most senior officials. But her family has also provided tremendous financial support for the president and the Republican Party, shelling out more than $200 million in Republican campaign contributions. Donors are frequently rewarded with administration posts and the DeVos' were no different. In September, Dick Devos Jr., Betsy's husband, was appointed to the Federal Aviation Administration's Management Advisory Council. The next month, Pamella DeVos, Betsy's sister-in-law, landed a spot on the advisory board for the John F. Kennedy Center for the Performing Arts. DeVos' brother, Erik Prince, the founder of notorious military contractor Blackwater, was also said to be informally advising Trump's incoming administration after last year's election.
Other intra-family administration posts have been more prominent and filled more direct policy-making roles. Often, these appointments have illustrated another ongoing trend in the Trump administration: the tasking of high-level officials to regulate or oversee industries in which they formerly worked.
Former House Financial Services Committee Oversight Counsel, Uttah Dhillon, was appointed as a senior assistant to the president in January. In June, his wife Janet Dhillon was tapped to be an Equal Employment Opportunity commissioner, which puts her on a body that previously took enforcement actions against at least two of her former employers, United Airlines (PDF) and JCPenny, for allegedly discriminatory action that took place while she served in legal roles for the companies.
Pamela Patenaude, Trump's deputy secretary of Housing and Urban Development, didn't work in industry. But she led the J. Ronald Terwilliger Foundation, which promotes U.S. housing policy reforms. When she was nominated in April, her daughter Meghan was already a deputy assistant for scheduling to Vice President Mike Pence. By the time she was confirmed to the HUD post in September, another of her daughters, Caitlin Patenaude, had been hired as a policy adviser at the Department of Health and Human Services.
Other Trump administration families appear to have followed their principals into the federal government. Sisters Millan and Sydney Hupp both worked on Environmental Protection Agency chief Scott Pruitt's campaign for Oklahoma attorney general. Sydney Hupp is now Pruitt's executive scheduler, and her sister is EPA's director of scheduling and advance.
Thank You!
You are now subscribed to the Daily Digest and Cheat Sheet. We will not share your email with anyone for any reason.
Jennifer Pavlik likewise followed her former boss into the administration. She was Pence's chief of staff in the Indiana governor's mansion, and now serves as the vice president's deputy chief of staff. She joined the administration in January, and a few months later her husband followed. Brian Pavlik, a former concessions program manager for the Indiana State Parks system, was hired as a special assistant to the National Parks Service.
At least one familial Trump official is no longer in the job. A few months after former White House adviser Sebastian Gorka joined the administration, his wife, Katharine Gorka, landed a job at the Department of Homeland Security. She remains in that post, but her husband was unceremoniously ousted in August.
As she continues advising high-level government officials, Sebastian Gorka has been relegated to an advisory position at a group run by "Pizzagate" conspiracy theorists. He was recently pictured parking his car on a sidewalk in Virginia.
trump nepotism – Google Search
---
giuliani son trump – Google Search
---
giuliani ukraine – Google Search
---
giuliani – Google Search
---
Here's An Exclusive Look At 'The President Show' Christmas Special
---
It's the most wonderful, tremendous, luxurious time of the year.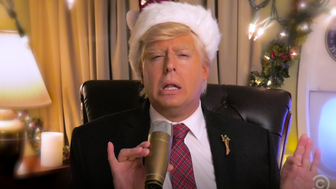 Trump campaign adviser Carter Page held high-level meetings with Hungarian officials in Budapest – ABC News
---
There is something truly historic about Trump – Washington Post
---

Washington Post

There is something truly historic about Trump

Washington Post

President 

Trump

 is making history at a historic level. He tells us this himself. Good morning, he said at the start of his Cabinet meeting Monday. We just returned from a historic, 12-day trip to Asia. We knew the trip would be historic because the 

…
Mueller counterintelligence investigation – Google Search
| | |
| --- | --- |
| | mikenova shared this story from Mueller counterintelligence investigation – Google News. |
---
Trump Russia as counterintelligence investigation – Google Search
| | |
| --- | --- |
| | mikenova shared this story from Trump Russia as counterintelligence investigation – Google News. |
---
Washington Examiner
–
Nov 12, 2017
The FBI opened a counterintelligence investigation into the Trump–Russia affair shortly after receiving the first installment of an anti-Trump …
Chicago Tribune
–
Nov 14, 2017
Donald Trump Jr. is shown arriving at Trump Tower for meetings with … a counterintelligence investigationinto whether Russian operatives had …
"The FBI, as part of our counterintelligence mission, is investigating the Russian government's efforts to interfere in the 2016 presidential …
A 'Sea Of Black Masks': Prosecutors Open Felony Trial Of Inauguration Protesters
---
The U.S. government plans to seek felony convictions for nearly 200 inauguration protesters. The first trial is now underway.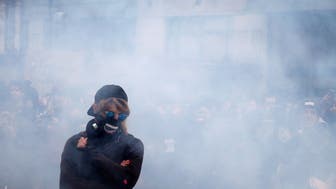 Mike Flynn – Google News: How Much Did Trump Know?: Why Mike Flynn Could Be the Key to … – Vanity Fair
| | |
| --- | --- |
| | mikenova shared this story from 1. Trump Investigation – Mike Flynn from mikenova (9 sites). |
---
 Mike Flynn – Google News
Trump Administration To End Immigration Protections For Haitians
---
The U.S. will end the special status in July 2019.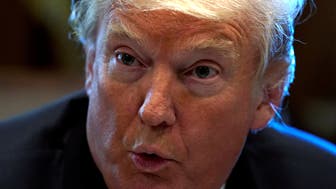 Sorry, Trumpers, Your President Is Definitely Under Investigation By The Special Counsel – The Daily Banter
---
Donald Trump Is Shutting Down His Charitable Foundation
---
Trump had been accused of using it as a political slush fund.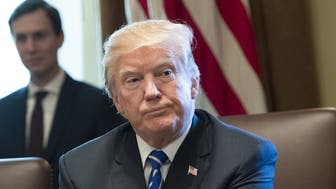 Trump Russia scandal – Google Search
---
Seth Meyers: 'Wanna-Be Dictator' Trump Gets Into The Feud We've Been Waiting For
---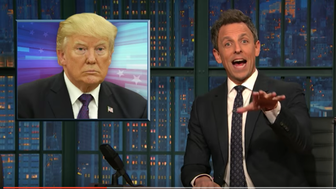 The Early Edition: November 21, 2017
---
Before the start of business, Just Security provides a curated summary of up-to-the-minute developments at home and abroad. Heres todays news.
SYRIA
The Iranian President Hassan Rouhani declared the end of the Islamic State today in a television broadcast, saying that with Gods guidance and the resistance of people in the region we can say that this evil has either been lifted or has been reduced, making the announcement after pro-Syrian government forces captured the Syrian town of Albu Kamal at the weekend and the Iraqi army captured the border town of Rawa on Friday, signaling the collapse of the Islamic States so-called caliphate. Babak Dehghanpisheh reports at Reuters.
Russia is scheduled to host the leaders of Turkey and Iran tomorrow for a summit on the future of Syria, giving Russian President Vladimir Putin, President Rouhani and Turkish President Reçep Tayyip Erdoğan the opportunity to strategize for the post-conflict scenario, U.S. officials separately have urged Russia to consider ways to stabilize the country once the Islamic State group has been defeated. Nathan Hodge reports at the Wall Street Journal.
The Russian President Vladimir Putin held unannounced talks with Syrian President Bashar al-Assad in the Russian city of Sochi yesterday, ahead of the summit in Russia and a new round of Syria peace talks scheduled to be held in Geneva this month. Nataliya Vasilyeva and Bassem Mroue report at the AP.
The military operation is indeed wrapping up, Putin said in his meeting with Assad, adding that we still have a long way to go before we achieve a complete victory over terrorists, the BBC reports.
Putin said he would follow up his meeting with Assad with calls to Trump and Middle Eastern leaders, and Assad said in talks with Putin that we count on the support of Russia to ensure the non-interference of outside players in the political process. Patrick Wintour reports at the Guardian.
Putin discussed the situation in Syria with Qatars Emir Sheikh Tamim bin Hamad al-Thani in a phone call yesterday and raised the prospects of a political solution, according to the Kremlin, Reuters reports.
The head of the main armed and political opposition to the Assad regime resigned yesterday, the head of the High Negotiations Committee (H.N.C.) Riyad Hijab did not give reasons for his decision and resigned ahead of a conference of Syrian opposition groups scheduled to be held in Saudi Arabia tomorrow. Zena Tahhan reports at Al Jazeera.
The TRAVEL BAN
The Justice Department yesterday asked the Supreme Court to fully reinstate the latest travel ban which was issued in September and the Trump administration contends was formulated following careful deliberation, the Justice Departments request comes after the Ninth U.S. Circuit Court of Appeals in San Francisco allowed part of the latest ban to go into effect earlier this month. Jess Bravin reports at the Wall Street Journal.
The latest travel ban placed a variety of restrictions on foreign nationals from eight countries and the Ninth Circuit Court of Appeals ruling allowed the ban to go into effect except for foreign nationals who have a bona fide relationship with people or entities in the U.S., Ariane de Vogue reports at CNN.  
An official watchdog of the Department of Homeland Security (D.H.S.) has accused the D.H.S. of delaying the release of a report on Trumps first travel ban and the confusion among senior managers at Customs and Border Protection in implementing the executive order, with the D.H.S. Inspector General John Roth saying in a letter sent to Congress yesterday that he was very troubled by the fact that officials had declined to authorize the reports release over the past six weeks. Josh Gerstein, Ted Hesson and Seung Min Kim report at POLITICO.
The confusion over the first travel ban led to federal agents violating court orders, according to Roths letter to Congress, saying that immigration agents were unsure how to enforce the ban and passengers were unclear whether they could enter the U.S.. Devlin Barrett and Carol D. Leonnig report at the Washington Post.
NORTH KOREA
Trump plans to reinstate North Koreas designation as a state sponsor of terrorism, the president said yesterday a week after his 12-day tour of Asian nations, with Secretary of State Rex Tillerson saying that the practical effects may be limited, but hopefully were closing off a few loopholes with this. Felicia Schwartz and Jonathan Cheng report at the Wall Street Journal.
Tillerson said that the designation was to hold Pyongyang accountable for recent actions including assassinations outside of their country and using banned chemical weapons, in comments to reporters at a White House briefing, adding that the listing would be very symbolic. The BBC reports.
The Philippine President Rodrigo Dutertes belated statement on behalf of 18 world leaders at the (Association of Southeast Asian Nations) A.S.E.A.N. summit today said that only some leader condemned the threat posed by North Korea, despite Trumps lobbying on Pyongyangs nuclear weapons and ballistic missiles program during his recent Asia trip. Jim Gomez reports at the AP.
North Koreas Rodong Sinmun newspaper called Trump an old lunatic, mean trickster and human reject in response to his speech about Pyongyang delivered to South Koreas National Assembly during his Asia trip, which marked North Koreas most hyperbolic tirade to date, Anna Fifield observes at the Washington Post.   
North Korea has been designated as a state sponsor of terrorism before, Adam Taylor explains the history of the Pyongyang regimes designation and removal over the decades at the Washington Post.
The decision to redesignate North Korea is welcome as diplomatic truth in advertising, the Wall Street Journal editorial board writes, saying that Trumps decision corrects the approach of previous administrations.
AFGHANISTAN
U.S. and Afghan forces have launched an air campaign targeting several opium-production plants in southern Afghanistan in an attempt to undermine the Talibans revenue sources, the top U.S. military commander in Afghanistan Gen. John W. Nicholson Jr. said yesterday, Ellen Mitchell reporting at the Hill.
The chief prosecutor of the International Criminal Court (I.C.C.) Fatou Bensouda filed a request for permission from the court to investigate war crimes in Afghanistan yesterday, including the possibility of war crimes committed by Americans, signaling the possibility of the I.C.C. prosecuting Americans for the first time. Rick Gladstone and Marlise Simons reports at the New York Times.
Alleged war crimes by members of the United States armed forces and secret detention facilities used by the C.I.A. justify the courts investigation, Bensouda said in a statement, the targets of the investigation would also include the Taliban, the Haqqani network and the Afghan National Security Forces. James McAuley reports at the Washington Post.
The I.C.C. constitutes a direct assault on the concept of national sovereignty, the former U.S. ambassador to the U.N. John Bolton writes at the Wall Street Journal, arguing that the Trump administration should be resolute in its rejection of the I.C.C.s jurisdiction.
The U.S. efforts to recruit Afghan women to join the Afghan police carries great risks, especially as they are often not provided adequate protection and support, Sophia Jones writes at the New York Times.
IRAN
The U.S. Treasury has imposed large-scale sanctions on an Iranian counterfeiting ring affiliated to the Iranian Revolutionary Guard Corps (I.R.G.C.), the Treasury Secretary Steven Mnuchin saying yesterday that the scheme exposes the deep levels of deception the I.R.G.C.-Quds Force is willing to employ against companies in Europe, governments in the Gulf, and the rest of the world to support its destabilizing activities. Ian Talley reports at the Wall Street Journal.
The Arab League is old, worn-out, exhausted and ineffective, Irans President Hassan Rouhani said today, criticizing the organization for its support for the Saudi-led coalitions role in the war in Yemen, and making the comments after the foreign ministers of the Arab League nations accused Iran and its Lebanese Shiite Hezbollah ally of destabilizing the region. The AP reports.
LEBANON
The Lebanese Prime Minister Saad Hariri is scheduled to meet with the Egyptian President Abdel Fattah al-Sissi today amid speculation over Hariris status since he resigned on Nov. 4 from Saudi Arabias capital of Riyadh, and cited the role of Iran and its Lebanese Shiite militant and political ally Hezbollah as the reason behind his decision. Reuters reports.
Israeli targeting still continues and it is the right of the Lebanese to resist it, the Lebanese President Michel Aoun was quoted as saying yesterday, appearing to defend Hezbollahs role in Lebanon after an Arab League gathering on Sunday accused the group of terrorism. Reuters reports.
Lebanons army chief today called on his soldiers to be fully ready at the southern border to face the threats of the Israeli army and its violations, according to comments quoted on the armys Twitter account. Reuters reports.
We have not sent any ballistic missiles or advanced weapons not even guns not to Yemen, not to Bahrain, not to Kuwait, not to Iraq or any Arab country, Hezbollahs leader Hassan Nasrallah said yesterday, rejecting the accusations of foreign ministers at the Arab League gathering, saying that Hezbollah had only sent weapons to Palestine and Syria. Al Jazeera reports.
IRAQ
Iraqs Supreme Court ruled that the Iraqi Kurdistan independence referendum held in September was unconstitutional, saying in a statement that it has annulled all the consequences of the referendum in which 92% of Iraqi Kurds voted in favor of independence. The BBC reports.
We feel we are under a huge threat, the head of foreign relations for the Iraqi Kurdish Regional Government (K.R.G.) Falah Mustafa Bakir said yesterday, saying that the international community has to engage to address the tensions between Baghdad and the K.R.G. which have escalated since the controversial independence referendum. Ben Kesling reports at the Wall Street Journal.
The K.R.G. called on the international community to help lift sanctions imposed by Baghdad on the region, saying in a statement yesterday that measures are in violation of Iraqs obligations and responsibilities under international and humanitarian law. Reuters reports.
An exposé of the violence and killing of detainees following the liberation of the Iraqi city of Mosul from Islamic State militants is provided by Ghaith Abdul-Ahad at the Guardian.
U.S.-led airstrikes continue. U.S. and coalition forces carried out three airstrikes against Islamic State targets in Syria on November 18. Separately, partner forces conducted five strikes against targets in Iraq. [Central Command]
TRUMP-RUSSIA
The former Trump campaign foreign policy adviser Carter Page met with Hungarian officials during the 2016 election campaign, the meetings have drawn scrutiny due to the increasingly close ties between Hungary and Russia. Matthew Mosk reports at ABC News.
The court filing against the former Trump campaign chairman Paul Manafort may provide clues for special counsel Robert Muellers approach to former national security adviser Michael Flynn, including possible charges relating to registration as a foreign agent and lobbying for a foreign government, or more sensational charges that may involve kidnapping due to Flynns alleged role in a plan to deliver the U.S.-based cleric Fethullah Gülen to the Turkish government. Josh Gerstein explains at POLITICO.
TRUMP ADMINSITRATION FOREIGN POLICY
Secretary of State Rex Tillerson discussed regional security and ways to combat terrorism with the Saudi Crown Prince Mohammed bin Salman yesterday, according to Saudis state S.P.A. news agency, Reuters reports.
It is possible that commentators have been unfair in their assessment of Tillerson: there have been many poor Secretaries of State, Tillerson has the difficult task of serving under a president who is genuinely clueless about foreign policy, and his efforts to reorganize the State Department have been long overdue. Stephen M. Walt writes at Foreign Policy, arguing that Tillersons ineffectiveness also reflect consistency with trends that have been underway for some time.
OTHER DEVELOPMENTS
A suicide bomber killed at least 50 people at a mosque in northern Nigeria today, marking the biggest mass killing this year in an area of the country that has been blighted by an insurgency led by the Islamist Boko Haram militant group, there has not yet been a claim of responsibility for the attack. Percy Dabang and Ardo Hazzad report at Reuters.
Regional players are acting irresponsibly, taking a political gamble with the lives of other nations citizens with no exit strategy, the Qatari Foreign Minister Mohammed bin Abdulrahman al-Thani said yesterday, warning of the dark ages in the Middle East and making the comments amid the Saudi-led blockade of Qatar which began in June. Al Jazeera reports.
The Turkish businessman Reza Zarrab was indicted for his role in evading U.S. sanctions on Iran, however his whereabouts have become unknown and the mysterious circumstances surrounding his case have raised questions about a possible deal between the Turkish government and the U.S. to secure his release amid a recent deterioration in U.S.-Turkey relations. Elias Groll observes at Foreign Policy.
F.B.I. informant William Campbell gathered extensive evidence on the Uranium One deal while he was undercover for six years, according to documents reviewed by the Hill, which contradict statements made by Justice Department officials that Campbells evidence would not offer useful information. John Solomon reports at the Hill.
Islamist militants in Nigers border village of Tongo Tongo have been established for some time, having entrenched themselves in the local community where the four U.S. Special Forces members were killed on Oct. 4. Sudarsan Raghavan explains at the Washington Post.
trump baku money laundering – Google Search
---
trump baku mafia – Google Search
---
Trump Family Made A Fortune Through Drug Cartels And Money Laundering
---
The Trump International Hotel & Tower in Panama and the Trump Tower Baku reportedly had deep ties to international criminals and drug cartels.
President Donald Trump's eldest daughter and favorite child, Ivanka Trump, was exceptionally involved in two international projects tied to her father's name before the business mogul ran for the highest office in the United States.
As the Think Progress reported, the Trump International Hotel & Tower in Panama was supposed to be Ivanka's "baby" while she personally oversaw and "approved everything" at the Trump Tower Baku in Azerbaijan.
Neither of these international business ventures worked out for the Trump Organization, as the luxury resort in Panama City later dismissed Trump's management company over reported budget misuse and the hotel in Baku never opened due to budget overruns and construction oversights.
However, that does not mean the Trump family did not profit from these endeavors.
As a couple of recent investigative reports have revealed, the Trump family earned millions in revenue from these seemingly failed projects – all thanks to drug cartels, the Russian mafia and international criminals.
"Since he became President of the United States, numerous investigations and articles have probed Trump's business dealings and his alleged links to criminals and other shadowy characters," anti-corruption group Global Witness wrote in its recent report. "It is understood that Special Counsel Robert Mueller's investigation under the Department of Justice will also examine his real estate business. This is important because it seems likely that, following his various bankruptcies, at least a part of Trump's business empire has been built on untraceable funds, some apparently linked to Russian criminal networks."
A joint investigation by the NBC News and Reuters also found some investors and customers of the Trump Ocean Club in Panama City had deep ties to crime and drug trafficking. For instance, David Murcia Guzmán, a Colombian business executive with financial ties to terrorist organization FARC who is currently detained in the U.S. for laundering money on behalf of drug cartels, had bought several units in the project.
Other buyers included Arkady Vodovozov, who was convicted of kidnapping in Israel according to Reuters; Stanislav Kavalenka a Russian national charged for "compelling" and "procuring" women into prostitution in Canada; Igor Anapolskiy, convicted for forging travel documents in Ukraine in 2014; and Louis Pargiolas, who pleaded guilty to conspiracy to import cocaine in Miami back in 2009.
Read More
A former Brazilian car salesman, Alexandre Ventura Nogueira, who reportedly collaborated with the Trumps to sell the condo units and met Ivanka several times, claimed the U.S. president and his family were unaware of the investors' businesses or buyers' criminal background – but they never asked any questions either.
"I had some customers with questionable backgrounds," Nogueira, who is currently a fugitive from law for real estate fraud, told NBC under disguise from an undisclosed European city. "Nobody ever asked me. Banks never asked. Developer didn't ask and (the) Trump Organization didn't ask. Nobody ask, 'Who are the customers, where did the money come from?' No, nobody ask."
He also said he met the president and his sons at least once, and attended the 2008 celebratory event at Trump's Mar-a-Lago resort in Florida after his firm, Homes Real Estate Investment & Services, fulfilled its promise of quickly selling units at high prices and sold about $100m worth of property, according to the Reuters and NBC.
Meanwhile, the project in Azerbaijan was a site for illegal activities as well. According to the reports, the Azeri dictatorship and those close to the Iranian Revolutionary Guard allegedly used the Baku hotel to launder money.
If it was not clear already, Trump did not own these properties. Instead, he leased his name out to the project in order to boost sales while his company, or his daughter in this case, oversaw the project. While it does not appear the president or his children knew of the criminals investing and buying the property, they did profit from whatever alleged shady business was going on there.
"Licensing his brand to the luxurious Trump Ocean Club International Hotel and Tower in Panama aligned Trump's financial interests with those of crooks looking to launder ill-gotten gains," the Global Witness report continued. "Trump seems to have done little to nothing to prevent this. What is clear is that proceeds from Colombian cartels' narcotics trafficking were laundered through the Trump Ocean Club and that Donald Trump was one of the beneficiaries."
To put things into perspective, Trump had made nearly $74.2 million through his association with the Panama hotel by 2010. He earned another $13.0 million between 2014 and 2017.
However, the Trump organization has since attempted to distance itself from the controversy.
"The Trump Organization was not the owner, developer or seller of the Trump Ocean Club Panama project," the statement said. "Because of its limited role, the company was not responsible for the financing of the project and had no involvement in the sale of units or the retention of any real estate brokers."
Well, playing down the organization's role in the project doesn't really justify the fortune Trumps earned through them, does it?
Read More
Thumbnail / Banner : Reuters, Yuri Gripas
Trump Family Made A Fortune Through Drug Cartels And Money Laundering – Carbonated.tv (blog)
| | |
| --- | --- |
| | mikenova shared this story from Russian – International "Mafia" – organized crime – Google News. |
---
Trump urged to sell $50 million in lethal weapons to Ukraine
---
National security officials are urging President Trump to approve the sale of nearly $50 million worth of U.S. weapons to Ukraine, which has confronted what it sees as military aggression from Russia and pro-Russian separatists for years.
It was unclear whether Trump, who has been reluctant to challenge Russian President Vladimir Putin, will approve the plan.
Congressional and State Department officials said Monday the weapons proposal had gained traction in the National Security Council. The officials asked not to be named discussing internal deliberations.
At the urging of Trump's then-campaign manager, Paul Manafort, the GOP platform was watered down at the Republican National Convention in 2016 to remove a call to sell lethal weapons to Ukraine — a position long favored by the Republican establishment and ultimately by the Obama administration.
It was later revealed that Manafort had worked for pro-Russian Ukrainian leaders opposed to U.S. support for the government in Kiev. Manafort was indicted last month on charges of failing to register as a foreign agent, money laundering and conspiracy. He has pleaded not guilty.
The weapons sale under discussion would likely include Javelin anti-tank missiles and other high-tech weapons that go beyond defensive arms, a State Department official said. Some details of the package were first reported by ABC News.
Sen. John McCain (R-Ariz.), chairman of the Senate Armed Services Committee, has repeatedly urged the Trump administration to supply Ukraine with weapons. Doing so would garner bipartisan support on Capitol Hill.
"It is long past time for the United States to provide Ukraine the defensive lethal assistance it needs to deter and defend against further Russian aggression," McCain said in a statement. "As long as the status quo remains, Russia has no reason to change its behavior, and we should only expect more violence and more death."
Sen. James Inhofe (R-Okla.), another member of the Armed Services Committee, wrote Trump last week to urge stronger support for Ukraine.
"The military land-grab Russia has launched in Ukraine is unprecedented in modern European history," he wrote. "Our response should include lethal military hardware as part of a broader effort to help Ukrainians defend themselves and deter future aggression."
Congress has already approved up to $500 million in assistance for Ukraine and its defense, though not specifically for lethal weapons.
Ukraine's pro-West government has been battling pro-Russian separatists in eastern Ukraine since forces loyal to Putin annexed Crimea in 2014.
Twitter: @TracyKWilkinson
ALSO
Trump re-designates North Korea as a 'state sponsor of terrorism'
White House says Trump spoke rhetorically on Twitter; does not regret helping UCLA players come home
Tillerson disputes reports of low morale in State Department
Democratic donor Tom Steyer will run Trump impeachment ads in Times Square
How the Mafia Fueled Richard Nixon's Political Career – VICE
---

VICE

How the Mafia Fueled Richard Nixon's Political Career

VICE

With corruption rampant and looking increasingly unstoppable in today's political landscape, it's worth reflecting on the storied tradition of American politicians galavanting with the 

mob

. Thanks in part to the … got tied up with the 

mob

. VICE 

…
Macron, Trump and Putin would all like to see Merkel go – CNN
---

CNN

Macron, Trump and Putin would all like to see Merkel go

CNN

David A. Andelman, a contributor to CNN and columnist for USA Today, is the author of "A Shattered Peace: Versailles 1919 and the Price We Pay Today." He formerly served as a foreign correspondent for The New York Times in Asia and Europe and Paris …