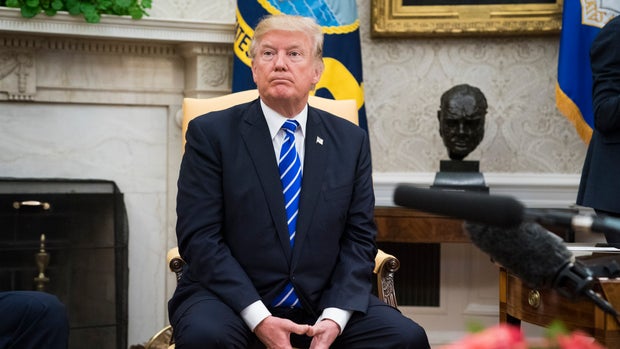 Trump Investigations Report | Latest Posts
1. Trump from mikenova (194 sites)
Just Security: Episode 38 of the National Security Law Podcast
Just up: This week's episode of the National Security Law Podcast, in which Bobby and I discuss:
The lack of attention being paid to the military detention of a U.S. citizen as an "enemy combatant"; The Jones Act, the Stafford Act, the Insurrection Act, and how they factor into the Puerto Rico crisis; Last week's Charlie Savage & Eric Schmitt story on the Trump administration's new drone rules; Yesterday's Senate Judiciary Committee hearing on the bills to insulate Special Counsel Mueller; The latest travel ban developments; and Some thoughts on the pilot of Star Trek: Discovery, the NCAA corruption scandal, and the latest NBA offseason news.Check it out, tell your friends, and leave us a review!!
Just Security
Palmer Report: Donald Trump goes off the paranoid deep end

Just about everything is going wrong for Donald Trump that could possibly go wrong. He's historically unpopular. He has zero accomplishments. His Senate candidate just lost. His health care bill just failed (again). NFL owners made a point of thumbing their noses at him. He's being called out for his failed response on Puerto Rico. And it's becoming more clear by the day that he only "won" the election because he conspired with Russia to rig it. Trump's response? He's going off the paranoid deep end today.

Amid the news that Russia bought Facebook ads for Trump's benefit during the election, Trump decided that it's not evidence he and Russia were in a conspiracy; instead the conspiracy is somehow against him. Trump rolled out of bed this morning and tweeted "Facebook was always anti-Trump.The Networks were always anti-Trump hence,Fake News, @nytimes(apologized) & @WaPo were anti-Trump. Collusion? But the people were Pro-Trump! Virtually no President has accomplished what we have accomplished in the first 9 months-and economy roaring."

It's difficult to even figure out where to start with this nonsense. There's no evidence that Facebook was ever "anti-Trump" and instead it's becoming clear that Facebook wittingly or unwittingly helped install Trump in office. When the New York Times quietly admitted in January that it had botched its election coverage, it acknowledged that it had been far too soft in its reporting on Trump's Russia scandal. "Collusion" doesn't mean what Trump thinks it means. If "the people were Pro-Trump" then he wouldn't have lost the popular vote by three million votes even after he rigged the election in his favor. He has no accomplishments of any kind. And the economy is only "roaring" because President Obama left it in great shape.

But don't tell any of that to Donald Trump. The more his election conspiracy with Russia gets exposed, the more he goes off the paranoid deep end by insisting that it was all one big conspiracy against him.

The post Donald Trump goes off the paranoid deep end appeared first on Palmer Report.
Palmer Report
Donald Trump: The woeful response to Puerto Ricos plight

America must speed up relief efforts to the hurricane-ravaged island
Donald Trump
Abedin – Google News: Mom duties come first! Huma Abedin walks home in heels after dropping her son off at school – just two days after … – Daily Mail
Abedin – Google News
trump investigated by the fbi – Google News: Trump Will Skip FBI Director Ceremony, Amid Bureau's Russia Investigation – Newsweek
trump investigated by the fbi – Google News
trump electorate – Google News: Roy Moore's Win Suggests Populist Forces Are Distinct from Trump – National Review
trump electorate – Google News
organized crime and intelligence – Google News: Chinese envoy claims no info on drug triads in PH – InterAksyon

InterAksyon

Chinese envoy claims no info on drug triads in PH

InterAksyon

He gave the reaction after President Rodrigo Duterte bared the presence of 14k Triad and the Bamboo Triad, a Taiwan-based

organized crime

 group that has been supplying illegal drugs to the Philippines. Actually, we do not know much about the 

…
organized crime and intelligence – Google News
2016 elections and mental health – Google News: I'm Sorry (Not Sorry) I Muted Your Baby – Refinery29

Refinery29

I'm Sorry (Not Sorry) I Muted Your Baby

Refinery29

"Did you see the photo I posted of Kelly* at the beach the other day?" my friend asked over coffee one day. I froze. A few weeks earlier, in a wine-fueled rampage during the wee hours of the morning, I'd muted just about every last profile that had 

…
2016 elections and mental health – Google News
Trump – Google News: Trump to outline major tax cut plans – BBC News
Trump – Google News
trump under federal investigation – Google News: House Oversight Committee opens investigation into Trump administration travel – ABC News
trump under federal investigation – Google News
Donald Trump: News Roundup for September 27, 2017

The news is still grim. 1. Chuck Rosenberg, the interim head of the DEA and holdover from the Obama administration, will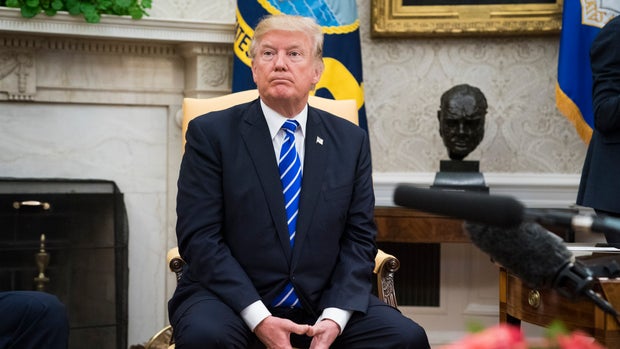 Donald Trump
russian organized crime in us – Google News: Corruption Will Continue In NCAA College Basketball Until Schools Can Openly Pay Their Players – Forbes
russian organized crime in us – Google News
putin and trump – Google News: Steven Seagal BLASTS enemies of 'friend' Vladimir Putin and causes fury over NFL comments – Express.co.uk
putin and trump – Google News
Putin Trump – Google News: Steven Seagal BLASTS enemies of 'friend' Vladimir Putin and causes fury over NFL comments – Express.co.uk
Putin Trump – Google News
putin won US 2016 election – Google News: Steven Seagal BLASTS enemies of 'friend' Vladimir Putin and causes fury over NFL comments – Express.co.uk
putin won US 2016 election – Google News
Putin Trump – Google News: Steven Seagal BLASTS enemies of 'friend' Vladimir Putin and causes fury over NFL comments – Express.co.uk
Putin Trump – Google News
trump and putin – Google News: Steven Seagal BLASTS enemies of 'friend' Vladimir Putin and causes fury over NFL comments – Express.co.uk
trump and putin – Google News
Trump personality profile – Google News: 50 Cent Talks Cardi B, Kanye West, & Donald Trump on 'Ebro' – Rap-Up.com
Trump personality profile – Google News
Trump and Russia – Google News: Trump calls Facebook 'anti-Trump' after it aids Russia probe – ABC News
Trump and Russia – Google News
trump and russia – Google News: Trump calls Facebook 'anti-Trump' after it aids Russia probe – ABC News
trump and russia – Google News
Rudy Giuliani – Google News: Distinguished Journalist Tom Brokaw to Keynote 2018 NAPE Charities Luncheon as Part of NAPE Summit Week in … – Business Wire (press release)
Rudy Giuliani – Google News
Saved Stories – 1. Trump
Felix Sater and Michael Cohen: Childhood Friends.
Somehow I missed this. Buried deep in this excellent New York magazine piece on Felix Sater is this tidbit:
Cohen, one of Trumps personal attorneys, had known Sater since they were teenagers.
Im curious how these two met. Sater was born in Russia and grew up in the Russian enclave of Brighton Beach as a Mobsters son. Cohen grew up on Long Island as a doctors son. About the only thing the two seem to have in common is that they are both Jewish and roughly the same age.
Their friendship puts a different light of the chummy emails between the two men in 2015, after Trump announced he was running for president. In the emails, obtained by The New York Times, Sater promised to use his contacts in Russia to help Trump win.
Our boy can become president of the USA and we can engineer it, Sater wrote in an email. I will get all of Putins team to buy in on this, I will manage this process.
Cohen had been in negotiations with Sater and foreign investors to build a Trump Tower in Moscow from September 2015 through the end of January 2016. Trump announced he was running for president in June 2015.
In January 2016, when negotiations stalled, Cohen wrote to Putins spokesman, Dmitri S. asking for help.  But Mr. Cohen did not appear to have Peskovs direct email.
Thats really strange.  Its almost as if Cohen didnt really expect a reply, but wanted to leave a trail.
And the White House has been referring questions about this whole matter to Cohens attorney, suggesting that this was Cohens deal, not the Trump Organizations.
Filed under: Donald Trump, Russia, Vladimir Putin Tagged: Felix Sater, Michael Cohen
Felix Saters Wall Street Days
Once upon a time, Felix Sater had a promising career on Wall Street.
Beginning in  1986, Sater worked his way up the Wall Street food chain, ending  at Lehman Brothers in 1993, which is when his finance career, at least the reputable part of it, came to an end.
That was the year he went to prison for stabbing a commodities trader in the face with the broken stem of a margarita glass.  Then he got out  joined a Mafia-linked boiler room  operation, got caught, became a government informant, and  went to partner with Donald Trump  and become a figure of endless speculation and fascination.
Long before all of that, heres what Sater was up to, taken from his employment record with FINRA:
After doing a bit of reading, it seems that Felix Saters Wall Street career amounted to making cold calls. Lehman Brothers and Gruntal, the two firms on the top of the list, were famous for their cold-calling.
A junior broker like Sater probably would have spent most of his time on the phone trying to rustle up new clients.  Lehman Brothers had a cold-calling script that was legendary on Wall Street. I couldnt find a copy but here is  another firms scriptsthat  were obtained by Buzzfeed.
Prospective Client:  I have to talk to my wife.
Wall Street Guy: Im calling you because you are a successful individual. Your success is the result of years of making the right calls in business. Am I right? Lets be real. You dont confer with your wife on your day-to-day business decisions and Im sure your wife respects your investment decisions.
It was mind-numbing, soul-crushing work a white-collar sweatshop. But it was effective. According to Fortune, in the late 1980s, half of new accounts for Lehmans brokers came from cold-calling. (The numbers dropped after Lehman got censured and fined.) But heres how it used to work:
At these sites, the initial dials are often made by young kids, many right out of college, who get $5 an hour and lunch for spending their day on the blower intoning, say, Im calling for Martin Shafiroff, a managing director of Lehman Brothers. Usually the dialers get rebuffed in seconds by the prospect or his secretary. But once in a while they get a live mark and then the dialer hands off the call by yelling to a qualifier to pick it up (Ive got Henry Longfellow on line 4). The qualifier, who is an assistant somewhat higher on the pay scale, collects what information he can about Henry and, if Henry acquiesces, assures him that Martin Shafiroff, say, will be calling him shortly with an idea.
 Gruntal was one of the oldest stock brokerages in America. It traced its roots back to 1880. Gruntal not only survived the Crash of 1929, but when Sater joined the firm on 14 Wall Street in Manhattan, Gruntal was approaching its zenith as the countrys 14th-largest brokerage firm, fielding an army of brokers with phones glued to their ears.But Gruntal was no staid brokerage. Far from it. It was a place for people who werent presentable enough to work for the big houses, Don Jans, one of the firms top earners, told Fortune.
One of our biggest producers was bipolar, Jans said. My old sales assistant is a punk rocker with tattoos and piercings. Who would hire this guy? But he was the best salesman I ever had. Gruntal was the Island of the Misfit Toys. But they didnt care what was going on in our sick, dysfunctional office as long as we were making money. We had no manager, and its illegal not to supervise brokers. I remember doing cartwheels down the hall, drinking beer at my desk, smoking pot, having sex in the stairwell. Whatever!
Gruntals cold callers were, shall we say, a bit loose with the truth. Fortune reported that at one Gruntal office in Manhattan cold callers said they were with the firms executive services group.
Sal Lauria,  Saters good friend, joined at Gruntal in 1991 and lasted less than a year. After Sater lost his job at Lehman in the bar stabbing, he and Lauria took their cold-calling scripts and went to work at a boiler room operation involving four Mafia families. The two were prosecuted for their roles in a $40 million pump-and-dump stock scheme .
Gruntal, however, was more than a cold-calling shop. It a powerhouse of analytical talent.
The best example was Stephen A. Cohen, one of the greatest stock traders of all time whose tenure at Gruntal overlapped with Sater.
Cohen landed a job trading options at Gruntal in 1978 made $8,000 on his first day and eventually  managed a $75 million portfolio and six traders. Cohen left Gruntal in 1992 to start his own hedge fund, SAC Capital Advisors, which  today manages $13 billion.
Stephen A. Feinberg was another Gruntal veteran who worked at the firm at the same time as Sater.
Feinberg joined the firm in 1985 after a stint at Mike Milikens Drexel, Burnham & Lambert. He managed separate pools of capital and other accounts until he left in 1992 to start Cerebus Capital Management,which today is one of the countrys biggest private investment firms.
 In February, Feinberg was reportedly being considered for a post in the Trump Administration, overseeing a shakeup of the United States intelligence community.
Another Gruntal alumnus with ties to the Trump administration is billionaire investor Carl Icahn, who worked at the firm from 1964 to 1968.  A few weeks ago, Icahn announced that he was leaving his position as Trumps special adviser on regulatory reform. Just a few hours after the announcement, The New Yorker published an article showing how Icahn used his influence to attack regulations that hurt his business interests at oil refineries.
Since Im writing about this topic, I feel obliged to point out that if you search around for Sater and Gruntal on the Internet, youll run into  crackpot theories that involve some giant Wall Street/Mafia conspiracy. The curious can check out the website  deepcapture.com and this post.I wont dwell on this horseshit because they are unverified, false and probably libelous.
Deepcapture.com was the subject of a libel trial in Vancouver, Canada. In 2016, a judge found the website was not only libelous but had engaged in a calculated and ruthless campaign against an investor, Altaf Nazerali, and awarded him damages of more than $750,000. (The ruling can be found here.)
This would normally be the death knell of any conspiracy website. Not deepcapture.com It is backed by the deep pockets of Patrick Byrne, the CEO of Overstock.com. Byrne saw the whole libel case as a lark. The ruling quotes Byrne as saying It looks like Ali Nazerali wants to go a few rounds. Happy to oblige.
 Unfortunately, the kind of garbage Byrne spews on his website has found a receptive ear because legions of Trump haters want to believe the worst about him and the kind of people with whom he associated.
The truth was far more mundane.
Filed under: Donald Trump Tagged: Felix Sater, Gruntal, Sal Lauria
Exclusive: Felix Saters 2010 White House Visit
Felix Sater, a twice-convicted felon and former senior business advisor to Donald Trump, was granted access to visit the Obama White House in 2010 as part of a delegation of Hasidic Jews.
Saters name appears on the list of 100 White House visitors associated with American Friends of Lubavitch, which represents the international Chabad-Lubavitch movement in Washington.
The Obama administration released logs of White House visitors, a practice that the Trump administration has discontinued.
Sater has come under scrutiny for  relationship to Donald Trump. Sater worked for Bayrock, a development firm with offices in Trump Tower that partnered to build Trump SoHo. For six months in 2010, Sater went to work for Trump directly, carrying a Trump Organization business card that described him as a senior advisor to Donald Trump.
According to the White House visitor log, Saters 100-member delegation visited the Old Executive Office Building in the White House complex on June 17th. The group gathered in the South Court Auditorium where Sater and the rest of the delegation were addressed by Vice President Joe Biden.
Saters attorney, Robert S. Wolf, did not return a phone call seeking comment.
The decision by the Secret Service to grant Sater access to the White House grounds is noteworthy. Every visitor to the White House Complex undergoes a comprehensive security check, and Saters criminal past would surely have raised red flags.
In 1993, Sater was convicted of felony assault and sentenced to prison for stabbing a commodities broker in the face with the broken stem of a margarita glass.  In 1998, Sater pleaded guilty to racketeering for his role in a corrupt stock brokerage that ran pump-and-dump schemes with help from the Mafia.
Other ex-convicts have reported that they were denied access to the Obama White House. Even those who received a formal invitation were handed pink badges that read Needs Escort and were not allowed to move freely around the White House grounds. (See Glenn E. Martins open letter to President Obama.)
 Sater, however, spent more than a decade working as a government informant and his entire federal racketeering case was sealed.
Former U.S. Attorney General Loretta Lynch, whose oversaw Saters case in her previous role as the U.S. Attorney for the Eastern District of New York, told Congress that he provided valuable and sensitive information.  Saters cooperation led to the conviction of 20 individuals, including members of the Mafia. In addition, Lynch said, Sater provided information crucial to the national security.
The White House visitor log shows Saters appointment was made June 15th, two days before his visit.
The White House visit was the highlight of the annual Living Legacy conference organized by American Friends of Lubavitch. The conference is held to mark the anniversary of the passing of Rabbi Menachem M. Schneerson, the former leader of the Chabad-Lubavitch movement and one of the most influential Jewish leaders of the 20th century.
Sater belongs to the Port Washington Chabad house and told Politico that he is on the board of Chabad organizations in the U.S. and abroad, though none in Russia.  Rabbi Shalom Palatiel, the director of the Port Washington Chabad house, also visited the White House along with Sater. Palatiel did not immediately respond to an email message left seeking comment.
More than 190 names were submitted to the White House, but the logs show that only 100 entered the grounds.
One member  Chabad-Lubavitch delegation who was granted access to the White House but did not attend was Berel Lazar, one of Russias chief rabbis, who is known as Putins rabbi.  In 2016, Rabbi Lazar met with Jason Greenblatt, a former Trump Organization lawyer who is now the presidents lead envoy in the Middle East.
According to a report in the Jewish Telegraphic Agency, Biden spent 40 minutes with  Sater, Palatiel, Lazar and the rest of the Lubavitch delegation.
The vice president reviewed Chabad teachings he had acquired over the years, including the necessity of combining wisdom, knowledge and understanding, and related them to the administrations handling of the Middle East.

Biden suggested that the threat posed by Iran necessitated intensive peacemaking and it was important for the Jewish community to understand that context.

As youve always taught me, the rebbe said, what we do for one day isnt enough for the next day, Biden said.
Filed under: Donald Trump, Felix Sater
The Scorpion and The Frog
I just finished reading The Scorpion and the Frog, the book by Felix Sater's Wall Street pal, Salvatore Lauria.

It's an interesting read about Sater's time on Wall Street and his dealings with Mobsters.

Even more interesting are the details about his cooperation with the CIA in Russia against al Qaida that helped keep him out of prison for racketeering.

A lot of these details were new to me, so I thought I would post a little summary of what's in the book.

Sater's lawyer, Robert S. Wolf, has called some of the CIA-related portions of the book "fabricated." However, The Scorpion and the Frog was the subject of a 2002 legal proceeding in federal court in Los Angeles. Lauria sought to stop publication of his own book. Not because it was fiction, but because it told the truth.

According to Lauria, he had agreed to write the book on the condition that his real name not be used. His publisher, however, went ahead and used his real name, and Lauria was worried that he could be physically harmed by the people named in the book. A bench trial was held and in the end a federal judge cleared the way for the book's publication.

With that said, here's my abridged version of what the book says:

Felix Sater walked away from his Mob-linked Wall Street business in 1996 and headed for Russia. He would spend the next two years there before returning to the United States to surrender to the FBI in 1998 and plead guilty to racketeering.

Sater had two jobs in Russia. The first was a deal to bring AT&T bulk long distance service and pre-paid phone charge cards to the country. The second was to find a deal that could get him out of jail. 

Sater began to develop contacts at secret Russian military installations known as closed cities, which held "some of the great secrets of the Soviet Union," Lauria wrote.

The closed cities were opening up. Their representatives were contacting "various countries and rogue organizations interested in buying everything from missiles to assault rifles to millions of rounds of ammunition," Lauria wrote. They also would make munitions and missiles "to order."

We ran into guys selling shiploads of arms to Arabs and other Muslims Libya, Iraq countries that were hostile to the United States," Lauria wrote.

At some point, according to the book, Sater made an initial contact with "someone connected to the CIA."  

Sater gave this version of events to New York magazine.
One night, Sater told me, he went to dinner with a contact that he assumes was affiliated with the GRU, the Russian military-intelligence agency, where he was introduced to another American doing business in Moscow, Milton Blane. Theres like eight people there, Sater said, and hes sizing me up all dinner long. As I went to take a piss, he followed me into the bathroom and said, Can I have your phone number? Id like to get together and talk to you. Blane, who died last year, was an arms dealer. According to a government disclosure made 13 years ago in response to a Freedom of Information Act query, Blane had a contract with the Defense Department to procure foreign military material for U.S. intelligence purposes. Sater says the U.S. wanted a peek at a high-tech Soviet radar system. Blane sat down with me and said, The country needs you, Sater said.
Back to the book. Sater's unofficial contact in the CIA came to see him and told him the agency wanted a radar tracking system that the Russians had developed before the fall of the Soviet Union. The radar tracking system had never been deployed, and the CIA worried that the system could fall into the hands of our enemies. 
We looked around through Lexs contacts and found we could definitely get the radar system. For once, this was a deal we were doing with no interest in the money.  We were doing it to enhance our own position regarding the legal charges, and also as something that might benefit the country. Money or profit was not an issue. We just wanted the credit for doing it. With a direct line to the radar system, we contacted our lawyer in New York, who went to Washington DC to talk to the CIA
The CIA was interested. The agency sent a man to Russia, and Sater located the radar tracking system. (In other parts of the book, Lauria calls it a "missile guidance system.")
With that success,  Sater was approached about acquiring a dozen Stinger missiles. The Stinger was the portable, shoulder-fired missile that used a heat-seeking sensor to home in on an aircraft's engine. They could be fired from as far away as 5 miles away and could easily bring down a passenger airliner.
The CIA was desperate to get hold of them.  Lauria states that at least 12 Stinger missiles were obtained by Osama bin Laden. 
As he had with the radar tracking/missile guidance system, Sater found that he could get the Stingers, albeit in a round-about way.
Sater could not buy the Stingers directly from al Qaida. "Instead, he used his contact with a KGB general who claimed he had strong ties with Ahmad Shah Massed, leader of the Northern Alliance, Lauria wrote.  Sater alaso used "connections he thought he had with both sides in the Afghan War." This is interesting. Was Sater dealing with the Taliban?
According to Lauria, Sater obtained photographs of the Stinger missiles as well as the the serial numbers of three of them to verify their authenticity. Sater also obtained what he thought was an active cell phone number for bin Laden. His attorney supplied it all to the CIA.
The CIA offered to pay Sater $300,000 per missile. Lauria insists there was no profit built into the deal. However, one of their partners, Gennady "Gene" Klotsman went behind their backs and demanded $3 million per Stinger. The CIA was furious and called off the deal.
A few days after the attacks of Sept. 11, 2001, Lauria got a phone call from Sater. The information they had provided about Osama bin Laden was now being actively pursued. 
"Our situation had improved," Lauria wrote.
Filed under: Felix Sater, Russia, Uncategorized
Facebook, Jared Kushner and Russia
Call me skeptical.

I don't believe that Facebook won the election for Donald Trump. That's the claim put forth in this hagiographic profile of Jared Kushner in Forbes and in many other media outlets.
The traditional campaign is dead, another victim of the unfiltered democracy of the Web–and Kushner, more than anyone not named Donald Trump, killed it.
We see these stories every time a new president is elected. A while back it was Obama's "data crunchers." This time, the key to Trump's victory, Kushner would like us to believe, were computer algorithms that targeted potential Trump supporters with social media to stunning effect.
Kushner takes credit for hiring Cambridge Analytica, a company owned by Robert Mercer who also happens to be a Trump supporter, Breitbart investor, and a reclusive hedge fund billionaire.
The secret weapon was Cambridge Analytica's computer algorithms that figure out who you are based and what motivates you based on all the times you click Like on Facebook, as Cambridge Analytica's Jack Hansom explains in this video:
These algorithms turned up some surprising findings. Liking the New Orleans Saints mean you're less likely to be "conscientious," i.e. do the right thing. And liking the Energizer Bunny means you're more likely to be neurotic.
So what? Well, one or two of these things don't tell you much, but the average person has hundreds of Facebook Likes which allows Hansom and his colleagues to build a surprisingly accurate picture of your personality. You can test this on yourself here.
Facebook allows you to drill down to the kind of person in the kind of place you want. (You can even reach "Jew haters" in Idaho if you wish.) Here's Cambridge Analytica's CEO Alexander Nix showing how his company's model could be used to drill down to find every "persuadable" gun rights advocate in Iowa:
It's very impressive (and very creepy), and it makes for a good story, one that Silicon Valley loves in an everybody-is-stupid-except-for-me way.
But the problem with the claim that Kushner and his machine learning wizardry won the election for Trump is that everybody was doing it. Hillary Clinton had a team of mathematicians and analystscrunching data. Ted Cruz had hired Cambridge Analytica as well, but then he ran into the Trump train.
I may be wrong, but I'd wager the $1.8 billion worth of free airtime that TV networks gave Trump every time he opened his trap probably had a lot more to do with him winning the election than Cambridge Analytica.
Trump knows how to get on TV: He is a promotional genius. What will he say next? He's a modern day PT Barnum and Jeff Zucker's CNN couldn't get enough.
Setting that aside, the Facebook/Jared Kushner story is still pretty important. And what's important about it is that Special Counsel Robert Mueller thinks it's pretty important. Facebook may not have won Trump the election, but it may seriously damage his presidency.
CNN reported Sunday that Mueller, who's investigating Trump's links to Russia, had served Facebook with a search warrant.  Mueller was interested in the $100,000 worth of ads purchased by bogus accounts that Facebook on Sept. 6 acknowledged had  "likely operated out of Russia."
Mueller's search warrant for Facebook is a big deal, a former federal prosecutor explains:
Mueller would have had to show the judge that there was reason to believe that one or more foreign individuals committed a crime and the evidence of the crime could be found on Facebook's servers.
The crime is that foreign nationals are prohibited from contributing money "or other thing of value" (like $100,000 worth of Facebook ads) in connection with an election. It's also against the law to solicit, accept, or receive such a contribution.  (Here is the statute.) And if someone on the Trump campaign knew about the Russian Facebook ads and did nothing to stop it, that is also a crime — aiding and abetting.
Did someone on the Trump campaign know about the Russian Facebook ads. We don't know yet, but the answer lies in targeting. To put it in Watergate terms: Who targeted whom and when?
Were the Russian Facebook ads and the Trump campaign targeting the same people? And if so, how did a bunch of Russian trolls in St. Petersburg or Vladivostok or where ever know to target, say, black women in Milwaukee or rural voters in Michigan's Upper Peninsula, for example?
I tried to ask Alex Stamos, Facebook's chief security officer, but didn't get a reply.
This question intrigues Sen. Mark Warner, the leading Democrat on the Senate intelligence committee, as he said on the Pod Save America podcast:
Warner: When you see some of the explanation and some of the fact that it appears that, for example, women and African Americans were targeted in places like Wisconsin and Michigan, where the Democrats were too brain dead to realize those states were even in play It was interesting that those states seem to be targeted where the bots where they could could create a lot of these fake Twitter and Facebook accounts, could in fact overwhelm the targeted search engines that would end up saying on your news feed, you suddenly got stuff that Hillary Clintons sick or Hillary Clintons stealing money from the State Department.
I get the fact that the Russian intel services could figure out how to manipulate and use the bots. Whether they could know how to target states and levels of voters that the Democrats werent even aware really raises some questions. I think thats a worthwhile area of inquiry.
How did they know to go to that level of detail in those kinds of jurisdictions?
Vietor : I wonder if they just asked Jared [Kushner] like Trump does with all of his questions. Well find out.
Warner : Well find out. More to come on that.
Sen. Warner thinks it's a worthwhile line of inquiry, and it's a good bet Mueller does too. The information Facebook handed over to Mueller included the targeting criteria the bogus Russian accounts used, The Wall Street Journal reported.
An unnamed Trump campaign staffer told CNN that the key to the whole inquiry may be found on Facebook's servers.
Only Facebook can answer three critical questions: were the same databases used by the Trump campaign and Russian operatives to coordinate targeting of voters; was money used to promote pro-Trump posts, and, if so, how much was spent and by whom; and will Facebook reveal if bots were successfully used to push fake news posts?
Hopefully, Robert Mueller knows the answers.
Filed under: Cyberwarfare, Donald Trump, Robert Mueller, Russia Tagged: Facebook, Jared Kushner
Will Trump allow release of secret JFK assassination papers? – ABC News
Will Trump allow release of secret JFK assassination papers?

ABC News

The National Archives has until Oct. 26 to disclose the remaining 

files

 related to Kennedy's 1963 assassination, unless 

Trump

intervenes. The CIA and 

FBI

, whose 

records

 make up the bulk of the batch, won't say whether they've appealed to the Republican …
Donald Trump – Google News: At a potential reckoning point, Trump fumbles for success – CNN
 Donald Trump – Google News
Two Pac-12 men's basketball programs at center of FBI's bribery arrests – SFGate
Roger Stone Releases Hearing Statement Disputing Any Collusion with Russia – Breitbart News
Wesley Martin: Czech leaders threaten US interests, NATO agenda – Prague Daily Monitor
Wesley Martin: Czech leaders threaten US interests, NATO agenda

Prague Daily Monitor

He says "

Russia

 is trying to weaken Western 

influence

 in central and 

eastern Europe

 through the Czech Republic leaders, to neutralize and damage a country that is a NATO and E.U. member." "Both Zeman and Babis surrounded themselves with shady …
US dollar makes broad rise ahead of Trump tax speech – Financial Times
US dollar makes broad rise ahead of Trump tax speech

Financial Times

The US dollar pushed higher on Wednesday, rising against many of its developed market peers, ahead of eagerly awaited remarks from Donald 

Trump

 on tax reform. The dollar index climbed 0.15 per cent in early European trading, building on gains from the …
Tweeters Skewer 'Feeble' Donald Trump For Deleting Posts After Alabama Loss

"The NFL tweets are still there, of course. Racism is fine. Backing a loser isn't."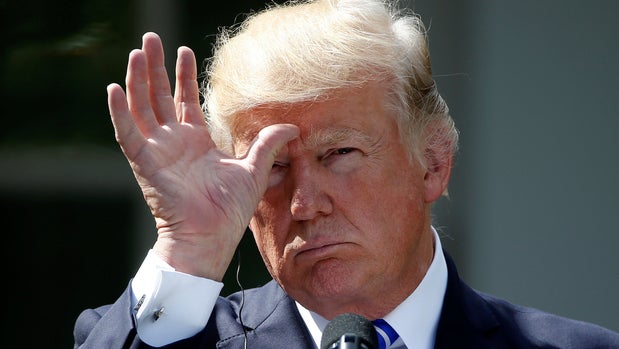 Trump's Empty Culture Wars – New York Times
Journalism magazine saying Trump should be labelled 'racist' raises fiery debate – The Express Tribune
Trump Sent Judges to the Border. Many Had Nothing to Do. – Politico

Politico

Trump Sent Judges to the Border. Many Had Nothing to Do.

Politico

As part of a new 

Trump

 administration program to send justices on short-term missions to the border to speed up deportations and, Sessions pledged, reduce significant backlogs in our immigration courts, Slavin was to spend two weeks at New Mexico's …
Trump aides' email details sought – Northwest Arkansas Democrat-Gazette

Northwest Arkansas Democrat-Gazette

Trump aides' email details sought

Northwest Arkansas Democrat-Gazette

During the 2016 presidential campaign, 

Trump

 repeatedly criticized Democratic opponent Hillary Clinton for 

setting up

 a private 

email

 server while she was secretary of state, a decision that prompted an FBI 

investigation

 that shadowed her for much of 

…
Manafort's Offer to Russian Oligarch Was Tied to Disputed Deal – Bloomberg
Trump Made Kaepernick's Protest About Him. Here's How to Get it Back. – New Republic
The Democrats' Quiet, Confused Foreign Policy – New Republic

New Republic

The Democrats' Quiet, Confused Foreign Policy

New Republic

The article noted that a detailed CIA 

psychological profile

 of Kim found that he has a massive ego and reacts harshly and sometimes lethally to insults and perceived slightsa description which, lethality aside, fits 

Trump

 as well. The ensuing war 

…
What We Know About Russia's Use Of Twitter In 2016 Propaganda Campaign – TPM
Donald Trump Is a Hypocrite: Jimmy Kimmel Lays Bare President's Many Contradictions After Trump's Attack on John … – Newsweek
Donald Trump North Korea Clash Is a Threat to Russia and Human Civilization, Says Russian Senator – Newsweek
Alabama victory for firebrand evangelical highlights divisions

 Vote for Judge Roy Moore sparks speculation of more insurgent campaigns
Trump scrambles to convince Americans he can handle Puerto Rico's crisis – CNBC
Alabama victory for firebrand evangelical highlights divisions – Financial Times
–
The World Web Times: News | Photos | Audio and Video | Politics | Trump | Security | Reviews | Analysis | Current Topics | Opinions | Links | Posts| Local | Guides | Classifieds | News reading lists, review of media reports, digests, reviews, summaries, editors selected important articles
"We don't know what these Facebook ads looked like, we don't know who they were targeting, and we don't know how many millions of Americans may have been exposed to them."
Putin's Pro-Trump Operation May Have Been Far Bigger Than We Yet Know
Did the Kremlin help make Trump the "first Facebook president"?
BILL BUZENBERG – SEP. 20, 2017 6:00 AM
M.N.: And we have to know the answers to these and many other questions. 

_________________________________
The World Web Times: News | Photos | Audio and Video | Politics | Trump | Security | Reviews | Analysis | Current Topics | Opinions | Links | Posts| Local | Guides | Classifieds | News reading lists, review of media reports, digests, reviews, summaries, editors selected important articles