The Arts Of Hybrid Wars
6:41 AM 12/18/2017
"The real issue is moral capitulation." – NYT – Bret Stephens
M.N.: Is this the truth?!
Mike Nova's Shared NewsLinks
NYT – Bret Stephens:
"There's no need to obsess about electoral collusion when the real issue is moral capitulation." 
M.N.: Is this the truth?! 
To the list of Bret Stephen's "explanations" of "Russia scandal" I would add one more, maybe the main one, and maybe the most troubling one: the suspicion of Trump's personal financial interest in his pro-Russian policies and stances. In other words and in plainer English, that he was bought by Russia in some ways or fashion, as the contemporary Russian habit is in dealing with their problems: to bribe or to kill. Here they appear to do both, with the killing of the "moral" kind: undermining the trust in the American democratic values and institutions, killing America "softly". Very much in line with the modern trends of the Psycho-Geo-Politics.
Such a comfy, cuddly, furry, (Panda cum Russian Bear, "Happy Family", hybrid-like), Obamanite – Russian – Chinese – Putinesque – Merkelized geo-"softness", which in plain language is called "hypocrisy", and in most recent terms, the arts of the "hybrid wars", and more exactly, the intelligence wars, which Putin made his main occupation and preoccupation.  
It also reminds me again the prediction made in 2011 by Ariel Cohen and Donald Jensen about  the Russian "moral black hole" and the dangers of contamination from it:
"A Moral Black Hole.
The roots of the Russian elite's discontent lie in imperial nostalgia, phantom pains of autocracy, and questionable morality. The end of communism resulted in a moral black hole—a deep spiritual and identity crisis among the elites. Corruption, alcoholism, and blurred lines between organized crime and authority reflect general alienation, recklessness, and fatalism.
Nations fail, St. Augustine argued, because peoples fail. A healthy society can correct a deficient state, but even the best-designed states will founder if they are based upon a deficient civil society.
This degradation bears directly on Russia's conduct of its foreign policy. Those who keep calling for an engagement that will eventually transform Russia cannot see that it is the West, not Russia, that is being transformed by this contact."
And now Bret Stephens says that the West, and America specifically, "morally capitulated".
Is this the truth or just the journalistic hyperbole, exaggeration, or warning? 
I do not know, at what stage this infection is, but it certainly is the ongoing process. How to deal with it, is another complex matter. 
I do not think that The West (Culture, the way of life, modes of governing, etc.) "morally capitulated" (yet), but it is obvious that this rather entertaining subject did become an issue and the issue, in its various interpretations, and Stephen's article is just one of these proposed interpretations. 
"In many ways, we vacated a lot of competitive space in recent years and created opportunities for these revisionist powers," McMaster said, referring to China and Russia, according to this recent report. 
See the article: New US Security Strategy To Focus On Countering China, Russia – RadioFreeEurope/RadioLiberty
Essentially, I see this conflict as The West (Liberal Democracies) vs. World Organised  Crime in alliance with leftist, "centrist" and rightist geo-political opportunists and their intelligence services of all the various and convenient stripes. Some of them have been already named above. And as such, if this conflict is formulated here by me correctly, it is of the prime and overwhelming concern and the interest to the FBI. 
Michael Novakhov 
12.18.17
Links
Mike Nova's Shared NewsLinks
Trump denies he plans to fire Mueller
---
---
The Real Russia Scandal – The New York Times
---
Lest there be any doubt as to where the future national security adviser stood, Flynn went on to stress that Vladimir Putin "has done a lot for the Khamenei regime"; that Russia and Iran were "the two most active and powerful members of the enemy alliance"; and that the Russian president's deep intention was to "pursue the war against us."
All this was true. Yet by the end of the year, Flynn would be courting Russia's ambassador to Washington and hinting at swift relief from sanctions. What gave?
What gave, it seems, was some combination of financial motives — at least $65,000 in payments by Russian-linked companies — and political ones — a new master in the person of Donald Trump, who took precisely the same gauzy view of Russia that Flynn had rejected in his book.
What about Trump's motives? In The Washington Post on Thursday, reporters Greg Miller, Greg Jaffe and Philip Rucker offer a stunning description of the president's curious incuriousness when it comes to the question of Russian interference in our elections. That's followed by a catalog of all the many ways in which the American president sought to appease the Russian dictator.
Cases in point: The president still does not fully accept the verdict of his intelligence agencies that Russia interfered in the election. He told Bill O'Reilly that America's behavior was no better than Putin's. His attorney general admitted to Congress that the administration had "probably not" taken sufficient measures to prevent future Russian meddling in elections. He explored ways to return two Russian diplomatic compounds in the United States long used for spying until they were seized by the Obama administration.
It continues: He spent the first five months in office resisting efforts to get him to publicly avow NATO's mutual-defense commitments. He sought an "impenetrable cybersecurity unit" with Moscow until Lindsey Graham dismissed it as "pretty close" to "the dumbest idea I've ever heard." He fiercely resisted congressional efforts to impose additional sanctions on Russia; was "apoplectic" when they passed; and would have vetoed the legislation if it weren't certain he'd be overridden. He ended American support for anti-regime moderates in Syria, paving the way for the Assad regime — and thus its Russian helpers — to consolidate their grip.
Presented with this list, the president's craven apologists insist he's right to try to find common ground with Russia. These are the same people who until recently were in full throat against Barack Obama for his overtures to Putin. More measured apologists say he's merely naïve, just as Obama and Bush were at the beginning of their terms. Yet the alleged naïveté never quits: Just this week, he asked for Putin's help on North Korea.
The better explanations are: (a) the president is infatuated with authoritarians, at least those who flatter him; (b) he's neurotically neuralgic when it comes to the subject of his election; (c) he's ideologically sympathetic to Putinism, with its combination of economic corporatism, foreign-policy cynicism, and violent hostility to critics; (d) he's stupid; or (e) he's vulnerable to Russian blackmail.
Each explanation is compatible with all the others. For my part, I choose all of the above — the first four points being demonstrable while the last is logical. But let's have that conversation at another time. There's no need to obsess about electoral collusion when the real issue is moral capitulation. ☐
The Spiraling Diaspora From Puerto Rico
---
It's been 12 weeks and counting, and Puerto Rico still flounders in the aftermath of Hurricane Maria, left to beg for federal help. The politics and indifference underlying the island's desperation recall the lyrics of Stephen Sondheim 60 years ago in "West Side Story":
Nobody knows in America
Puerto Rico's in America!
The plot of that Broadway musical was rooted in the great migration in the 1950s as Puerto Ricans — American citizens in good standing — fled hardship on their beloved commonwealth island for fresh opportunity and better government benefits in mainland states. A similar diaspora occurred during the recent recession, when 400,000 migrated. And now, thousands upon thousands more have been leaving each week as the island staggers. Florida alone has received more than 230,000 Puerto Ricans since the Sept. 20 hurricane, and experts predict that the outflow to places like New York and Pennsylvania could increase by more than 300,000 in the next two years unless a radical rebuilding takes place for Puerto Rico's 3.4 million residents.
The Trump recovery imprint has been far clearer in Gulf Coast states hit by hurricanes this year than on an island that has so little political clout. A double standard in the law was quickly clear after the storm when a federal cap on Puerto Rico's food stamps limited the amount of emergency food aid. Texas and Florida had no such restraints after their hurricanes.
As of last week, only about 60 percent of Puerto Rico's power had been restored. Power remains the key to ever regaining normalcy in business, education and home life. But the island is suffering the longest blackout in United States history. An estimated 700 temporary generators are providing emergency power, with officials hoping for something more permanent no earlier than next summer.
The island was reeling under $74 billion in debt even before the hurricane hit, and its news tends to get worse, not better. Its government counted a death toll of 64 in the first 42 days after the storm, but a detailed survey by The Times found that 1,052 more people than usual had died. More lives are at risk now, with older residents and those with chronic health conditions particularly threatened as the on-again-off-again power grid affects vital medical machinery.
Nearly half of Puerto Rico's residents rely on Medicaid, which is not as well funded federally on the island as it is in the states. The problems are compounded by a looming financial crisis that experts say could leave a quarter of the island's residents without medical care early next year unless Congress and the Trump administration extend special help.
Washington caps the island's Medicaid assistance. This means that while federal revenue covers 75 percent of the Medicaid bill for low-income states like Mississippi, Puerto Rico gets only about 15 to 20 percent coverage. So it resorts to local budgeting and more debt, thereby worsening the bankruptcy spiral.
Image of Cooperation Between White House and Mueller Starts to Fracture
---
Legal experts said there was no indication that Mr. Mueller, who has wide power to obtain documents through written requests, subpoenas and search warrants, improperly obtained the transition emails. But amid the barrage of criticism, Mr. Mueller's office issued a rare statement on Sunday defending how the information had been obtained during the inquiry into Russian election meddling.
"When we have obtained emails in the course of our ongoing criminal investigation, we have secured either the account owner's consent or appropriate criminal process," said Peter Carr, a spokesman for the special counsel's office.
A lawyer for Mr. Trump said in a letter to Congress on Saturday that the General Services Administration, the government agency that had the transition team's emails, had handed them over to Mr. Mueller's investigators in August without allowing transition team lawyers to review them. The documents, the lawyer argued, should have been shielded by various privileges, like attorney-client privilege.
The materials, said the lawyer, Kory Langhofer, were the property of the transition team, and therefore it should have had the chance to decide what was given to investigators.
The letter came days after the Justice Department took the unusual step of releasing to the news media anti-Trump text messages that an agent overseeing the investigation had sent to a colleague. Although Mr. Mueller had moved quickly this past summer to remove the agent from the inquiry, Republicans seized on the disclosure to criticize Mr. Mueller and the F.B.I.
One Trump adviser, Kellyanne Conway, said it was evidence that "the fix was in against Donald Trump from the beginning."
White House officials sought to play down the significance of the letter about the transition emails, insisting it was an issue for the transition team, not the West Wing. They said the president had not changed his approach to cooperating with the special counsel, and that he had not discussed dismissing Mr. Mueller.
"We have been cooperative and transparent with the special counsel's office and will continue to be — we look forward to an expeditious conclusion to this matter," said Jay Sekulow, a lawyer for Mr. Trump.
Still, the letter to Congress from Mr. Langhofer sounded a discordant note. His assertion that the emails were privileged and should have been shielded stood in contrast to the stance of White House officials, who said that Mr. Trump's lawyers had not invoked any such privilege on any White House documents that Mr. Mueller had requested.
Among the materials obtained from the transition team by Mr. Mueller were emails, laptops and cellphones for nine members who worked on national security and policy matters, according to the letter. Mr. Mueller's investigators have used the documents during interviews with transition team officials when questioning them about calls between Mr. Trump's former national security adviser, Michael T. Flynn, and the Russian ambassador in which they discussed American sanctions.
One of the emails shows that several transition officials were aware that Mr. Flynn was going to be speaking with the ambassador on Dec. 29 after the Obama administration had imposed new sanctions on Russia for its election meddling. Mr. Flynn pleaded guilty this month to lying to the F.B.I. about his interactions with the Russian official.
"The materials produced by the G.S.A. to the special counsel's office therefore included materials protected by the attorney-client privilege, the deliberative process privilege, and the presidential communications privilege," Mr. Langhofer, the counsel to Trump for America, said in his letter, which was sent to the top Republican and Democrat on the Senate and House oversight committees.
Over the summer, Mr. Trump publicly dangled the possibility of firing Mr. Mueller, stoking concerns among some of his advisers who believed that Mr. Trump would further imperil his presidency if he did so.
But two people who have spoken to the president recently said that he was far more frustrated with the attorney general, Jeff Sessions, and the F.B.I. director, Christopher A. Wray, than Mr. Mueller. Mr. Trump has said that Mr. Wray has not moved quickly enough to rid the bureau of senior officials who were biased against Mr. Trump and had worked for James B. Comey, the director whom Mr. Trump fired in May.
Mr. Trump's lawyers assured the president throughout the fall that Mr. Mueller's investigation would be over by the end of the year. But on Dec. 1, Mr. Flynn entered his guilty plea and agreed to cooperate with Mr. Mueller's investigation, an indication that the inquiry will not soon close.
Two weeks ago, The New York Times reported that Mr. Mueller had removed one of the top agents working on the investigation, Peter Strzok, after the discovery of text messages between him and a colleague in which they described the possibility of an election victory by Mr. Trump as "terrifying" and said that Hillary Clinton "just has to win."
Republicans have seized on Mr. Strzok's text messages, saying that they were the clearest evidence that the F.B.I. had been out to get Mr. Trump and that Mr. Mueller's investigation was filled with partisans. Along with attacking Mr. Strzok, Republicans have said that one of Mr. Mueller's top prosecutors, Andrew Weissmann, may also be biased against Mr. Trump because he commended the acting attorney general in a January email for not enforcing Mr. Trump's travel ban.
Senator John Cornyn, Republican of Texas, praised Mr. Mueller in an interview on ABC's "This Week" on Sunday for removing Mr. Strzok but said "there are others" whom Mr. Mueller needs to examine.
"There are plenty of F.B.I. agents and prosecutors who have not been politically involved on behalf of Democrats or overtly critical of the president that can serve in this important investigation," Mr. Cornyn said.
He added: "So I have confidence in Director Mueller. I would just think he would be concerned about the appearance of conflicts of interest that would undermine the integrity of the investigation."
Image of Cooperation Between White House and Mueller Starts to Fracture – New York Times
---
Trump shouldn't trust Putin on Syria — or anything else
---
Vladimir Putin is a master at manipulating people by telling them what they want to hear. He's just done it again by announcing a "withdrawal" from Syria while simply resetting his forces there and promoting Russian-led "peace talks" between Bashar al-Assad and regime-tolerated Syrian rebel groups.
Putin has no intention of going anywhere. He has established strong military positions in Syria—an airbase near Latakia and a naval port at Tartus—with 49-year leases.  But the most dangerous aspect of the illusion he fosters is that he could split from Iran in Syria in a way that helps the U.S. contain Russia's partner in propping up the Assad dictatorship.
This is a pipe dream with growing appeal to U.S. policymakers, who sidelined themselves in Syria, apart from the fight against ISIS, starting with the Obama Administration. The fact is that if the U.S. wants to contain Iran's growing Syrian footprint, counting on Putin isn't the way to do it.
It's going to be hard to get the Iranians out: they are entrenching themselves in Damascus (where Iran has been buying property for years), southern Syria, Aleppo, and elsewhere. Iran's Islamic Revolutionary Guards Corps (IRGC) and its auxiliaries are spread all over the country.
The Obama Administration did nothing to block the Russian military presence in Syria, and the Trump Administration followed suit.  But the Trump White House has repeatedly refused—at least rhetorically– to accept a permanent Iranian military presence there.  With good reason: allowing Iran to keep bases in Syria would make a recently-released U.S. containment strategy for Iran nearly meaningless.
The U.S. has negotiated "de-escalation zones" in Syria with Russia, which theoretically require Iranian forces to withdraw. For the most part, they haven't.
The U.S. has negotiated "de-escalation zones" in Syria with Russia, which theoretically require Iranian forces to withdraw. For the most part, they haven't. U.S. officials have offered no indication they actually plan to do anything substantive to reduce Tehran's presence.
The idea is now growing that Russia and Iran could "split" in Syria after the declared "defeat" of ISIS, and that Putin could then help contain Tehran's aggressive activity. But how, concretely, could Putin do that?
One idea, especially in the wake of Putin's "retrenchment," is that he could withhold air support to Iranian forces in Syria to cause a pullback. Indeed, Putin may be withholding Russian military support for Iranian operations in Syria's northerly Idlib Province right now.
Tehran, however, has a much stronger hand to play in threatening to withhold military assistance than Putin does— the Iranian coalition defends Russia's bases at Tartus and Latakia.  If he makes Iran his enemy in Syria he will lose everything he's fought for there.
In fact, Iranian military force, not Russian, is dominant in Syria.  Moscow's military contingent consists of a few thousand personnel devoted to securing bases and supporting air operations, along with a very limited number of special forces (SPETSNAZ) and military police, as well as some private contractors.  Russia has developed some of its own Syrian proxy forces, but their numbers are small.
Iran, by contrast, commands a coalition of many tens of thousands of fighters—its own Revolutionary Guards, Qods Force, and Basij fighters; Lebanese Hezbollah; Iraqi Shi'a militias (now pouring into Syria after the recapture of Mosul); and thousands of Afghans and Pakistanis it has recruited, trained, and brought into the Levant.
That coalition force is by far the most powerful single military organization in Syria.  It can and will dictate realities on the ground in matters of any great importance to Tehran.
As things stand, Putin now tolerates Israeli attacks on Iranian positions in Syria that his air defenses and air force could have resisted and possibly deterred.  Some  analysts argue that this divergence opens the door for Israel to contain Iran in Syria with tacit Russian permission.
But Israeli strikes have so far been pin-pricks aimed mainly at installations reportedly involved in chemical weapons, missile systems, and other advanced Iranian technologies, rather than changing the Iranian footprint in Syria overall.  To change Iran's posture, Israel would have to undertake a large-scale air campaign and probably a ground campaign into Syria as well—something akin to a full-scale war with Iran and its proxies.
Israel is not interested in such a war, which would quickly escalate to include massive Hezbollah attacks on Israel, Israeli engagement in Lebanon, and Iranian retaliation against the U.S. around the region, since Tehran blames the U.S. for anything the Israelis do.
An even bigger challenge is that any Israeli expulsion of the IRGC and most of its proxies from Iran would lead to the collapse of the Assad regime, which cannot survive without their help.  The Israelis have shown no interest in collapsing the regime, and for Putin, that result would undo everything he has achieved so far.
Any Russo-Israeli entente, therefore, will be limited to moderating Iranian military presence in Syria at a level well above what the Trump administration's regional Iran strategy, and American interests, require.
Policymakers can argue endlessly about Putin's intentions, concerns, or feelings toward Iran, his willingness to cooperate with the U.S., and his objectives in Syria. But it is almost impossible to point to real evidence that any of those things support the idea that Putin would ever want to help us there with Iran.
What we could do in Syria without Putin is an even more difficult discussion, but that is the conversation we should actually be having instead.
Frederick W. Kagan is the Christopher DeMuth Scholar and the director of the Critical Threats Project at the American Enterprise Institute.
Anti-Trump FBI agent Peter Strzok had eye-popping influence at Justice Dept.
---
ANALYSIS/OPINION:
Over the past two weeks it has been revealed that Justice Department official Peter Strzok is facing an inquiry from the DOJ's Inspector General over what appears to be highly inappropriate conduct while he was engaged in several high-profile, politically charged investigations over the past two years.
Strzok, a former deputy to the assistant director for counterintelligence at the FBI who also weaseled his way onto Special Counsel Robert Mueller's Russia Collusion investigation until he was removed in July, has been in the headlines lately over text messages showing his utter disdain for then-candidate Donald Trump and his attempt to plan a mysterious "insurance policy" incase the billionaire real estate and media mogul won the highest office in the land.
So what did Strzok actually accomplish at the Justice Department up until his reassignment to an "supervisory job in the bureau's human resources department" over the summer?
Remarkably, (and some would say disturbingly) quite a lot.
1: Strzok was able to modify FBI Director James Comey's initial finding that Hillary Clinton had been "grossly negligent" in her handling of sensitive and classified government documents with the use of her private email server. Strzok's Svengali-like manipulation of Comey (a man who's credibility can not and should not ever be questioned because Joe Scarborough has told us he's impeccable…  although it's kind of strange to hear how this partisan underling manipulated Comey in such a blatant and perverse way) successfully changed the FBI's findings on the Clinton email debacle to "extremely careless" thereby keeping the outrageous behavior free from criminal referral. Score one for the Thesauras!  Hillary saved by the synonym machine!
2. Strzok participated in the interview of Hillary Clinton over her private email server. The interview, conducted days before Comey released his controversial findings in July 2016, was conducted without the benefit of any recording devices or a sworn oath.
3. Strzok also convinced Comey (a pillar of virtue and a man who's competence and effectiveness you really shouldn't ever question, I mean, just look at the great job he did) to soften the language in his findings over the likelihood Clinton's private and unauthorized email server had been hacked by a foreign entity.
"In an early draft, Comey said it was "reasonably likely" that "hostile actors" gained access to then-Secretary of State Hillary Clinton's private email account. That was changed later to say the scenario was merely 'possible.'" Fox News reported this week.
4. Strzok also oversaw the questioning of then-National Security Director Michael Flynn over his contacts with Russian officials during the post-election transition process. Flynn's answers to Strzok's questions were later found to rise to the level of criminal deception leading Flynn to a guilty plea agreement with the Mueller investigation.
5. We've also learned that Strzok was a "key figure" with regard to the acceptance of and possible dissemination of the infamous Russian Dossier, a collection of unverified tales about Donald Trump that was paid for by the Clinton campaign. Strzok reportedly briefed the House Intelligence Committee on the dossier in December of 2016, just one month after the presidential election and in the middle of the transition process.
6. Fox News has also reported that Strzok has been accused of "obstructing" the House Intel Committee's investigation.  "Investigators were contacted by an informant suggesting that there was "documentary evidence" that Strzok was purportedly obstructing the House probe into the dossier," James Osen and Jake Gibson earlier this month.
7. As a highly placed member of the FBI's counterintelligence investigation team, Strzok rubbed elbows and cooperated with other intelligence agency heads including John Brennan at CIA and Director of National Intelligence, James Clapper. Both Brennan and Clapper have shown themselves to be as virulently anti-Trump and partisan as Strzok displayed in his text messages. And let's not forget, Clapper's report on Russian involvement with the DNC hack and WikiLeak's was the foundation of the fake "Seventeen Intelligence Agencies have concluded Russian hacking on behalf of Trump" talking point that emanated from the Obama Administration, was parroted by the Clinton campaign and became a montra of the New York Times, AP, CNN and most mainstream media outlets until they corrected their own record earlier this year.
That's the list as of now… but we expect it to keep growing.
It is unclear whether Strzok was involved with the FISA warrant that ultimately led to a wiretap on former Trump campaign director Paul Manafort who has been indicted as a result of the Mueller investigation. But given his alleged involvement in the FBI's handling of the dossier and the infamous "insurance policy" texts suggesting an attempt to undermine the Trump campaign or a potential Trumppresidency, many observers are connecting those dots and reaching reasonable conclusions.
Strzok is the quintessential swamp creature and it is remarkable to look at how many highly politically charged pies he had his fingers in over the past two years. Remarkable until you recognize exactly what has sadly become the reality here on the ground in Washington DC. There was a time when "Career Justice Department Official" was a badge of honor and something that suggested that the individual attached was one of extreme integrity and beyond political influence or corruption. Now, sadly, it appears the exact opposite applies.
Where are the "Career Justice Department Officials" who don't appear to be more loyal to the swamp, the system and their chosen political allies rather than the rule of law?
Trump says he is not planning to fire Mueller as Republican attacks increase – The Guardian
---
Donald Trump and his goons have their new DOJ scapegoat, and its not Robert Mueller
---
Donald Trump's advisers, surrogates, family members, and Republican allies in Congress have spent the past week frantically trying to smear the reputation of Special Counsel Robert Mueller. They're panicking at the idea that Mueller is moving closer to exposing Trump's wide array of serious crimes. But thus far there is no basis for believing that Trump is actually gearing up to try to fire Mueller, which he can't directly do anyway. Instead, Trump and his people are firmly targeting a different key figure at the Department of Justice.
The clues have been in plain sight for days. Congressman Trey Gowdy, who was on the Trump transition team and is likely panicking over the transition emails that Mueller has his hands on, has spent the week making up phony scandals about Mueller. But when it came down to it, Gowdy arrogantly bragged that he actually believes Trump is going to fire Deputy FBI Director Andrew McCabe. He's far from the only one who thinks McCabe is about to take the fall.
Over the past few days Donald Trump Jr has tweeted or retweeted several false and disparaging claims about McCabe. These people have no poker face at all, because they're telegraphing that Donald Trump is gearing up to fire McCabe. How did he become the scapegoat? Trump has spent months tweeting phony claims about McCabe being some kind of paid Hillary Clinton shill, which he presumably heard about from Fox News or another propaganda source.
Donald Trump would surely like to fire Robert Mueller. But he knows that firing James Comey was what led to Mueller's appointment to begin with, and he presumably has some understanding that firing Mueller would be likely to backfire in similar fashion. He might also have to fire half the DOJ in order find someone there who is willing to fire Mueller. So it appears his handlers are steering him toward firing McCabe instead, which will let him fulfill his desire for blood.
The post Donald Trump and his goons have their new DOJ scapegoat, and its not Robert Muellerappeared first on Palmer Report.
Robert Mueller also has Donald Trump teams laptops and cellphones. Heres what that means.
---
Over the past twelve hours, the Trump-Russia scandal has taken a series of twists and turns, largely focused on the revelation that Special Counsel Robert Mueller has had the Trump transition team's emails all along. These emails likely incriminate quite a number of Trump's current and former people. But an overlooked detail in the story may prove to be the most crucial of all: Mueller also has the Trump team's laptops and cellphones.
Here's the relevant passage from Reuters, which we'll quote here for the purpose of dissecting what's really going on here: "The FBI had requested the materials from GSA staff on Aug. 23, asking for copies of the emails, laptops, cell phones and other materials associated with nine members of the Trump transition team responsible for national security and policy matters." (link). So what are we looking at? First, it means Mueller has copies of all the data and history on the laptops and cellphones used by the Trump transition team. This provides far broader avenues for evidence gathering than mere emails.
If Trump's people were their usual sloppy selves, it's unlikely that they wiped (or sufficiently wiped) the devices they had been using. This means Mueller would have access to every word processing document they typed, and perhaps access to personal email accounts that were being used on those laptops. The cellphones would not provide recordings of transition team phone conversations, but would have call histories, and potentially copies of voicemails. This is just the beginning.
Reuters says that Robert Mueller was targeting nine people on the Trump transition team in particular. Who are they? "National security and policy matters" could be interpreted in a few different ways. While this is not an indicator of guilt, here is a partial list of some Trump transition team members whose official titles could fit the above description: Michael Flynn, Mike Pence, Rudy Giuliani, Reince Priebus, and Jeff Sessions. Flynn has already cut a plea deal.
The post Robert Mueller also has Donald Trump team's laptops and cellphones. Here's what that means.appeared first on Palmer Report.
Trump and allies are trying to destroy Mueller – WTHITV.com
---
Trump and allies are trying to destroy Mueller

WTHITV.com

Peter Carr, a Mueller spokesman, made a statement soon after the allegation emerged: "When we have obtained emails in the course of our ongoing 

criminal investigation

, we have secured either the account owner's consent or appropriate criminal process 

…and more »
FBI and Justice Dept. officials might be investigated for Trump bias – Raw Story
---
Former FBI Asst. Dir. Jim Kallstrom: 'Strong Obstruction of Justice Case Against Strzok and Many Others' – PJ Media
---
Putin thanks Trump for CIA intel – New York Post
---

New York Post

Putin thanks Trump for CIA intel

New York Post

WASHINGTON Russian President Vladimir Putin called President 

Trump

 to offer thanks for sharing an intelligence tip that thwarted a major terror plot, the White House confirmed Sunday. It was the second phone call between the world leaders since

…and more »
Ben Jennings on Donald Trump's performance as US president cartoon | Opinion | The Guardian
---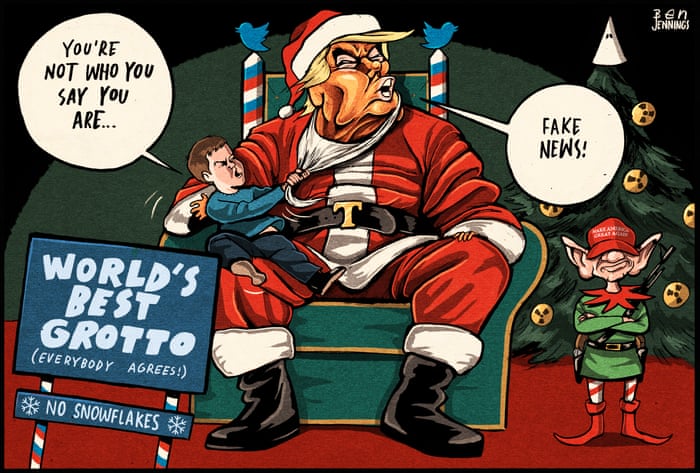 Ben Jennings on Donald Trump's performance as US president cartoon | Opinion
---
Signed in as mikenova
Share this story on NewsBlur
Shared stories are on their way…
Robert Mueller takes warning shot at Donald Trump and his criminal advisers
---
So much for Robert Mueller pulling his punches. After a week of media hype about the possibility that Donald Trump might try to fire him, Mueller ended the week with a bang. He leaked that he's been sitting on fifty thousand emails which incriminate any number of Trump's advisers. When Trump's attorneys complained about the manner in which Mueller acquired the emails, he fired back, making a point of using the word "criminal" twice.
The emails in question, which are from the Trump transition team, likely incriminate half a dozen or more of Trump's people, up to and perhaps including Mike Pence. The implication was clear enough: if Trump tries to fire Mueller, then Mueller will use these emails to arrest Trump's own people before Trump can complete the multi-step process of getting him fired. That was enough to prompt Trump's White House to quickly issue a statement confirming that Trump won't be firing Mueller, but it wasn't enough to silence Trump's attorneys so Mueller took another shot.
Trump's legal team made the baseless claim that Mueller improperly acquired the emails by getting them from the General Services Administration, because some of the emails were supposedly privileged. However, legal experts wasted no time pointing out the invalid nature of that argument. Mueller made the unusual move of putting out a statement through his spokesman. Not only did Mueller defend the legality of his actions, he also took a pointed warning shot at Trump's people, reminding them what he has on them.
Robert Mueller's spokesman said "When we have obtained emails in the course of our ongoing criminal investigation, we have secured either the account owners consent or appropriate criminal process" (link). There are only two sentences that truly matter in that sentence, and they're both "criminal." Mueller is reminding Trump's people that if they can't stop Trump from trying to fire him, he's holding more evidence against them than they know.
The post Robert Mueller takes warning shot at Donald Trump and his "criminal" advisers appeared first on Palmer Report.
Trump Gave a Racist and Anti-Immigrant Speech to Cops at the FBI and They Loved It
---
Kinja is in read-only mode. We are working to restore service.
Signed in as mikenova
Share this story on NewsBlur
Shared stories are on their way…
Putin phoned Trump to thank him for CIA intel that foiled a planned terrorist attack in Russia, the Kremlin says
---
Gregg Jarrett: FBI Has Become "America's Secret Police," Mueller Using FBI As "Political Weapon" – RealClearPolitics
---
Family Security Matters
---
FBI: American Gestapo
by LAWRENCE SELLIN, PHDDecember 16, 2017Any government agency with law enforcement and surveillance authority that uses those powers for political purposes is the definition of a secret police, no better than the Nazi Gestapo or the Soviet KGB.
There is indeed probable cause to conclude, meaning indictable offenses, that employees of the Department of Justice and/or the Federal Bureau of Investigation (FBI), sympathetic to the Democrat Party, used the power of their offices and with the assistance of foreign nationals to influence the 2016 election in favor of Hillary Clinton, first to exonerate her and then obtain information to prevent the election of Donald Trump or to provide a basis for his impeachment should he win.
It is also abundantly clear from the Congressional investigations involving the Department of Justice and the FBI that those institutions of government are protecting themselves at the expense of transparency and accountability to the American people.
In other words, the government employees involved consider the survival of the Deep State more important than the survival of the Constitution. That is the definition of tyranny.
Here is a summary of the apparent sequence of events based on the revelations so far. There may be more damning evidence yet to be disclosed.
–        The Democrats hired Fusion GPS to find dirt on Donald Trump.
–        Fusion GPS hired former British MI6 agent in Moscow, Christopher Steele, to canvass and very likely pay his Russian contacts, some of whom may be present or former members of Russian intelligence, for negative information about Trump.
–        Steele creates the "Trump dossier" and distributes it either directly or indirectly to media outlets and to politicians like Senator John McCain (R-AZ).
–        The FBI obtains the "Trump dossier," but inexplicably or perhaps intentionally does not check the veracity of any of Steele's assertions.
–        The FBI uses the "Trump dossier" to apply to the Foreign Intelligence Surveillance Act (FISA) court to obtain warrantless authorization to conduct surveillance on Trump and his associates.
–        It now appears that Christopher Steele might have been, at some point, on the FBI payroll, and, by extension, the Russians.
The use of an un-vetted document from dubious Russian sources as a basis for unwarranted surveillance of American citizens, ultimately for political purposes, renders the entire Mueller investigation a farce and could provide exculpatory evidence to vacate the guilty plea of former National Security Advisor Michael Flynn. It is a verdict many believe was based on improperly-obtained information as part of an overall effort by politically-motivated federal employees to manipulate the results of the 2016 election.
The conditions that led to the election of Donald Trump as President remain. They bear repeating.
The federal government and the media are, as institutions, hopelessly corrupt and, although we have elections, we no longer have representative government.
There is a Cold Civil War underway in the United States to determine who should control the federal government. It is not a contest between the Democrat and Republican policies, but a battle between the entrenched power of the bipartisan political establishment, the Deep State, versus the freedom and well-being of the American people. It is a conflict between those who want to adhere to the Constitution and the rule of law and a ruling elite, who wish to continue the practices of political expediency and crony capitalism for the purposes of personal power and profit.
Americans now believe that we are no longer citizens of a republic, but subjects of an elected aristocracy, composed of a self-absorbed and self-perpetuating permanent political class, which serves its own interests and those of its international financiers, not those of the American people.
Three years before the start of the American Civil War, Abraham Lincoln said a government cannot endure permanently half slave and half free – that a house divided against itself cannot stand.
Likewise, a government separated from the people cannot stand.
The American Revolution, a war to free ourselves from foreign tyranny, lasted eight years.
The Second American Revolution, a battle to root out the corruption and despotism of the Deep State will take longer, but equally necessary.
Enjoying your FSM article? The Family Security Foundation is a non-profit and we keep bringing you articles because of donors' generous contributions. Your year-end tax-free contribution allows <a href="http://FamilySecurityMatters.org" rel="nofollow">FamilySecurityMatters.org</a> to continue to be your go to site for National Security issues!  Ready to support FSM? Click here.
FBI: American Gestapo – Family Security Matters
---
FBI: American Gestapo

Family Security Matters

There is indeed probable cause to conclude, meaning indictable offenses, that employees of the Department of Justice and/or the 

Federal

 Bureau of Investigation (

FBI

), sympathetic to the Democrat Party, used the 

power

 of their offices and with the 

…
10:40 AM 12/16/2017 What is good for the FBI and its employees is not necessarily good for America!
---
M.N.: This graph below, from the cited article, is meaningless and misleading, just as the article itself: the overall "ideological orientation" (rated as the "conservative" for the FBI, with the score of about +1,5 on the -2 to +2 scale), in no way can be the predictor or correlate of the behaviors and actions, including … Continue reading"10:40 AM 12/16/2017 – What is good for the FBI and its employees is not necessarily good for America! "
WSJ: There's Mounting Evidence of 2016 Election Meddling Coming From the FBI – Townhall
---
President Trump claims the FBI is tainted and its reputation in tatters. This graph shows he's wrong. – Washington Post
---